If you're a successful real estate blogger, YouTuber, or social media influencer, there's a strong chance you can increase your monthly earnings through real estate affiliate marketing. It is often the simplest way for content producers to monetize their audience, regardless of which marketing channel you specialize in, be it search, social, or video content.
In this guide, we outline the best real estate affiliate marketing programs currently active. You will be glad to know that some of these options fall into the highest paying affiliate programs available right now. If you create content that caters for the real estate industry, there is money to be made through affiliate marketing.
What is affiliate marketing?
At a high level, affiliate marketing is simply the process of recommending other people's products through a digital channel and getting paid a percentage for each sale that you generate. In most cases, a tracking link will be used to calculate how many sales, leads, or subscriptions you have generated for the company that you have partnered with. It is also common for social media influencers to use a unique voucher code to help measure the sales that their channel has generated.
Amazon.com currently runs the most popular affiliate program in America, but you will be glad to know that there are several high-profile real estate websites that have their own referral programs. The goal of this post is to highlight 8 of the best real estate affiliate programs, together with concise explanations of:
The key product offering of each company
How each real estate investor affiliate program works
How much you can get paid as an affiliate marketer
What kind of content could help you generate sales
How to sign up
Now let's take a closer look at all the options available.
1. New Silver Lending Affiliate Program
As you can see from the block above, New Silver affiliate program offers a pay out of up to $750 for every confirmed loan that originates from your affiliate link. This makes it one of the highest paying referral programs on the internet right now.
New Silver Lending is a technology-focused lender that specializes in real estate loans. Right now, the company offers:
Fix and flip loans: These are short term loans that allow house flippers to buy and sell houses quickly.
Rental property loans: This is a 30 year loan product designed for buy and hold property investors. If your audience has an appetite for investment properties that generate rental income, promoting this product will be a very good fit.
Construction Loans: Often called 'ground-up construction loans', this product is ultimately designed for residential builders. It gives builders the capital they need to initiate and complete residential building projects.
How does the payment process work?
Simply put, every time someone submits their details for a real estate loan application, you get paid $15. The more applications you generate, the more money you can make.
More importantly, if someone originates a loan with New Silver, you can get paid up to $750, depending on the loan amount. There are very few affiliate programs that pay more than $500 for a completed sale. New Silver is one of those select few that does.
What kind of content could help promote the Newsilver.com affiliate program?
To get the most out of the New Silver referral program, you would need to create content about flipping houses and investing in rental property. This includes:
Avail.co is property management software that caters for two types of people, landlords and tenants.
Features For Landlords: Avail's underlying goal is to make it simple to find, screen and manage tenants using software. It makes it super easy to:
Request and review tenant applications
Complete credit checks and background checks
Set up online leases
Collect rent online
Features For Tenants
Manage maintenance tickets and more
Features For Tenants: Tenants can also benefit from Avail's software. It allows tenants to:
Pay rent online
Store and review digital lease agreements
Initiate maintenance tickets online
Boost your credit profile by paying rent on time consistently
Ultimately, Avail's software can make the relationship between a tenant and a landlord very easy to manage, and it is literally free to use. As a result, you should find it relatively easy to promote. The biggest obstacle (ie price), is effectively removed from the equation.
How does the payment process work?
Avail.co's commission structure is pretty straight forward. It works on a lead generation model. You earn a $25 commission for each new user that signs up for Avail's software.
What kind of content could help promote the Avail.co affiliate program?
To maximize the leads that you generate for Avail, it would probably be a good idea to focus on:
Avail has a dedicated page on their website where you can easily sign-up to their affiliate program.
3. VRBO - Short Term Rental Properties
VRBO stands for Vacation Rentals By Owner. It's a bit like AirBnB, but with a more stringent focus on vacation rental properties. There are two ways to promote the VRBO affiliate program. You can either encourage people to book a home for a vacation, or you can encourage homeowners to list their property on the VRBO platform. This gives you two distinct angles of attack for content and audience targeting.
How does the payment process work?
3% affiliate commission for each booking: If a user from your affiliate link goes on to make a booking on VRBO.com, you can earn a 3% commission based on the total booking fee.
$20 for every new property listing uploaded to VRBO: If a homeowner successfully loads their property onto the VRBO platform, you will be eligible for a $20 once off payment.
What kind of content could support VRBO's affiliate program?
VRBO actually fits into two niches, namely the real estate niche and the travel niche. If VRBO's existing affiliates are anything to go by, you are most likely to gain traction with travel-focused content. For example, the following topics could help drive conversions on VRBO.com:
Best places to go skiing in Colorado
Best beach houses in Florida
Best vacation spots for couples
Best vacation spots for families
Best lake house rental in Rhode Island
In other words, rental property information guides with a strong geographic focus are probably your best bet.
Signing up to the VRBO affiliate program is very straightforward. You simply need to visit their dedicated sign up page here . The program is powered by CJ affiliate (commission junction) which means you will need to sign up for a CJ profile in order to complete your application.
The aim of Foreclosure.com is to help people find property deals before they hit the mass market. Typically, this means listing:
Short Sales
Sheriff Sales
Bankruptcies
City-Owned
Rent to Own
As-Is Deals
Fixer-Uppers
In other words, foreclosure.com is a premium property listing site that focuses on properties that can potentially be purchased for less than the market value. The underlying goal of foreclosure.com is to generate memberships to their online portal. 
How does the payment process work?
The payment process is relatively straightforward.
You can get paid a 25% commission for every membership generated by your tracking code. Right now, that translates to affiliate earnings of approximately $9.99 per membership.
What kind of content could support the Foreclosure.com affiliate program?
Digital content focused on:
Real estate investment opportunities
House flipping
How to find property deals
Ideally, you want to create content that will act as a magnet for people that have a keen interest in generating income through real estate investment.
5. RealEstateAffiliates.com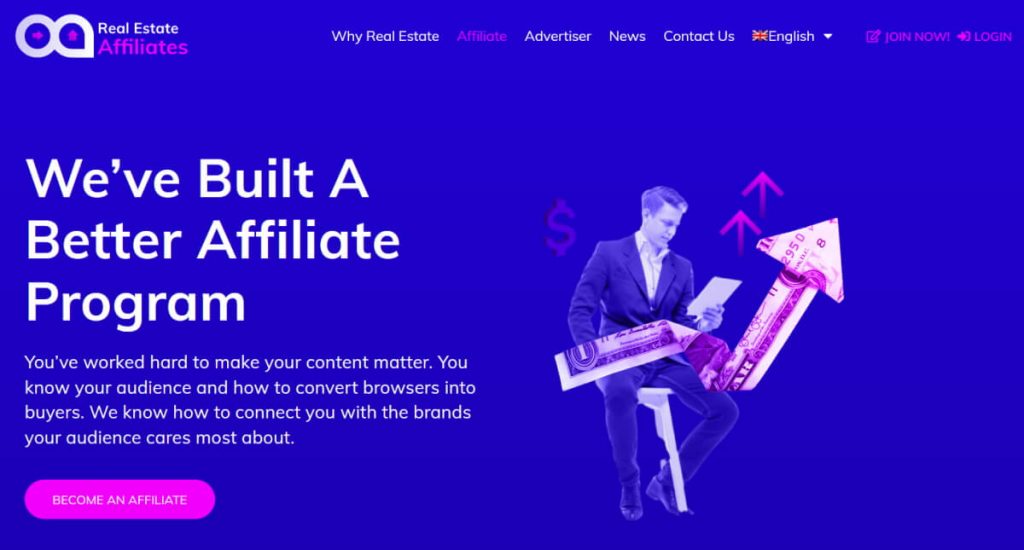 On first visiting realestateaffiliates.com, you might not be fully aware of what they actually do (apart from offering an affiliate program of course). It is best to think of this company as having two related but entirely distinct halves.
Half 1: Real Estate Crowdfunding
This is the main product offered by realestateaffiliates.com. Real Estate crowdfunding has become increasingly popular in recent years, and it's easy to understand why. Instead of having to fork out the full amount for an investment property, you can effectively purchase a 'share' of a property, starting from as little as $1000.
In so doing, you can unlock two of the best benefits of real estate investing, namely:
Rental income – The properties that you buy into are all rental income properties.
Property appreciation – Property tends to appreciate over time. This means that every 'share' that you have in the property will also appreciate in value (provided the market conditions are conducive to property appreciation).
Half 2: Connecting real estate affiliates to real estate companies
The other half of realestateaffiliates.com is dedicated to linking affiliates with relevant property companies. If you are a property company with ambitions of launching your own referral program, Real Estate Affiliates could be a valuable partner, helping you set the program up and find successful affiliates to help promote it.
How does the payment process work?
The payment process is a bit more complex than other programs because it offers three different payment options, namely:
Cost per action
Cost per leads
Revenue share
More specifically, you can earn a referral fee of up to 25% of the investments made by your referrals through your affiliate links on your websites and social media platforms.
What kind of content could work well on their platform?
Assuming you're interested in becoming an affiliate, you would do well on the subject of real estate crowdfunding. This includes:
How real estate crowdfunding works
Real estate crowdfunding vs REITs (real estate investment trusts)
Benefits of crowdfunding vs traditional investments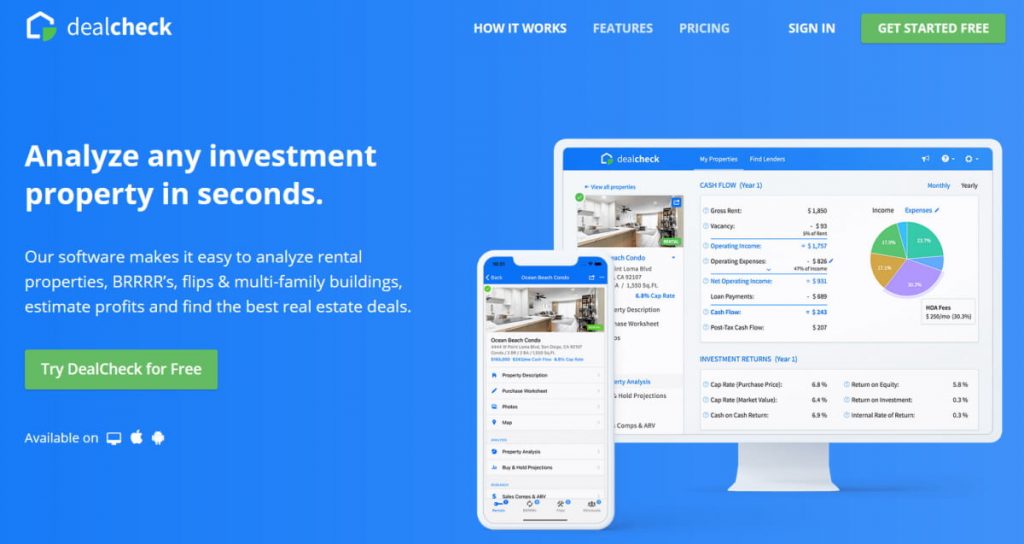 Dealcheck.io falls into the real estate software category. The primary goal of this real estate website is to help people complete in-depth financial analysis of investment properties, in a time-efficient manner.
The features of the software include: 
Rental cash flow calculator
House flipping calculator
Investment return calculations
Cash flow and profit projections
Property wholesaling tools
Sale and rental comps
ARV estimates
And more..
Ultimately, dealcheck.io makes investment property analysis very easy to do, and it can save real estate investors huge amounts of time.
How does the payment process work?
Dealcheck.io currently offers a 30% recurring commission, based on the type of membership that a user signs up for and how long they remain a member. This effectively means:
If someone signs up for the $10 per month package – You can expect a 3 dollar monthly payout, while the member remains active
If someone signs up for the $20 per month package – You can expect a 6 dollar monthly payout, while the member remains active
It's also worth mentioning that you can receive a $100 cash bonus for every 10 new paying users you refer.
What kind of content could help promote the Dealcheck.io affiliate program?
To get the most out of the Dealcheck affiliate program, you would need to produce content about:
How much to offer on a house
How to calculate potential rental yields
How to estimate repair costs
Best real estate analysis software
How to compare the value of similar properties
Sticking with the real estate software category, Buildium is another real estate affiliate program worth looking into. Unlike dealcheck.io which is designed to analyze properties, Buildium is designed to help you manage your entire property business, including property management, accounting software, business operations, property listings, eFiling, document storage, and more. In other words, buildium is best suited to people who run a property investment business and want cloud-based software to help them manage every facet of the company. 
How does the payment process work?
You earn a 25% commission for each monthly subscription generated
Monthly subscriptions start at $150, meaning $37.50 payouts (or more) for each subscription
You also get paid $10.00 for every free trial generated (they call this a lead)
What kind of content could help promote the Buildium affiliate program?
One of the first things would be to create comparison articles, detailing the difference between buildium and rival software like Appfolio, Tenant Cloud and Rent Manager. Then you could also produce content concentrating on subjects like: 
How to start a property management company
Best property management software
How to set up a 1031 exchange
How to verify your tenants
Bookkeeping tips for property managers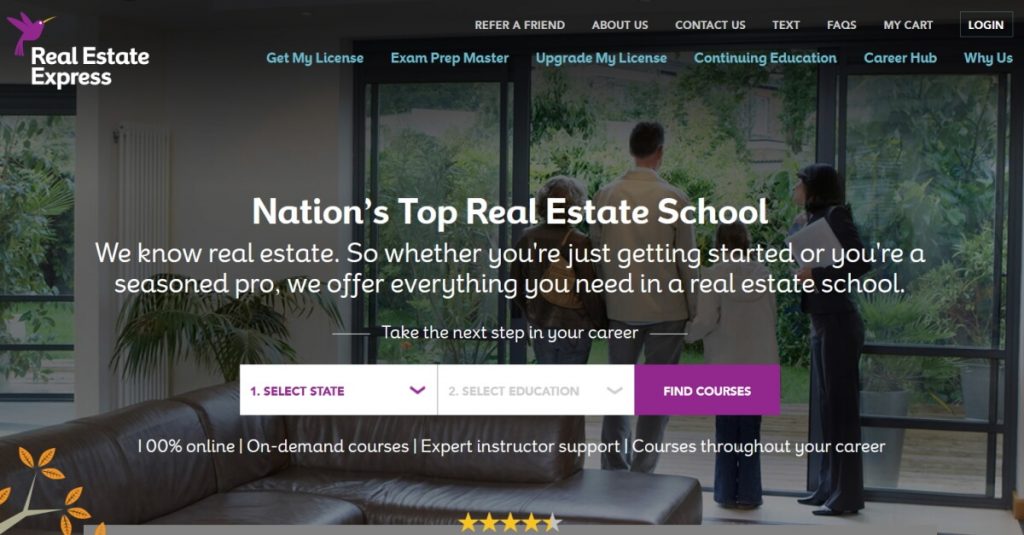 You might be surprised by how competitive the real estate education industry is. To give you a rough idea of the numbers involved, there are: 
Approximately 51,000 searches per month for 'real estate license'
Approximately 52,000 search per month for 'real estate express' 
Approximately 25,000 searches per month for 'real estate school'
Real estate express is one of the market leaders in this space, with the company name (52,000 searches) generating more interest than the subject of real estate licenses (51,000 searches). Ultimately, Real estate express is arguably the most successful real estate license education company currently in existence.
How does the payment process work?
You earn 20% of each purchase generated by your affiliate links. The courses start from around $180, which means you can earn anywhere from $36 to $68 per sale, depending on the course that a user signs up for. With that being said, it's worth mentioning that real estate express often run promotions that could increase or decrease your monthly earnings, depending on how successful the promo is.
What kind of content could help promote the Real Estate Express Referral Program?
Real estate education is actually a very broad topic, and you could present detailed guides on a number of different subjects like 'how to calculate cap rate' or 'how to become a realtor'. In addition, you could also create compelling real estate tutorials, with prominent links to real estate express for more detailed versions covering a wider range of topics. 
The following subjects could also help promote real estate express:
How much do real estate agents earn
Best online real estate school 
How to get your real estate license
Real estate express vs kaplan (and other comparison articles)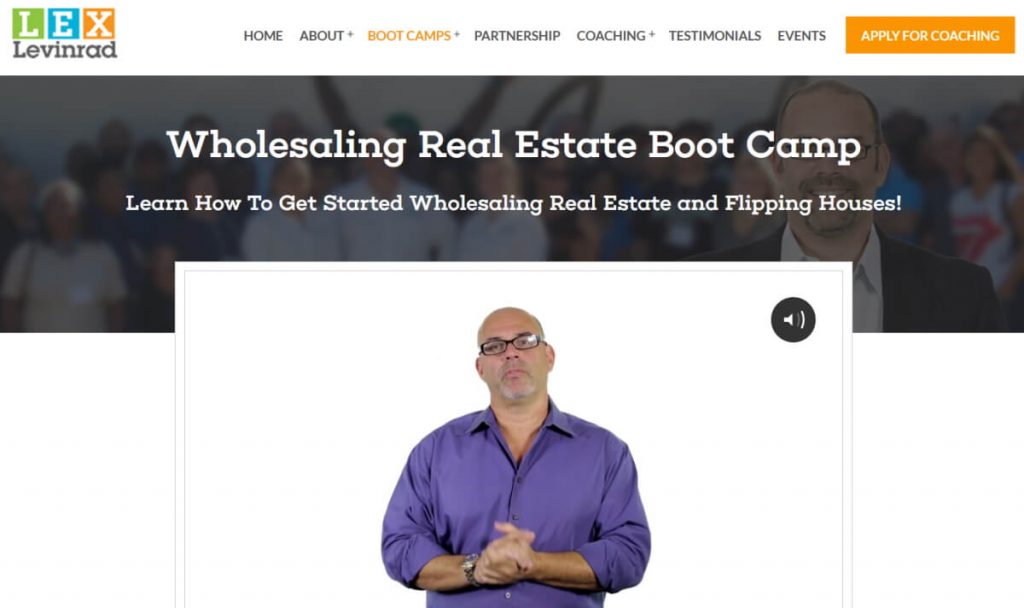 Lev Levinrad currently runs one of the highest paying real estate affiliate programs. The main product offering on the site is boot camps that teach people how to: 
Wholesale real estate
Flip properties 
How to avoid putting down a big deposit (ie no money down)
How to find properties to put offers on
What to say to the realtors
Knowing how much to offer
Unlike more traditional real estate education websites, Lex Levinrad's goal is to teach people how to make money through real estate, rather than offering an official real estate license or certification.
How does the payment process work?
With Levinrad's affiliate program, you get paid a 50% commission on all sales generated by your affiliate links. This can translate to some astronomical payouts because his boot camp programs definitely aren't cheap.
To put this in perspective, his overarching course on real estate investing went on an 87% discount for a Black Friday deal, retailing for $897 during the sale. That means the regular price is $6,130, which is not a small sum of money by any means. 
Unlike all the other affiliate programs listed in this roundup, there is a 'guru' element to Levinrad. While he may be fully qualified to teach people about real estate investing, it is also true that only a small percentage of his students will go on to make life changing profits using his techniques. 
In other words, there is a possibility that students of his boot camps make a significant capital outlay to attend the camp, but never really make back their money in the long run. You may or may not find this ethically challenging. It's worth mentioning this detail before you officially sign up.
You can easily sign up on Lex Levinrad's website. Just keep in mind that you need at least 1,000 unique daily visitors to be considered for his affiliate program. That will rule out a lot of small-time bloggers, but if you're pulling in over 30,000 users per month to your real estate blog, you should definitely consider applying.
Frequently Asked Questions