Buying a foreclosed home can be a great way to purchase a property for less than its market value. The reason foreclosed homes often sell below their market value is that the bank (loan provider) is motivated to get the property off their books as soon as possible. Attractive pricing is one of the most effective ways to do this. The property then becomes a magnet for astute investors hoping to score a deal, and it partially explains why house-flippers are so obsessed with finding foreclosed homes.
How Does Foreclosure Work?
A foreclosure occurs when a borrower is no longer able to meet the financial obligations of their loan. As a result, the home is then repossessed by the loan provider and sold to cover the cost of the outstanding mortgage. In most cases, the home will be sold via an auction, either online or in a physical capacity.
How to Find Foreclosed Homes Online
As soon as you land on the homepage of homepath.com, it should be clear that it is an excellent source for finding foreclosures. Homepath is quite literally a search engine for foreclosures. Powered by Fannie Mae, it has a massive database of properties to choose from, all across the United States. Best features: 
● A huge database of Fannie Mae foreclosure
● Very easy to use
● Completely free
As soon as you land on the homepage of homepath.com, it should be clear that it is an excellent source for finding foreclosures. Homepath is quite literally a search engine for foreclosures. Powered by Fannie Mae, it has a massive database of properties to choose from, all across the United States. Best features: 
● A huge database of Fannie Mae foreclosure
● Very easy to use
● Completely free
3. Foreclosure.com (Paid)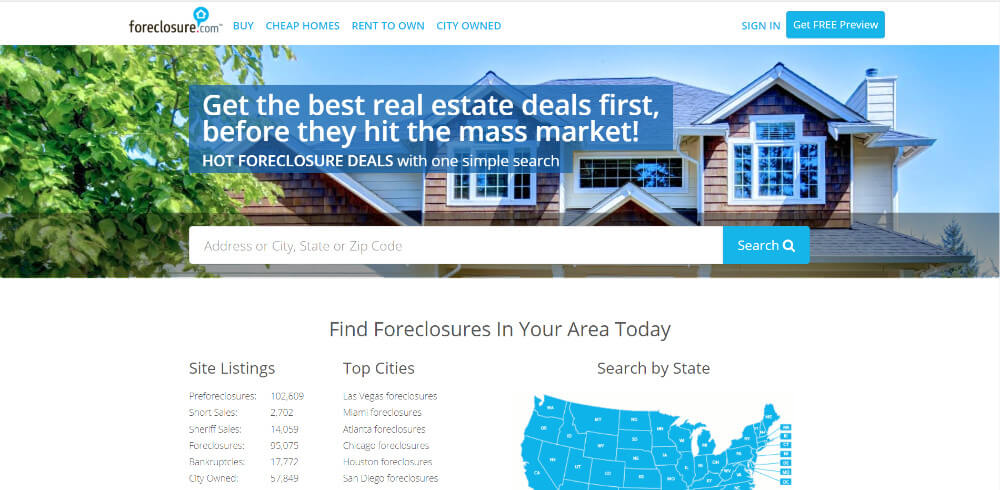 As the domain name would suggest, this is another great online resource for finding foreclosure property. On of the best features of foreclosure.com is that you can apply a filter to the results, to help narrow down your search. At this moment in time, you can add the following filter to your search: 
● Pre-foreclosure properties
● Short sales
● Sheriff sales
● Foreclosures
● Bankruptcies
● Rent-to-own
● Fixer-uppers
If you don't have time to attend physical auctions, auction.com could be just the solution you need. The site allows you to search for foreclosed homes and REO properties with ease. More importantly, you can start bidding on properties that meet your investment criteria. If you go on to win the auction, the property is yours. Best features:
● Large database of foreclosures and REO properties
● Excellent education resources
● You can bid on properties immediately
● There is an app version that you can download
● It is free to use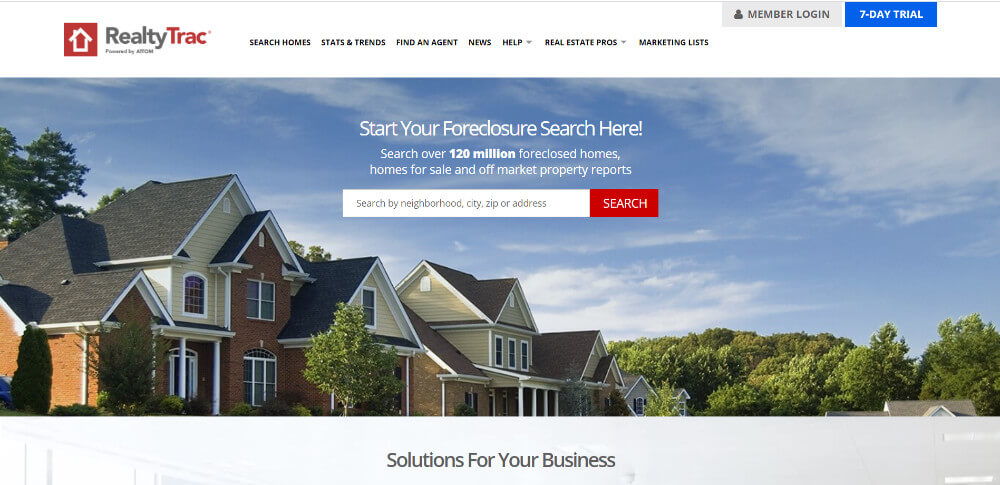 The size of the RealtyTrac foreclosure database is incredibly impressive. Boasting 120 million foreclosed homes, you can literally find a property in every county in the US.
Another impressive feature of the RealtyTrac site is educational content. They have a number of video tutorials that can help deepen your understanding of how to capture a foreclosure sale successfully. Notable features:
● 120 million property listings to choose from
● Helpful tutorials and video library to help guide your property search
● Off-market property reports
● You can view home values and property records
● There is a monthly fee to access realtytrac.com
6. FlipScout By NewSilver (Free):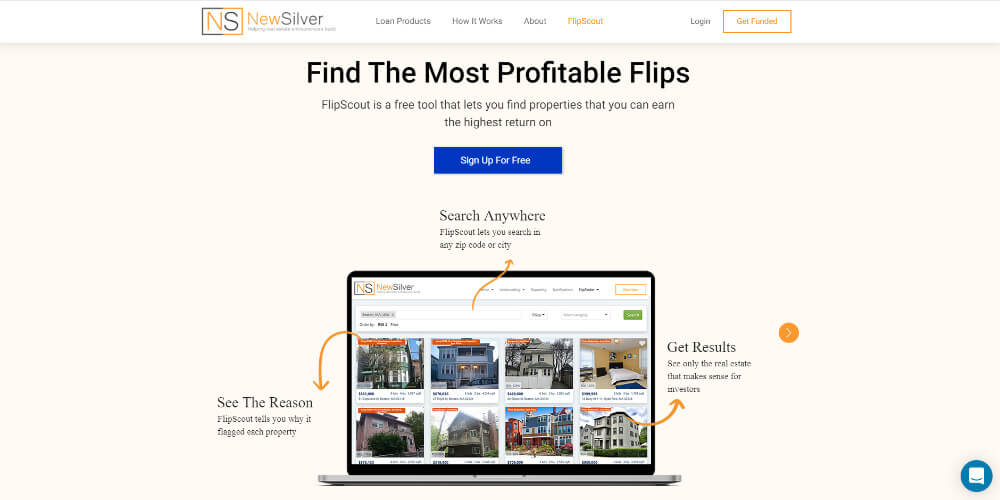 FlipScout is essentially a search engine for property flippers. Its features aren't limited to finding foreclosure properties, but it does have a simple foreclosure filter to help narrow down your search. If you're an active property flipper or a BRRRR investor, it's definitely worth a look. Best features:
● Simple Foreclosure filter
● Explanation of why each property is listed on the site
● An estimate of how much rehab work will be needed
● ROI Estimator
● Ideal for property flippers and BRRRR investors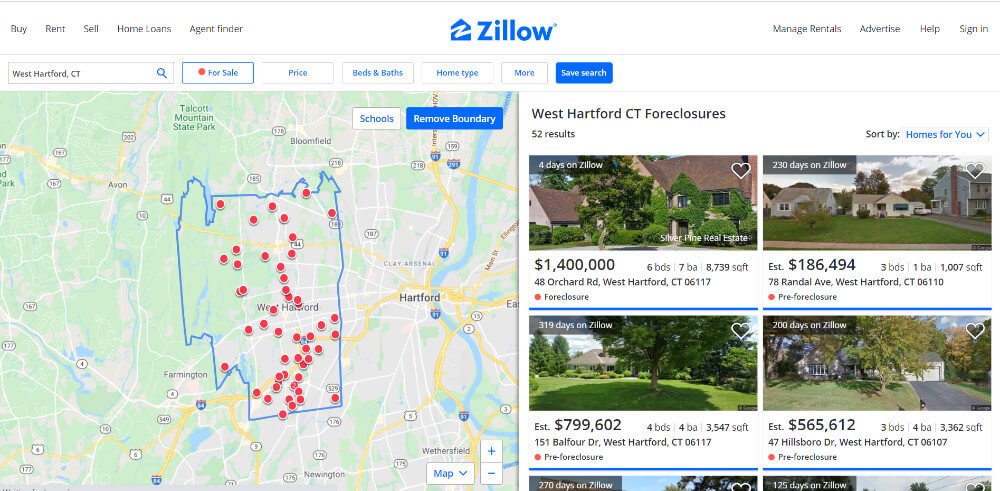 It is somewhat surprising that more people don't recommend Zillow for finding foreclosures. As one of the biggest real estate websites in the world, the number of available listings dwarfs most of its competitors.
More importantly, there is a simple foreclosure filter that you can use to help narrow down your search. The only slight drawback when using Zillow is that each listing will receive a number of visits. This means you will have to act swiftly if/when you spot a good opportunity. 
● Huge property database
● Simple foreclosure filter
● User-friendly interface
8 HUDhomestore.com (Free):
Although there is a difference between a HUD home and a foreclosure home, they both fall under the umbrella of a repossessed property. The main difference is that foreclosed homes are resold by banks and loan providers, whereas HUD homes are ultimately resold directly by the Housing and Urban Development department of the United States.
Fortunately, HUD homes are just as likely to sell below market value as foreclosure homes. This makes HUDhomestore.com an invaluable resource for property investors. There is a massive selection of homes to choose from, and you can search according to county, city, and zip code (you can even narrow it down to a particular street). Best features:
● Massive database of properties
● You can narrow down your search to city, zip code, and even street
● HUD homes are just as likely as foreclosures to be sold below market value
Other Ways To Find Foreclosures:
In addition to the many online resources available to you, there are some more traditional methods to find foreclosed homes.
Live Auctions: Despite being one of the oldest methods, live auctions still work. Newspapers are a great source for finding out where the auctions will be taking place, so you might want to invest in a weekly subscription to some of your best local newspapers.

Real Estate Agents: An experienced real estate agent can be immensely valuable in your search for a foreclosure that fits within your budget. You can use their impressive local knowledge to your advantage, and hopefully, find a property that doesn't make it to any of the online portals.

Public Records: Before any of the listings that you see on sites like Zillow and RealtyTrac are published, they will be documented at your local county's records office. You will need to visit the record office to conduct the search, but this barrier to entry can be a good thing. You can potentially open up a time window where a limited set of people know about the property.
Tips For Funding A Foreclosed Home
Once the purchase price has been established, you will need to secure financing to finish the deal. However, buying a foreclosure is not quite as simple as buying a regular home. Due to the risks associated with foreclosures, banks might not be as willing to lend you the money. This is why many investors turn to hard money lenders or private money lenders in order to secure the property purchase.

If you're serious about buying a foreclosure, it will be in your best interest to get pre-qualified for the amount that you are willing to spend. This can simplify the purchase and speed up the process. The last thing you want is for the opportunity to slip through your fingers. Using a hard money lender and getting pre-qualified for the loan amount are two of the best ways to prevent this from happening.
In the end, finding and purchasing a foreclosure presents a reasonable balance between risk and reward. While there are some extra risks compared to a normal property purchase, those risks can be overcome through additional research and analysis.
In many cases, you will find that the property is perfectly fine and it is simply the financial stability of the previous owner that has opened up the investment opportunity. Provided you investigate the status of the lien of the property, research the area thoroughly, and have a good understanding of the property's potential value, there is every reason to proceed with a foreclosure sale.
How long does foreclosure take?
Is buying a foreclosed home a good idea?
There are some risks when proceeding with a foreclosure sale, namely:
● The condition of the house might not be that great
● It can be difficult to secure financing
● To take possession of the home, you must clear the title (ie paying for all outstanding liens)
● It can be hard to determine the exact value of the home
On the last point, it is worth mentioning that an ARV Calculator can give you a better understanding of the home's value.
What should you look for when buying a foreclosure?
More than anything, you need to understand the potential value of the property. Although this can be tricky without seeing the state of the property first, there are some basic metrics you can use to establish a baseline valuation. This includes:
● Plot size
● Number of bedrooms
● Value of comparable properties in the area
● The average rent for similar properties in the suburb
● Home appreciation rate
By using these baseline metrics, you can complete a basic risk vs reward analysis before investing any of your money. Ultimately, you should be confident that the underlying value of the asset far exceeds any potential risks with the state of the property. If your analysis leads to this conclusion, you essentially have a green light to proceed with the deal.