Finding a cheap house can be a challenge. However, the good news is that there are more resources available now than ever before. In this guide, we explain how to find houses to flip, using some of the best online and offline options for finding a suitable investment property.
Choose The Right Location
To find a cheap house to flip, you have to choose the right location.
For instance, Hawaii and California are well known for being extremely expensive states for purchasing and flipping houses. By the same token, cities like Manhattan, Seattle and Boston are also known for boasting some of the most expensive real estate in America.
This is important, because if your goal is to find affordable houses to flip, there are a number of states and cities that you can pretty much eliminate from your wish list.
To help narrow down your search, it's worth keeping in mind that house flipping activity is prolific in the following states:
All of the states listed above are brimming with opportunities for a house flipping business. Furthermore, we also have a state-by-state guide to flipping houses, which may help you decide on the right area to focus on.
The last point on location is that an intimate knowledge of the area is irreplaceable, and this is why so many property investors choose areas that they know well. So, if your current city or state is relatively affordable, this is often the most useful place to start your search. However, if you live an expensive area, you might be forced to flip houses out of state.
Leverage The Power Of The Internet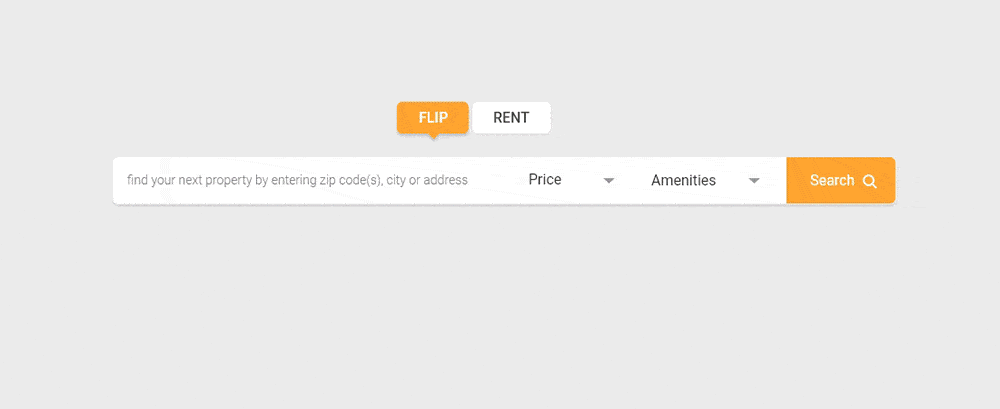 If you're a property investor and you haven't heard of FlipScout, you will be pleasantly surprised by the selection of features that it offers for House Flippers specifically. It is effectively a free house flipping search engine that allows you to:
FlipScout is particularly good at finding properties that are in the 'pre-foreclosure' status, and also allows you to get estimates for construction.
It also gives you access to the current listing price, assessed value, predicted ROI and the potential profit.
In order to use FlipScout, you simply need to sign up for a profile, after which you can start searching for a house flip opportunity.
Zillow's Foreclosure Center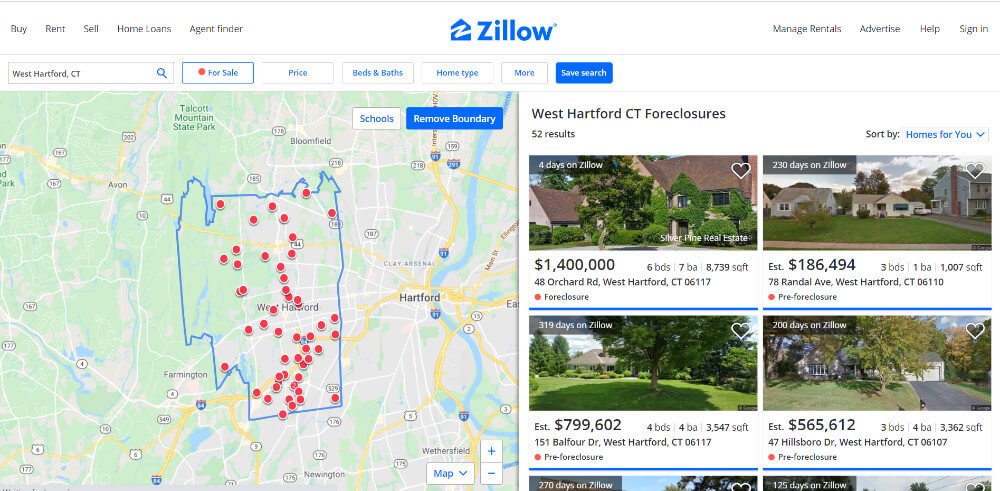 While most property investors are well aware of Zillow's extensive database, they might not be privy to some of the features that can make it a valuable resource for house flippers specifically.
The primary resource is Zillow's Foreclosure center.
This allows you to quickly search Zillow's entire database of pre-foreclosures, foreclosure auctions, and bank-owned properties in your area. These are the types of properties that often sell below their market value, which presents a unique opportunity for house flipping specialists.
If you can spot a property with an asking price that is below the market value, there is effectively a profit margin pre-built into the deal. Furthermore, if you execute reasonably affordable high ROI renovations, you can further increase the gross profit that could be made when the house is resold.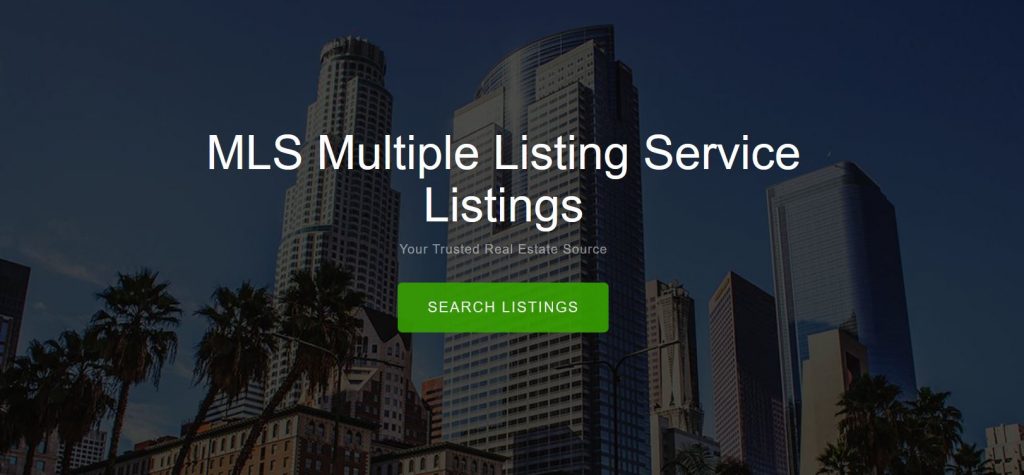 MLS stands for Multiple Listing Service, and it basically the mother of all property databases in the US. The MLS was created by brokers, realtors and real estate professionals to help facilitate property sales throughout the US.
The main reason to consider using the MLS is because it is likely to have the highest number of listed properties, and it is populated with more information than you are likely to find on other websites. In addition, properties listed on the MLS tend to sell faster than homes sold by the owner directly.
However, there is a catch with the MLS that you need to be aware of. Access is limited to real estate agents and there is a monthly fee involved. Due to the access limitations, it is often best to partner with a realtor that has access to the MLS in order to take advantage of this resource.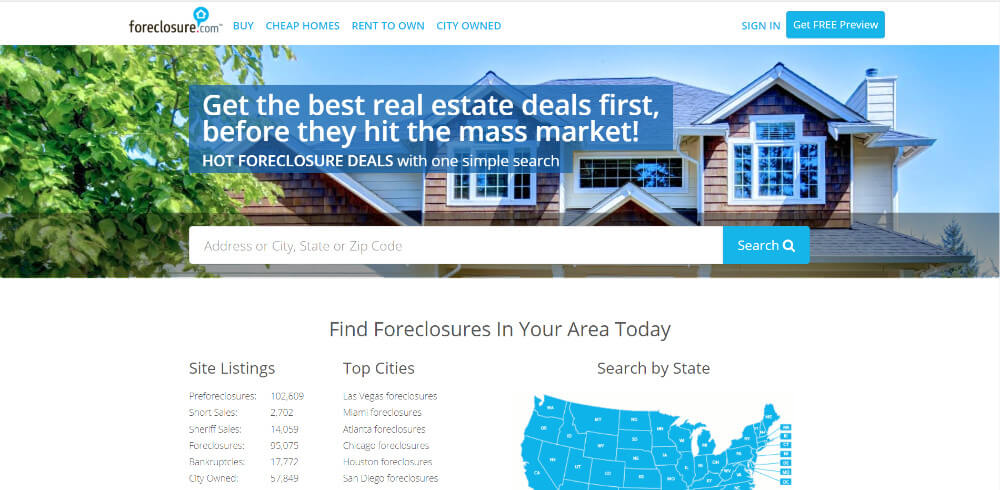 The idea behind foreclosure.com is relatively simple. It is real estate database consisting almost exclusively of foreclosure properties. The site also lists the following property categories:
With such an extensive range of properties that can potentially be purchased below their market value, foreclosures.com can be a very happy hunting ground for property flippers.
There is just one catch that you need to be aware of with this particular site. It is open to members only, which means that you have to pay a monthly fee in order to access the listings. At this moment in time, it costs less than $50 per month to view the listings, but this could change in time.
More importantly, if foreclosures.com can help you find a profitable house to flip, the cost of the membership well effectively pay for itself 50 times over and then some. Also, you don't necessarily need to pay on a month-to-month basis. They offer weekly pricing as well, which can be the better option if your plan to do most of your property searching in short batches of time.

There is one primary reason that homeowners choose to forego a real estate agent entirely and sell their home themselves: to avoid paying realtor commissions.
While the exact commission percentage of each realtor may vary, it is most common for the realtor fee to be in the region of 5%. When selling a $200,000 home, that works out to a commission fee of $10,000. It's easy to understand why homeowners are attracted to the possibility of avoiding this fee altogether.
More importantly, when homeowners choose the FSBO (For sale by owner) route, it introduces wiggle room to strike a deal.
Firstly, because you can make contact with the homeowner directly, it is feasible for you to make an offer for less than the listing price. Even if your initial offer isn't accepted, it can still serve as the first step in a price negotiation.
Secondly, because there is no real estate commission fee involved, homeowners might be more willing to accept a slightly lower price.
Tap Into Your Network (And Grow It If Need Be)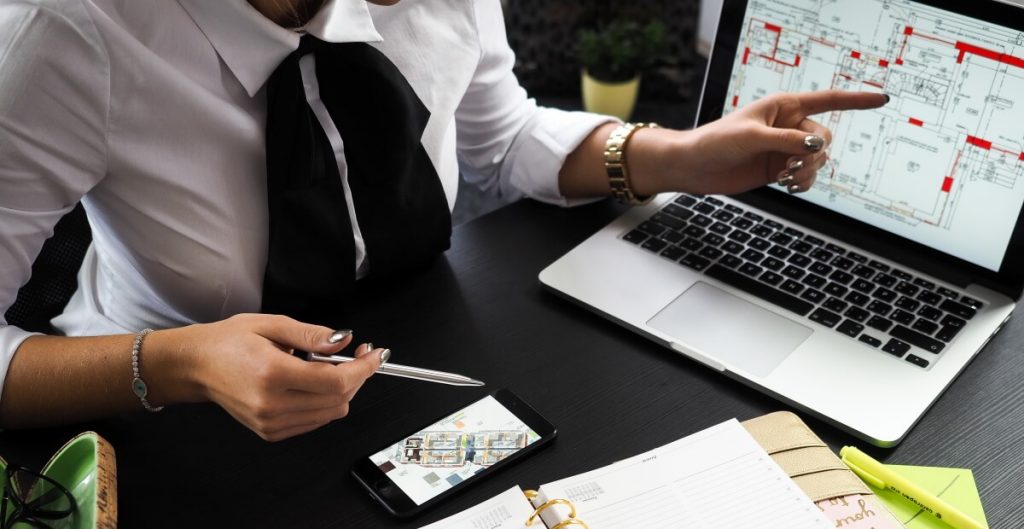 Your personal network can often offer the fastest way to find cheap houses to flip. Within this network, there are effectively 3 types of professionals that you should consider reaching out to.
1. Fellow Property Investors & House Flippers
You might be surprised by how easy it is to connect with like-minded property investors.
Even if your real estate colleagues don't reveal all their secrets to you, there's a good chance they will be able to offer extremely valuable insights that can accelerate your search for a suitable property. It could be extensive knowledge of a particular area or a strong track record of predicting what the real estate market is likely to do in the next 12-24 months.
The point is, each fellow real estate investing professional in your network may possess market knowledge that you can leverage to your own advantage. Just remember that it's a two-way street. You can't just leech off the experience of others. You also need to provide value and insights of your own, creating a partnership dynamic that serves both parties rather than just one.
2. Realtors & Real Estate Agents
Imagine if you spent 40+ hours per week analyzing local real estate markets, connecting with homeowners, and using sophisticated software to help you connect buyers with sellers. Pretty soon, you would develop a level of real estate expertise that part-time property investors can only dream of possessing.
Thankfully, you don't need to change your occupation in order to capitalize on this expertise. Instead, you simply need to make it your mission to connect with a real estate agent that has highly specific knowledge of the area that you are targeting. In so doing, you can capitalize on all the time they have spent analyzing that very property market.
The underlying objective of a wholesaler is to find a property that is below market value, and then sell the contract to buy that property to a real estate investor. In other words, wholesalers specialize in finding properties that are worth more than the listing price.
While there will be a fee involved if you decide to purchase a real estate contract through a wholesaler, there's a good chance that you can cover the cost of this fee easily when the property is eventually resold after the renovation work is complete.
Like realtors, wholesalers also spend a huge amount of time pouring through property listings searching for diamonds in the rough. As a house flipper, you can use the time and skill-set of a wholesaler to help you find a property brimming with potential for a successful house flip.
Do Not Dismiss The Power of Direct Mail Marketing
With direct mail marketing, you aren't just sending a bunch of mails to a random collection of properties.
Instead, each and every property on your list should be vetted, so that it already meets your investment property criteria. This means that if one of your prospects responds to one of your direct mails, there is potential to move swiftly from that point onward.
The due diligence on the property has already been completed. It then just becomes a matter of vetting the property in greater detail, and organizing finance for the deal if the house ticks all the boxes on your investment checklist. To this end, a hard money loan is usually the fastest way to finance a deal, and hard money lender is far more likely to approve your application for financing.
Use Traditional Techniques For Finding Cheap Houses To Flip
Attend Auctions:
Like direct mail marketing, you might not be overly familiar with how to purchase a fix and flip property at an auction. However, don't let your unfamiliarity deter you from pursuing this particular method for finding affordable houses to flip.
In most cases, houses are put on auction because it is one of the fastest ways to sell a house. It could be that the house has fallen into foreclosure, or that the homeowner is recently deceased, or simply that the current owner needs to execute a quick fire sale. The point is, houses are put on auction in order to accelerate the change of ownership.
This is good news for real estate investors, because it means that fetching the highest possible price isn't necessarily the top priority. There are many auctions where the owner is willing to accept a below market price, in order to take the asset off their books
There is just one key risk that you will face if you choose this route. When you buy a house at auction, you aren't able to inspect the house prior to purchasing it.
If there are flooring issues, electrical problems or general repairs needed, you will only discover the true condition of the house after the sale has concluded. In most cases you should be fine, but the possibility of an expensive repair job is something that you must be aware of.
Find Foreclosures Offline
While Zillow, FlipScout, Foreclosures.com and other real estate websites make it relatively easy to find a foreclosed home online, there are other ways to identify foreclosure properties offline as well. This includes:
Newspaper listings

Searching for a notice of default (NOD) at your County Recorder's Office

Driving through the neighborhood looking for properties with a '' sign
Chatting to agents that specialize in the area
Attending

auctions

in the area
REO Properties
REO stands for real estate owned property. It most cases, REO homes are owned by a bank, that either didn't get auctioned, or failed to sell at the original auction.
To sell these properties, most large banks list their entire inventory of REO homes online. This includes:
If you are in search of a large list of REO proprty resources, this resource on Bigger Pockets should come in handy.
HUD Homes
HUD homes are quite literally owned by the US government. They are comparable to REO properties (bank owned) except in this case, the FHA (Federal Housing Administration) owns the property rather than a bank.
Fortunately, it is just as easy to view all HUD homes in the area that you are targeting, using the HUD.GOV online platform.
Appreciate That After Repair Value Is The Ultimate Key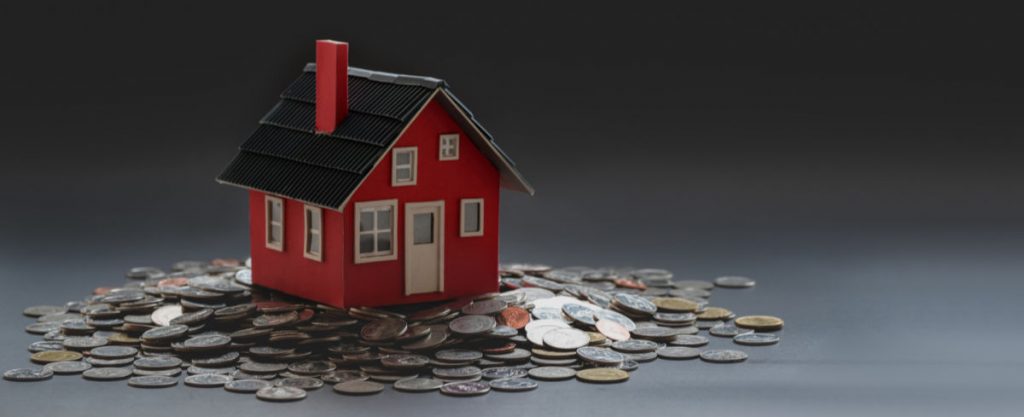 The secret to flipping houses successfully lies in your ability to spot diamonds in the rough, meaning a distressed property that has huge potential. You need to see beyond the current condition of the house, and envision its idyllic post renovation state.
To get good at flipping homes, you need to hone your understanding of which renovations increase home value the most before you put a single dollar into the rehab work. You also need to be able to spot a fixer upper using online tools and offline methods.
In addition, to make money flipping houses, you also need to become an expert at analyzing comparable properties because each real estate comp that you identify is a key predictor of the net profit you can expect to make during a flip.
Real estate comps serve as the best indicator of what the home's ARV is likely to be once the repair work is complete. Each recently sold home serves as a benchmark for the real estate market in that area. So, if a well maintained 3-bedroom, 2-bathroom, 1000 sqm home sells for $200,000 in West Hartford Connecticut, there's a good chance that a house with similar specs in the same block will sell for a similar price.
ARV Determines The Purchase Price
The last point on ARV is that is that it plays a large role in the purchase price that you offer to the existing homeowner, and therefore the amount of money you can make in the real estate deal. For instance, it is common for investors to follow the 70% rule when setting the offer price for a house flip.
Crucially, you have to have a very accurate prediction of the ARV, in order to use this rule (or a tweaked version of this rule). On this point, it's worth noting that you can use New Silver's ARV calculator to get accurate pricing data on comparable properties throughout the US. Then it is also possible to use Zillow's recently sold filter to source this information. Alternatively, a real estate agent can also supply you with accurate sales price data in their area of specialty.
How To Buy The House You Want To Flip
There are a number of ways to fund a house flip. Using a hard money lender is the most popular method, although some investors will opt for a private lender instead. Tapping into your existing home equity is another way fund a real estate deal, and modern crowdfunding platforms are also starting to offer packages for property investors.
You might also be surprised to learn that traditional lenders like banks generally refuse to fund house flips due to the risks involved. Thankfully all the methods mentioned above are perfectly valid ways to access the capital needed to fund a successful flip.