Finding the right property management software can be tricky. There are so many options to choose from and so many different pricing structures that it can potentially take ages to make the right decision.
To help facilitate your research process, we've outlined some of the best software programs currently available, together with basic summaries of how the pricing works.
Please note – The pricing and information listed in this article is subject to change overtime.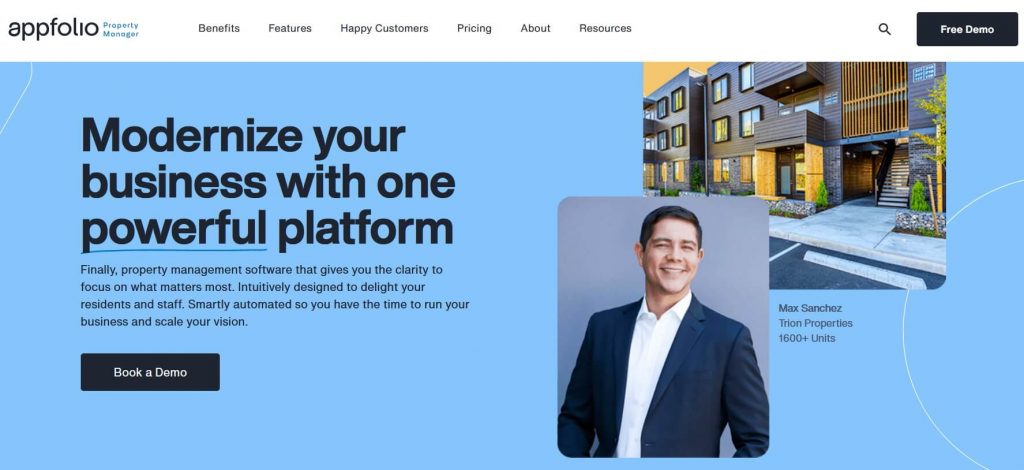 The key selling point of Appfolio is that it allows you to 'run your entire real estate business with one product'. If you manage a large scale business managing multiple properties, there's a strong possibility that Appfolio can cater to almost all of your primary needs.
Appfolio scores highly in ease-of-use, value-for-money, customer support and overall functionality. Moreover, this cloudbased software caters to:
Residential Property Management
Commercial Property Management
Homeowner's Associations
Residential Property Features
Single-family Management
Multifamily Management
Syndicate your listings to dozens of websites in a single click
Process applications and check renter history quickly
Online leases using mobile devices
Online rent payments
Automated late feed
Robust accounting features
Online maintenance and inspections
Commercial Property Features
Schedule rent increases
Online rent payments
Commercial financial reporting features
Common area maintenance
Community Association Features
Automate the process of collecting duties
Automate the review of architectural requests
User-friendly text messaging and emails to homeowners and boardmembers
Digital submission of violations
Track the status of previous violations
Accounting, payments and mail services
Appfolio works with 2 tiers of pricing. The standard property manager software has minimum monthly fee of $250, and you get charged per unit thereafter. You require a portfolio size of 50 units for implementation. Appfolio Plus is for businesses that manage 1000+ units, with a minimum monthly fee of $1,500. It requires a portfolio size of 500 units for implementation.
Appfolio (Standard)
Residential = $1.25 per unit/month

Commercial = $1.50 per unit/month

Student Housing = $1.25 per unit/month

Community Associations = $0.80 per unit/month
Appfolio Plus
Residential = $3.00 per unit/month

Commercial = $3.00 per unit/month

Student Housing = $3.00 per unit/month

Community Associations = $0.85 per unit/month
Propertyware is an all-in-one  solution that focuses on the needs of single-family property managers.
Robust accounts receivable tool
Keep tabs on your bank account, deposits, reconciliations and more
Accounts payable tool to access vendors, bills, payments, notes and scanned documents
Cash and accrual options
Calculate and collect fees with one click
Setup a portfolio or property-level budget in minutes
Secure online payments through PropertyWare portal
Ability to receive cash payments
Easy implementations that integrates with PropertyWare owner and tenant portals
Give your tenants payment choices to rental payment consistency, while providing owners with real time insight into their rental property's financials
Generate more leads with professional listing templates
Syndicate your listing across all sites in a few clicks
Create branded, easy-to-navigate websites that are mobile responsive
Track owner and tenant leads
Tap into PropertyWare's advanced lead management services
Use one work order to manage multiple vendors
Automate dispatching of service technicians using Propertyware Contact Center
Create lists of standardized tasks and pricing
Integrate vendor invoicing into the software
Property inspection pictures in real time
Streamlined communication ensures that every call and email is answered by highly trained staff
Basic
Residential = $1.00 per unit/month

Implementation fee = 2 * Monthly subscription price
Plus
Residential = $1.50 per unit/month

Implementation fee = 2 * Monthly subscription price
Premium
Residential = $2.00 per unit/month

Implementation fee = 2 * Monthly subscription price
Buildium is another great all-in-one property management software solution. The core features of Buildium revolve around accounting, business operations, leasing and community association management, and the software is considered very user-friendly. 
Securely manage bank accounts, accept rent and create valuable reports with ease
Monitor and report on business expenses and property expenses
Online payments for rent, association fees and vendors
Cash payment option for tenants that can be made at retail outlets
1099 eFiling
Manage maintenance requests and payments online through a simple and intuitive web portal
Store important documents in the cloud, and access them from anywhere at anytime
Manage work orders, assign them to vendors, and pay bills in just a few clicks
Use your mobile device to initiate unit inspections
Setup renter's insurance
Provide easy access to financial reporting to property owners via a mobile portal
Make smarter business decisions with powerful analytics and actionable insights
Leasing & Tenant Management
Manage all of your rental listings, and syndicate to Buildium's partners in a few clicks
Accept rental applications from your marketing site, and process any related fees
Run comprehensive tenant screenings: criminal, credit, & eviction reports
Build your brand and post rental listings with a free, customizable website
Simplify the leasing process with eSignatures and cloud document storage.
Community Association Management
Log, track and report on your homeowners' violations easily, from anywhere
Communicate with homeowners, non-owner residents and board members, anytime, from anywhere
Track budgets, vendor payments, association fees, and more with powerful reporting.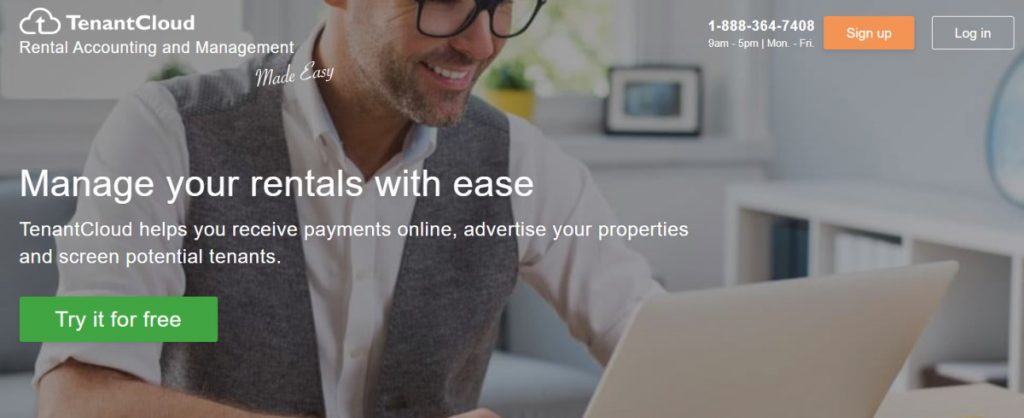 TenantCloud is highly affordable property management software that is very well tailored to DIY landlords specifically. The pricing ranges from $0 (ie free) to $35 per month, depending on which package you decide to use.
It might not boast all the bells and whistles as some of the other programs highlighted in this round-up, but it gives you most of the core basics you need to manage your tenants and your finances with ease.
Collect rent and other payments online. You can accept ACH, PayPal, and any other debit and credit card payments.
Store receipts and manage your accounting all in one place. Get financial and rental reports whenever you want
Easily record all property transactions and balances
Schedule invoices, late fees, and receipts
Apply deposits, do refunds, and discounts
Export all your data whenever you need it
Screen potential tenants and feel confident about who you are renting to
Pay for screening yourself or require tenants to pay
Receive screening reports directly to your TenantCloud account
Screening Report includes a background check, credit check, and a National Eviction Records search
Free listing website to showcase your properties and attract tenants for free
Fully customizable to elevate your branding
Accept rental applications and fees online
Accept tour request and messages
Automatic listing syndication
Post vacant units to numerous listing partners in one click
Receive and manage leads directly through TenantCloud
Additional Features with All Packages
Agreement template builder
Property keys and specs
Use the roommates feature to set up a lease with multiple tenants
Online leases
Maintenance requests that allow you to assign visual work orders to service professionals
Owner portal makes it easy to share important info with property owners
Automatic late fee invoicing
The underlying goal of TurboTenant is fairly simple. It is free property management software that allows you to:
Screen tenants
Market rental properties
Receive applications
Collect rent online
In addition to these key features, TurboTenant also boasts several functions that are commonly found in more expensive alternatives, including:
Online Rental Applications
With TurboTenant's extensive online rental application, you can source the information you need to go from interested lead to confirmed tenant, faster than ever.
Get an easy-to-read criminal history, credit report, and past evictions with tenant screening from TransUnion so you can be assured you are renting to the right person.
Post Listings Across The Web
Post your rental on dozens of property listing websites like Rent.com, Apartments.com and more. Landlords that use TurboTenant average 22 leads per property.
Track your lead, applicant, and lease information all in one place. This includes document management, electronic signatures, rent payments, maintenance requests and more.
Post a professional Craigslist listing with only a couple of clicks.
Use up-to-date market data to price your property perfectly.
Everyone can have the peace of mind of knowing they're covered.
Find state-specific legal forms in minutes when you need them.
Landlords Package
Applications & Screening - Free

Collect Rent Online - Free

Rental Advertising Tools - Free
Renters Package
$35 for Credit and Criminal Report

$45 Credit, Criminal, & Eviction Report

Online Rent Payments Via Card - 3.49%

Renters Insurance From $8 per month
Additional Services
Once Off
These are charged only when used
Lease Agreements - $29.00

Electronic Signatures - $9.00

Landlord Forms Pack $99.99

Rent Estimate Report - $14.99
Hemlane is another all-in-one property management software solution. It caters to four different types of people, namely:
Property Owners
Real Estate Agents
Property Managers
Tenants
Like most of the other software programs listed in this roundup, Hemlane makes it easy to syndicate rental listings, take online payments from tenants, run background checks, and store all your important documents in the cloud.
Advertises your property with one click

to over 30 rental listing websites

Track which websites are attracting

tenants to your rental properties

Alerts and filters for upcoming rental vacancies

to prepare for turnovers
Stores property and unit details,
where you only need to adjust the rental rate and available date.
Professional website creation
Pre-screens tenants, schedules showings,

reminds tenants of showings, and follows up with tenants after the showing.

Allows you to add local licensed agents to show your rental properties,

without you needing to step foot in the door.

Track anyone that has inquired about your rental,

including contact information and qualifications.

Track tenant application progress online

including the last two employers and residences.
Provides a comprehensive report and score,

including tradelines, public filings, bankruptcies

Shares the information with the tenant

to provide transparency

Checks through the nationwide eviction database,

including criminal records database and sex offender registry list.

Informs you via email when an interested tenant

does not have the right qualifications

Determines whether or not you should accept the prospective tenant

after the screening process.
Reminds you when leases are coming up for renewal,

tracks vacancies, and uses real-time intelligence to list outstanding tasks.

Notifies other owners, managers,

and tenants on their next actions.

Saves all important property and

tenant documents in a cloud-based location

Provides unlimited storage for photos,

useful with move in and out inspections

Keeps a record of all your messages with

tenants and prospective tenants.
Instant bank verification that works with all US banks.


Request recurring rent, remind tenants on upcoming payments,

and provide the ACH, credit, or debit payment options

Sends automatic requests for late fees,

per the lease agreement

Tracks income and expenses from online

payments and manual entries

Upload documents and receipts

for any transaction
Alerts you with maintenance requests,

providing ability to upload photo and video documentation

Provides a streamlined process to communicate effectively

with service professionals and tenants

Assigns maintenance to service professionals

and directly updates tenants on the status

Coordinates with a US-based call center,

where specialists know your thresholds and preferred professionals.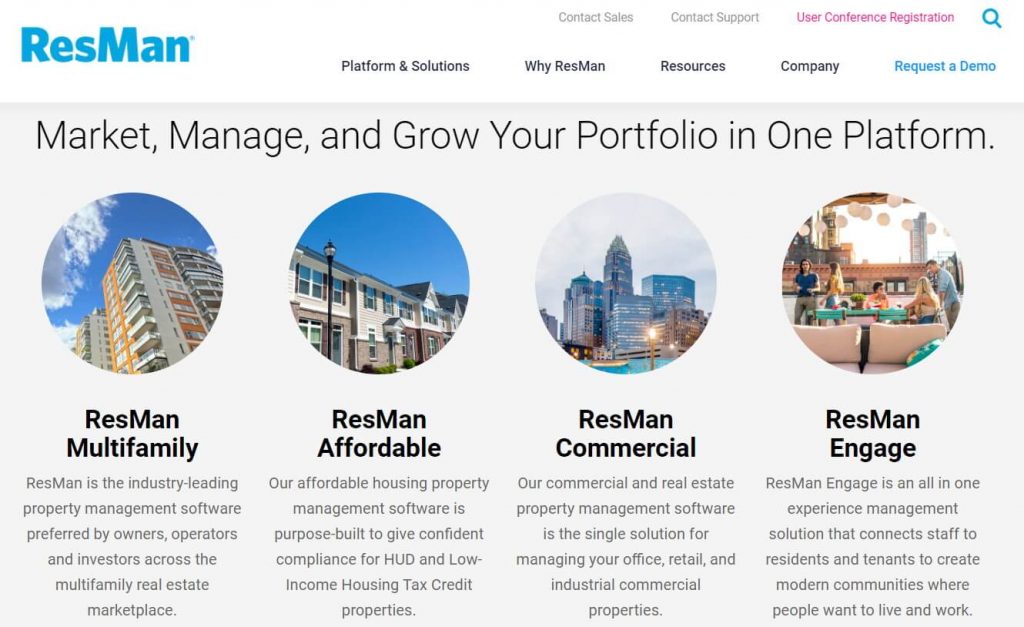 It should be pretty clear based on the image above that ResMan actually offers 4 different types of property management software namely, each of which caters to a slightly different end-user. To help you choose the right option, we've listed the most important features of each ResMan solution.
Accounting: Take control of accounting with a one-source solution that gives unmatched efficiency and accuracy
Budgeting: Transform the way you develop and use key financial data. Empower your team with a customized budgeting and forecasting solution 
Maintenance: Streamline your operations and make maintenance simple, increasing your property's value and improving resident satisfaction
Reporting: Powerful reporting features that empower your team to deliver trusted insights that improve business efficiency
HUD Certification Validation: Streamline the validation process and maximize funds by identifying potential errors before submitting information to HUD.
Special Claims Finder: Manage your property's claims and maximize your revenue with ResMan's special claims finder feature
Unlimited Document Storage: Store your documents and information securely online, create and send document bundles and never worry about paying more for storage
Custom Tax Credit Programs: With ResMan, you can create layered funding programs specific to your property's needs, making custom programs easy and efficient.
Customized for Commercial Properties: A single platform that includes the full suites of commercial client needs in one intuitive dashboard.
Interactive Dashboard: Gives you end-to-end visibility at a glance, filtering out the clutter so you can understand which issues need your attention and make sound decisions fast
CAM and Recoveries: Automated calculations for the most complex common area maintenance (CAM) and recoveries at the lease level 
Smart Workflows: Leading-edge workflow wizards enable seamless and effortless setup of leases and properties 
Property Marketing: Promote your properties online, engage with your market, and enhance your digital brand through our comprehensive marketing suite.
Online Portal: A forum for renters and tenants to connect, collaborate, and take action; from making payments to requesting a work order.
Resident Screening: Screen residents your way and fill your vacant units with more responsible renters faster and who pay on time and have longer tenure
Resident Credit Reporting: Show your commitment to your resident and improve your NOI while differentiating your assets from competitors with Credit Builder.
At this point in time, ResMan doesn't list the prices of their various software options online. Generally, this implies that it is more expensive than some of the competitors listed in this round-up.
To gain a clear understanding of what each ResMan solution costs, you will need to reach out to their sales team.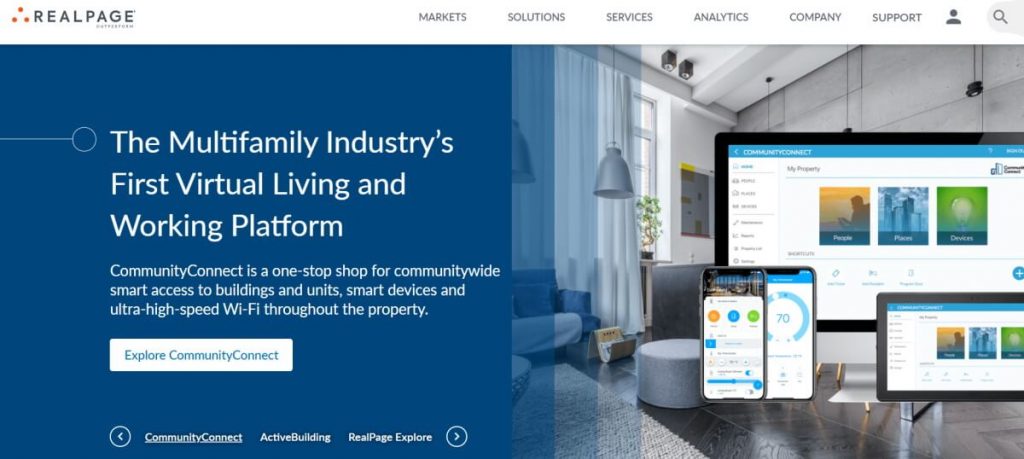 Realpage is considered one of the best commercial property software solutions currently available. Everything about RealPage is designed to scale, which makes it great for managing multifamily apartments, entire apartment buildings and commercial real estate buildings.
Of all the Software programs listed in this round-up, RealPage brings the largest number of features to the table. However, it also has the most complex pricing structure, with each key feature being added to your monthly bill. While this is good in the sense that you only get what you pay for, other programs may offer better value for money with their all-inclusive offerings.
All-in-all, RealPage almost certainly has a solution that is well-tailored to your business if you manage multifamily apartments, retail spaces or industrial buildings. However, the full scope of the software is so large that they have broken it down into individual packages, rather than wrapping everything together. You will need to extensive research before signing up for one of RealPage's solutions, primarily because there are so many options to choose from.
Custom websites designed to increase online visibility, engage more prospects and convert leads into leases
Virtual touring allows prospects to view and explore properties online, with the option of video tours as well
LeaseLabs GoDirect Marketing generates and captures direct leads that are proven to convert at a rate 2-3X higher than indirect leads generated from internet listing services
Go from invite to a signed lease in a matter of minutes.
Build custom-branded online applications specific to your business needs, leveraging certified templates and documents
Combine best-in-class screening data with flexible configurations to fill vacancies quickly with qualified renters
Create and send online lease renewals for renters to conveniently view and accept lease extensions
Upload, share, and manage leasing documents from the cloud
Give residents convenient payment options and enable easier, faster rent collection
One-bill convenience for your residents. One powerful platform for your business. Uncover hidden revenue, boost collection rates, and increase NOI with the industry's most advanced utility billing services platform
Engage residents and staff with a powerful communication and messaging hub
Take control of budgeting and reforecasting with the one property management budgeting software solution designed to make your work life easier
Drive process efficiency, reduce risk and maximize savings with a best-in-class vendor payments solution
360-degree back-office accounting solution driving unparalleled efficiency and scalability, streamlining everyday workflows and offering full visibility into the details of your data at the site level
Unfortunately RealPage doesn't currently list all their pricing options online. In order to access their full pricing scheme, you will need to contact their sales team.
In the end, it should be pretty clear that there are property management software options that are well suited real estate business of all shapes and size. With that being said, if you're still undecided, these final recommendations may help.
While the options listed here are ultimately designed for full-scale property management companies, you might be in need of something lighter if you focus primarily on vacation properties.
If this applies to you, be sure to check out this detailed guide on how to choose the right vacation rental software for your needs.