If you're interested in real estate investing, you may have heard of house flipping and may be curious about what it is, and whether it's a suitable option for you. House flipping refers to the purchase, renovation, and resale of a property for a profit, and it can be a lucrative way to increase your income. In 2020, fix and flips made up 7.2 percent of all home sales, earning an average gross profit of over $60,000.
Compared to other methods of real estate investing, this method may be the most intensive for the investor but also holds the highest pay off. House flipping investors take on properties that may be rundown or off-putting to other buyers and turn them into homes that buyers will compete for.
For investors that are new to fix and flip investing, this can prove to be a daunting challenge. Getting started with house flipping requires the real estate investor to have knowledge of a variety of fields, from financing to demographic research, construction, and much more. That's why we've put together this guide that will show you the ropes and put you on the road to success.
If you're wondering how to become a house flipper and get started in property flipping, look no further.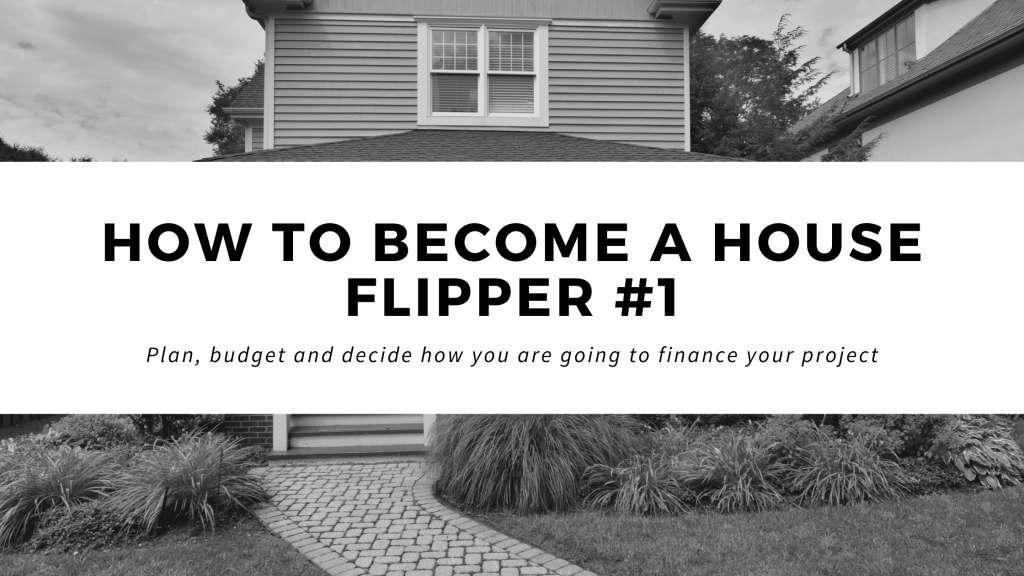 Some of the most daunting aspects of new flippers are finance-related: budgeting and costs. Very few investors have the financial resources available to purchase a property outright, which is why understanding loan and financing options are so essential.
There are numerous ways to finance a fix and flip and there are just as many ways to save money while you complete the project. How much you will spend is highly dependent on your personal finances, the loan options in your area, and the location of the property. Different locations will have highly varied property prices – cities and metro areas are likely to have more expensive real estate markets than more rural or suburban areas.
The best real estate deals typically involve purchasing a property in a good area that is below its general market value, renovating the property, and reselling it a few months later for a profit. If you're a newer real estate investor, it can be difficult to know where to start when looking for a property to acquire. Some sources of great property deals can be internet listings, foreclosure auctions, wholesales, and referrals from within your personal network.
It is recommended that new flippers keep their purchase cost low by purchasing houses that are on the lower end of the market. The old real estate saying states that you should look for the worst house on the best street, and this still holds true today. Try to find a diamond in the rough that you are confident you can turn into a real gem.
Beyond the cost of acquisition, funds will need to be set aside for the renovation. A house flipping project is all about taking fixer-uppers and helping them reach their utmost potential. Your end goal is to increase the after-repair value of the property substantially. To do this successfully, you'll need to budget and prepare carefully for every aspect of the investment. Despite being all about fixer-uppers, you also want to ensure that you are not taking on a project of such enormous scale it eliminates the possibility of making a profit.
At the same time, you want to be careful not to purchase a property that needs extensive repair work done, especially as a less experienced investor. You don't want to end up with a property that will cost more in renovation work than it is actually worth!
When looking for your first flip property, you will need to take note of what needs to be repaired or replaced in the home, and adjust your budget accordingly. Many house flippers take on renovation tasks themselves, while others prefer to rely entirely on professional contractors. There is no reason why you cannot do both – just remember that if you are DIY-ing, limit it to projects that are in your wheelhouse, or else you'll have to pay an expert to redo them.
Many house flippers fund their property purchases by using a private money loan. This is a popular financing option that comes with significant benefits for the investor. Private money loans are granted using the property as collateral, which makes the investors personal financial history less important. These lenders are also not held to the same requirements as banks are, meaning they can grant funds faster with more flexible terms.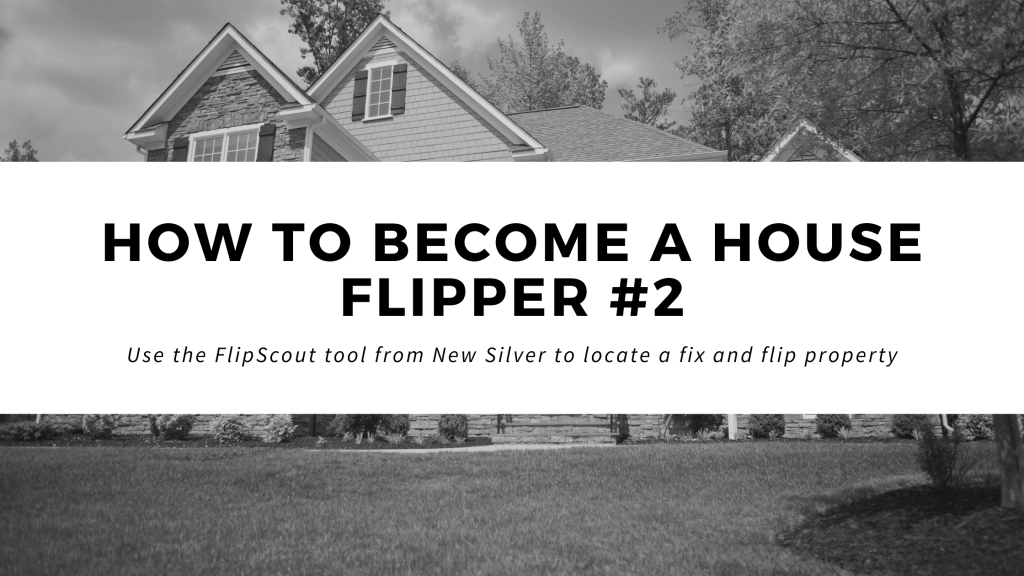 The next question after budgeting and finance is where you are going to buy a home. You will want to look for neighborhoods where the average housing prices are more reasonable, but that also offers strong resale value.
To find the best location to flip in, you'll need to spend some time doing research. Many house flippers choose to flip properties in their own states or cities simply because it's easier to manage and they are already familiar with neighborhoods that have good potential. Depending on the budget you have set, you can then decide what type of property you want to buy. Suburban areas will be a bigger draw to families, while apartments in metro areas will be more popular with younger or student buyers.
Another thing to include in your research is how long it takes properties in that market to sell, and their prices over the past three months. Look for properties that are comparable to your potential flip and pay attention to their sales information. This will be helpful when you are making an offer and ensure that you aren't overbidding or being ripped off. Based on their prices and time at market, you'll gain a clearer understanding of how long you can expect your property to remain for sale before it gets snapped up.
You can use New Silver's FlipScout to receive tip-offs on properties that you can earn a good return on. Enter the city or zip code you are interested in and get access not only to listings but also to other key data that can help make your investment a successful one.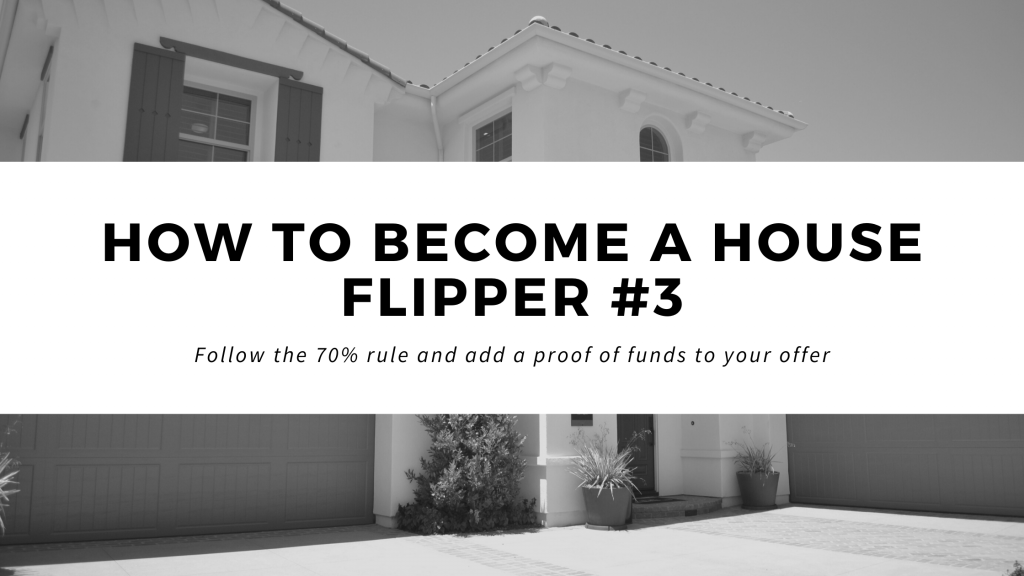 Before you are able to get started, you'll need to do some research into financing options. Very few investors have the funds available to purchase a property outright. Take the time to look for a lender that is able to meet all the criteria you need to make the investment a successful one.
With house flipping, many experts follow the 70% rule to analyze how much they can pay for a house. The rule states that you should pay about 70% of the after-repair value (ARV) of the home, minus the repair costs. As a newer investor, it's important to keep to this guideline to ensure you are not over or under spending on the house flip. The 70% rule is a convenient way to stay within relatively safe financial parameters.
Once you've found a property that shows good potential and your loan has been approved, you can put in an offer. This can be a nerve-wracking process, considering how competitive the real estate market can be. One way to make sure your offer has more gravitas than those of competing buyers is to make sure it's accompanied by a proof of funds letter. This letter simply gives the seller the surety that you have the funds available to purchase the property already, versus some of the other buyers that will need to get loan approval first. It is also worth noting that reputable hard money lenders like New Silver can provide an instant proof of funds letter.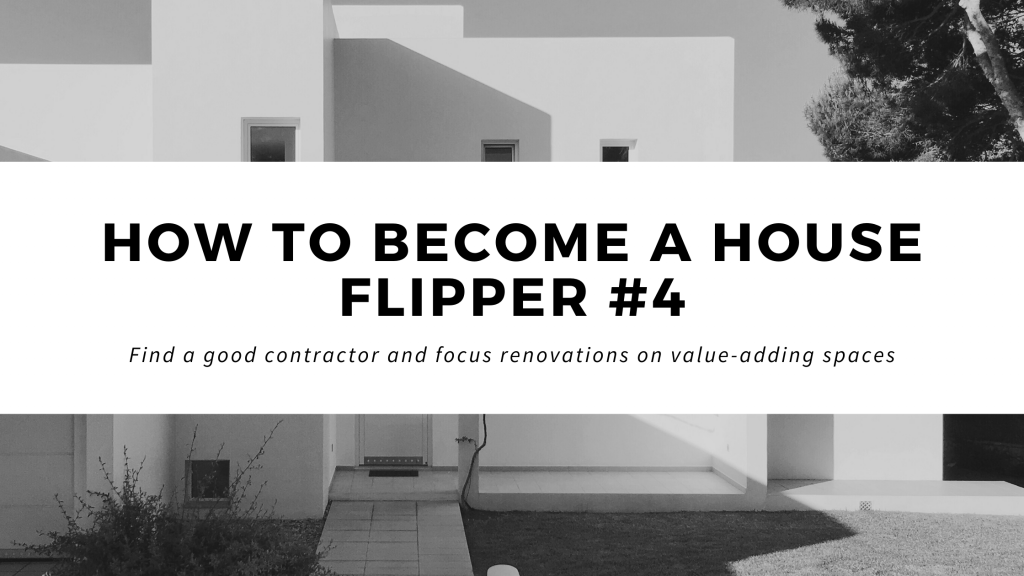 When narrowing down potential properties to flip, you'll need to outline a renovation budget and plan. You'll want to be sure to stick to the budget and timeline you set as much as possible or you'll make less money on the house when you resell it. As a less experienced house flipper, try to stick to properties that are almost turnkey homes – meaning they only need minor repair work to increase the property price.
There is a fine balance you will need to achieve when renovating a property. On one hand, you want to turn the house into something that will easily attract a potential buyer, but on the other hand, you don't want to spend too much money on renovations alone.
Achieving this balance with the repair cost can be difficult, especially if you aren't sure which renovations are important and which aren't. The key is to focus on doing renovations that add value to the property – not all renovations will be equally enticing to potential buyers, and it's easy to get carried away. If planned carefully, it's possible to renovate a property for under $50,000, with smaller individual projects being significantly less expensive.
Home renovation requires the services of a good contractor, and you'll need to vet potential candidates carefully to choose one that can meet those requirements. The right contractor will not only ensure the project is completed within budget and on time, but can also guide you on pricing and areas of repair.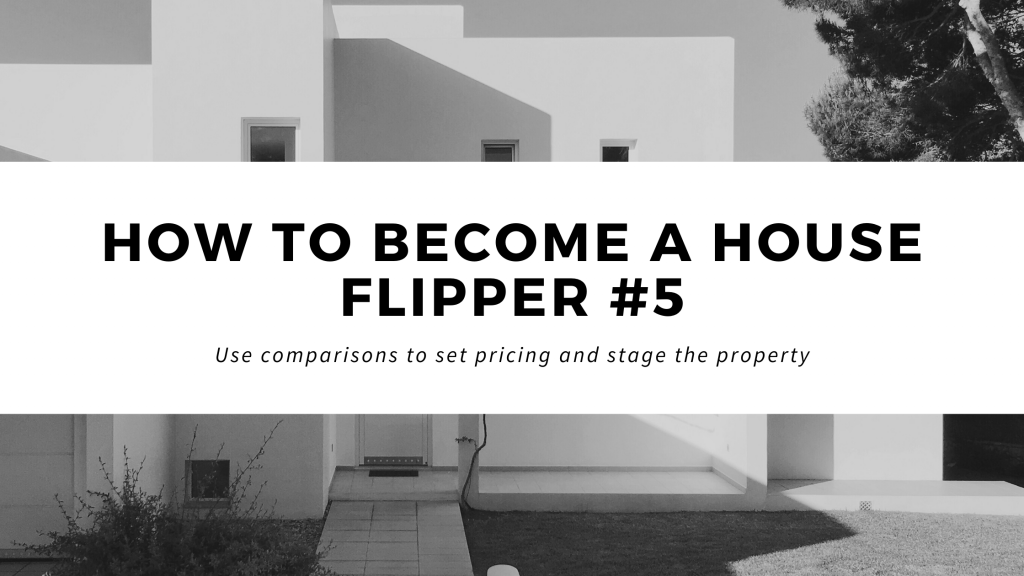 Once the renovation of the property has been completed, you can prepare it to go on the housing market. This is the point at which many inexperienced house flippers can falter – the pressure of setting the right price and selling the property to a potential buyer as quickly as possible can be a challenge. Not to mention loan repayments, holding costs, closing costs and other stresses to deal with!
To recoup your investment, repay your house flip loan and maximize gross profit, you'll want to set the right property price from the get-go. Here, your earlier research will come in handy. What you need to take into account is the average property price in the area, specifically of homes with similar sizes and features as yours. The comps (comparable properties) should guide your pricing to the right point. Don't be afraid to consult with a hard money lender, professional property appraiser, or a local real estate agent on your pricing before officially listing your property for sale.
The next step is to list the investment property, and start enticing buyers to schedule viewings and make their offers. One of the ways to ensure buyers are more enchanted by the finished product is to stage the property. Staging refers to placing furniture other key pieces in the house to highlight its' best assets. You'll stand a better chance with viewings if you have some staging done to show buyers what the home could look like. It's vital to ensure that the house is spotless and that potential buyers leave with a great first impression.
Another important sales factor is the investment property 's curb appeal. The home should be enticing from the outside and encourage passers-by to schedule a showing. Take the time to ensure there is some greenery planted outside, that lawns are freshly mowed and loose ends tidied away. These simple curb appeal enhancements can help you fetch a higher price when the house is sold.
After reading this article, you should have a clearer understanding of how to become a successful house flipper and what the entire process entails. House flipping can be exhausting, but highly rewarding with the potential to make great profits if you are willing to put in the time and effort needed to make your real estate investment successful.
The process may seem daunting to beginners, but by doing your research , creating a plan, and developing a budget, you increase the likelihood of success. At the end of the day, there is only so much preparation you can do before taking the leap and attempting your first house flip.
How Do You Estimate Profit When Flipping Homes?
As a real estate investor, you should be aiming to generate an ROI of 10-20% when flipping a house. If you are able generate a higher return than this, you are performing better than industry standards.
With that being said, it is common for first time flippers to underestimate the total cost of the project, primarily because there are so many extra costs over and above the renovations. To gain a complete understanding of all the costs involved, try using this hard money calculator.
Should You Start A House Flipping Business?
In most cases, the answer is almost certainly yes. If you choose to start a house flipping business, there are a number of tax benefits that you can unlock in the process. More specifically, as a business, you can write off a number of key expenses as tax deductible , which you can't necessarily do as an individual. This can have a big impact on the profit margin that you can expect to make during the deal.
Do you need a real estate license?
The short answer is no. You don't need a real estate license in order to flip houses. Having your license can be helpful and it can obviously save a huge amount of money on real estate commissions, but it is by no means necessary to achieve success flipping homes.