House flipping might be a riskier real estate investment than others, but the potential to earn a great profit outweighs the risk. Flipping comes with many benefits for the investor, and the level of profitability is dictated not only by the project itself but by the location too. When it comes to flipping, the location of the property will have a big impact on your profits. Different states hold different potential for house flippers and will have an effect on the level of profit that they can expect to earn at the final closing. 
Within the past few years, home values across the country have risen quickly, and while the economy has been affected by extraneous circumstances this year, flipping is still a great investment option. COVID-19 has had some effect on the real estate market, decreasing prices in some of the hottest property locations, and making it a great time to buy. The question is what are these locations, are they good for flipping houses and what you can expect to pay for a property in that area. Property prices have already started the recovery process, which means that this window to buy-for-less will close soon. If you've been planning to make any flipping investment moves, the time is now.
To help guide you on the top places to invest your money, we're answering the question "what is the best state to flip houses?" for the current economic climate. The states included in this article have all the characteristics that are good for flipping houses, including access to employment, schooling, entertainment and more depending on the demographic you are targeting. 
The first state on the list this year is New Jersey. New Jersey is a diverse location, known for its combination of beaches, mountainous areas, and city-living. The Garden State area is popular with buyers for its proximity to New York City, without the high price tags, and for being one of the top school and university districts in the country.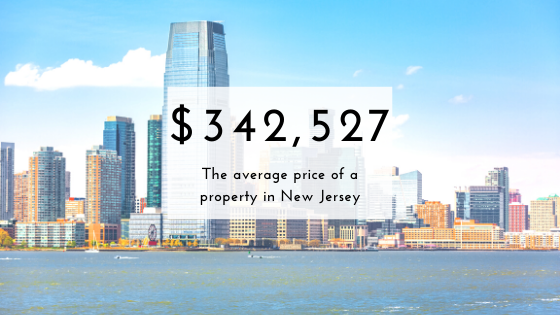 At the end of 2019, New Jersey saw an increase in sales and prices of single-family homes. The median home value in New Jersey at present is $342,527 according to Zillow, and while prices are projected to fall around 2% this year, the market remains very hot. Despite the global pandemic, sales volumes have remained consistent. New Jersey also has a limited home supply of new homes, which means competition is high between buyers for existing homes. The property market in this area has a strong track record and will rebound from temporary-decreases between this year and next.
Jersey City, Newark, Perth Amboy, and North Bergen were some of the top-earning flipping cities in New Jersey in 2019. However, Jersey City has been the leading location for real estate investors over the past few years. Boasting beaches, a budding foodie scene, and easy access to public transportation and New York, property in this area may not be as affordable, but the level of buyer interest is higher. 
Home to the Grand Canyon, incredible weather, and stunning landscapes, Arizona is the second state with fix and flip potential that we are highlighting in this article. There are several reasons why this location is popular with property buyers, including a lower cost of living and unmatchable outside activities.
In terms of real estate investing, Arizona used to be known solely for its condo market but in recent years there has been a growing number of single-family homes being constructed and met with high demand. Arizona is home to strong business, trade, and hospitality sectors which have contributed to rapid job growth in the area. A good local job market contributes to low vacancy rates and properties being sold in shorter time frames. The average home price in Arizona is  $277,574, with prices expected to drop only 0.5% this year. Due to the growing economy, Arizona is seeing an influx of workers searching for homes and pushing up demand for real estate even higher.
Despite this demand, real estate here is more affordable than in many other parts of the country. Top employment options in various sectors mean that property prices here have decreased minimally even under pandemic circumstances. This indicates that a fix and flip investment in this area is likely to perform well even if the economy is affected elsewhere.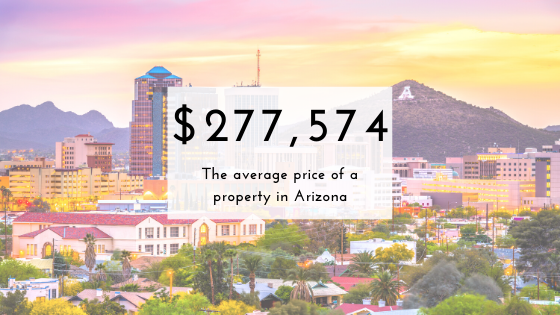 Some of the best cities to flip houses in Arizona are Phoenix, Peoria, Tempe, and Mesa. Phoenix is the major metropolitan area that is prime for fix and flip investment potential.  Prices in Phoenix and surrounds are projected to increase in the next few years. Acquiring a property here now could lead to a higher pay off when you sell it in the future. 
Next on the list is the Centennial State: Colorado. Skiing on the Rocky Mountains, roaming through the incredible national forest and a cross between natural and urban living are just a few of the factors that draw buyers to this area. Investing in single-family homes is becoming more popular in Colorado. Colorado is the prime location for many high profile companies in the health, business, and education sectors which brings in many buyers looking for homes. 
The average property price in Colorado is  $408,794, but this number is projected to decrease by 1.7% Because Colorado has limited housing supply, competition for existing real estate is high. Employment in this state has seen a staggering amount of growth over the past five years, leading to a high influx of individuals moving there to pursue work opportunities. A lower supply of homes has its advantages for the fix and flip investor – with some patience, there could be an opportunity to make great profits.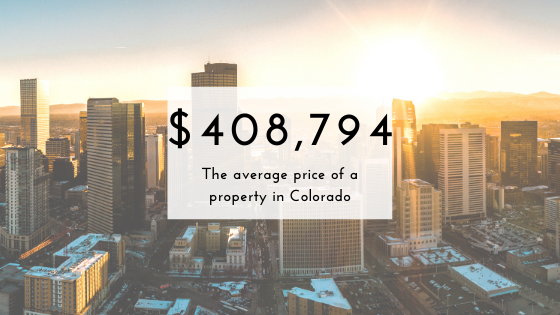 When you're considering investing in real estate in Colorado, the Denver metro area might be the first location to come to mind. However, property prices in this area are high, which has pushed many potential home buyers towards rental properties instead. The better alternative locations within Colorado for house flipping are Colorado Springs and Greeley. Compared to Denver, the properties in these areas are almost half the price,  still in close proximity to bigger metro areas, and offer high appreciation rates to investors. Colorado Springs, in particular, has been drawing millennial buyers that have been priced out of Denver, which has contributed to a change in local culture and entertainment options.
In Texas, it's all about going big or going home, and that includes real estate investing. There are many reasons for buying a property to flip in this state. The first is for employment; over 200,000 jobs were introduced in Texas in 2019, a significantly higher amount than other powerhouse states. Despite this influx, real estate in the state has remained comparatively affordable, with the average property price being $211,199.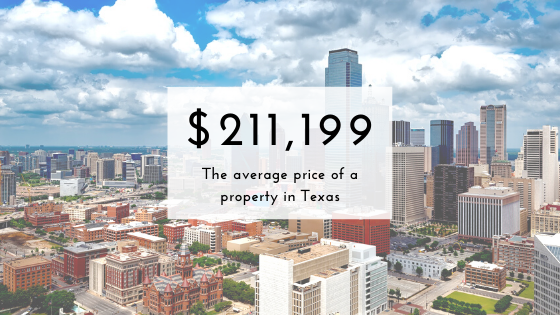 The outbreak of the coronavirus saw the real estate market cool down in several markets, and that has included Texas. Housing prices are projected to decrease by nearly 2%, making property in the area even more affordable for the investor. Rest assured that this decrease will be only temporary and that you can buy low right now to sell high in the future. By the numbers, Texas has ranked as the top for favorable economic climate based on their employment growth in the past five years. This, and Texas' prime location for businesses and startups, means that many individuals are moving to the Lonestar state for work opportunities. The other draw is for families, and comes in the form of great school zones. Texas has a number of higher education institutions, as well as some of the nation's best elementary and middle schools. 
The best cities to flip in Texas are Dallas, Houston, and Austin. These are all high-growth markets that hold good potential for fix and flip investing. Dallas is expected to see a doubling in population over the next fifteen years, with good forecasts for property appreciation and a good supply of remodeled, lender-owned properties up for grabs. Houston offers similar opportunities for investment while being a more affordable alternative to buying a property in Dallas. 
The barbecue capital of the world, North Carolina, is another state we are highlighting on this list.  This state is ideal for purchasing single-family homes and has a lot to offer to both investors and home buyers. 
Part of the Research Triangle, North Carolina has a diverse economy built on industries like biotechnology, energy, information technology, and finance among others. The employment created by these industries has lead to the consistent growth of the local population. This population chooses North Carolina not only for work, but also to benefit from the educational opportunities, good healthcare options, and affordable cost of living. 
The average property price in North Carolina is $208,001 with a real estate market that is on fire right now. The state is expected to see only minimal housing price decreases, while demand for homes continues to increase. North Carolina is also becoming an increasingly popular living destination, ensuring that vacancy rates are low and that properties spend minimal time on the market prior to being sold.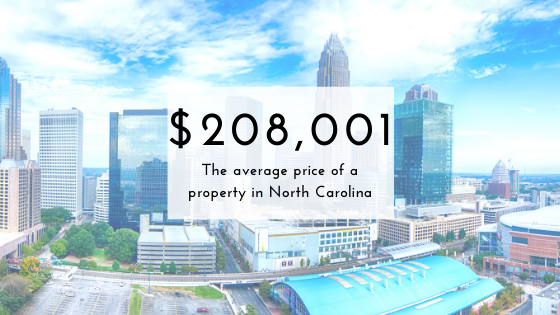 The top North Carolina city to flip homes in right now is Raleigh. Raleigh was ranked as the nation's hottest real estate market in 2019 and has a great balance between business and lifestyle. This has helped Raleigh tie with Orlando, Florida as one of the fastest-growing metros in the country. Multi-faceted growth, affordability, and increasing demand for single-family homes make Raleigh a great place to flip houses, especially at a lower price threshold.
Florida has long been a popular location for real estate investing. Not only is it home to iconic places like Disney World and the Kennedy Space Center, but it also has great beaches and beach weather. Tourism may be the biggest sector in the state, but there are also other prominent sectors that provide wide scale employment such as aerospace, military, healthcare, and government. Florida is the headquarters location for several Fortune 500 companies including Fidelity National Financial, Office Depot, Auto Nation, and more.
Florida is one of the most populous states in the nation, meaning there is a steady supply of home buyers and renters looking for housing all year round. The average property price in Florida is $252,309 with prices expected to drop by 1.5%  this year, a great opportunity for investors to buy into a great location with high reselling potential. Florida has a diverse range of industries bolstering its economy which creates a strong demand for housing. As a result, Florida also has a strong rental market, with low vacancy rates.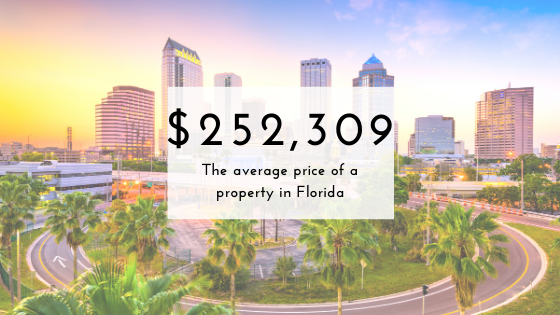 Some of the most popular investing locations include Tampa, Orlando, Jacksonville, and St.Petersburg. Jacksonville has become a house flipping favorite due to the affordable entry prices for properties, a decent inventory of turnkey homes to choose from, and properties spending just 80 days on the market before selling. Orlando offers similar potential for fix and flips; property and insurance tax is lower here, it has consistently ranked it as a great place to buy and live and job growth is projected to increase significantly over the next few years.
While house flipping trends and economic situations across the country may change, one thing doesn't: how important location is for real estate investing. The best time to buy in many of the states listed above may well be this year; prices are now more affordable in some of the top markets. It's important to bear in mind that you don't have to live in any of these states in order to flip properties there. If the investment opportunities in your own state are few and far between or priced outrageously, you could make better profits by deciding to flip in one of the states listed in this article. While more challenging organizationally, the benefit of more affordable homes with higher ROI is a big draw for investors flipping out of state.
The best way to invest in a fix and flip successfully is to create a thorough and well-researched house flipping plan, especially if you are flipping in a different state. Your financing and budget will have a big impact on the property and location you ultimately choose to invest in. Having the right lender in your corner can help you to ensure that you have the financing on hand to make offers on properties in these highly-competitive markets. 
If you have a potential fix and flip project in mind, you can calculate the estimated net profit you could earn on it using the New Silver Deal Analyzer.