Many property buyers, including homeowners and fix and flip investors, go into an acquisition with the goal of doing some kind of renovations to the home. The chances are good you've walked into a property before and instantly gotten ideas about what you would change to improve it, from adding new cupboards, replacing floors and installing different lights; the possibilities are endless! What it typically comes down to is one thing: budget. After buying a home, already a big expense, there may not be as much budget left to do renovations to your heart's content.
Often when purchasing a home the investor will spend additional funds renovating it to make the property match the vision they have for it in their head. These renovation visions mean that on average, new homeowners spend upwards of $10,000 in just the first few weeks of ownership. The problem with this is that if the focus is put on the wrong spaces, the money spent will not add to the overall property value.
Before jumping into renovations, it's important to understand what brings the most value, but also how much you can do with a limited budget. The renovations you choose to do on a home may be to your personal taste and don't always transfer well when you decide to put the property on the market in the future. Not only do you want to focus your efforts in the right spaces, but you also want to keep to a set budget. While $10,000 is the average spent by new homebuyers to fix up properties, it's an extremely tight number to do extensive renovations with. A more realistic budget would be around $50,000 – this allows you to do more than make changes in only one space. 
For under $50,000, you can make several renovations to a home and increase its value significantly, especially if you know how to cut costs without compromising on quality. Here are the five major renovations you can do on a new property for under $50,000.
Kitchen renovations are notoriously expensive, but give investors the highest ROI. Making changes to this space cannot be underestimated. Realtors often say that kitchens sell homes, and that saying holds true no matter the year, season, or current trend.  After all, the kitchen is considered to be the heart of the home and if it is outdated you can bet on getting fewer offers. A disastrous outcome to say the least!
It is estimated that for every dollar spent on kitchen renovations, the investor can recoup up to 90 cents. One of the best ways to freshen up a kitchen is with new counter tops, cabinets, and even flooring. Kitchens don't have to be redone completely to add value to the home, however, and good refurbing can be just as effective when it comes to attracting potential buyers. 
Depending on the materials you decide to use, you could redo the kitchen for anywhere between $15,000 and $20,000. You can split your kitchen upgrade into two categories: what should be purchased anew and what can be fixed up instead. New appliances, for example, are something to invest in and buy new. Matching appliances in this space offer a lot of buyer appeal. Counter tops and cabinets on the other hand can be refurbed rather than replaced, depending on the condition that they are in. These can be painted or refinished for relatively cheap if you use less-expensive materials, but still provide a cohesive and fresh look.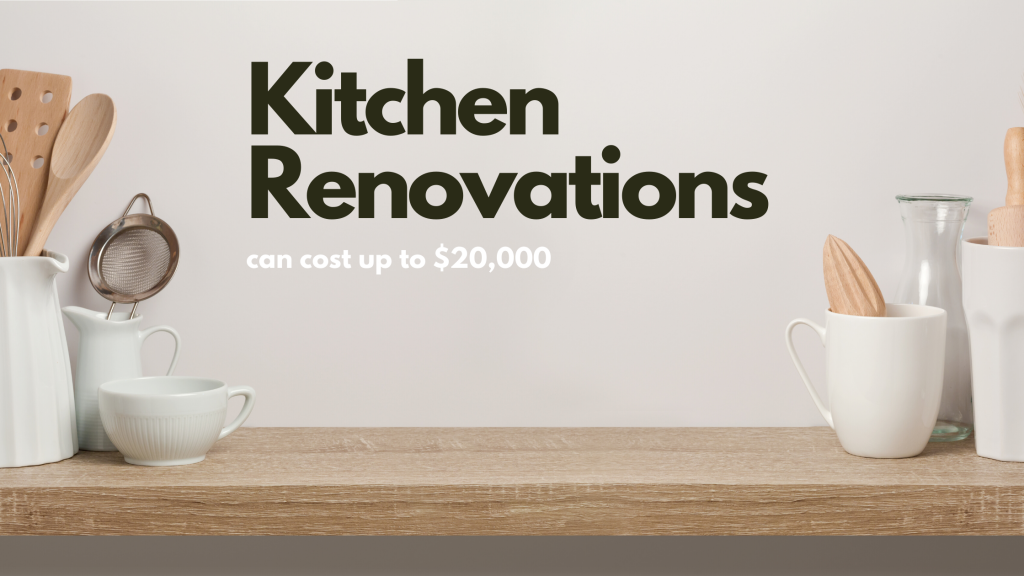 The first step in determining what your budget is for this room's renovation is to decide what needs to be replaced, what can be refinished, and what can be left as is. The final total will also depend on the cost of labor associated – if you are good with your hands, doing some DIY renovations could save you up to 30% of that total cost. However, if you take on these renovations yourself without being confident in your handiness, it may end up costing you more. 
Bathrooms are another space in the home that can majorly bring up the value of your property. Second in importance only to kitchens, bathrooms are one of the major spaces that potential home buyers will look at and consider critically. No buyer wants to walk into their dream property only to find a bathroom that is unappealing. The good news is that while bathroom renovations are nearly as important as kitchen renovations, upgrading the bathroom will hurt your wallet less.
Compared to the kitchen,  the average cost of a bathroom renovation is much more affordable, ranging between $2500 and $4200. That doesn't mean you have to spend this much on your property's bathroom either. For a small amount of money, you can replace fixtures and redo the tiling in the room to make it feel new. Installing a new vanity can also be done for cheap but make space look more expensive. Ideally, your renovation efforts will create a bathroom that feels brand new and has neutral tones. More So than in any other room in the house, you should ensure that the bathroom has a cleanly, hotel-like feel if you want to convince buyers to put in their offers.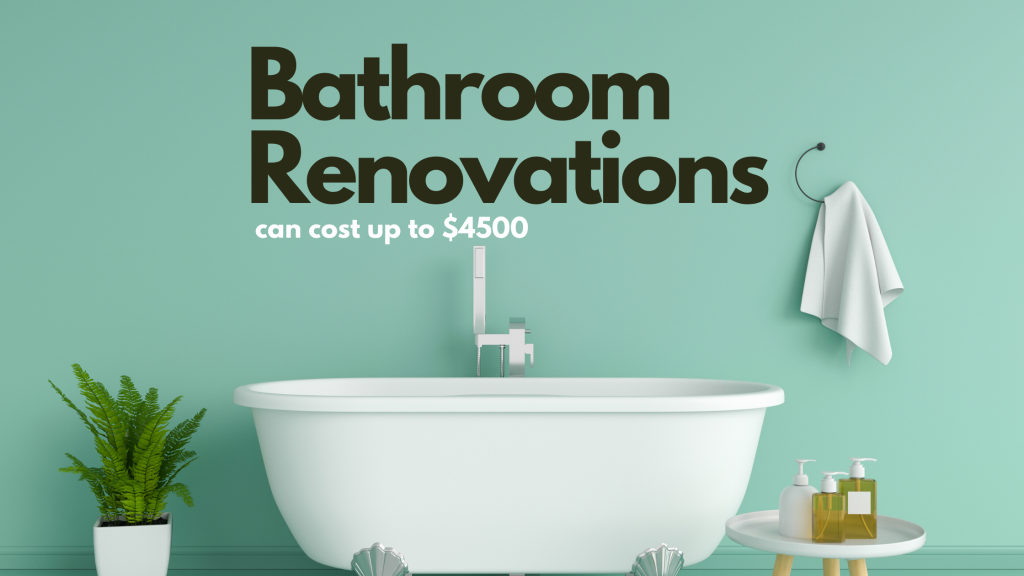 Decide what type of style you want to implement in the bathroom that you are planning to renovate, and research the best materials to use within that budget. Again labor will have an impact on the final amount you spend here, so if you are willing and able this is a space where some DIY can save you a lot of labor costs.
Landscaping and Exteriors
Whether you are a new real estate investor or an experienced professional, you'll know that curb appeal is essential to increasing property value. When you put a home on the market and that "For Sale" sign is posted out front, the exterior of the property is the first thing that potential buyers will see. An important part of the exterior of the home is landscaping; an overgrown yard will hide all the work that you have done on the exterior of the home. Even the most luxurious property can be negatively affected by the presence of dead lawns, unkempt growth, and weeds. 
Depending on the scale of the landscaping you are taking on, you could spend as little as $3000 to lay new grass seeds, topsoil and put in some nice shrubs. Luckily the yard is one of the places that you can most easily save on labor by doing things yourself. Trim back any overgrowth, add some pops of color like flowers, and cut the grass to start. These steps alone can make a big difference!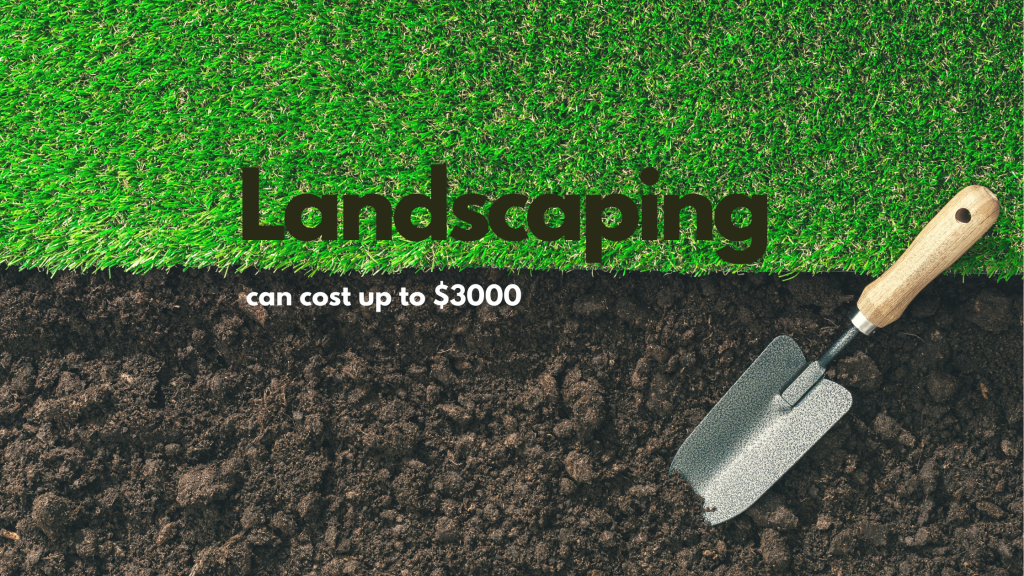 Other exterior projects you take on could include repainting the home's exterior and creating effective draining if the property is located in an area with adverse weather. Also, pay attention to the driveway. An old, cracked driveway would be better off if repaved or replaced with nice paving stones. If the driveway is in good condition, consider power-washing it and any surrounding pathways. On that note, ensure that all the windows on the property are washed and all window frames are in good condition.
Don't underestimate how big a draw an outside living space will be for potential buyers. If the property's outdoor area allows for it, adding a smaller, wooden deck can be a great value-adding factor. If your main demographic of buyers are younger people with families, an outdoor area will be a must. This adds value to the property and is a great draw for buyers who will enjoy the extra space and hosting options it provides. Adding a deck also increases the square footage of the home. 
The pricing for these decks can vary widely depending on materials – some can be installed for as little as $1,000 if you put some sweat into the installation yourself. On the other hand,  more ornate options with professional installation can come up to $8,000. 
It's important to remember when designing an outdoor space like a deck that local weather conditions can have an impact on some building materials. Many common deck materials require additional sealing or staining to ensure that they repel water. If you have an existing deck on your property, this is something that you will need to do to maintain it. Composite decks are a relatively new alternative that are made from a blend of recycled wood scraps and plastic. Not only does this mean the material requires less maintenance, but also that they are eco-friendly and durable.  While more expensive than traditional deck materials, potential property buyers will appreciate that.
Everybody loves a good fireplace and in colder regions of the country having one is a great bonus. Fireplaces have recently been decreasing in popularity in newly-built properties due to the cost to build them. Despite this decrease, nearly 50% of surveyed home buyers selected a wood-burning fireplace as a desirable feature for a home. Fireplaces, if done well, can make a property seem more luxurious. 
While installing a brand new fireplace is a costly venture, if you are lucky enough to have an existing one in your property, you can renovate and reface it for a good price. Depending on what needs to be done, and how big the fireplace is, refacing it could be as cheap as $300 or go up to $2000 if done by a professional. There are several ways to minimize these costs further, like painting the fireplace, adding ornate decorations to the mantle, or installing a fire screen.
Another creative way to push this option further is by creating an outdoor fireplace area or firepit. Paired with nice deck space, this can really elevate the exterior and landscaping design.
Budgeting for renovation directly after acquiring a new home can be difficult, but this article should give you an idea of what to expect.  It is possible to renovate parts of your property for less than $50,000, depending on the location it is in, the rooms you choose to renovate, and the cost of materials and labor. If you're comfortable working with your hands, you will be able to decrease these costs significantly. Just remember that if you feel unsure, it's better to get a professional in or you may end up paying more in repairs than you did in renovations.
Kitchens and bathrooms are some of the most consistently popular renovation spaces with home buyers, and these renovations should be broken up into what needs to be replaced completely and what can be fixed up and kept. Following these key rooms in the home, you should pay careful attention to the exterior of the property.