Renovations are what can make or break a fix and flip property and are also what will draw in good buyers. As a fix and flip investor, it is essential to focus renovation on spaces that will bring the most value to a property when reselling. Certain renovations will help investors attract buyers while simultaneously enabling them to set a higher asking price for the home.
The money put into the rehab can be recouped if the right types of renovations are done – but investors should bear in mind that some will have no impact at all and should be avoided. This should motivate investors to further research what renovations increase home value the most, and what buyers are looking to get from homes in the current market. Renovation trends may change from year to year but certain projects will always remain popular with buyers.
By following the suggestions laid out below, investors can set a higher asking price for their properties and ensure they will be able to sell them when the time comes. These are the spaces investors should choose to renovate to increase home value.
Choosing The Right Renovations
The challenge in doing a home renovation is that many improvement projects will not add tangible value to the property for the investor and cause them to take on unnecessary expenses that won't help them set a higher asking price. Some "improvements" can even detract from the overall desirability of the property when selling and scare off buyers, which investors want to avoid at all costs. The investor should aim to keep to the style of the neighborhood when selecting renovation projects to take on., particularly if the property is part of an HOA (Home Owners Association). HOA's will commonly have strict rules for homes in the neighborhood surrounding appearance.
The question then remains, which renovation projects are worth investing in and will it be worth the cost when it comes to the time of sale? One of the most important deciding factors in this question will be what type of buyer is most common in the area the property is located. A buyer with a family will have different needs to a buyer who is a student – therefore buyer demographics should be factored in when renovations are being planned. Knowing this demographic will also give investors a clue as to which trends will be valuable to implement.
It's important to bear in mind that investors should not spend more on renovations than the property is really worth. Less experienced investors will easily overspend on renovation projects and go all out in an attempt to ensure the property will be sold as soon as possible. This is an easy way to sink the project before it ever hits the market.
The kitchen is one of the most prominently featured rooms in a home, making it the prime space to start with any property renovations. The National Association of Realtors has consistently ranked a well-designed kitchen remodel as the best home upgrade project for increasing value, and kitchens are one of the rooms buyers will consider most seriously prior to putting in an offer.
Estimates show that investors making renovations to kitchens can recoup between 60 and 120% of their investment upon selling depending on the heat of the local market and how successfully the project was designed and completed.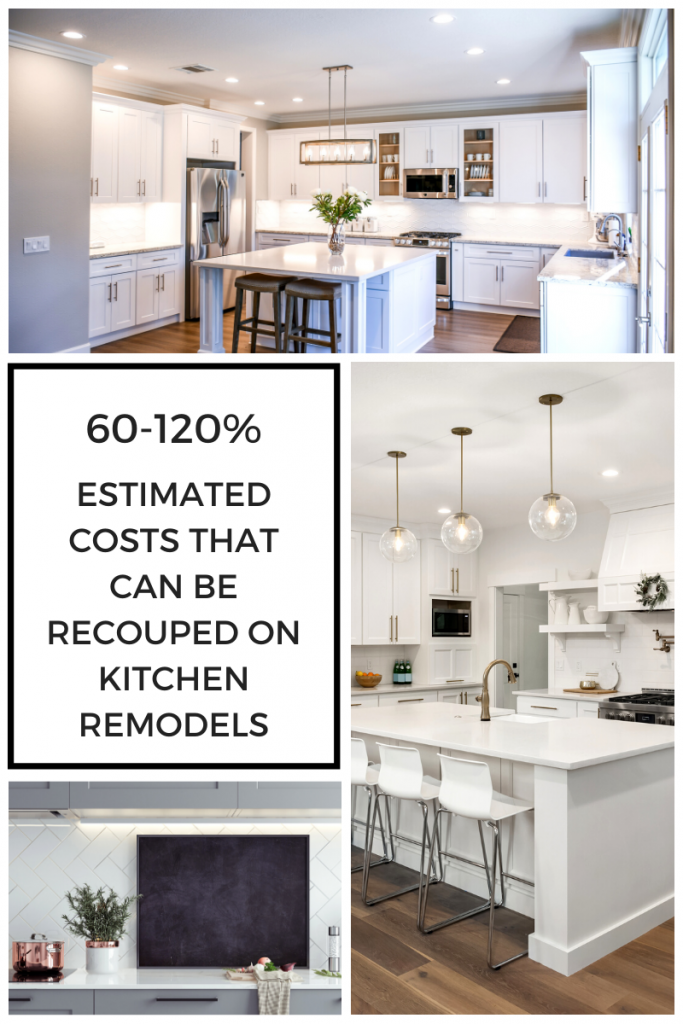 However, it is essential that the kitchen is redone in the same style as the rest of the property, to avoid it feeling disjointed. A smaller, older character home will not match well with a hyper-modern, enormous kitchen, and buyers will immediately take notice of the mismatch. Investors should always aim to make their flip properties feel cohesive as these are more likely to sell well. 
The costs of kitchen remodels can vary, depending on the scale of the renovations needed and the investor's budget. It's not always necessary to rip out cabinets and redo the whole space from scratch – sometimes smaller changes can be more impactful. The average kitchen remodel cost for smaller projects range between $10,000 and $15,000, while larger remodels can cost up to an average of $25,000.
The cheapest way to make big changes to the kitchen space is through color. Paint is relatively affordable, and can effectively renew the space for minimal expense and effort. Change the color of cabinets, give the walls a refreshing look and make sure the space is thoroughly cleaned. This will go a long way towards making the kitchen feel like a completely redone room. Other affordable changes like redoing cabinet handles or changing the lighting in the room can be done to take this renovation even further.
If the investor's property only has one bathroom, adding a second one could significantly raise the property's value. Investors should heavily consider whether there are extra rooms or other underutilized spaces that could become extra bathrooms. These spaces could be closets, spaces underneath staircases or even lofts. For a half-bath, a minimum of 18 square feet is recommended. The cost of this type of renovation will largely depend on the design, cost of materials and accessories the investor plans to use. 
This isn't necessarily a fast or cheap project, but with bathroom renovations, investors are guaranteed to recoup the cost especially when depending on neutral palettes and fixtures. Expert estimates show that investors can make back up to 75% of the remodeling costs when adding a full bathroom to their property. On average, bathroom remodels can cost anywhere between $9,000 and $11,000 for lower-end projects and up to double that for higher-end ones.
There are many ways to save on a bathroom remodel – investors may not be able to change the original tiling in the room, but they can paint the tiles, install new fixtures and again make changes to the lighting to transform the room. 
Lighting in a property is very important, as it can significantly change how a room is perceived by potential buyers by making it look bigger. If there is little natural light in your property, and you're not willing to install new windows, try installing modern lights with warmer hues instead – particularly around the vanity or bathroom mirror.
When looking for additional space to build a bathroom or other room in, investors should consider making use of their loft spaces if they have them. A loft conversion can increase the floor space in a property by as much as 30%, and in some cases, this can be enough to add an additional room with an en-suite half-bath. In this situation, it is key that the pitch of the roof is high enough to allow ample headroom. Experts suggest that lofts should be 7-8 feet and have a pitch of over 30 degrees if they are to be suitable for this type of conversion.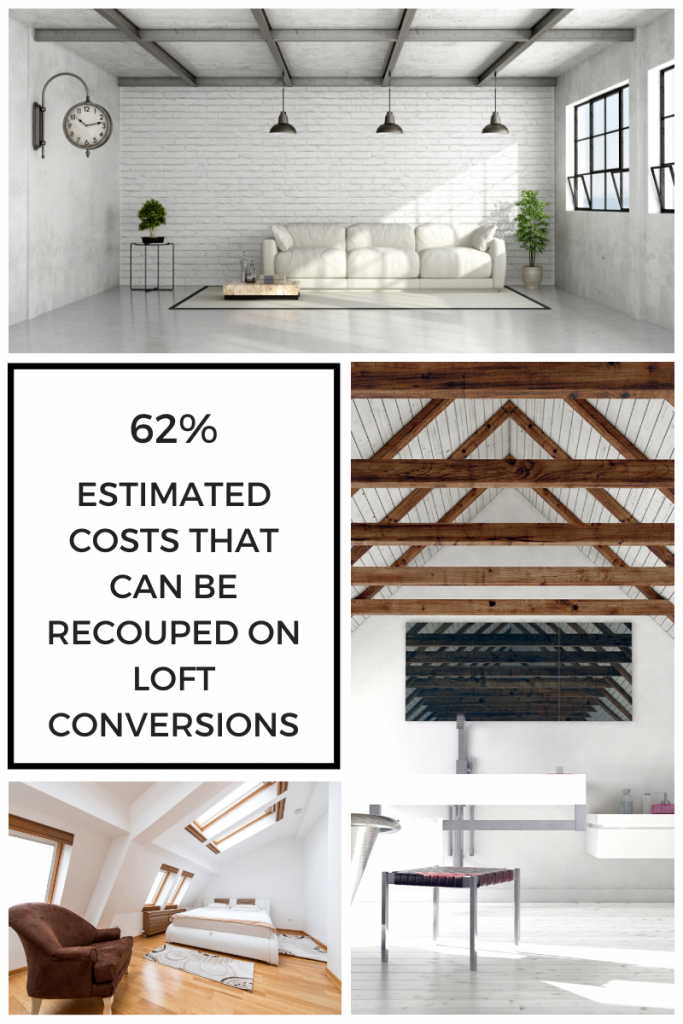 The key with loft conversions is to have them feel like a natural extension of the existing home, and that they are designed to match the feel of the rest of the rooms in the property.
Investors planning on building up and renovating lofts should also consult with a structural engineer to ensure that the building and floor joists can support the weight of these upgrades. These rules also apply to other extensions built onto the home even on the ground floor level, although the costs for these will differ. 
Loft conversions are on the more expensive side of home renovation projects, with the average one costing investors upward of $19,000 to complete. However, it's also a project with a consistently high ROI, and the additional space will be a big draw to buyers. Investors can recoup over 60% of the cost of a loft conversion by the time they sell the property.
Decks and outdoor spaces are becoming more trendy as of late and can really upgrade the outside appeal of a property and bring extra value to the home. Estimates show that when adding a deck to their property, investors can expect to recoup at least 80% of the cost at the time of final sale.
If investors choose to do this upgrade, they should take some time to plan what they would like to include and think about which materials will be used. Some outdoor entertainment spaces like decks have additional seating space or fire pits which can be highly desirable to buyers.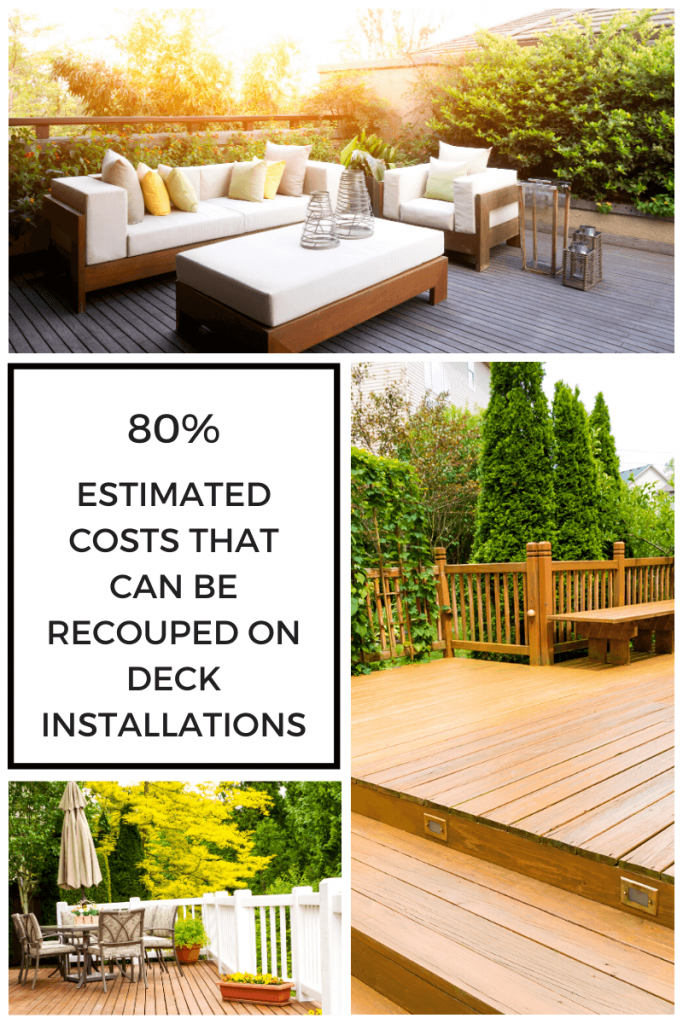 When installing a deck, higher-grade materials will give longevity, but wooden decks are more cost-effective. The key here is to provide a space that adds function and livability.  Buyers with families are especially likely to look for properties that offer great outdoor spaces such as these.
There are some important things to know before taking on this renovation project. Investors will need to take the local weather into account, as this will have a big impact on the materials used to build the deck and how long they will last. It's also important to note that some states require you to have a building permit for this type of addition if it exceeds a certain size,  so be sure to find out exactly which regulations would apply. The average cost of a deck installation comes to $4,300 to $10,000 depending on the materials being used and the overall size.
While home design trends come and go, certain renovations will always be popular with buyers and make the investor's property more sought after when it goes on the market. Kitchens and bathrooms, in particular, are key spaces to consider renovating when taking on a fix and flip project and will have a tangible effect on the value. Additional spaces like loft conversions or outdoor entertainment areas like decks have become favored again, can expand the property significantly and investors can recoup a lot of their expenses on these projects when finally selling the home.
It's essential to choose renovation projects carefully so that they feel cohesive with the rest of the property, and the general neighborhood. These renovations don't need to be expensive, and there are many ways investors can achieve the wanted results affordably by thinking outside of the box. At the end of the day, the investor should always keep their focus on increasing the value of their investment.