Buying a fixer-upper can be a great way to earn good profits, provided you can stick to the renovation budget and schedule. One of the biggest challenges less experienced house flippers face is figuring out how long a whole house renovation will take them.
As is the nature of fix and flip properties, the longer the house is in your possession the higher your carrying costs will be. This makes it no surprise that real estate investors will try to minimize the time they spend on renovations – it ultimately saves them money and helps them get it back on the market faster. With extra funds in the pocket, the investor can stagger investments and purchase multiple flip properties at the same time and maximize profits
So, how do you establish a clear timeline for a full property renovation? What will take the longest and what can be done in a single day or two? 
Considering that every project is unique, the answer is that it can vary greatly. Depending on the scale of the renovations to be done, it can take as little as one weekend or up to a year or more to complete all the projects that make the home 'buyer-ready'. How much experience you have as an active house flipper can also make a world of difference. Someone that is completely new to home renovation is more likely to run into pitfalls or other project-slowing delays that more experienced investors can predict and avoid. 
Keep reading for everything you need to know about whole house renovation timelines, which projects take the longest, and how to stay on schedule.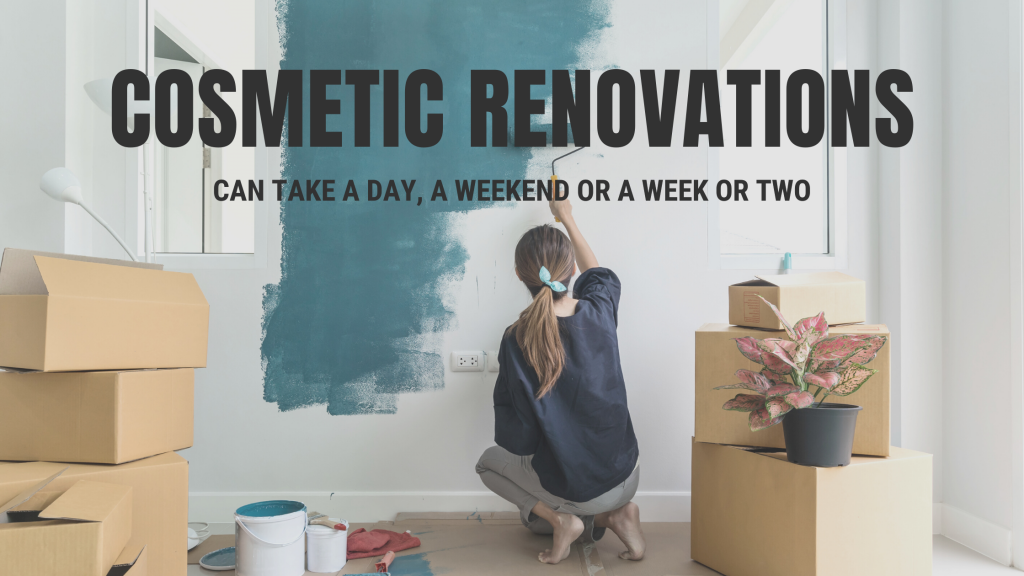 If you've bought a recently-constructed property, the chances are it doesn't need a lot of work. Often referred to as a "turn-key" home, this investment is usually recommended to investors with minimal renovation backgrounds.
Since the property is newly built, it won't need the major renovation work that an older home with years of wear and tear will. What this means for the investor is that while the purchase price may be higher (as is normally the case with recently built properties), they'll ultimately save funds in the renovation half of the process. 
But what if you feel like your turnkey property can be elevated even more so you can ask a higher asking price? Changes can still be made to the home, but for the most part, a simple cosmetic change or two is sufficient. These basic renovations are often described as being 'cosmetic renovations'.
Cosmetic renovations can take anywhere from a weekend to two or three months depending on what needs to be done.  These are typically more minor actions like painting interior or exterior walls, changing light fixtures or updating the landscaping by planting some more shrubs and flowers.  The fixer-upper tasks that fall into this category are also the ones that are easiest to DIY and often fall on the more affordable side of the home renovation spectrum. Since these are jobs that require less handiness overall, the investor saves on the cost that it would take to get a professional in. 
Not all cosmetic renovations are minor however; plumbing, electrical or carpentry work may require a contractor but can still be thought of as 'cosmetic changes.' That being said, these are all projects that the investor should be wary of taking on themselves. You might think doing the job yourself will save you money, but should you overestimate your abilities you might have to pay an expert extra to both fix the mistakes and finish the job!
It's important for less experienced investors in this situation to limit how they are spending their funds, and only renovate what needs to be renovated. Many inexperienced house-flippers overspend on renovations that do not necessarily add real, tangible value to the property for buyers.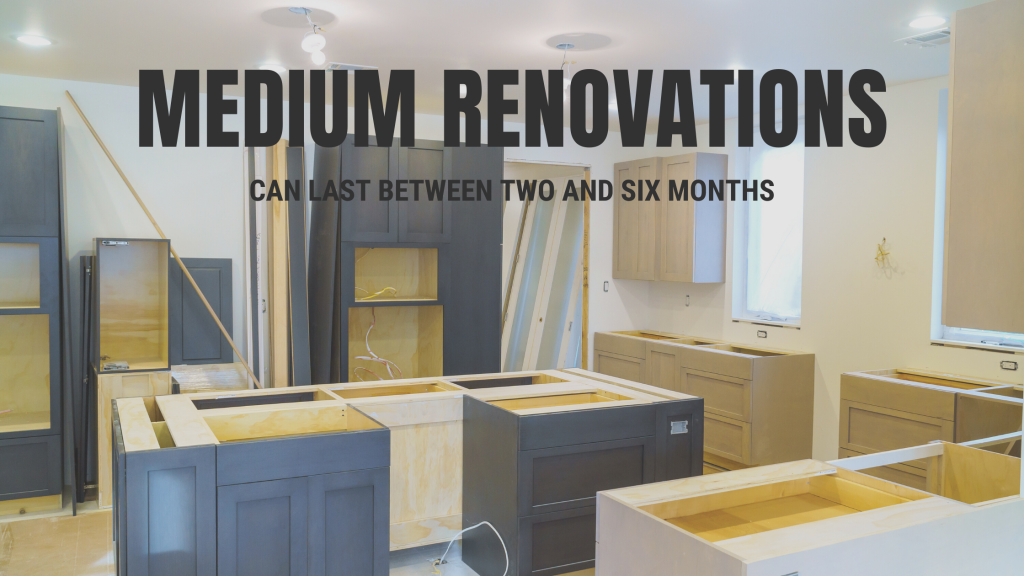 The next category, medium renovations, includes projects that can take between a few weeks and half a year to complete. This is the part where establishing a timeline for your home renovation can get a little tricky. Being one part cosmetic renovation and one part more complicated and involved, it can be difficult to get a clear understanding of which tasks fall under this umbrella. Still, many real estate investors and homeowners take on these types of renovation projects in their own homes with little fallout.
Unlike cosmetic renovations, however, medium ones will push further into territories where additional repair or support work is needed from a professional contractor or other real estate service provider.
The majority of home repairs are actually included in this category. An example of a medium renovation project can be a kitchen remodel needing sink plumbing to be moved to a separate counter, or the installation of a kitchen island. These are not structural changes that affect the full build of the house but are definitely more time and labor-intensive than slapping a new coat of paint on the walls. 
The key is that medium renovations will not cover tasks needing complete structural repairs or changes to be made. Those are all reserved for the 'major renovations' category below.
Finally, major renovations describe a major property overhaul, including any renovations that strip the home down to its bare bones. This is also the category with the longest timeline – projects that fall under major renovations can take up to a year or more to reach completion. For example, it's realistic to expect a full kitchen rehab to take upwards of two months to complete, and that number can go up to six if the scale of work is larger.
House flippers often find themselves in this category, buying a run-down property at a lower price and hoping to increase the value by making major overhauls.  This is how these real estate investors are able to bring in significant profits while also improving the general neighborhood their property is located in. 
That does however pose a question. Why take on such an intense renovation? Of course, there are profits to be made, but why would a buyer even be interested in an old home that has been stripped to the barest and rebuilt from the inside out? The answer is probably location. 
By looking for the oldest property in the worst condition in the nicest neighborhood the investor can pick up a decent-sized home for less and use a hard money loan to fund the fixes they intend to make. If all goes according to plan, the investor will finish the renovation in budget and on time, put it on the market, sell it, repay their loan and still have a healthy amount left over for personal profit. By rinsing and repeating these steps, the investor can easily take a single flip and turn it into an illustrious career.
Buying a low-value property in a high-value location can be particularly profitable if the investor can add value to the home with their changes. The best way to make sure you aren't spending unnecessary money on renovations that don't matter is to do a bit of research about what buyers are looking for and why. The majority of homebuyers have been found to be most interested in spaces like kitchens, bathrooms, decks, and additional storage options like built-in cupboards. 
The scale of projects in this category can also include things like foundation or structural repair, additions of second stories, and more. These are more serious renovations that are best reserved for professionals with several successful house flips and a great contractor in tow. This is because major renovations can affect the load-bearing supports of the home and if extra care isn't taken your roof may turn into your floor.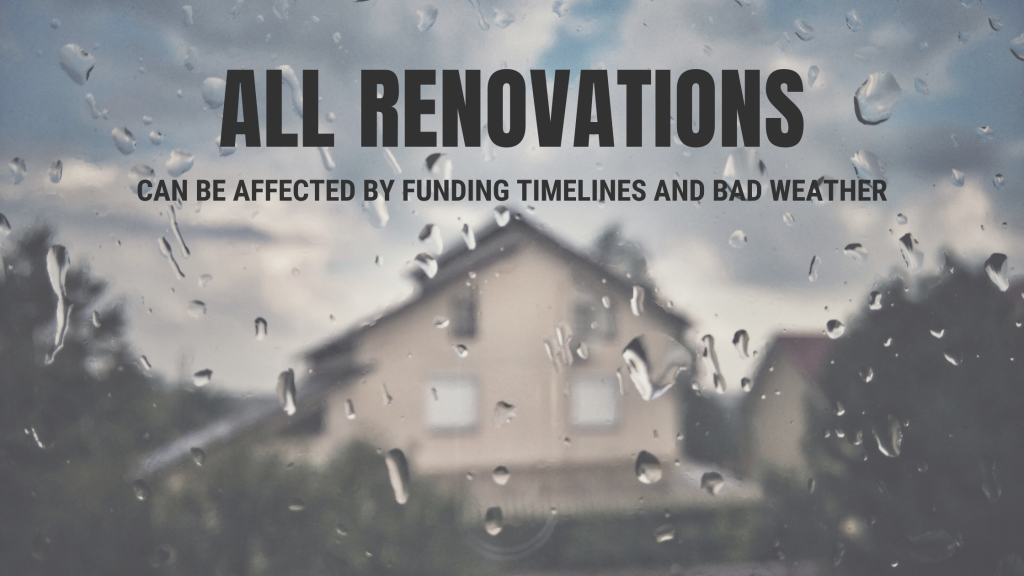 Like most real estate investors know, even with a foolproof timeline surprises can still happen and it's important to add accommodation for these in your timeline. You already know that more minor projects like painting the walls can take a weekend, bigger renovations like kitchen counters can take several weeks to months and a complete gut of the property can take over a year.
One factor that needs to be considered is funding. Limited funds mean that the house flipper will need to work carefully with their money and ensure they are doing only renovations that appeal to buyers. If you're not planning to work with a hard money lender (which typically closes faster), you'll have to factor in the time you spend waiting for loan approval. 
Another possibility is that the contractor may uncover serious, previously-hidden issues that can eat into the budget and cause serious delays. In older properties, there can be serious health and safety hazards hidden away in the walls, roof, and plumbing. Popcorn ceilings, lead pipes, and other outdated building methods have since been replaced with safer alternatives that will need to be put in by professionals.
One of the most important factors that can affect the timeline of a house flip is the weather. Bad weather conditions can cause delays in renovation work, especially if the investor is planning to make major changes to the exterior of the home.
It's just as important to remember that every project is different  – an apartment will have a renovation timeline that is much more streamlined than a full estate would have
This article should give you a rough idea of how much time can go into a renovation project, and how that time is dependent on the type of renovations that are being undertaken. Depending on the changes that need to be made and their severity, renovations can range from taking a weekend to taking more than a year  – the bigger the home, the longer it will take to get everything completed and ready to go on the market. There are also important factors that can slow down the process and need to be accounted for, such as bad weather, nasty building surprises, and other unexpected events the investor may come across.
While home renovation can be a daunting task, it is also a profitable and exciting one. As long as the investor chooses a property to flip that is within their capabilities and experience, there is no reason why they cannot be successful and sell the home for a good profit.