If you're interested in purchasing a fix and flip property, this guide is for you. Keep reading for the detailed and complete New Silver house flipper buyers guide, which contains everything that you need to know about nailing the fix and flip process.
House flipping has consistently been ranked by investors as a valuable strategy for earning additional income. But with the year-on-year market fluctuations, slow transaction processes and other challenges that you have to contend with, how can you guarantee success and maximize your potential return on a project? Flipping a property without knowing what outcome you will get from your efforts can be daunting, but by getting to know the in's and out's in detail the process will become less stressful for you. Flipping remains a popular avenue of real estate investment, with over 50,000 properties flipped by real estate investors last year for which they earned a median nationwide profit of around $60,000.
House Flipping At Its' Core
In its most basic form, house flipping comes down to buying a property at one price, upgrading or improving it, and then reselling it for a profit. The majority of fix and flip investors usually make use of hard money loans or private money to fund their property purchases, particularly if they don't have their own funds to use for investing or need to source funds quickly. Hard money lenders are non-bank loan originators which use funds that are sourced from private investors. They typically offer more flexible terms but at higher interest rates due to risk involved in the loan transaction. The key to getting the most value out of a hard money loan is building a portfolio of experience, as experienced investors tend to get the best deals on their loans.
It's essential for both you and the lender you choose to be actively involved in the property market and to be up to date with the latest trends and changes taking place in real estate performance. When flipping a property, it's in your best interest to stay on budget and on schedule. The faster you are able to complete the flipping process, the better it will be for your loan repayments and final profit margin. Keeping a property for a long time will eat into your profits.
Finding The Right Fix And Flip Property
As the old adage goes, the three most important things in real estate are location, location, and location. This can also be phrased as a question: "What do you want from a neighborhood?" The chances are good that your buyers will be interested in the same things you are – think about local activities and what the neighborhood will have to offer your buyers, and how the neighborhood is expected to perform over the next few years. Find out if there are any major developments that you can expect, and whether they will be a positive or negative influence on the area.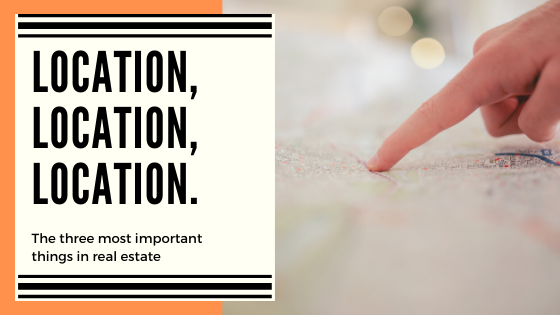 To find a good fix and flip property, you should carefully research the performance of local areas you are interested in. You will want to determine what the average housing prices are, what renovation one would cost you and why it would be attractive to potential buyers. Once you've narrowed down the location you want to purchase in, you'll want to further review surrounding properties to see which features are popular with buyers in this area, as this will guide changes you implement yourself. This will include finding out what the biggest demographic of buyers is in the area because this will heavily dictate their needs. If it's more suburban and aimed at families, local amenities like schools will be more valuable, while young people prefer access to job hubs, activities, and nightlife.
As for the property you purchase, you'll ideally want to select a property that is priced well and needs basic repairs like replacing kitchen cabinets, painting interior walls or landscaping the outdoors to increase the property's value. You'll also want to avoid properties that have bigger structural issues or need major repairs, as these can be costly to repair and eat into your finances. Many fix and flip properties are older, character homes, which can have safety hazards like lead pipes, popcorn ceilings and other problems to contend with. You'll want to approach these with caution!
Fix and flip properties are often older homes that are in need of modernization and some type of repair, which will increase its value significantly. But for the fix and flip investor that has a keen eye, good lender and a great team, older properties can represent great opportunities to earn additional income.
The majority of fix and flips are funded by hard money lenders, who will lend up to a certain percentage of the property's purchase price and construction budget.  Typically, a lender will calculate the maximum loan amount using the Loan To Value (LTV) ratio. Most lenders prefer to take on projects with LTV ratios that are lower than 80% to reduce risk, but this may vary depending on borrowers' experience and the specific details of their project.
Staying On Budget And Schedule
The fix and flip investor's most powerful ally, other than their lender, is their general contractor. Unless you are the general contractor yourself, your general contractor will be most essential to the success of your investment. Hiring the wrong real estate contractor can seriously detriment your project and negatively affect your deadlines and budget, which is why you should vet this person carefully. Job sequencing will be just as essential to staying on schedule – the right contractor should have a network of other real estate professionals they can help contract and manage as they all work on the property simultaneously to get the job done.
The general rule of thumb when planning your flip timeline is to keep your spending budget to around $1,000 a day, and your contractor should be able to provide a timeline. It also helps to renovate effectively, by putting money into the spaces that matter most to buyers. These spaces include bathrooms and kitchens but can also include floors and wall colors. Stick to upgrading these and other easy-to-fix spaces (like gardens) and stay away from taking on massive upgrades that might not even matter to the buyer. It will help to research recent home trends, which for 2020 include an emphasis on natural lighting, dark accents, and more intimately-designed spaces.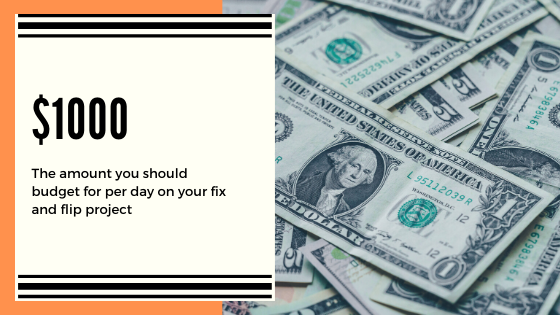 Marketing And Finding Buyers
The next step is to fully stage the property by bringing in the right furniture and other decor to make the space more desirable to property viewers and buyers. Be careful to keep the palettes and pieces quite neutral, as you want the buyer to see the home as a canvas they can imprint their own personal style onto should they decide to purchase it. 
You'll also want to set the right price for the property from the get-go so as not to miss the initial rush of viewings or attract too many low offers. You can do this by checking the recent sale prices of other similarly-sized properties in the neighborhood using websites like Zillow that show property values, but limit your search to the past three months to get the most accurate and recent data. Then it's time to finally list the property! A useful tip is to have professional photos taken of the property; make sure they are high-resolution and really show off the interiors and how much room there is. Finish it off by creating an attractive, but honest, listing description that tells buyers everything they need to know. 
Alternatively, many real estate investors make use of a real estate agent to market the home and find potential buyers. A good real estate agent should come with references and a portfolio of recently-sold properties that you can review before signing a contract with them.
Property buyers' needs will depend highly on their stage of life and will dictate what they want from a home. Your sales price should be appealing to buyers in your target demographic but still, be high enough to cover all of the expenses you incurred when acquiring and renovating the property. Once you've found the right buyer that makes an agreeable offer, you can start taking steps to close the deal and finalize the end of the home flipping process.
Finishing the transaction will include coordinating a time and date with the buyer, finding a closing agent or legal representation that can create and oversee contracts, going over and signing all the paperwork and, at last, handing over the keys. The closing process can take some time and will also typically include a detailed walkthrough of the property with the new buyer to assess any final changes that need to be made or whether they are happy with the state of the property as-is. It's important to be patient here, but also to have all of the necessary professionals ready to finish the deal as soon as possible.
Flipping houses is a great way to start earning supplemental income, particularly as the real estate industry is known for its reliable wealth building and boasts good historical performance. By knowing the fix and flip process in more detail, it ultimately becomes easier to maximize profits, no matter the state of the market or your personal experience level. From knowing house flipping at its' core to getting more out of financing, renovating effectively and finally closing the sale, there is no doubt that this is a strong investment strategy that holds a lot of opportunities. Ultimately to achieve success in house flipping, you'll want to build up a network consisting of a lender, a great general contractor and an experienced real estate agent to name a few essential individuals.
Do you want to learn even more about flipping real estate and starting your own business? Whether you're new to the real estate industry or an experienced investor wanting to take things to the next level, take a look at this all-in-one guide to starting a real estate business of your own.