When flipping houses, there are certain tools that every investor should have under their belt if they are to see repeated success in this line of investing. Fix and flips can return good profits, but at the same time, they can prove to be challenging projects full of nasty surprises that can really tank your motivation to keep investing in real estate. 
The older, hard-up homes that prove most popular as house flips often have hidden hazards lurking within their walls and floors. Out of date building standards, hodge-podge repairs and even materials like asbestos can be present in a house flip to name just a few examples. It helps to have tools on your side to help evaluate these homes and choose the ones that offer the best investment potential and avoid the ones that are nothing but a money pit. 
As a new investor, knowing how to find these tools can be a daunting task. Some of these tools are paid for, and you don't want to waste your hard-earned money paying for things you aren't even sure will work.
That's why we've put together this easy guide to all the tools you need for flipping houses, including paid and free options that can transform how you approach investing no matter how much real estate investing experience you have.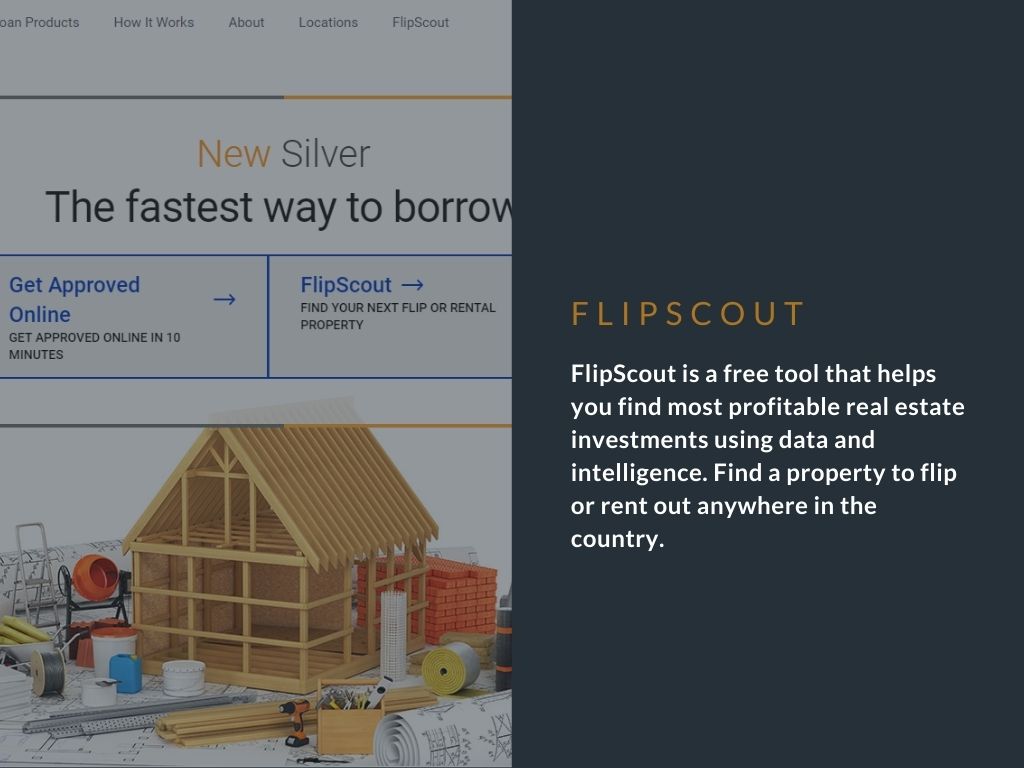 One of the biggest challenges faced by both house flipping and rental investors is knowing how to find a property that will bring in a good ROI. If you haven't invested too often in the past, then you might not be aware of how much goes into deciding if a home is suitable for flipping or not. You need to know the market, look at the ARV, and a myriad of other things that can affect how much money you take home when the property is sold. 
Made by technologists with a passion for real estate, FlipScout by New Silver is radically changing how house flippers are finding and funding their projects. A free tool that makes use of an assortment of real estate data and intelligence, FlipScout allows you to find a property to flip or rent anywhere in the country. 
Some of the other features that FlipScout has on offer are that it calculates rehab costs automatically, shows the ROI and rental income in a flash, and aggregates results from various sources. 
Using FlipScout, you can get a jump on the competition – this tool's unparalleled access to properties that are in pre-foreclosure or other conditions that can indicate a good deal. If you cannot find a property relevant to your requirements right now, you can set up email alerts that will send flagged homes directly to your inbox. Since FlipScout is powered by New Silver, you can also easily apply for financing directly from the platform.
Sign up for FlipScout free by clicking here.
HouseCanary is an online data analytics platform that helps real estate investors to gain a better understanding of property value before investing. Using the platform's large database of current home prices and other available information, you can evaluate a project's ROI and determine whether your buy and rent or flip will be profitable before you commit to buying it. 
This application is particularly useful to less experienced investors looking to learn more about property valuation, but also has other features that will be enticing to even the most experienced investors. 
For example, HouseCanary has a spreadsheet evaluation option that enables you to set up all the data needed to secure a loan from a hard money lender and monitor your real estate portfolio into one cohesive and convincing presentation. Investors can make use of their free trial and thereafter pay for the product they make use of the most. One-off reports go for $10 a pop depending on how many you buy. 
Sometimes, an opportunity arises in which an investor comes across a property they think could be a good deal in the wild. After all, some of the best real estate deals can be sourced off-the-market. The trouble is that you need to know how to get in touch with the owners, and then how to convince them to sell their home.
This is where DealMachine comes in. DealMachine is an application used by real estate investors to overcome this problem, and this is how it works: you use the app to take a photo of a home that appears to be vacant or in bad condition. From there, the app automatically finds the relevant contact details for the owner based on public data and records and gives you the option of sending them a personalized postcard making an offer to purchase. 
If you're looking to get into the process of contacting homeowners regarding sales, DealMachine is the best way to do it. The application also has the capability to make offers on properties directly and find homes with house flipping potential in a flash.
Pricing for DealMachine starts at $49 a month for 500 street leads, specific mailers, and more.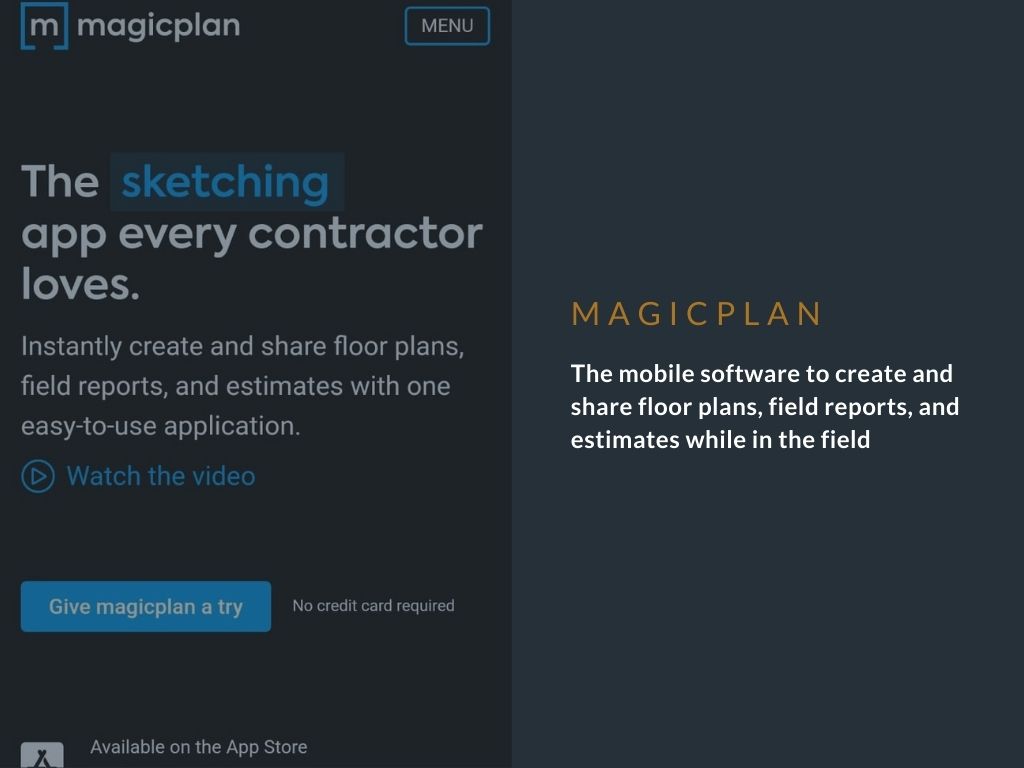 Now that we've covered tools that can help you find investment properties, let's talk about one that can help you plan out your next steps. With a home selected, you'll need to start thinking about important factors like budgets, timelines, and upgrades needed. How will these things affect the overall profitability of the flip? Planning out every step carefully is the only way to make sure you are staying on top of your expenses.
The MagicPlan app allows investors to take pictures of the property interior in order to generate a virtual floor plan that includes measurements. This means the amount of flooring, paint, and other materials needed can be estimated early and budgeted for. For less experienced investors learning how to set up their budgets for house flipping, this is an invaluable tool.
MagicPlan is free for up to two projects, whereafter a paid subscription is needed for unlimited projects and other premium features. Pricing here will range from $9.99 to $89.99 and custom pricing will apply for enterprises.
When it comes to real estate advertising, Matterport, Inc. is taking viewings to the next level. Matterport, Inc. is empowering investors with the ability to create 3D renders of their properties to create virtual tours for potential buyers. 
The presence of the global pandemic has driven the demand for virtual real estate viewing options that allow buyers to make contactless decisions. Nowadays, hosting an open house is a risky decision but you still want to be able to show buyers the full potential of the home without putting anyone at risk. 
Another reason to use Matterport, Inc. is the feature that allows you to easily place your listing online once your virtual tour has been completed. Matterport does come with a free package available to smartphone users with paid starter packages costing upwards of $9.99 a month.
A comprehensive tool used by house flippers, Property Fixer is an app that is part predictive data and part construction and repair analysis. With Property Fixer, investors can use a vast database to get a better idea of renovation costs and more. For example, when using Property Fixer, you can input the sales price of the home, project an estimated timeline, see potential returns, and calculate what offer would be appropriate. 
If you're investing in a fast-moving or competitive flipping market, this tool is a must-have to include in your arsenal as it allows you to quickly compare different deals for the best opportunity and act on them. 
There is one thing to bear in mind; despite having a variety of cost-calculating options, Property Fixer does not account for other common house flipping expenses such as taxes and materials so you'll need to add these manually. Some parts of the app are also restricted behind a paywall. 
Tips For Evaluating Investment Tools
If you are looking to evaluate other investment tools not added to this list, there are a few things you want to keep in mind before implementing them:
As an investor, you want to be sure to check how much use a tool will be before relying on it wholeheartedly. If you're using an expense calculator, for example, you'll need to read into it to see which data is included and what you'll need to supplement personally. Taxes are one of the costs that investors will be responsible for that are not always included in your everyday investment calculator. The chances are good that you'll need to do your own research regarding the taxes you will be liable for and add this as a separate calculation.
Some apps or tech tools targeted at real estate investors can get expensive fast. When it comes to flipping houses, you need to stay on top of all the costs including hidden ones like paying for applications. Not only do you need to factor it into your overall expenses, but you should also continuously assess whether the amount of use justifies the price. 
It's not a bad idea to look for alternatives that are less expensive or to contact the relevant company and see if you can arrange some sort of discount per set amount of uses for example. 
Can you use it long-term?
This question connects to the one above. If you're planning on paying for a tool, you'll need to establish whether you can use it long-term or not. If it's for shorter-term use, make sure you know what the cancellation policy is in case there is a penalty or notice period. 
If you can use it long-term, however, keeping the tool as an expense will be a good decision.
Real estate investing strategies like house flipping have been made more convenient than ever before due to technological advances like the apps listed in this article. This has drastically lowered the barrier to entry for less experienced investors, but also made the process of investing more efficient for investors with multiple completed flips in their portfolios. 
Investors would be remiss not to keep up to date with the latest technology being released for the real estate investment market. Using the tools listed above, investors can improve their chances of finding a great real estate deal.