Asset based loans are, as the name suggests, loans that are collateralized using an asset. In the case of real estate investing, a property can be used as the collateral. Asset based lending typically allows for more flexible loan terms, less stringent lending criteria and faster access to funding. This makes asset based loans a viable option for real estate investors who need swift access to capital and loans that will suit their investing needs.
Some of the best lenders offering asset backed loans are:
New Silver Lending
Asset Based Lending (ABL)
LendingOne
Lima One Capital
Kiavi
What Are Asset Based Loans?
Asset based loans are a financing alternative for real estate investors and other businesses that use the asset itself (such as the property) to secure the loan. Asset based lending is well suited to real estate investors as the property is the most valuable asset in the deal, and loans can then be based on this, instead of the borrower's personal financial situation.
In comparison to unsecured loans, asset based loans have a lower interest rate due to the fact that the property is used as collateral for the loan and this decreases the risk that lenders will face. Essentially, this makes asset based lending a cheaper option for real estate investors, and a less risky option for lenders.
However, it's also important to keep in mind that asset based loans may come with additional costs, such as origination fees, due diligence fees and so on. This can drive  the overall costs up. Also, if borrowers' default on their loan, they could face losing their property, which is a significant risk.
Why do real estate investors often use asset based loans?
Quick access to capital: Asset based loans offer real estate investors access to fast funding, which means that they can seize opportunities faster and beat the competition. Fast funding means faster deal closing and the ability to generate profits sooner.
Flexible use of funds: Asset based loans typically offer borrowers the chance to use funds for various purposes. This gives real estate investors the flexibility to use the funds for purchasing an investment property, renovating a property or other areas where they may need extra funds.
Leverage an asset: Asset based loans allow borrowers with less desirable credit scores, or a financial history that isn't perfect, to leverage an asset instead of relying on loan acceptance from their personal finances or creditworthiness. This makes asset based loans a more easily accessible option for real estate investors who can leverage the investment property.
Improved cash flow: Asset based loans allow real estate investors to improve their cash flow, by using the value of their main asset in the deal. This means that real estate investment can be moved forward, and investors can get on the path to generating an income or profits.  
Top 5 Asset Based Lenders In 2023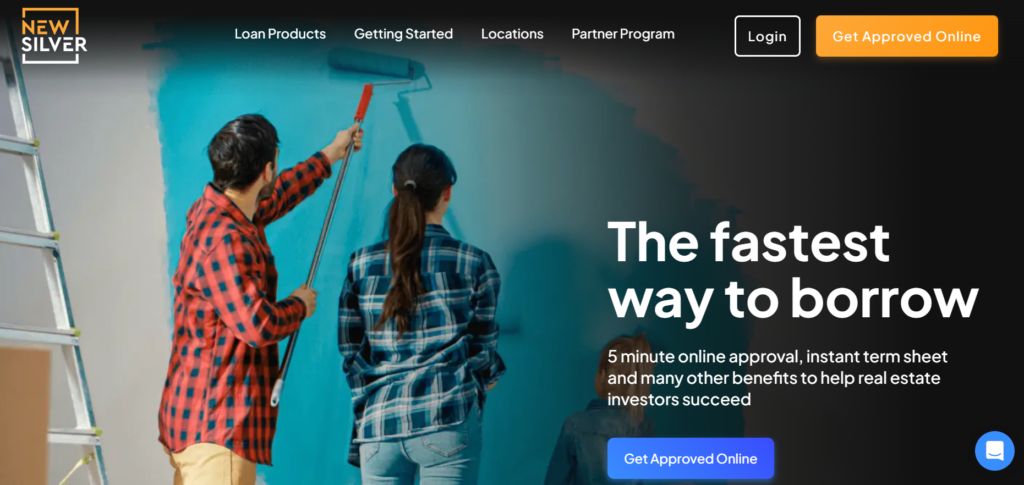 New Silver is one of the top asset based lenders providing asset based loans to real estate investors for fix and flip projects, rental properties and ground up construction loans. New Silver provides fast funding for investors with online approval in just 5 minutes, and loan closing in 5 days. New Silver sets itself apart in the realm of asset based lending by leveraging cutting-edge technology to enhance the entire investor journey, spanning from property search to final sale.
New Silver operates in over 40 states and pride themselves on being one of the fastest asset based lenders in the real estate space. They operate entirely online, which means that any real estate investor in the US can get funded with them, and the process is quick and easy. Fast hard money loans are the name of the game for New Silver.  
While the qualification criteria for each loan generally align with industry standards, New Silver typically requires minimum credit scores of approximately 650 and a down payment. When it comes to loans, New Silver offers significant advantages that are quite unique and competitive interest rates.
Instant proof of funds: Once a hard money loan is approved through the lender, a proof of funds letter is supplied immediately. This empowers investors to beat the competition and secure good real estate deals.
Immediate term sheets: Similarly, New Silver provides instant term sheets, upon loan approval. Which means that investors can swiftly review the loan terms and interest rates, and accept them in their own time.
Streamlined online process: New Silver's online platform allows borrowers to do the entire loan process easily. From finding the right property, to securing funds and closing the deal, New Silver's technology has created a seamless process.
Cutting-edge technology: New Silver harness blockchain technology to securitize their hard money loans, which means that loan processes are faster, more efficient and data-driven. The entire asset based lending experience is enhanced by this technology for real estate investors.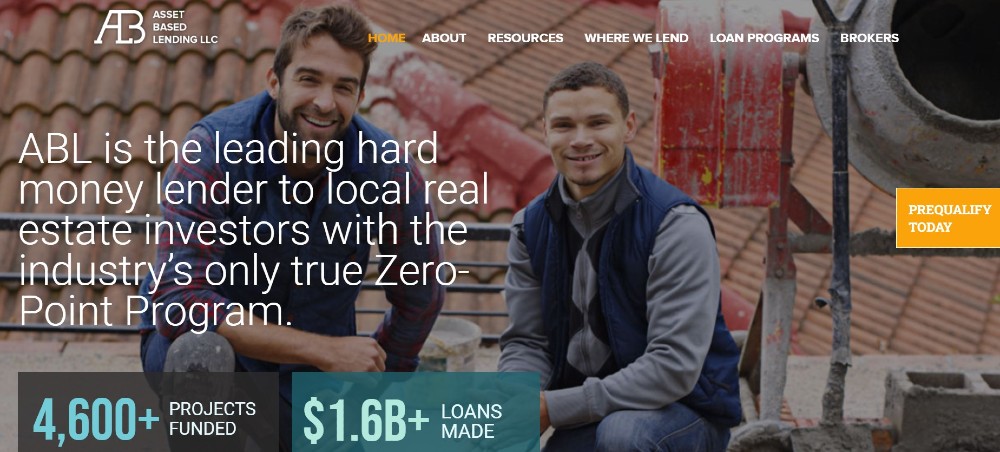 ABL Lending, which stands for Asset Based Lending, serves as a hard money lending institution with a core emphasis on supporting small business proprietors, real estate investors, and commercial contractors in fulfilling their financial requirements. ABL is one of the best asset based lenders for real estate investors.
Operating across more than 29 states in the United States, ABL provides a diverse range of loans meticulously customized to suit individual needs. The available loan categories encompass: Renovation and Resale (Fix and Flip), Fresh Construction Ventures (New Construction), Release of Equity (Cash Out Refinance), Investment in Rental Properties (Rental Property).
One of the biggest differentiators is that ABL offers the Zero Point loan program which has a unique feature—zero pre-payment penalties or exit fees, making it genuinely "zero points." The zero-point loan options are accessible to borrowers without any prerequisite experience.
Often, no prior experience is needed, with standard minimum credit scores of 660. ABL provides loan pre-approval within 24 hours, with loan closing achievable in as little as 3 days. However, ABL's interest rates can be prohibitively high which can make the asset based loans that this lender offers inaccessible.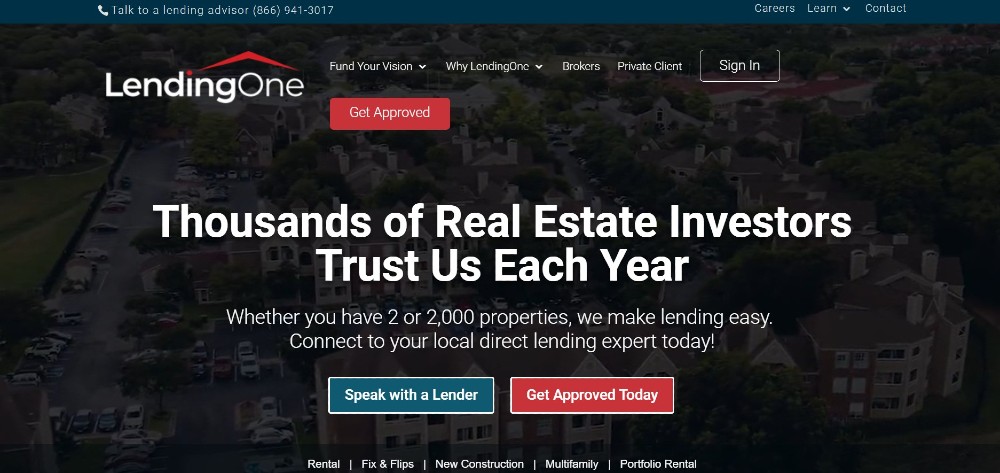 Lending One stands as a direct lending institution, specializing in asset based loans tailored for real estate investors. With a history dating back to 2014, Lending One's mission is to cater to a diverse clientele, encompassing part-time investors, significant landlords, developers, and real estate funds. They prioritize individualized strategies to maximize the potential of each investment.
Securing financing through Lending One presents a more straightforward alternative compared to traditional mortgage applications. Generally, credit scores of 680 serve as a baseline for eligibility with Lending One. Borrowers seeking loans from Lending One usually have specific intentions, such as acquiring a secondary home, a vacation property, an investment property, or engaging in a house-flipping project.
Lending One offers fix and flip loans, rental loans, fix to rent loans, multi-family bridge loans, new construction loans and investor select landlord loans. While Lending One's loan closing times aren't as fast as other lenders in the same realm, they certainly have less stringent lending criteria, and their variety of loans cater to most real estate investing purposes.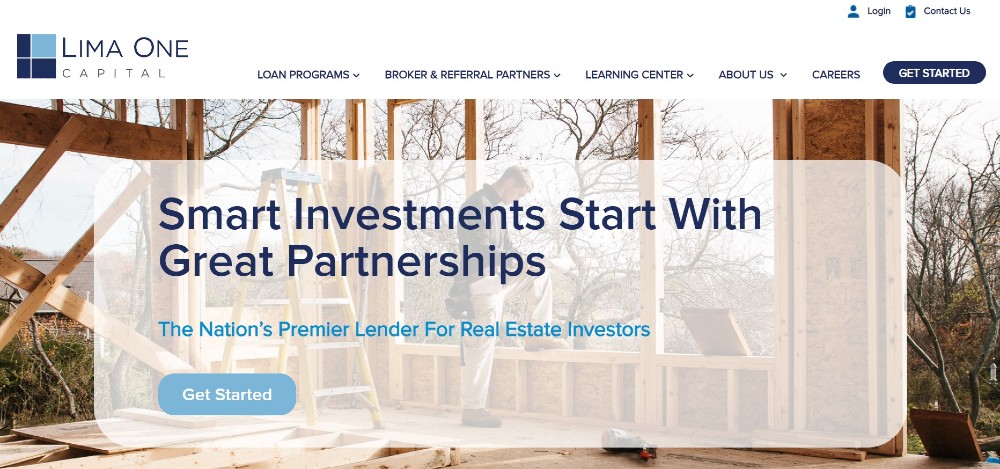 Lima One Capital provides real estate investors with a diverse array of investment property loans, including asset based loans, that are tailored to suit various investment strategies. What sets these loans apart from traditional mortgages is that Lima One operates as a private lender, allowing borrowers to engage directly with their in-house team of experts, eliminating the need for intermediaries throughout the loan process.
Lima One Capital offers a comprehensive range of loan products, including fix and flip loans, bridge loans, construction loans, rental loans, and multi-family loans. While each of these loan options comes with specific requirements, a general guideline for this lender is a minimum FICO score of 600. It's worth noting that some loans may necessitate a higher minimum score of 700.
This flexibility in credit requirements ensures that Lima One Capital can accommodate a wide spectrum of real estate investors, aligning their financial solutions with the unique needs of each borrower.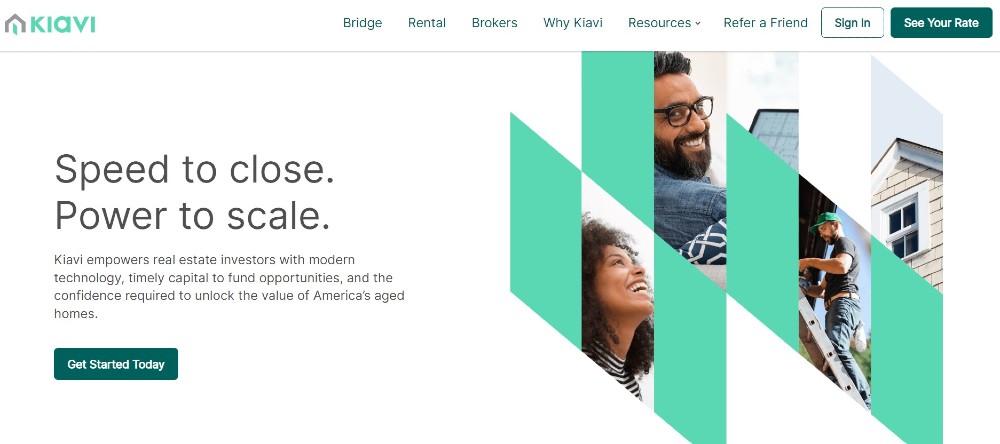 Kiavi is a large lender for real estate investors offering asset based loans. The lender was formally known as Lending Home but has since changed its name to Kiavi. Kiavi offers bridge loans for fix and flip projects and rental loans to purchase rental properties. Kiavi's bridge loans can be used for new purchases, delayed purchase refinances and seasoned refinances.
Borrowers can get access to receivable financing from $100,000 to $1.5million on bridge loans, and up to 90% of the purchase price for fix and flip projects. These loans cover up to 75% of the after-repair value and are typically asset based loans, which means that the property serves as collateral.
Kiavi's rental loans have two options, either a 5/1 ARM or a 7/1 ARM, and both are fully amortized. Kiavi's rental loan products offer borrowers the opportunity to secure financing at up to 80% Loan-to-Value (LTV), with eligible properties including single-family homes, PUDs, and 2-to-4-unit properties.
It is possible for asset backed loans to have a balloon payment, however this isn't applicable to all asset backed loans. Certain asset backed lending options allow for a large, one-time payment of the principal loan amount at the end of the term, while others require the principal loan amount to be paid off over the loan term in more traditional amortized payment schedules. It all depends on the lender and their loan terms.
Asset based financing comes with certain risks and defaulting on an asset based loan can have significant consequences, depending on the loan and the lender. Asset based loans are secured by collateral which is the property itself, which means that lender can seize the asset and sell it to cover the funds that are owed.
Defaulting on asset based loans can result in legal action, and a negative impact on your credit scores which can make it harder to secure loans in the future. Along with this, there may be fees and penalties incurred, which can increase the total amount owed.
Yes, asset-based loans offer the opportunity to acquire residential property. Asset based financing is a versatile solution, applicable to a range of purposes, including the acquisition of residential real estate as part of the receivable financing. They are typically secured by the property in question or other valuable assets you possess, with the loan amount determined by the collateral's value, rather than solely relying on your creditworthiness.