Lending One offers real estate loans to part-time investors, large landlords, developers and real estate funds. The lender offers fix and flip loans, rental loans, new construction loans, fix to rent loans and multi-family bridge loans. Getting funding with Lending One is typically easier, with less stringent lending criteria than mortgages.
One of the biggest choices that real estate investors need to make is finding the right funding. This can make or break a real estate investment deal, so finding a lender and loan type that suits both the project, and the investor's personal financial situation is vital. To assist investors with this, we've put together a review of Lending One, a lender specifically for real estate investors.
What is Lending One and how do their loans work?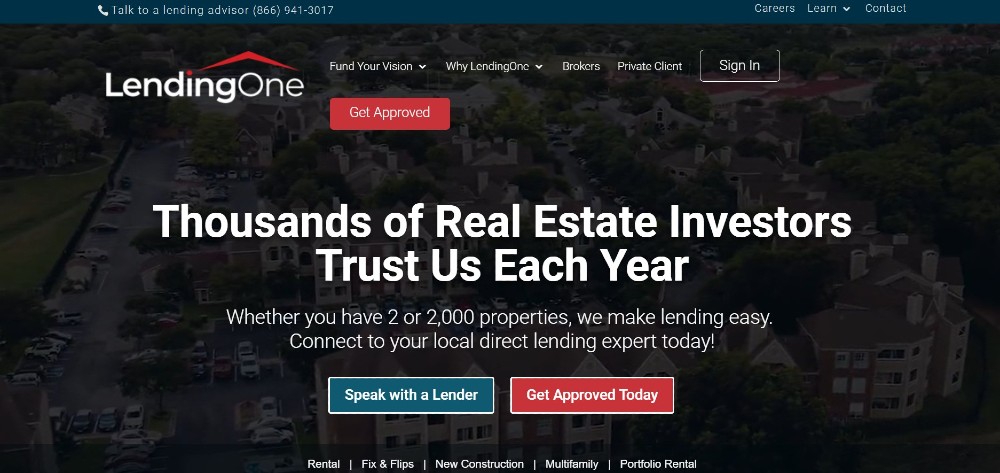 Lending One is a direct lender for real estate investors looking to fund a project. Lending One has been around since 2014, and aims to assist part-time investors, large landlords, developers and real estate funds. Lending One provides tailored strategies to each investor, so that they can make the most out of their investments.
Lending One was formed as a result of the founders' frustration with the lack of reliable funding options for real estate investors and the disinterest from banks. The lender aims to provide funding faster and easier, so that real estate investors can grow their investments.    
Real estate collateral loans
A real estate collateral loan, or a secured loan, is one where the property itself is used as backing or collateral for the loan. This means that if the borrower can no longer afford the loan repayments, the lender has the rights to the property. Using real estate as the collateral means that the risk for the lender is lower, and the loan terms are more favorable.
Overview of Lending One hard money loan products
Lending One offers various loans to suit different real estate investing projects. Lending One aims to provide loans that are best suited to each investing strategy, in order to generate profit.
Lending One's fix and flip loans offer financing for both the property purchase and repairs as a part of the same loan. Up to 90% of the purchase and rehab costs are covered by these loans. The minimum amount that borrowers can get funding for with a fix and flip loan is $75,000.
Financing is provided within 1 week and interest-only payments are available for the first 24 months. Rates are provided in 2 minutes or less, once applicants have filled in a form on the website.
Lending One offers rental loans for those who are investing in 5 rental properties or more in the form of portfolio loans, and RentalOne loans for those who have a smaller portfolio. These can be used for new purchases, rate and term refinances, or cash-out refinances. Investors can choose between recourse or non-recourse portfolio loans when they're applying.
The RentalOne loan is for investors who need funding over a longer period, so these loans are 30-year amortized loans with a fixed rate. The maximum Loan-To-Value (LTV) is 75%     of the stabilized value. The minimum amount that can be borrowed using the RentalOne loan is $500,000 and the maximum is $2million.
The Portfolio Pro loan is for investors who are looking for good rates on a larger rental property portfolio. There are          5 or 10-year fixed rate options available, and these loans are 30-year amortized or interest only. The maximum LTV is 75% of the purchase price or refinance amount. The minimum loan amount is $1million and the maximum is $50million.
Both rental loans are offered to investors buying single family homes, 2-4 unit properties, PUDs, condos (with restrictions) and townhomes.
The Fix to Rent loans provided by Lending One are designed for real estate investors who are purchasing a property to renovate and keep as a buy and hold investment. With the aim of improving the property, to rent it out and make a profit over the long term. The Fix to Rent loans offer the benefits of the Fix and Flip loan, after which borrowers can roll onto the 30-year rental loan.
The minimum loan amount is $75,000 and the lender will offer up to 90% of the Loan-To-Cost (LTC) ratio. Fix to Rent loans can close in 10 days and are offered to investors purchasing single family homes of 2 to 4 units.
Multi-family bridge loans
For investors who want to add value to their apartment building by taking on new projects, this loan can provide the necessary funding. These loans can be used for purchasing, recapitalization, refinancing (including cash out), upgrades and/or seasoning. The minimum loan amount is $1million and the maximum is $15million.  
The maximum LTV for the multi-family bridge loans is up to 70% of the stabilized value. Rates start at 5.99% and there is a minimum occupancy rate of 70%. These loans are amortized and interest only payments are available. Loan terms are between 12 and 36 months and these loans can be closed in 20 business days.  
Lending One offers loans for ground-up construction projects with a minimum loan amount of $500,000, and a maximum amount of $5million. These are short term loans between 12 and 24 months, with interest only payments required for a period of time.
The properties that can be funded by this loan are single family detached properties, condos, townhomes, multi-family properties. Redevelopments, conversions and condo loans also permitted within these loans.
Investor select landlord loans
The investor select rental loan program was created for landlords who own less than 10 investment properties and have a full-time W-2 job. The landlord loans cover the purchase of a rental property, or cash-out and rate/term refinances for currently owned properties. 
Loans can be closed in the name of an LLC, up to 80% of the LTV will be covered for purchase and refinancing, and up to 75% for cash-out refinancing. There are less stringent qualification criteria for these loans which makes them easier to get approval for than bank loans.
Lending One interest rates - Are they competitive?
Lending One bases their interest rates on various factors, which means they are decided on a case-by-case basis, according to the loan type, the deal and the borrower's qualification criteria. Lending One's interest rates start at 5.99% on their bridge loans and go up to over 12%.  
Hard money lender rates are anywhere between 7% and 15%, which is in line with Lending One. Now, let's compare these rates to the current national mortgage rate trends which are:
30-year fixed 20%
15-year fixed 43%
10-year fixed 59%
5/1 ARM 44%
So, it's safe to say that Lending One has competitive rates for a lender that isn't a bank. Lenders of this nature typically have higher interest rates than the average mortgage, so investors should be aware of this when they're looking at real estate lenders or hard money lenders.
Getting financing through Lending One is typically easier than applying for a mortgage. Each loan has different requirements, and these aren't the same as hard money lenders either. In general, a credit score of 680 is required for loans with Lending One. Qualifying for a loan with Lending One means that you'll need to be getting funding for a secondary home, vacation home, investment property or house flipping project.
Benefits of using Lending One
Less rigid lending criteria than banks and other lenders. Loans are based more on the property deal itself than the borrower's personal financial situation.
Loan approval can be done quicker than mortgages and certain other lenders.
Lending One offers advice and focuses on building a relationship for long-term success instead of simply providing loans.
The lender offers a wide range of loans to suit most real estate investing purposes. Borrowers can choose the loan that best suits their needs.
A wide variety of investors can apply for loans with Lending One, from part-time investors to large landlords with many rental properties and even developers.
Disadvantages of using Lending One
Lending One's loan closing times aren't as fast as some other hard money lenders. Which means that sometimes, loan closing can take longer than expected.
Experience can outweigh a FICO score in many cases, which doesn't suit every investor, particularly those who are new to the world of real estate investing.
The maximum loan amounts provided would often not be enough for commercial real estate investors, such as those who are doing commercial property flips.

New Silver are a hard money lender with a specific focus on real estate investors. New Silver offer fix and flip loans, rental loans and ground up construction loans. They also have a marketplace for personal loans. The lender pride themselves on being able to offer loan closing in as little as 5 business days and loan approval in just 5 minutes.  
New Silver operates entirely online and provides instant online term-sheets and proof of funds. There are loan consultants to help, every step of the way. A minimum credit score of 650 is generally needed, depending on the loan type. Some loans don't require any previous experience, and investors can qualify based on the property deal itself, along with the less stringent lending criteria.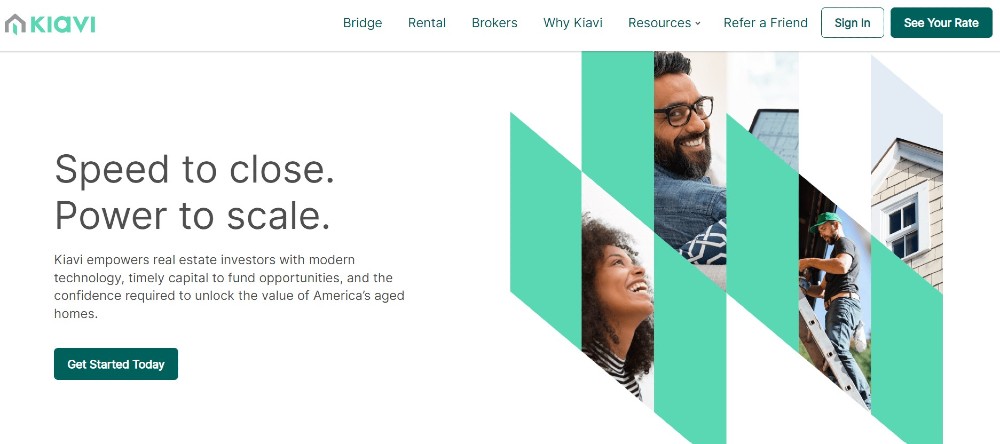 Kiavi is a lender that provides capital to real estate investors. The lender provides bridge loans (fix and flip) and rental loans. The bridge loan rates start at 6.95%, and borrowers can get funding from $100,000 to $1.5 million. Kiavi has flexible loan terms on their long-term rental financing which is 30 years. The interest rates on these loans begin at 6.875%. There two loan options, either a 5/1 ARM or a 7/1 ARM, and both are fully amortized.
Kiavi doesn't require an application fee or appraisal for bridge loans. Kiavi also doesn't do income or employment verification, and there is no asset verification which saves time and money. Loan terms are flexible and based on each borrower's needs.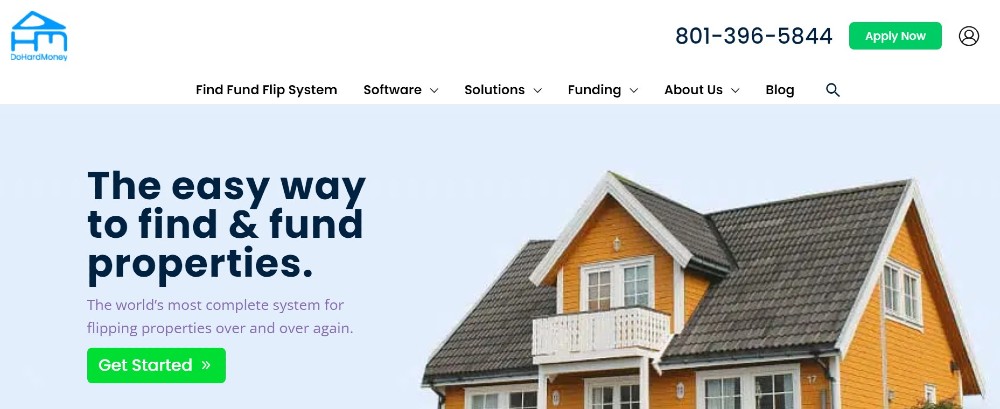 Do Hard Money is a hard money lender for real estate investors however their services also include a range of resources. Through Do Hard Money you can find an investment property, fund the deal and then sell the property again once you've renovated it. However, to gain access to any of these resources, there are multiple questions to fill in and investors will need to provide their details.
Do Hard Money offers residential rehab loans, fix and flip loans, foreclosure loans, private money loans, rental property loans, refinance loans, new construction loans and bad credit hard money loans. The loan terms offered by Do Hard Money begin at 5 months and go up to 12 months. Interest rates range from 1.25% per month to 7.99% as a starting point. Investors can get funding with a $5,000 capital contribution. 

Lima One is a private lender for real estate investors, providing fix and flip loans, new construction loans, rental loans and multi-family financing. The lender offers in-house underwriting and construction management. Lima One provides loans in about 40 states across the US.
Lima One's rates range between 8.99% and 10%, and their loan terms are flexible. There is a maximum LTV of 70% and loan terms range from 13 months to 2 years. While various loan requests are considered, the lender focuses primarily on single family homes and multi-family residences. Loan amounts begin around $250,000 and go up to about $5million.
While Lending One is still a relatively new player in the finance game, the company has made strides towards becoming a reliable lender for real estate investors. With loan qualification criteria revolving largely around the property deal itself, Lending One offers investors the chance to get financing without stringent lending criteria. This lends itself to a higher chance of successful closing for some investors.
Lending One was founded by Bill Green and Matthew Neisser in 2014.  
The loan amounts on offer vary, depending on the loan. So, each loan will have a different maximum amount. Lending One allows borrowers to apply for an amount of up to $15million for multi-family bridge loans.