The MLS is an exclusive listing database created and used by brokers and realtors

You'll need a real estate license to sign up and to pay for a monthly membership

There are alternatives to the MLS that are open to the general public
Those who are looking to buy and sell homes for the first time will in their journey come across the MLS at one point or another. Typically used by real estate professionals to connect each other on property deals and much more, these types of platforms can prove to be incredibly useful to those that are able to use it to the full potential. 
You can think of an MLS as effectively being a database of homes listed by brokers or realtors, people that have licenses or other key experience in the industry. Any time these professionals are looking for a new property, they turn to the MLS in their area before going to any other platform. A more exclusive listing database than those open for use to everyday consumers, the MLS will also include information that general listing websites won't, making it a great resource for finding and selling homes across the country. 
Once you've heard of the MLS, It's natural to wonder whether you can sign up for the MLS and use it to sell or find properties yourself. The answer will heavily depend on your background with property, your qualifications, and your goals. 
If you don't have a real estate license or other professional qualifications to do with real estate, the MLS might not be the right place for you to sign up to, especially if you haven't taken the cost and other factors into consideration. This is everything you need to know about the MLS, what it's used for, and how you can benefit without signing up directly.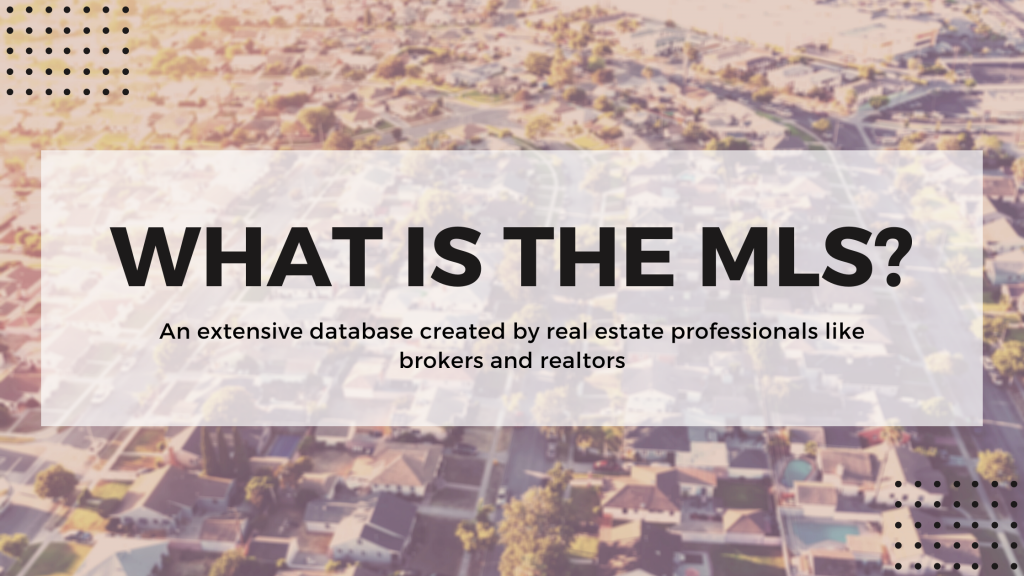 MLS refers to the multiple listing service, usually an extensive database created by real estate professionals. This database contains key information and data about properties for sale that aren't necessarily featured on the usual online listing websites. The MLS connects brokers and other qualified individuals to listings with the goal of putting home buyers in touch with sellers and vice versa. This allows them to share information and potential commissions, and the electronic nature of the MLS means it is updated consistently.
The MLS is not overseen by any one party, and as a result, there are regional and national MLS databases that are all collaborative projects. This means that there are hundreds of MLS databases that cover listings around the country.
One of the main differences between the MLS and websites that anyone can access is that you have to pay a membership fee to access each MLS. That payment enables real estate professionals to view information on comparable homes in the area, listing details, photos, notable features, and more. While these services are highly dependent on the area, they commonly follow guidelines set by the National Association of Realtors. Some of these guidelines include that listings need to show the commission earned by the seller, and what the share is that the broker or realtor gets out of it. 
Why Do People Use The MLS?
If we live in a day and age where there are hundreds of real estate listing websites, is there any value in using the more-exclusive MLS services? 
To start, the MLS allows brokers to look for properties that are listed for sale by other agents, including their contact information and times the home is being shown. Not all easily-accessible listing websites provide this type of information, which needlessly slows down the broker. Instead of having the details they need at their fingertips, they need to spend time researching, calling, and driving around to get more information on available properties.
The majority of MLS databases limit access to certain real estate professionals, such as brokers and realtors. This exclusivity means that not just anyone can go onto the MLS to list a home or look for one to purchase. It's more common for homeowners or property investors to pair with realtors in order to expedite the process.
MLS databases are typically put behind a paywall – professionals pay to access or list properties, usually ones that are set to their location. Not all realtors and brokers belong to national MLS databases,  meaning that a member of a New Jersey MLS won't necessarily have access to one in Connecticut unless they pay for both.
The greatest value in the MLS comes down to efficiency and productivity. An MLS subscription helps professionals to zoom in on listings that match their buyer's needs, allowing them to screen by square footage, bedrooms, location, and much more.
The next question is what kind of homes are found on the MLS? Are all properties listed there? The answer is that the majority of homes in the country will be listed on either a local or national MLS, but not all property types will be present. There are two specific kinds of real estate that are usually not found on an MLS; pocket listings and homes for sale by the owner.
For Sale By Owner Versus Pocket Listings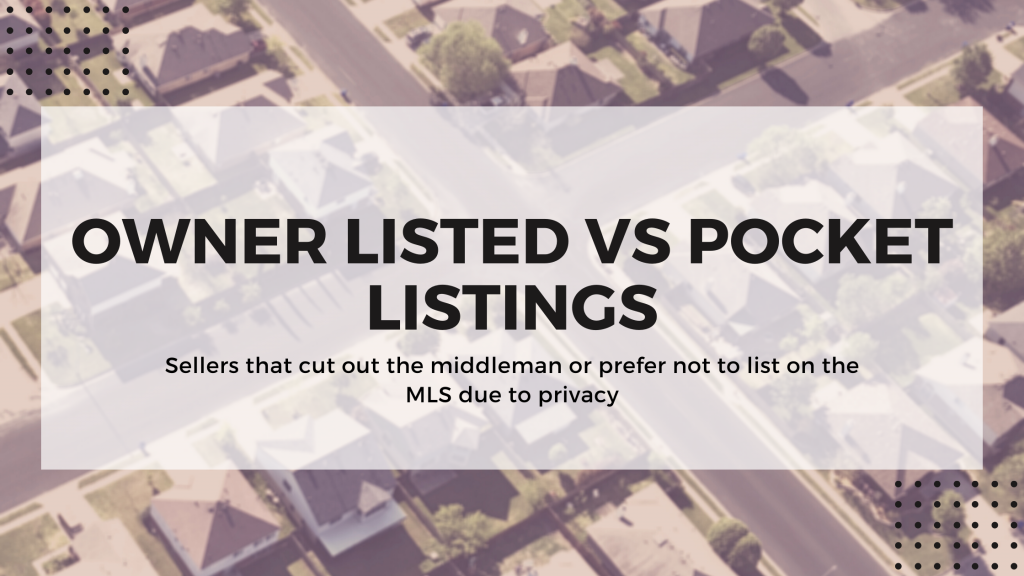 Homes that are for sale by the owner attempt to cut out the middleman or realtor in order to retain more of the total selling price and save on paying commissions. Since real estate agents are the ones that carry memberships to MLS databases, properties are directly for sale by the owner are unlikely to be listed there. 
While there might be savings associated with not paying a commission to sell the house, these homeowners miss out on crucial exposure that can lead to an influx of offers. These property owners can list their homes on Zillow or other listing websites, but these portals don't necessarily get the same level of attention from agents and brokers.
Pocket listings, on the other hand, refer to homeowners that are selling their homes with the assistance of a realtor but have actively chosen not to list on the MLS. You may be wondering, what is the purpose of skipping out on the exposure the MLS can give? Privacy. Not all homeowners are interested in having their details exposed, and it's not uncommon for some to prefer not to list on the MLS instead.
Why The MLS Stays Relevant
We've spoken about how the MLS offers exposure as the main advantage, but it's not the only reason why the MLS has managed to stay relevant today. Because the MLS is mainly used by agents, many of the listings added there include special agent or buyer notes that can be particularly useful. The information included could be about preferred showing times and procedures to follow or mention of a seller offering any incentives for buyers.
Other key things the MLS can provide that other listing websites can't are documents relating to the property, like seller disclosures, HOA agreements, and other needed documents that can be used for loan applications.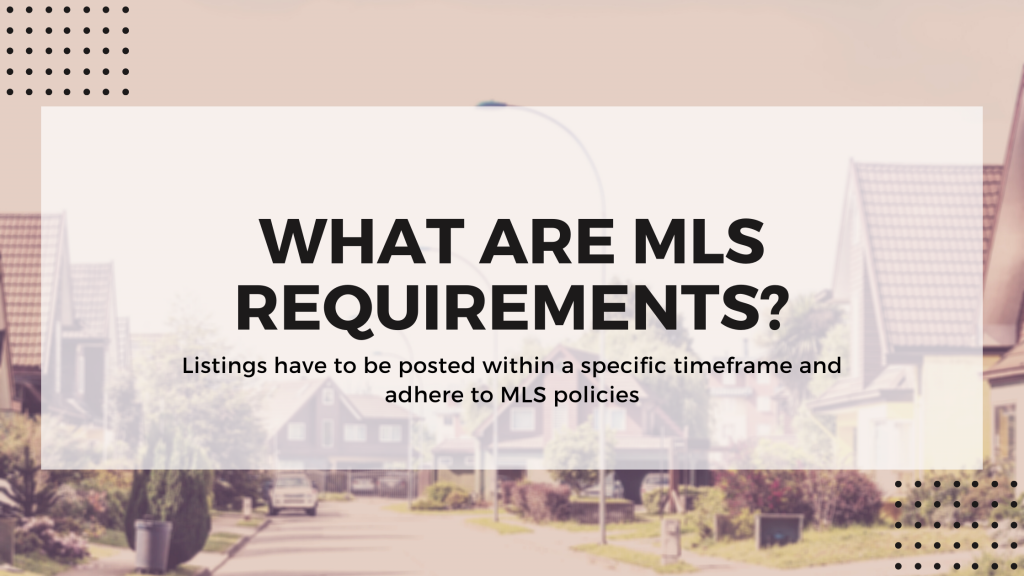 There are many requirements that have to be adhered to for a property to be added to the MLS. MLS listings have to be current and their details accurate – new listings have to be put up within a certain timeframe. Members that don't adhere to the rules set out by the MLS can be fined. 
The thing to remember is that there are hundreds of different MLS databases out there, and they all have their own specifications and rules. It's not uncommon for several different MLS's to join forces and merge into one, so these databases are constantly growing and evolving.
The other requirements that are common on MLS platforms have to do with images. Property photos will need to be of high quality, and the number of photos that need to be included per listing can be specified as well. 
Another question that is often asked about joining an MLS is how they define geographical limits on their database. How do these services determine which one covers which location? 
There is no guideline or rule forcing an MLS to cover one state or another – generally, most MLS databases will cover a major metro area, while a select few will widen the net to include properties around the country. An MLS can also be more specialized in geographic features like lakes or mountains.
At the same time, MLS boundaries should not overlap too much so seeing the same property on more than one MLS database is unlikely.
MLS Alternatives For Buyers
Unless you have a real estate license and active membership to an MLS site, you won't be able to directly access an MLS. There are however some alternatives that will still allow you to benefit from some of the features provided by the MLS.
The first is working with a real estate agent. Whether they're helping you to sell your home or buy another, they should be able to guide you through using the MLS to your advantage. Some realtor websites will also have a live feed that goes directly from the MLS to their websites, enabling you to get a glimpse of the latest properties going on the market. 
There are also non-MLS options that you can use like Zillow, Trulia, or Redfin, but these won't necessarily offer you all of the benefits an MLS will because they're targeted at a more general audience. You might have better luck working with a platform that is more niche or targeted towards the type of real estate you are interested in investing in. 
For real estate investors, for example, working with a platform targeted to house flipping investment homes like FlipScout will be more valuable and time-saving than going through the generalized platforms. Unlike other sites, FlipScout looks at more than property details and goes deeper into the after-repair values and return on investment that the investor could earn.
An MLS is a unique real estate database launched and maintained by brokers and realtors, and while regular homeowners or property investors cannot access it without paying a membership fee, they can still benefit from it in other ways. 
The MLS databases effectively make buying and selling property faster and more convenient by providing numerous details about each property that is not necessarily commonly available on normal real estate platforms. You do not need to register for an MLS because you can work with a realtor to get access to the listings you need or see if their website provides a snapshot of the latest MLS properties. 
An MLS is not the only option out there that can give real estate investors the information they need about potential homes. General real estate websites are a good starting point, but where possible try to look for a more niche platform that provides specific information instead of a general overview. 
Signing up to the MLS can be worth it if you plan to grow a career in real estate, but it's just one resource of many that can lead to worthy real estate deals.
What is an MLS in real estate?
An MLS is a broker/realtor-built database of properties for sale.
Can you get on MLS without a realtor?
No, a real estate license is required. With that being said, there are alternatives that can be used like Zillow, Trulia, Redfin and FlipScout.
Do realtors pay to access the MLS?
Yes, realtors pay to access different MLS databases.
No. You will need a real estate license or a broker license to list on MLS. It is also worth pointing out that not all properties are listed on MLS.
No, Zillow is a general real estate listing website open to the public.