Investing in abandoned property often gets a bad reputation from real estate investors. The real estate industry puts a lot of stake into turnkey properties, and experts will often push less experienced investors towards homes that are easiest to renovate and sell. Their reasons are valid; less intensive renovations mean there is less room to overspend or make costly mistakes. As a result, less experienced real estate investors will overlook other avenues of property buying that while challenging, can also prove to be highly profitable.
Why Buy Abandoned Property
It's uncommon for new real estate investors to buy abandoned or vacant property, primarily because rehabbing them can be difficult and there are risks involved. Abandoned homes are some of the cheapest real estate deals to be found and can be picked up by savvy investors at well below market value. In the hands of the right house flipper, abandoned homes can be transformed into high-ROI properties that hold a lot of opportunities.
When it comes to buying a vacant building or distressed property, there are several things that the investor will need to be aware of prior to jumping into the process. These properties are not always accessible via online or print listings so tracking one down will be the first hurdle. Then there are other challenges like how to locate the owners, establish what the repairs will cost, and other considerations that need to be made before you can be sure that the investment will be worthwhile.
If you think you're up for the challenge of buying and renovating an abandoned property, make sure you go through the tips in this guide first.
The Basics Of Abandoned Property Hunting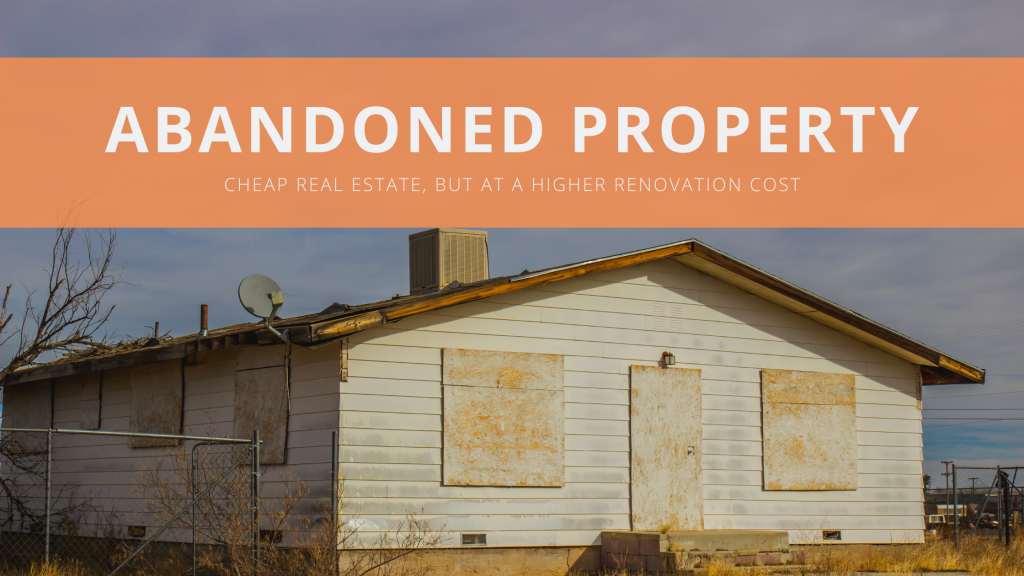 As mentioned above, there are not a lot of online listing sources that cater specifically to vacant homes. Some websites offer the option to filter search results using keywords, and you can try to track down these vacant homes by using keywords like "immediate possession" or looking out for properties that are marked as being below market value. These are the categories that are most likely to give you property buying leads. The reality is unfortunately that the majority of these properties are actually sold off-the-market , so you might need to go further than the web to get the information you need.
Another option is to visit your local tax department. There you can gain access to lists of properties that are currently unoccupied or that have unpaid taxes. These can be key indicators of an abandoned property that you can follow up on. Many banks act as sources of abandoned homes too, having lists of properties that have been foreclosed recently due to non-payment of mortgage. Get in touch with them and other lenders in the neighborhood and find out if there are any homes that will be of investment interest to you.
Many investors find their first abandoned property simply by driving around and looking for the characteristic signs. What are these signs you may ask? Overgrown gardens or yards, broken windows, and general disrepair are strong signals that it may be an investment opportunity for you. The original owners may have defaulted on their mortgage, moved away and left the property without tenants, or passed away.
Once you've tracked down a few potential homes to buy, the next step will be to contact the owners and find out if they'd be willing to sell it to you. Arguably the biggest advantage of buying this type of real estate is that there is less competition from other buyers. Not every real estate investor is willing to put in the time and effort needed to turn these properties around, and the scale of the repair work might put them off. The other significant benefit of buying abandoned homes is that you are likely to be working with a motivated seller that will be willing to negotiate on the price and terms of the sale, leading to a fast closing.
When you're looking for abandoned homes to purchase, you might not be able to have a full-on property inspection done but you can still analyze the neighborhood. Try and calculate the current value of the property and compare it to other similar properties in the area, paying careful attention to lot size, how many bedrooms and bathrooms there are, and any unusual features. If you're able to pick up an abandoned house in a good neighborhood at a lower price than the average home, you could push the property price up to exceed similar homes if you play your cards right. Sometimes real estate investing comes down to taking risks to achieve a better ROI.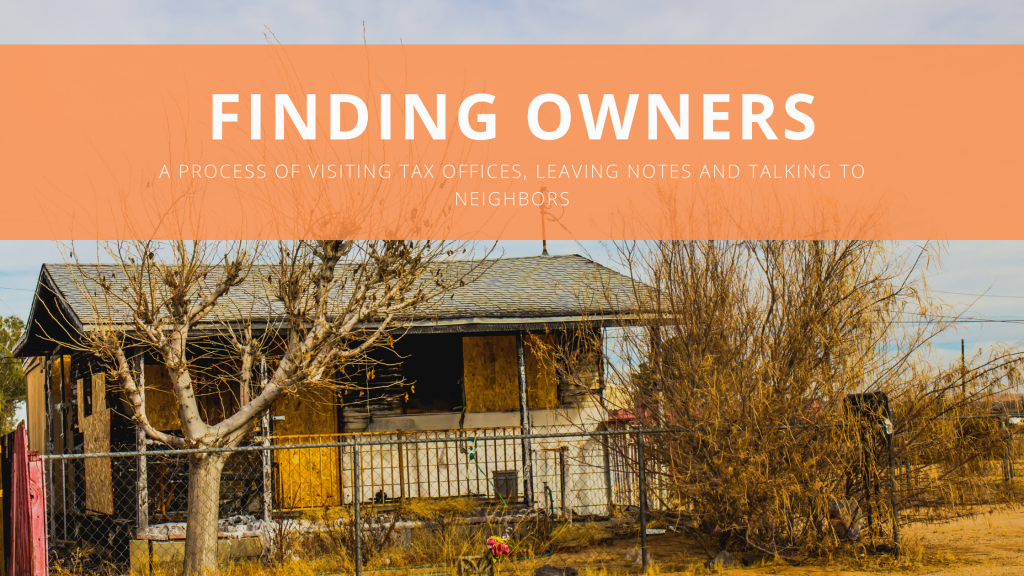 Finding the owners of an abandoned building will require some research. Since you're already visiting your tax department to look for potential properties, this should also be your starting point for tracking down their owners. By referring to the property tax records, you can find the most recent owner and some of their contact information. At the same time, you can check if any back taxes are owed on the property – if there are, you can ask the officials whether the property might be put up for auction at a tax sale any time soon.
An auction might be the easiest way to purchase this type of property, but it's not something to go into it blind. It's important to remember that properties at auction are purchased as-is, and with abandoned homes, this means you might not have a chance to assess the repairs needed in detail before making a bid. Still, you might be able to discuss some details about taxes owed and other financial info with the property owner at the tax sale. You can also hire a property inspector to attend the auction with you or brief you before you attend.
The tax office isn't the only way to find abandoned home owners. Getting in touch with the property owner can be as simple as leaving a note and business card in the mailbox. The key to this approach is remembering that the property might not be visited by the owner very often, and it could take some time to hear back from them. A better approach might be to contact their neighbors in the same way and see if they can put you in touch with the owner or pass on your message.
You might not be the first person to have approached them about selling, so it might be worthwhile to add a proof of funds letter with your note of intention to buy. Proof of funds letters add gravitas to your offer and show property owners that they could close quickly if they decide to sell their home to you.
You can finance your purchase by working with a hard money lender ; this type of property renovation is usually best suited to alternative funding sources. Traditional lenders like banks prefer to loan funds for primary residences , or for properties that need only minor renovations before being sold or rented out.
If you already own another property, you can leverage the purchase of one using funds from the other by opening a home equity line of credit.
Abandoned Property Investment Risks
As exciting as the prospect of a highly profitable flipping project is, there is a reason why many investors are hesitant to take on abandoned properties. While the home may come cheap, the repairs certainly won't be and the investor will need to have his head squarely on his shoulders in order to avoid going over budget.
An abandoned home can quickly become dilapidated and it might be in need of serious repairs by the time you are able to take over ownership. If the property is older, it may have asbestos and other discontinued materials in the building structure. These materials can be dealt with but will slow down your renovation plans significantly. In fact, some locations will require you to deal with these materials safely prior to taking on other renovations.
In addition to this costly hazard-management, you can expect the majority of the systems in the house to need replacing. This will include electrics, HVAC, plumbing, and more. The reason for this is the rapid deterioration that takes place in abandoned properties, and when one system goes it will typically affect another or cause other issues. Leaky pipes can cause mold and water damage, or cause serious electrical problems.
The biggest issue with these repairs is that you might not be aware of them until it's already too late. The worst damage may be underlying, and if you have bought the house at auction, for example, there is no way you will be able to know beforehand. In these cases, you will have to deal with whatever repair issue comes up – this is part of the deal. In other words, fixing up cheap housing may involve expensive rehab. With extreme repair problems, some investors prefer to tear the original structure down and build a new home from the ground up instead. A thorough maintenance inspection will give you a better idea of what you can expect when purchasing an abandoned house, and what the project will cost you in total.
Abandoned property investing might not be the best fit for every beginner real estate investor, but for the right individual, this strategy can be highly profitable. The differentiating factor will be whether the investor has done their homework and has a good idea of what they are walking into, versus going in blind and buying properties at face value. Abandoned homes can be particularly affordable, coming in below market value for their neighborhoods, but post-renovation can reach high valuations that lead to good investment profits. Considering that the investor can work with a lender , this can be a good way to earn money from real estate without putting too much of your own money down.
While there can be many advantages when purchasing an abandoned house, it's important to acknowledge that flipping them is hardly ever straightforward. If you're able to rehab the home successfully, however, the property value of the home, the general street and the neighborhood will improve. Just make sure you put some time into doing your homework first.