In a recent guide, we covered the ultimate house rehab checklist, but the idea of rehabbing an apartment is slightly different and carries some caveats the investor needs to be aware of. It's not as simple as going ham with all of the upgrades you want, and there may even be some walls you run into that you'll need to learn to work with. 
Maybe you're planning to purchase an older apartment that needs some fixing up to be extra profitable, or your tenant has moved out and you'd like to make some changes before taking on a new one. 
Either way, you'll need to know what to attend to as part of the rehab process in order to improve the quality of the apartment, increase the rental amount you can ask, and assure the success of your investment for years to come.
Keep reading for our ultimate apartment rehab checklist and learn to get the most out of your apartment investment:
The Basics Of Apartment Renovation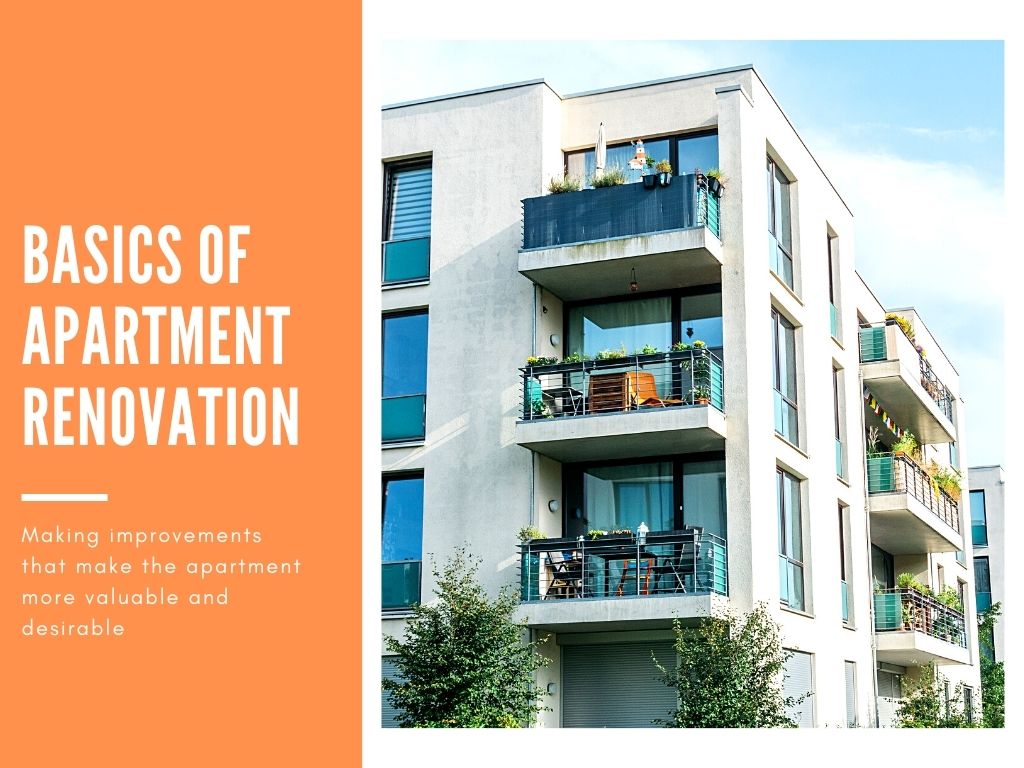 Renovations are more than just a process of repairing what has been damaged or worn down. It's also an opportunity to make improvements that could make the apartment more valuable and desirable for future tenants. These are fixes and upgrades that can be completed within a budget made up of your own funds, or by using a loan from a real estate-based lender that deals with multi-family properties.
When working in a limited space such as an apartment, function is king overall. You'll likely be working in close quarters and if you make any major changes you might impact the overall space negatively. Cosmetic changes can be useful up to a certain point but functional changes will enhance how the tenant can utilize the space and offer more convenience overall. 
Working room by room, you need to evaluate all of the components for wear and tear, condition, and functionality. You also need to balance this with the need to upgrade the apartment in a way that makes it attractive to potential tenants and offer them the most sought-after amenities. 
The best way to make sure you don't miss out on any essentials is to use an apartment rehab checklist that covers both repairs and upgrades –  take a look at our ultimate apartment rehab checklist below: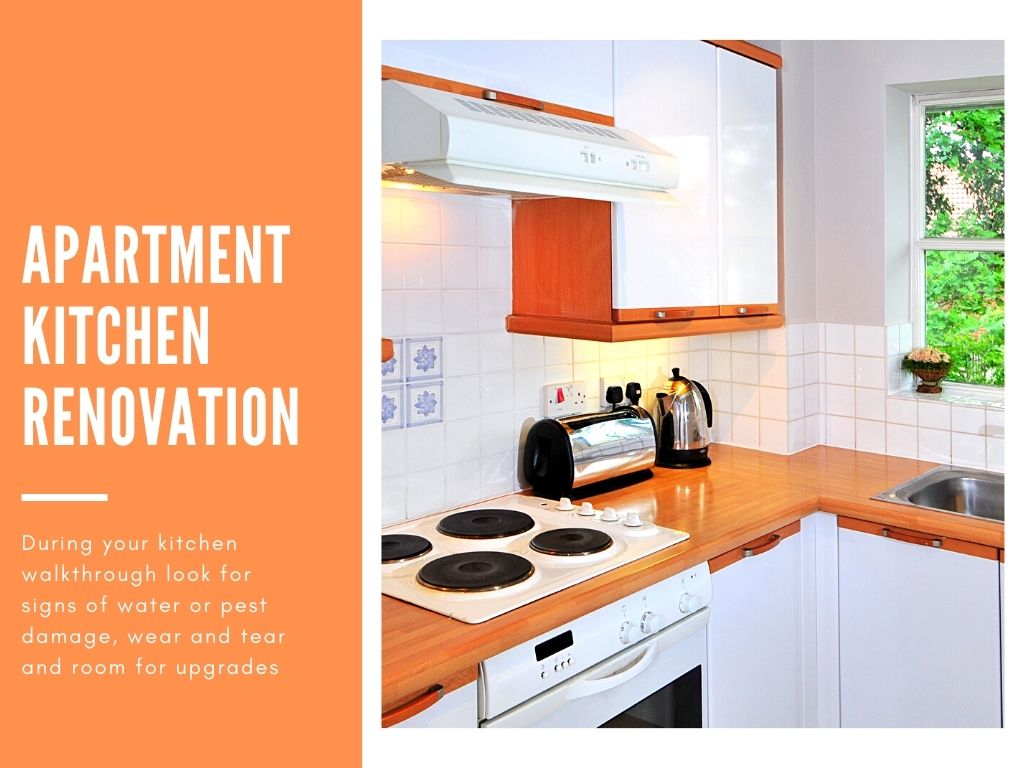 The kitchen is the heart of the home, even in an apartment with a minuscule corner kitchen. That's why you should start your inspection in this room. 
When you are conducting your kitchen walkthrough, your very first step should be to check the water faucets and connections for signs of leaking or previous water damage. What condition are the fixtures in and 
It's also a good idea to think about installing water-smart low-flow taps that will reduce the rates due to water usage. 
Next, you'll need to take a look at the inside of the cabinets. Beware of signs of pest damage and see if the cabinets and drawers need new lining paper. Do the cabinets look clean and usable inside? Do they smell musty or of old cooking oils? A solid clean may also be necessary for the cabinets to feel completely spick and span. 
From there you can attend to any general repairs – lights that need to be replaced, cabinet hinges that need to be tightened, and any damaged switches seen to. This includes paying attention to the built-in appliances such as the fridge, dishwasher, or washing machine. If they are not working they need to be repaired, and if they are old-fashioned or mismatching it might be more beneficial to replace them altogether. 
With the general repairs attended to, you can start thinking about other upgrades such as:
A fresh coat of paint

New floors if necessary

Replacing countertops and cabinets

Purchasing energy-efficient appliances

Adding a dedicated recycling station

Including built-in options like a spice rack 
Most apartment kitchens aren't the biggest spaces, so you need to be particularly careful about utilizing them in the best way possible. Things like making use of typically "dead space" such as hanging things behind cabinet doors or adding roll-out cabinet drawers that double open cabinet spaces. 
Be prepared to use a good portion of your budget on your kitchen renovation alone, especially if you'll need to replace the appliances. Even though you'll need to spend more, adding to this room is a definitive way to improve the value of the apartment and make it more attractive to future tenants.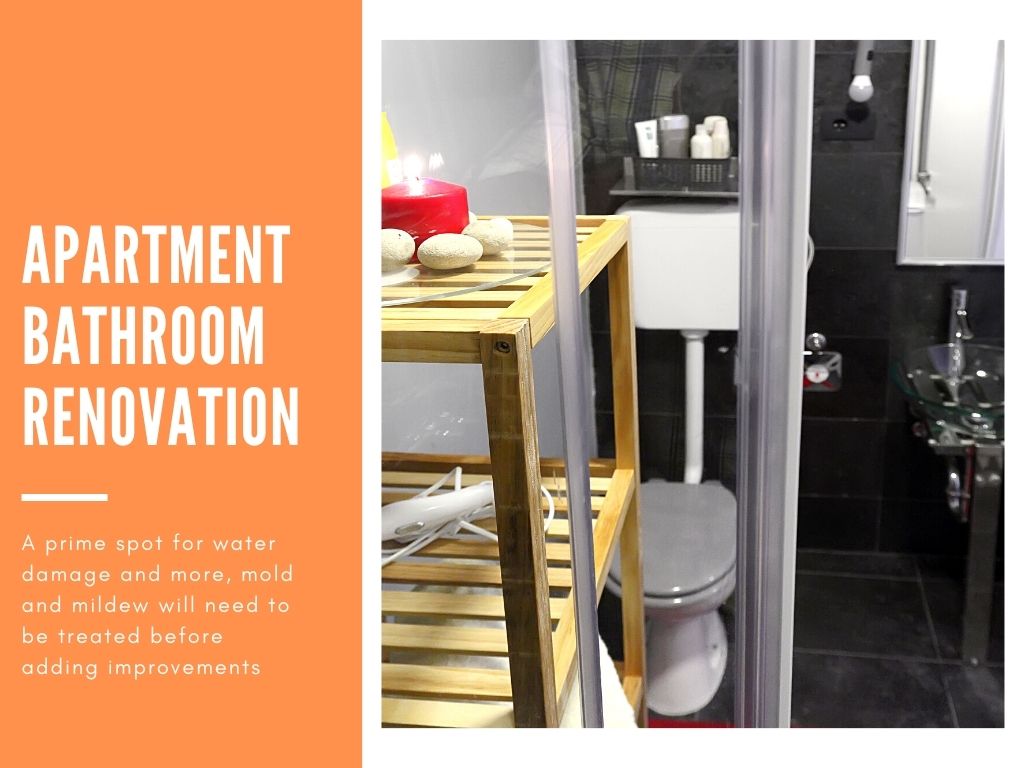 The second room to focus on in terms of priority is the bathroom, and this one can offer a unique challenge in terms of renovation. The apartment bathroom is often a prime location for water damage, mold, and mildew due to ventilation problems – especially true if the bathroom doesn't have an outward-facing window. 
In this space, you'll also have to be on the lookout for leaks and water damage. Any mold spots need to be treated accordingly and painted over to ensure the issue doesn't reoccur. You should also inspect the floor for damage and reseal or replace it as needed. 
If there is an outlet vent in the bathroom, you'll want to ensure it has been cleaned so that it is functioning properly and removing enough moisture from the space. 
Some of the upgrades that you can consider include:
Replacing the vanity with one that is more water-resistant and modern

Adding smart storage options like open shelves

Installing a new shower head or bath/sink fixtures

Purchasing a new mirror 

Adding heated rails

New shower curtains
One of the easiest ways to give a bathroom a major makeover is with lighting. Make sure there is adequate lighting around the vanity and sink area in particular. 
Most apartments will have some sort of living space such as a bedroom or sitting room or another general living room. Some of the more general rehab projects that can be undertaken include painting, renewing the flooring, and taking on other general repairs such as the lighting, internal heating system, and more.
Apartment Renovation Drawbacks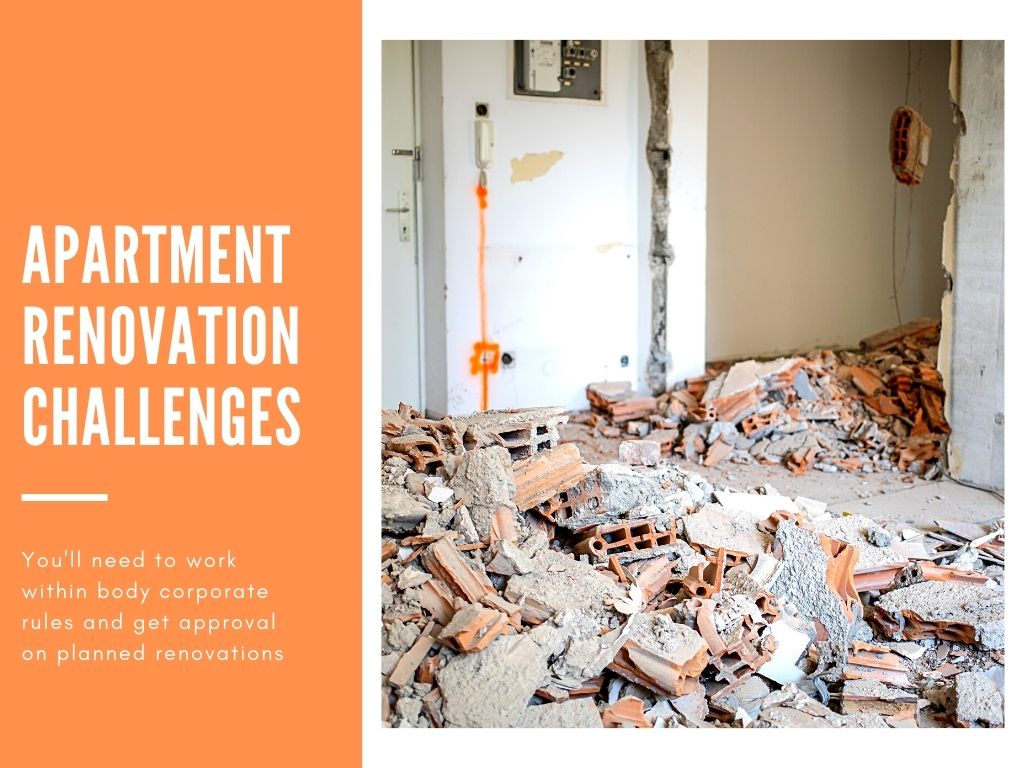 Perhaps the biggest drawback to rehabbing an apartment is having to deal with the multi-family aspect, meaning the surrounding apartments. The majority of apartments are part of buildings that are overseen by a larger body corporate entity that ensures the safety and peace of the collective tenants living there.
For you, this might mean only being allowed to conduct contracting work between certain hours of the day, having to notify neighboring units of your intention to renovate long before you start, and more. Renovating a house will have similar limitations but they'll be less stringent than the ones associated with renovating an apartment. 
Your best bet is to set aside time to meet with the ruling body of your building, get to know the rules they have set out for the building, and gain an understanding of what renovation approvals will entail. There may also be specific by-laws that you can refer to that are created to ensure the safety and comfort of the building occupants.
These by-laws are another essential part of your fact-finding process. They may specify more than just which hours you are allowed to work, such as which building materials can be used, which modifications are allowed, and what structural changes you are actually able to make. Remember that your apartment will need to conform to the standards of the building from the outside and so you need to be cautious not to violate them. 
The chair of the body corporate or the general building manager should be able to point you in the right direction. 
Once you have a clear idea of the rules, you'll need to put together a plan of what you intend to renovate and when and submit the scope of work to the ruling body of the building for approval.
The chances are good that you'll need to intent more than just a general plan though, and you can expect to be asked to provide any or all of the below: 
Plans for renovations drawn up by a draftsman

Input on these plans from a structural engineer

The scope of work

Estimated time frames for project completion

A schedule of all finishes and changes
This is just a basic list, and you should always speak to your relevant body corporate first and find out exactly what they want you to include with the rest of your documents. 
Above all else make sure you submit these documents in a timely manner since approval can take a while and eat into your projected time frames. 
While renovating an apartment may come with some unique challenges, it's also a project that can be especially scintillating. Working in a smaller area forces you to think creatively about the upgrades that are possible, and how you can achieve them within your budget.
If your personal funds are a little low for the project, you might want to consider making use of a  professional real estate loan targeted at renovations, such as a hard money loan. Learn more about using this type of financing for your next real estate project here.