There are a variety of reasons why you may have an old house in need of repair on your hands. Maybe you've inherited the property or you took a chance on a distressed home as an investment that hasn't worked out as planned. Either way, you have a serious amount of work on your hands and not a lot of time to do it. The longer you hold on to the home, the higher your maintenance costs will be. 
Before you know it, you have a money pit on your hands and you need to find a way to sell it anyway.
Ideally, you'd like to flip the property: make some cosmetic changes and upgrades that bring up the property value and allow you to attract more conventional homebuyers. The problem is that circumstances change quickly and at some point, you may be faced with the reality of selling the home as-is. This means the house goes to the buyer in its current state. 
At the same time, selling an older property without modern touches can be intimidating in today's housing market. Buyers have a lot of negotiating power going into the home buying process when the house is older or damaged, and if care is not taken it can really affect your bottom line. 
So how do you sell an old house that needs work? The answer is that there is still hope to recover funds from an older as-is property sale, but you'll have to be careful about how you play the game. It will take a bit of pre-planning, a bit of luck, and good negotiation skills. This is how to do it:
The Benefits Of Selling As-Is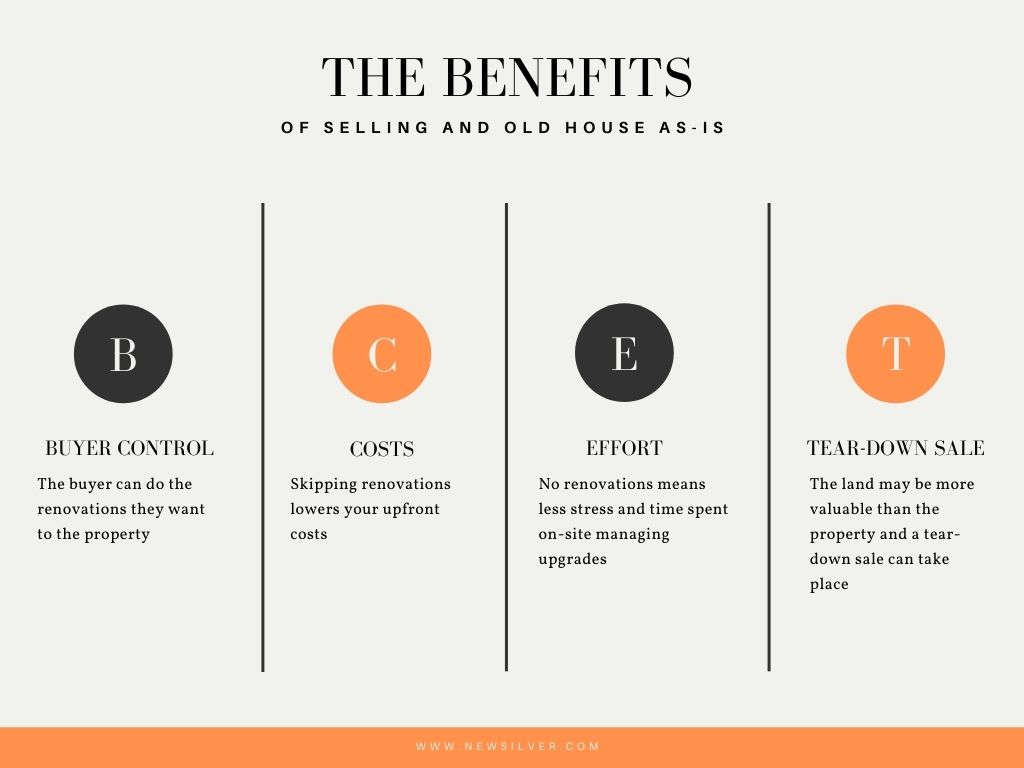 First, it helps to understand some of the benefits associated with selling as-is. It can be difficult to picture why buyers would even be interested in an unrenovated home. Surely the appeal of a turnkey home in brand new condition is greater?
In some cases, it might not be. Many buyers are in the market specifically for an older, distressed property. They specifically want to purchase a property that has not been renovated because they want to handle the renovations themselves. This means that if you pour lots of cash into fixing up the home before selling it, that money will have gone to waste. 
Leaving the property as-is gives the buyer the control to do whatever they would prefer to it once the deed is in their name.
There are more distinct advantages for you as the seller too. Skipping out on renovations will keep your upfront cost low, and time spent on labor even lower. Renovating a home requires a lot of management and active oversight, and can be difficult to handle if you already have a full schedule. Selling as-is allows you to skip out on the most stressful parts of owning a distressed home.
The other benefit of selling an older home without renovations has to do with land value. If the property is in such a dilapidated condition, it may be too expensive to repair. In some cases, the land the structure is built on may be more valuable than the actual home itself. This is commonly known as a "tear-down" sale, in which the property owner sells their house knowing that the purchaser intends to demolish it and build a new structure from scratch.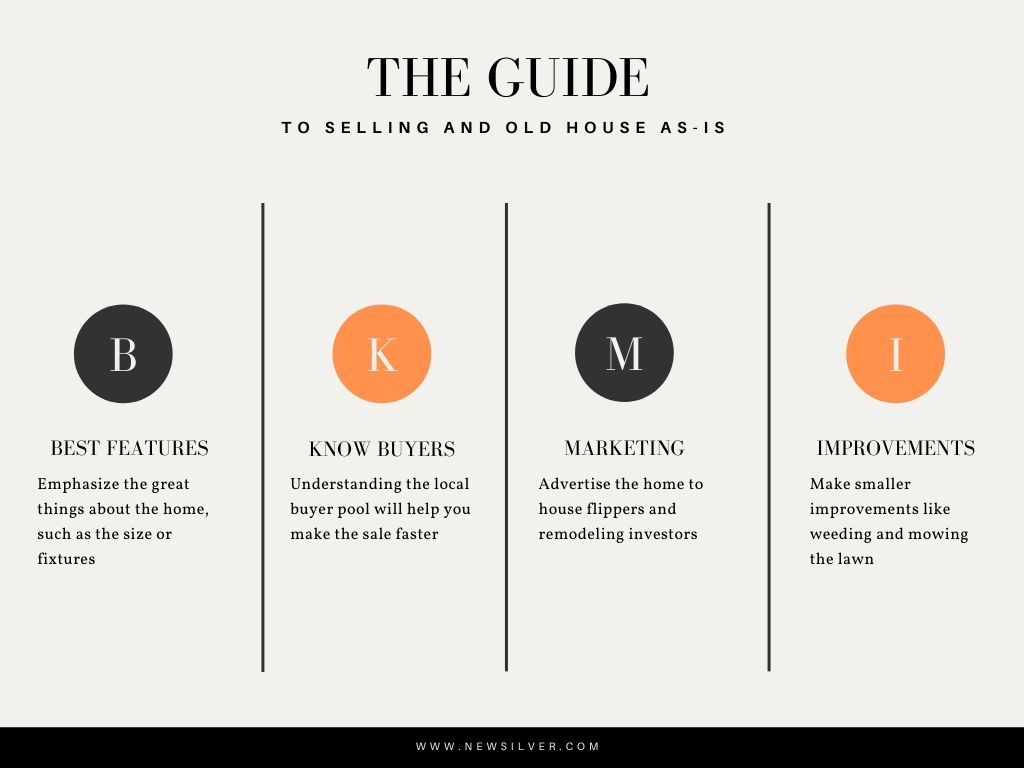 Since you'll be selling the property as-is, there are a few things that can help you get a better price for it. It's less about perfecting the home than it is about emphasizing the best features it already possesses. Things like the floor plan, the location, and other key elements can be a deciding selling factor. If there are no major structural issues to attend to you can prepare to list the property for sale. 
Selling as-is will be easier to do successfully if you know your buyer pool. The primary buyers you will be dealing with will be fix and flip investors, or investors specializing in remodeling properties. 
These individuals look to buy homes at lower prices with the goal of renovating them and selling them at a higher cost. House flipping investors typically look for unrenovated properties because they have specific changes they want to make targeted at improving the home value as much as possible. This usually includes a complete overhaul of the kitchens, bathrooms, other interior rooms, and the exterior of the home – no small feat. 
Next, think about how you can improve the property without spending too much money on it. You don't want to renovate, but you can ensure that the yard is maintained and any clutter cleared away so that the curb appeal of the home is improved. Don't think about expensive landscaping projects – it's more about the basics such as mowing the lawn, getting rid of the weeds, and making sure the property is not completely overgrown.
Enticing Buyers Through Renovation Loans
Mentioning renovation loans as an option to potential buyers can be a great way to incentivize them to make an offer. If buyers take this approach, they get access to funding which factors in the total loan amount. This allows them to get financing to a higher amount than they would have if they were to purchase the property and then get a separate loan in order to do upgrades later. 
Renovation loans do come with some caveats. The buyer's credit score will need to be up to a certain amount in order to qualify depending on the type of loan program they are planning to use. The chances are good they'll need to put some money down, and that their renovations will need to be approved by their lender based on what will be best for increasing the home value.
Focus On The Property Positives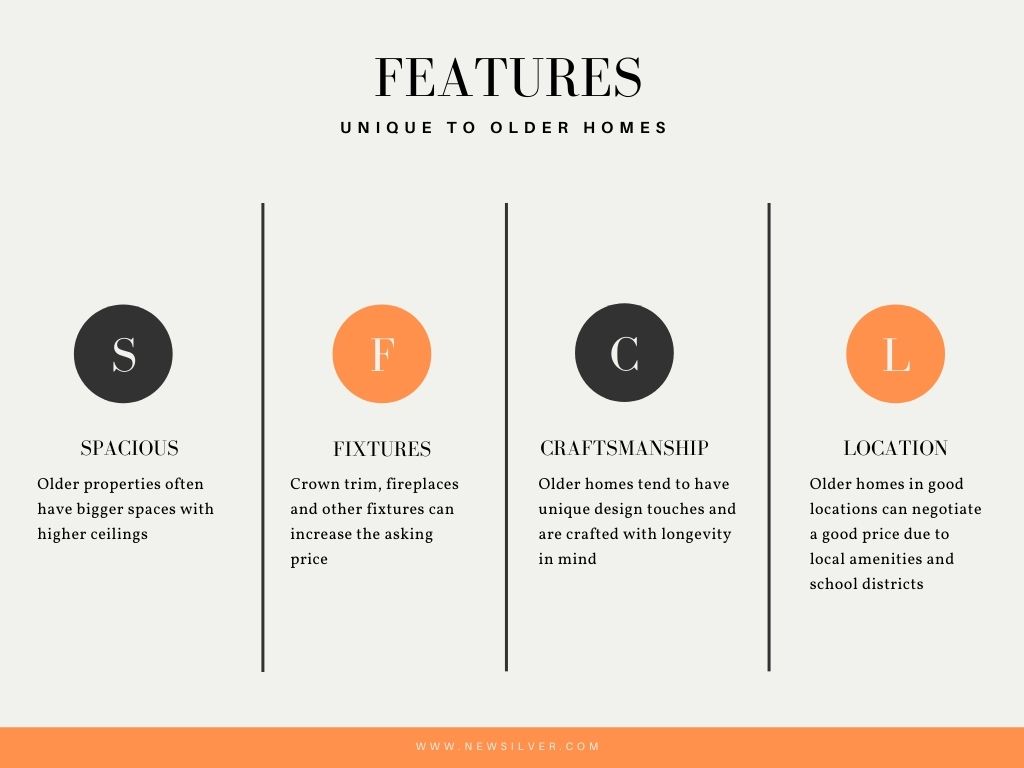 Older homes often come with features not always present in modern homes. Older properties are usually more spacious and have character features like high ceilings, hardwood floors, and original trim that can be major positives for potential buyers. 
Some fixtures can also play a role. The closet size, en-suite bathrooms, patios, and other things like garage and storage spaces can all contribute to a higher asking price. Older homes tend to have good bones boasting high-quality craftsmanship that have more longevity than many of the building materials used today. 
Don't forget that the location of the property may be the biggest selling point in terms of positives. Good school districts and local amenities can help seal the deal with a buyer. Try to take stock of major developments in the area your property is located in. Increases in job opportunities, new major company openings, and other circumstances can cause interest in local neighborhoods to skyrocket. 
Above all the other factors mentioned in this guide, pricing will have a huge impact on how easily you get the property off your hands. Price it too high and you risk it being on the market for months. Price it too low and it will be difficult to increase the price later.
Pricing an older, unrenovated home is particularly challenging. Some distressed property owners try to increase the asking price of their house after doing some cleaning and minor fixing up. This is a mistake that can cost you valuable buyer leads in the early days of being on the market. Most house flippers are experienced real estate investors and they won't be taken for a fool on overpriced properties. 
In the same breath, you don't want to make the mistake of under-pricing the property either. Setting the price too low will see you get an influx of below-market offers that will see you lose the money you would have otherwise earned. 
While you will have to compromise during negotiations, you also want to make sure you get a portion of your money back from the deal. 
In order to set the right price, you need to start by getting a basic idea of the numbers on similarly-sized homes in the area. You can use a home value estimator tool to get a rough estimate of how much you can ask for the property, just bear in mind that there's always a degree of inaccuracy to contend with. 
From here you should plan to take your initial estimates to a professional property appraiser, and have them do a separate report on the home and its condition. The appraiser will be able to refine the amount for you to the point that you have a solid asking price.
What To Keep In Mind When Selling An Old House That Needs Work
There are a few legal requirements to selling an old house as-is which you need to understand before listing. While the property is being sold in its current condition, a buying inspection will still take place and all material defects in the home have to be disclosed to the buyer. 
These defects can include pertinent issues like pest infestation, non-working appliances, leaks, and others that need to be addressed clearly in written agreements. They can still request that you address a few of these problems before they take up ownership of the property. 
You should remember that the buyer will try to negotiate for a lower asking price based on the home condition. You have the option of not making any repairs, but this allows the buyer to void the contract as long as their withdrawal falls into the set time period given in the agreement.
Selling as-is, while risky, may be required at times. Knowing how to handle one is an important skill to build if you're investing in undervalued real estate. There are many things you can prepare before listing the property on the market to give yourself the best possible chance of recouping funds. 
An as-is sale is not the end of the line if you plan to keep investing in real estate. The lessons you learn during this process will aid you in future real estate investment strategies and potentially pivot your path to another type of property ownership in the future..