The buzz word on the real estate streets right now is 'iBuyers'. These instant buyers offer sellers a quick, seamless real estate transaction to get their homes sold ultra-fast. The question is, how do they work and are they the right option for you? We've done an iBuyer review to help you decide.
The home buying and selling process is continuously evolving. One of the latest new options has led to a quicker, simpler way to buy and sell homes by using online tools. It comes in the form of digital buyers called iBuyers. Sellers who are looking to get their homes sold quickly and efficiently are fast considering iBuyers as one of the most useful options. With a variety of avenues available at a seller's fingertips however, it can be difficult to decide. So, we've put together an iBuyer review to help you decide whether you should buy or sell with an iBuyer.
The concept of iBuyer began in 2013 when Opendoor was launched, and the term essentially means "instant buyer". Opendoor was the first iBuyer marketplace and since then a number of new iBuyers have launched. In a nutshell, an iBuyer is a company that makes real estate transactions by using technology and algorithms. This allows an iBuyer to make cash offers on properties within as little as 24 hours, which means that a seller won't need to stage the house, show the house, find a real estate agent or any other hassle that comes along with selling a home.
Home buyers can also use iBuyers as their websites and apps offer properties for sale, and these sales are usually quicker than traditional ones. While iBuyer platforms are taking off, Rob Barber, CEO of ATTOM Data Solutions, believes that they will never account for more than 15% of all real estate transactions.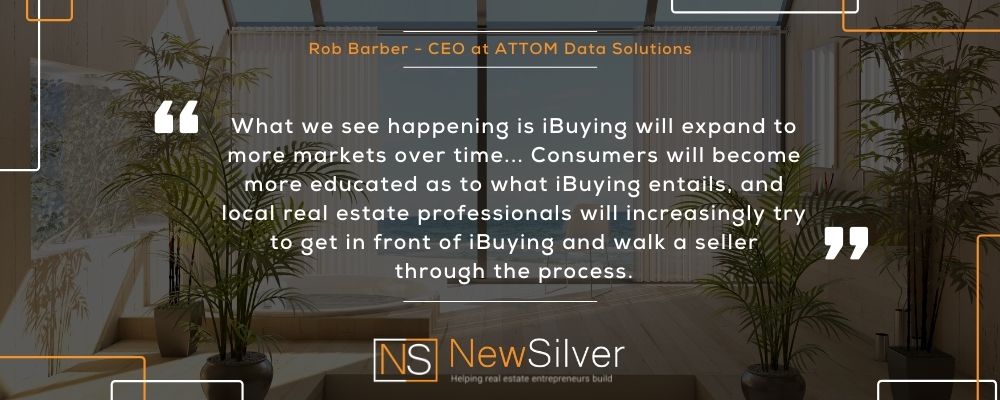 An iBuyer company uses their technology to estimate the value of a property and make an offer according to this data. This technology uses comparable properties (comps) in the area to quickly come up with a fair offer for the property. The offer is market-related and based on current home prices, using an automated valuation model (AVM) which processes loads of data to come up with a single number. In other words, instead of a home appraisal being done, iBuyers rely on their AVM to do the work by crunching the raw data to come up with a reasonable offer that is in line with market house prices.
The entire process takes place online, skipping many of the traditional parts of the home selling process which means that these sales can go through a lot quicker. For sellers that need a quick sale, this can be the ideal way to get their home off the market. iBuyers simply need the home's age, size, condition and zip code to work out the home's value and make an offer.
Typically, iBuyers will renovate houses after buying them, and then sell them for a higher price on the MLS (Multiple Listing Service). They take on the process of doing all the repairs and renovations to increase the home's value, and then marketing the home once again, in order to make a profit by selling it.
After Opendoor hit the market, a number of iBuyer companies emerged, however Opendoor and Offerpad remain the biggest players in the market based on the number of real estate transactions being done. Other iBuyer companies are Keller Offers, RedfinNow, Upnest, Flyhomes and Knock. iBuyers aren't present in every US market at the moment, however they are expanding across the nation. Currently, the most popular markets for iBuyers are areas where the average selling price is around $250,000.
When you're selling to an iBuyer, the sale is guaranteed, so you won't have to worry about it falling through due to loan approval issues or any other mishaps that you may experience in a traditional sale. It's simply less risky and it's a cash offer, which means that you'll know how much you're getting for the house upfront and how much you can spend on your next property.
A property sale to an iBuyer is a fully online process, which takes away the hassles of a traditional sale, like open houses and home staging and so on. It's a less stressful way of selling, which means that you won't need to have people in and out of your home and you won't need to worry about marketing your home.
Selling to an iBuyer is one of the fastest ways to sell a home. According to data from Realtor.com the median time for a home to be on the market is 43 days, whereas with an iBuyer the process can be done in just a few days. No real estate agent is needed and the iBuyer purchases the home directly from the owner for cash.
One of the advantages of selling your house to an iBuyer is that the sale is in your control. While it can go extremely fast, if you need more time, you can slow it down easily by choosing the closing date that works best for you. For example, if you're unsure of how to find a new home and sell your current home at the same time, without having a period of time where you're left looking for a place to stay, this is the perfect solution.
The speed of the sale with an iBuyer comes with a price, and it's that you'll more than likely make less profit on the sale of your home. iBuyers need to make a profit, and this coupled with the fact that you're selling to an iBuyer to get the deal done quickly, usually means that you'll get less from the sale. According to a small MarketWatch study, iBuyer sales can result in 11% less profit than traditional sales.
iBuyer isn't available in every area of the country yet, so availability is limited. Also, not all homes are eligible for an iBuyer sale, they're generally looking for homes that are fixer-uppers, within a certain price bracket, which is typically around $250,000.
The entire process takes place online which has it merits, however for some people this may be disconcerting because there is no personal interaction around a sale of this size.
iBuyers charge service fees of anywhere from 5% to 9%, while this doesn't include the typical closing costs, it's a downside to using iBuyers because it doesn't cover any of the repairs that may be needed to your home. The cost of repairs will instead be taken out of the purchase price and therefore deducted from the offer.
Buying and selling with an iBuyer has become one of the most talked about new concepts in real estate from an ease-of-use point of view. Much like hard money lenders who do the entire loan process online, iBuyers do their entire process online too, which points real estate in a new direction and puts technology squarely at the forefront. The future of real estate will be interesting as technology becomes an integral part of each process and the industry moves towards faster closing and loan processes.