As a real estate investor with a rental property, protecting your investment is the most vital element of making a success of it. This means that learning how to find good tenants is a key element of the success of a rental property, as rental income (or the lack thereof) can make or break the property's cash flow.
Finding a good tenant for your rental property means selecting a tenant who is likely to pay the rent on time and in full every month, as well as take care of the property. The way to do this is by advertising the rental property online with good photos, a video tour and detailed writeup. Then doing detailed tenant screening that includes a credit check, a background check, previous landlord references, income verification, employment verification, eviction history and anything else you may need. From there you can select the best tenant, armed with the right knowledge and information.
What Makes A Good Tenant?
A good tenant is a tenant that pays their rent each month in full and on time, and also takes care of the property.
Selecting the right tenant is based on doing what's best for your real estate investment, which means that it's a business decision and shouldn't be a subjective one. In other words, tenant selection should be based on the renter's ability to cover the rent every month, and whether they will look after the property while they live there.
Any damages can cost landlords a lot of money, and tenants who either damage the property or don't pay their rent in full or on time, can be detrimental to a landlord's investment.
Good tenants typically have a stable income that will more than cover the rent, a good credit record, good references, the ability to cover the security deposit, no prior history of eviction and no criminal record.
Learning how to find good tenants can be daunting for new investors, so we'll outline a step-by-step guide below.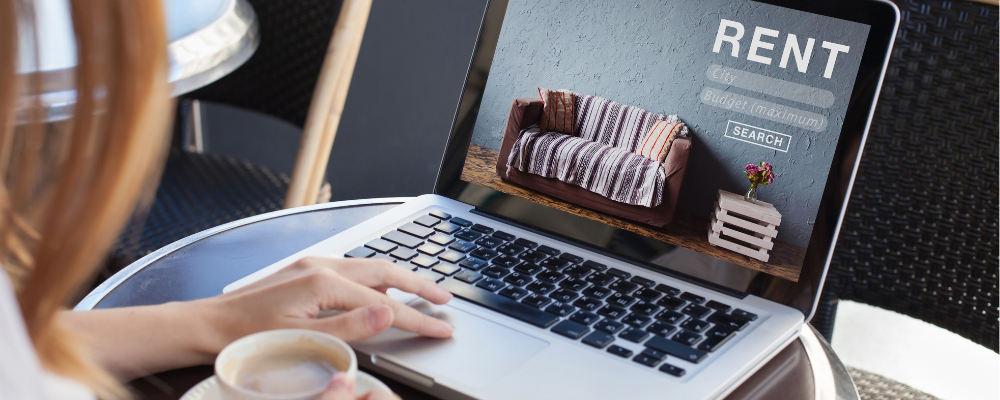 On the other hand, a bad tenant is one that cannot make the full rent payments each month or does not pay on time.
This also includes tenants who do not treat the property with respect and incur costly damages, as well as those who move frequently and don't stay for the entire term of their lease. Bad tenants can be extremely costly for a landlord, and with enough defaults, they can ruin the cash flow of the property and lead to major problems.
There is no foolproof way of knowing whether a tenant is going to turn out good or bad before they move in, however there are certain indicators to look out for. Some of the most commons signs of a bad tenant are:
Previous payment issues
A history of eviction
Fraudulent information on their application
Frequent moving
Criminal record
High maintenance
How To Find Tenants For Your Rental Property
With the above criteria for good tenants in mind, let's take a closer look at how to find the right tenants for your rental property, so that you can maximize your real estate investment.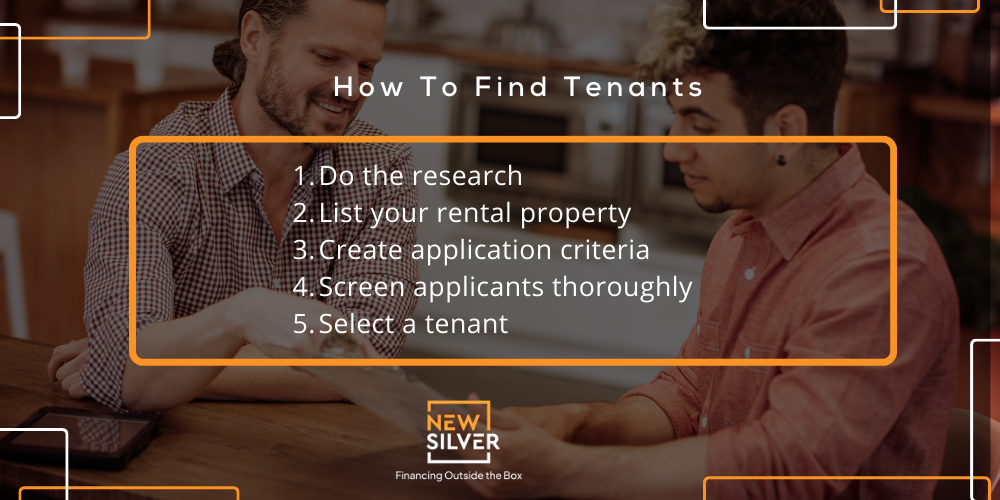 Step 1: Research tenancy laws and fair market rent
Your first step is to research the state, federal and local housing and tenancy laws. These laws can prohibit certain ways of advertising and impact the tenant selection process overall. As such, this step is crucial and should be done at the outset, before you begin the process.
Alongside this, you should research the fair market rent in your area. This will be a good indicator as to what you should charge for your rental property. Make sure to compare properties that are similar in size, with the same number of bedrooms and bathrooms, and similar features.
Step 2: List your rental property
Make sure that your property has been improved and upgraded as much as possible, so that your rental listing attracts the right kind of tenants. The right advert is an important part of finding good tenants, so focus on getting the elements done well. Here's what to include:
Great photos – these are going to give prospective tenants a look into the property and the better the photos are, the easier it is to get a feel for. The more photos the better, provided they're high quality, and showcase a neat and tidy property.
Virtual video tour – this is an important element of the listing as it gives potential renters a full tour of the property, without having to visit it. The idea is to ensure that prospective tenants who apply are very interested already as they've gotten a full tour of the property online.
Detailed write-up – this is crucial to the success of the advertising, as this gives prospective tenants all the information they need to know about the property. This should include pet information, the features of the property, details about what is and isn't included in the rent, and so on.
Listing online is the easiest way to advertise these days. Not only can you get access to a huge audience, but it's also more affordable and easier. Websites like Craiglist, Zillow and even Facebook all offer affordable rental property listing options and a large audience. Word of mouth remains one of the most effective marketing platforms, so you can use this to get the news out about your rental property as well.
Step 3: Create application criteria
Before you begin sifting through tenant applications, you should develop a list of criteria that tenants need to fulfil. Prospective tenants will all be held to this standard then, and anyone who doesn't match the criteria can easily be weeded out at the very beginning. You can include things like a particular credit score, no previous evictions, a monthly income of 3x the rent and no criminal record.
Step 4: Screen applicants thoroughly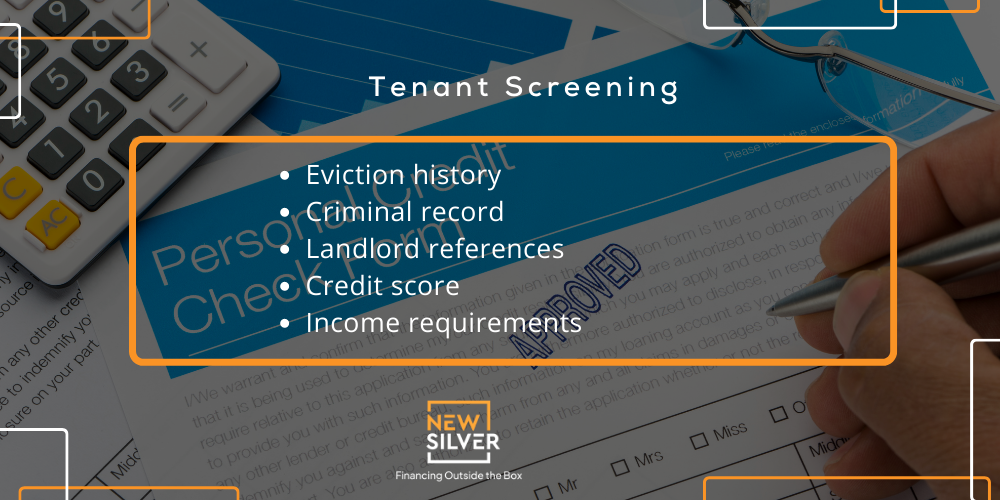 Now that you've set up the advert and developed of list of criteria for applicants, it's time to start screening all applicants. According to the Fair Housing Act, choosing a tenant should be based on the following factors:
A minimum income requirement (eg. 2-3x monthly rent)
Eviction history
Prior felonies
Credit score
Landlord references
Your pre-screening process can involve disclosing the rental and deposit amounts, doing credit checks and background checks on applicants, and checking previous landlord references.
From there, you can narrow down your options and shortlist the applicants. A tenant screening can then be conducted from the shortlist, which includes contacting employers, verifying income, checking credit reports and a full criminal background check.
The final step is to select the best tenant who not only passes all the basic financial requirements, but also fits in with the lifestyle requirements. For example, some landlords may not want a smoker renting their property or won't accept pets.  
A mutually respectful relationship will go a long way towards keeping a tenant comfortable in the property. Keeping up with your end of the deal, as a landlord, is just as important as the tenant paying their rent in full and on time. So make sure to do property maintenance, get the necessary repairs done and communicate effectively.
Should You Use Tenant Screening Techniques?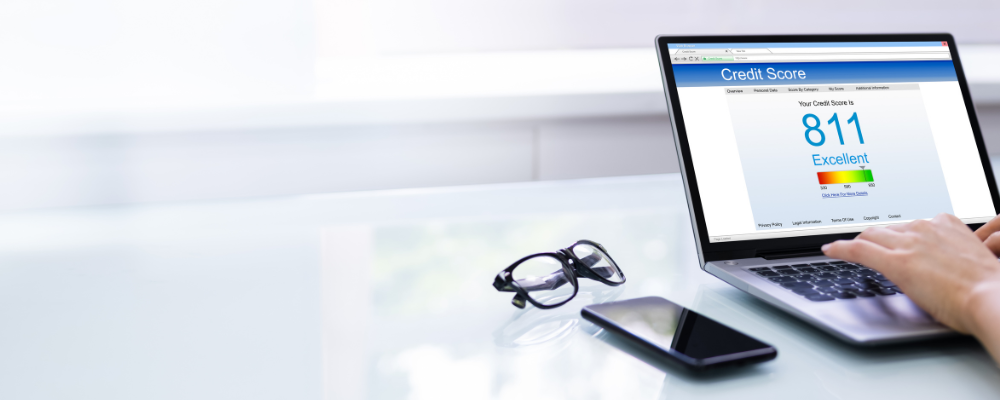 Tenant screening techniques are a vital part of choosing the right tenant, provided they fall within the legal realms of screening. For example, screening tenants based on anything outside of the factors we mentioned above, is not appropriate and potentially not legal.
Tenant screening is a key step in any successful rental process, providing both landlords and tenants with peace of mind and ensuring that their interests are protected. It allows tenants to gain confidence in the fact that their landlord has taken proper steps in comprehensive pre-tenancy checks to verify critical information such as employment, residency and credit checks.
For landlords, screening potential tenants ensures that they have a better understanding of the potential tenants' financial and personal characteristics, safeguarding them from potential fraud or rent defaults.
Tenant screening based on income requirements, eviction history, criminal records, credit score and landlord references is a smart way to choose tenants. It minimizes the risk of getting a tenant who defaults on rental payments or doesn't look after the property, or worse. All in all, thorough tenant screening can go a long way toward avoiding costly problems down the road.
What Is Tenant Discrimination?
Tenant discrimination refers to the disparate treatment of people, which impacts their ability to rent a property. This can be discrimination due to race, color, religion, sex (including gender identity and sexual orientation), disability, familial status or national origin. The act of discrimination in this context is classified as the refusal to make housing available or negotiate for housing. For example, refusing to rent to a prospective tenant, based on any of the reasons above.
The Importance of Setting Concrete Guidelines and Expectations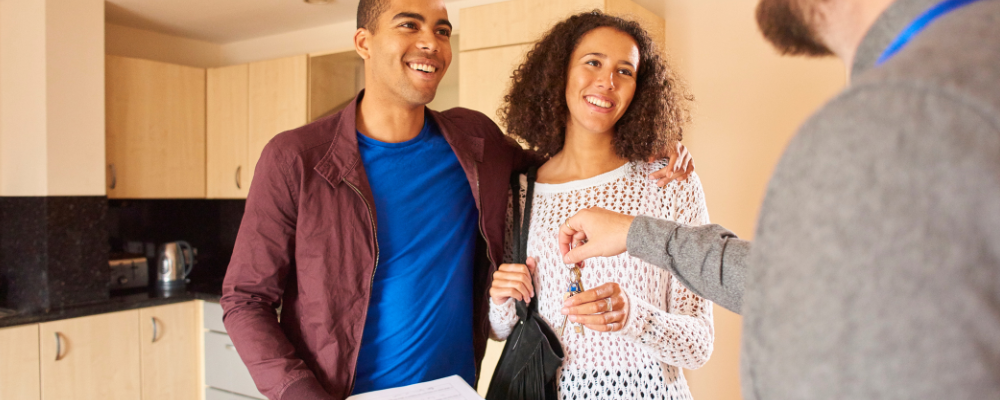 A great advert can generate a lot of interest in your rental property, however if the expectations and guidelines are clear upfront, this can reduce the number of applicants who don't qualify. For example: stating that no pets are allowed or that the lease agreement is for a specific period.
The time to set these expectations is both in the advert, and in more detail once you've reached out to shortlisted applicants. Concrete guidelines and expectations for the lease period protect both parties and ensure that the most qualified tenants apply, and the right tenant gets approved.
Should You Just Use A Real Estate Agent To Find Tenants?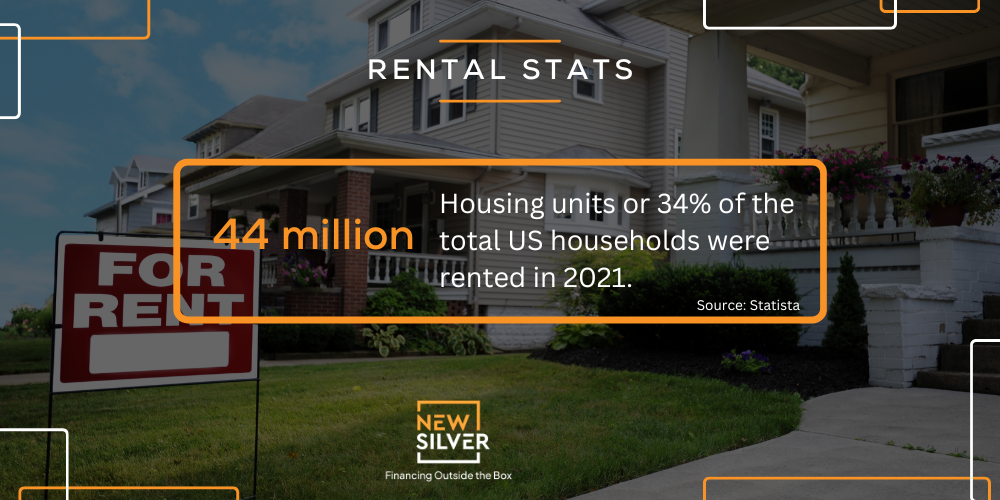 There are benefits and drawbacks to using real estate agents to find tenants, so this depends on your situation and what suits you best.
Benefits
Real estate agents have a large network and database of clients who they could suggest the property to.
You won't have to advertise the property yourself as the agent will take care of it.
A real estate agent will be able to work out how much rent to charge based on their in-depth local market knowledge and comparable properties.
Agents will be able to take care of the property viewings so that you don't have to.
You won't need to worry about drawing up a lease agreement for qualified tenants as most real estate agents will have a basic agreement on hand that can be edited with your requirements.
Drawbacks
Real estate agents charge a fee for their services, and this may not fit your budget.
A property manager or management company may be a better solution as they can take care of the tasks that a realtor won't. This includes the management of the rental property for the duration of the lease, property maintenance etc.
Some agents aren't as knowledgeable as others, so their knowledge of the local rental market may not be as insightful.
A real estate agent has no personal investment in the property, and therefore may not approve the type of tenant that you would prefer for your property.
Final Tips For Finding Tenants
Once you've found a qualified tenant, after going through the tenant screening process, it's a good idea to give them a welcome package. This can include a detailed letter outlining everything the tenant needs to know, such as utilities information, what to do when there are repairs needed, garbage collection and so on. The package can also include a small gift and some cleaning supplies or anything that may seem relevant.
Doing extensive research on qualified tenants before making your decision will give you the best chance at finding a tenant who is likely to pay their rent in full and on time each month. Along with this, maintaining a mutually respectful relationship with the tenant is key to making a success of the agreement.