Tenant screening can be a daunting task. You want to find a reliable and trustworthy tenant that will take care of the property and make their payments on time. If your property is in an area with high rental demand, you may be overwhelmed by applications and have too many options to choose from. 
Finding the right tenant can be easier said than done, which is why it's so important to have a strong tenant screening process in place. 
As a landlord, you'll need to know everything from where to advertise for good tenants, to the laws surrounding tenant screening and much more. What you accept in terms of a tenant will also depend on your type of property, and the goals you want to achieve. 
Tenant screening is a lifelong skill that will serve you well for all future real estate investments. Choosing the wrong tenant can be an expensive exercise that leads to a lot of heartache over the long run. The wrong tenant might easily get behind on rental payments, not look after the property properly or violate the lease by subletting. There are many risks involved, making screening extra challenging, but also extra important.
A landlord's best protection is to know all the laws, know how to find good tenants and how to screen them effectively. Learn how to do all the above in this guide:
The screening process officially begins when you have listed your property as for rent online or in a physical advert. The goal is to collect as many worthwhile leads as possible, meaning serious offers only. Some landlords try to find tenants that are available through their network first by approaching family members, friends of friends, or other connections. 
This period is typically followed by potential tenants coming to view the property, asking more questions about the rental in general and if all goes well they will send in a rental application. The best thing you can do during this stage of the process is to keep the rental property in good condition and maintain it well so that every viewing feels like the first one. 
The rental application launches the next step of the tenant screening process, which will be vetting the candidate's financial details and rental history.
Screening Questions For Potential Tenants
The experienced landlord will typically prepare a set list of questions they ask every applying tenant, and if you don't have a list prepared now is the time to start. These questions are qualifying, and will in essence determine whether the tenant can comfortably cover their monthly payments or whether they may pull out of the lease early. 
A basic rental application will collect details like the applicant's full name, yearly income, employment history, the number of intended occupants, and the contact details for previous landlords. The application will also request the consent of the applicant to undergo a background and/or credit check. This initial application form will be your best method of shortlisting potential tenants that you feel could be a good fit.
The information the prospective tenant provides can be verified using a tenant history report. There are several databases that can be used to access these reports, usually for a nominal fee. This report can be useful to landlords because it will flag any anomalies in the applicant's rental payment history or previous evictions.  This is an important step that you don't want to skip out on.
Tenant Questions To Avoid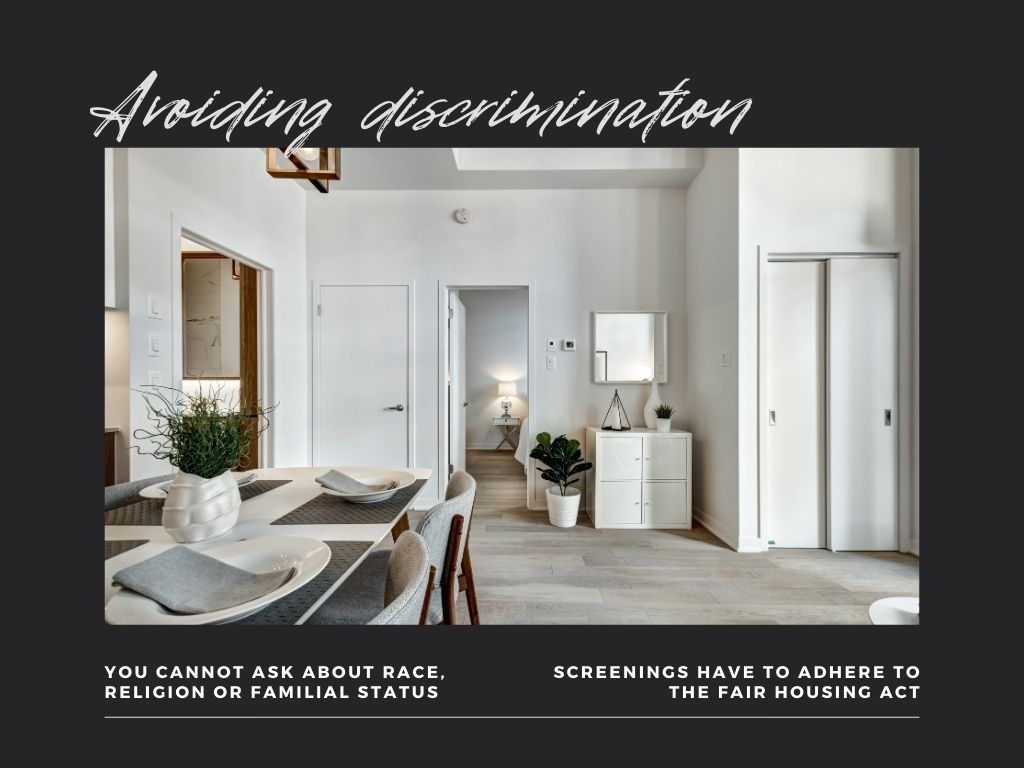 During the tenant screening process, there are some questions that you legally cannot ask – make sure you avoid these at all costs. You are not allowed to ask a rental applicant about their race, religion, or familial status when screening. 
Tenant screenings have to adhere to the federal Fair Housing Act. This legislation protects tenants from discrimination, and it's important for landlords to gain a deeper understanding of these requirements before interviewing potential tenants. 
Choosing The Ideal Tenant
This is the step that can be the most nerve-wracking – choosing the right tenant for your property. It can be difficult to judge how responsible a tenant will be, but taking a close look at their rental history will help. Have they broken a lease before? Has there been a judgment against them?

Ideally, at this point, you should have a few prospective tenants to choose from. You'll want to compare their financials and rental track records to get the best possible idea of who will be the right candidate. Other things like their availability date or willingness to pay a pro-rata if they move in early can also be positive factors that make them a good pick. 
Then, there are the things you need to pay careful attention to when you are choosing the right tenant. Some of the most essential things you want to pay careful attention to when screening the prospective tenant's history include the following:
The best tenants are the ones that are financially responsible in all aspects of their lives. If they pay their bills on time and have minimal debt then the chances are good that they will be consistent with their rental payments. The best way to determine this is by having a credit check done on the applicant. 
You can have a credit check run at a small fee – some landlords include the cost of this check in their rental application as a non-refundable application cost. 
The other financial details you want to consider carefully are whether the potential tenant's income and debt levels acceptable for the cost of the property.
When it comes to verifying income, you'll want to find a tenant that earns up to three times the monthly rental amount. This means they'll be able to comfortably cover the cost of the rental, even if they were to potentially run into financial troubles like unemployment. If the tenant you are screening is currently employed, you can ask for a copy of their pay over the past three months or speak to their employer directly and check their monthly earnings that way. 
Then, there is debt. Many individuals have some sort of debt – when you're screening tenants you want to take into account how much debt it is compared to their income. Are their repayments handled on time? You'll want to look out for financial issues like bankruptcy or claims by creditors that can affect the tenant's finances negatively. 
Criminal information is available as part of the public record and can be verified at your local courthouse. You should ensure to do a background check on any potential tenants you are considering renting to. A thorough background check will uncover any offenses associated with the applicant but bear in mind that you will also need to ensure they are using a valid ID and not hiding any wrongdoing.
Most background checks will go through the federal court records, the county criminal courts, the department of corrections, and more individually. There is no nationwide system that screens all of these databases. This can make it a particularly difficult process, so don't think twice about using a highly-rated tenant screening service company to do this check for you. 
There is one thing you need to keep in mind when running background checks. Some states prevent landlords from discriminating against tenants that fall in certain categories of criminal convictions. If the applicant's previous crime does not pose a threat to the other tenants, such as speeding fines or other non-violent crimes, they can still be an acceptable tenant and you legally cannot discriminate against them. 
It is recommended that you speak to the tenant's previous two landlords before thinking about approving them. Speaking to the single previous landlord might not be enough since they may just want to get the tenant out of their hair and say anything you want to hear. You can ask the applicant to give you the contact number and email address for their previous landlords and reach out to them that way. 
Some of the things you should consider asking them includes if the tenant paid their rent on time, why they decided to move out, whether they have appropriate notice before moving out and how the condition of the property was kept. You can also ask about damage outside of typical wear and tear, if there were any complaints laid against them or if there was anything outside of the norm. Try to play open cards with the previous landlords and they are likely to do the same with you. 
If you're dealing with a first-time renter with no previous references, this can be a bit more difficult. In this case, you'll want to require that someone with a more extensive background co-sign for their lease and act as surety. Many first-time renters co-sign with a parent or sibling until they have built up a tenant history of their own. 
How can you tell if the person you are screening will make a stable tenant? Their previous rental terms and employment history will be a good clue. If you're dealing with an applicant that has moved often or doesn't hold a job for a long time, then you might be stuck in a situation a few months down the line if they suddenly can't afford their rent or want to move. 
The reality is that you can screen a tenant until you turn blue in the face but you'll ultimately have to use due diligence paired with your best judgment. 
The best thing you could do when looking for a prospective tenant is to do your research, and take the time to speak to the tenant's references. Once you find a good tenant on paper, it can be easy to get carried away and want to sign the papers immediately. This can come back to haunt you later if things don't work out as planned.
No matter how good the tenant looks on paper, make sure you leave no stone unturned. Remember that you are essentially trusting the tenant with your investment asset, so you want to do your best to find someone that will take good care of it.