Purchasing an investment property is a serious financial commitment that the investor will need to consider carefully. There are market conditions, personal finances, buyer/tenant demand, and other factors that have to be taken into account. Luckily, the internet is filled with real estate-based websites that are targeted at making this process much easier.
For investors to be successful today, they need to go digital. The current pandemic has limited the investor's ability to find homes the 'old-fashioned way' by knocking on doors, sending out flyers or business cards, and other traditional tactics. Online options, on the other hand, have exploded over the past few years, and there are now property websites available for every niche. We'll be evaluating the top examples of these websites in this article.
But first, it's key to understand the features that make for a high-potential property. Not all markets hold the same promise and the last thing the investor would want is to buy into an unprofitable house. Let's take a look at what makes up a great investment property:
How To Find The Right House To Buy
It's important not to rush the property-finding process. Investors have to take the time to do their due diligence, researching different neighborhoods, checking comparable values, and crunching the numbers. A property is a big investment, and what the investor wants out of it will dictate what house they should buy.
For example, buy and hold investors purchase houses with the goal of renting them out and earning passive income via a paying tenant. House flipping investors, in contrast, spend significant amounts of money and time renovating a home and selling it for a profit. Both strategies will require different approaches, but there are a few general guidelines that do apply to both:
Select a neighborhood that is closeby.

For investors that are personally managing their investment home, it helps to purchase a house nearby to their personal residence. This makes maintenance and site management easier and has the added benefit of being a location the investor is already familiar with. 
Take all the costs into account. There will be further costs than just the purchase price of the home. Taxes, HOA fees, building permits, and other expenses can quickly add up. The investor needs to think about how they plan to fund the house they want to buy and how much they can afford.
Look at local crime statistics.

Safety can have a big impact on how potential buyers and tenants view a neighborhood and also affect overall property values. Investors need to be sure that they are buying into an area that is sought-after and has good demand.
Evaluate comparable properties. 

If the investor is planning to buy and hold, they need to ensure that there is not a ton of competition in terms of rental homes, or they might not get the price they want. Demand is what drives real estate prices, and high vacancy rates are not good for investors. 

List local amenities.

The investor should take note of local amenities that would be valuable to tenants and buyers. Grocery stores, good schools, and public transportation are a few good examples of amenities that people use regularly.
Now that the principles behind finding a profitable house to buy are more clear, it's time to take a closer look at the websites that can help investors to find them.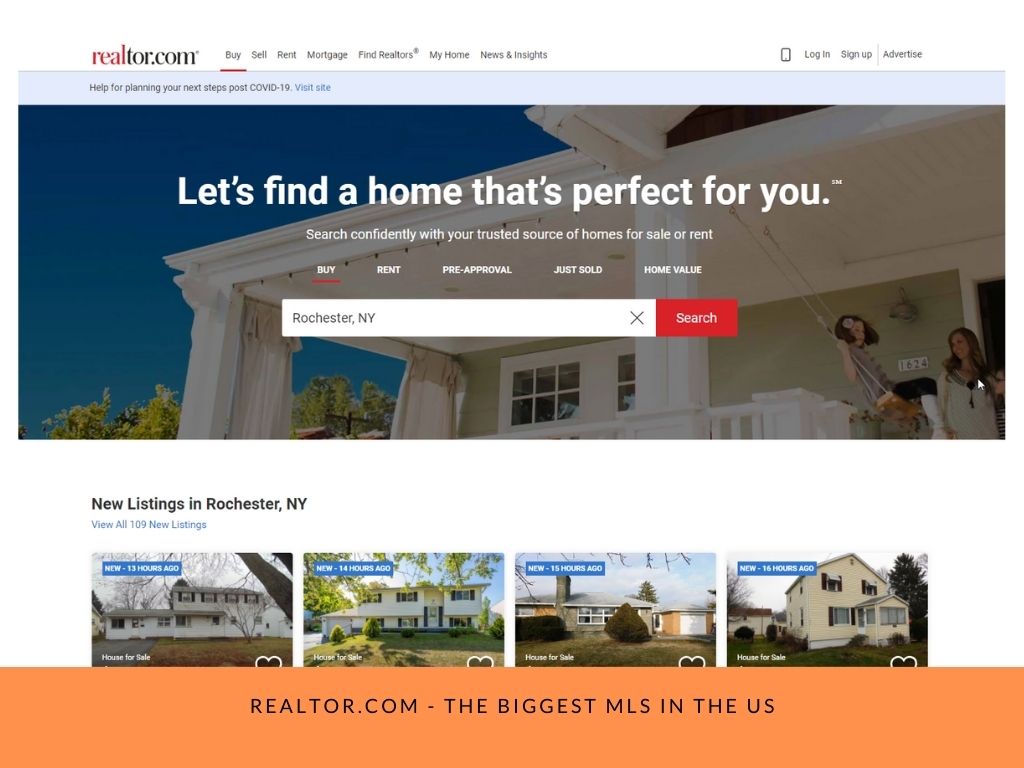 Realtor.com is one of the most established websites for property listings on the internet, having launched back in 1995 and evolved into the service that is known today. The site is one of the most comprehensive multiple listing services in the US and makes over four million listings available a year.
Realtor.com is the official website of the National Association of Realtors, and according to the company's internal statistics, at least 80% of all listings on the site are updated every 15 minutes to 24 hours. This level of accuracy makes it easier for investors to get the newest information regarding the properties they are looking at buying.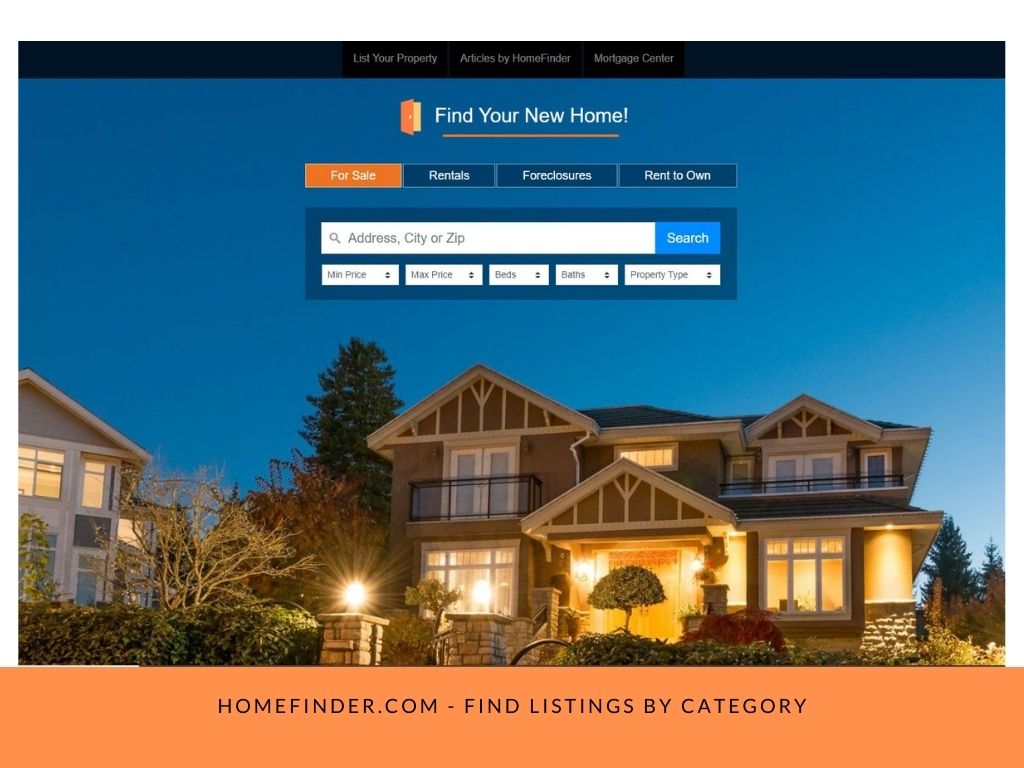 Then, there is HomeFinder.com – this option allows the investor to view listings by category, whether it be rental, broker listings, foreclosures, or something else. This is useful to investors that are still deciding which real estate strategy they want to pursue.
Acquired and relaunched in 2017, HomeFinder.com has launched a renewed property database with a better interface for investors. At the same time, they have also refined their tools for real estate agents making it easier to have the market at their fingertips. Their online search portal lists houses in 50 states and can be used to find rental homes, primary residences, foreclosures, and off-the-market properties.
Sometimes it's better to cut out the middleman, which is where FSBO.com comes in. Listings on this web portal are all sold directly by the private owner, with no real estate agents in sight. After all, buying a home sans agent means that their commission of 5-10% can be saved instead.
At the same time, buying directly from an owner does come with some caveats. Without a real estate professional like a realtor, the investor needs to do all their due diligence themself from home inspection to paperwork and follow-ups. It's a time-consuming process that might not be the right fit for everyone. On the other hand, working with the owner personally could mean more room for negotiation on the asking price with the investor in full control of their offer.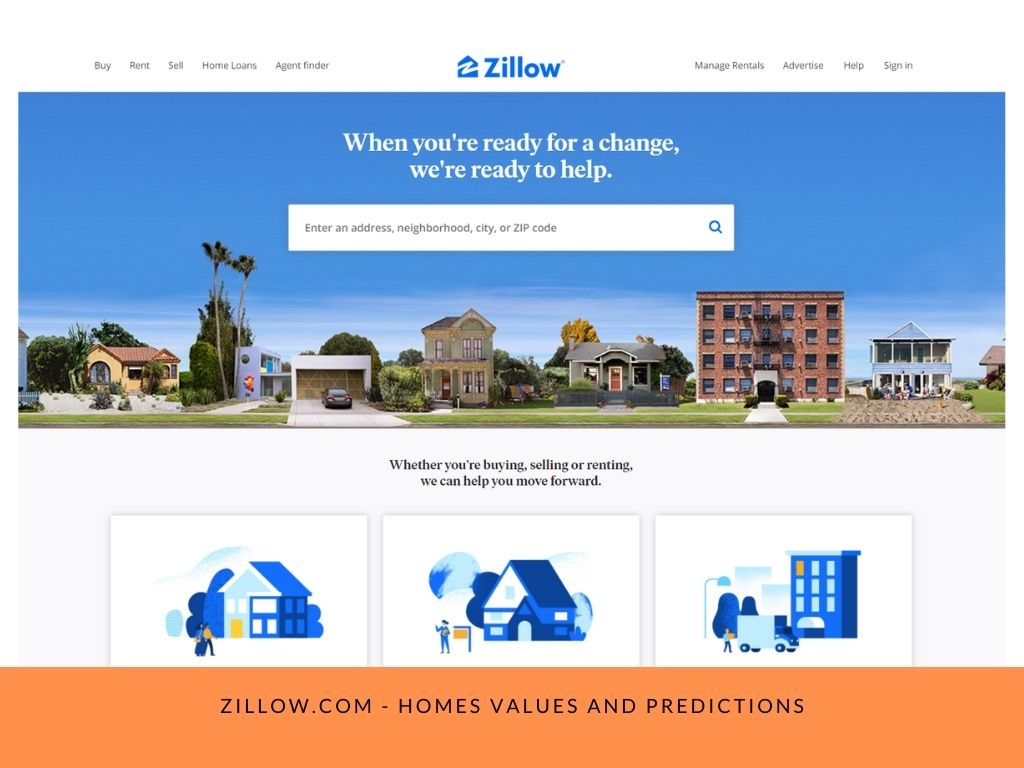 Zillow is more than just a property value assessment tool. Having a significant database of listings available, Zillow shows investors homes that are officially listed and currently off-the-market. For investors, one of the biggest benefits is being able to compare different property values easily and use their Zestimate feature to get a longer-term prediction of how the local market will perform.
The data shown by Zillow is drawn from publicly available sources, and their online forums are a further resource for investors to get advice from. Created by former Microsoft executives, Zillow has gone from strength to strength with new features like checking home values over time, viewing property sizes online, and estimates on homes that have undergone serious renovations.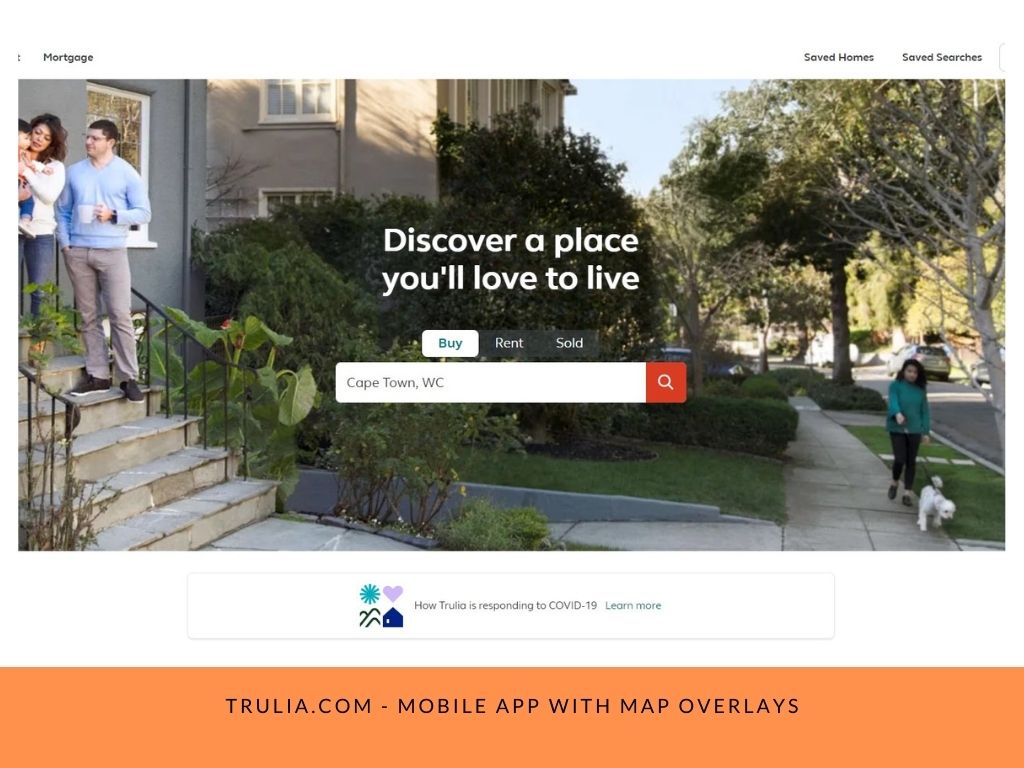 Considered to be the top mobile option, Trulia is the next website on the list. It's a simple but powerful app that was acquired by Zillow in 2015. Data within the app is refreshed every quarter-hour, and app listings show multiple map views and angles for each property.
Trulia users, for example, is a treasure trove of data needed by the investor. They can simply log in to their smartphone and get information on local insights, commute times, schools, and other amenities nearby the house. Some map areas even have information relating to crime levels and other interesting statistics on the people that live in that neighborhood. This can help the investor narrow down the biggest target demographic and purchase a home that will meet their requirements.
What about the investors looking for distressed properties? These are not homes easily listed by just any real estate platform. Foreclosure.com is one of the specific websites made for finding foreclosures and other similarly-distressed homes like bankruptcy listings.
This website shortlists homes that are under the general market price due to their condition. Investors can pick up a property on the cheap, and as long as they know how to handle their renovation timeline and budget, they can resell it for a good profit. 
Foreclosure.com shows the investor detailed property photos of the condition, and will suggest similar homes to the one investor is viewing online. This feature saves a lot of time when evaluating potential flips.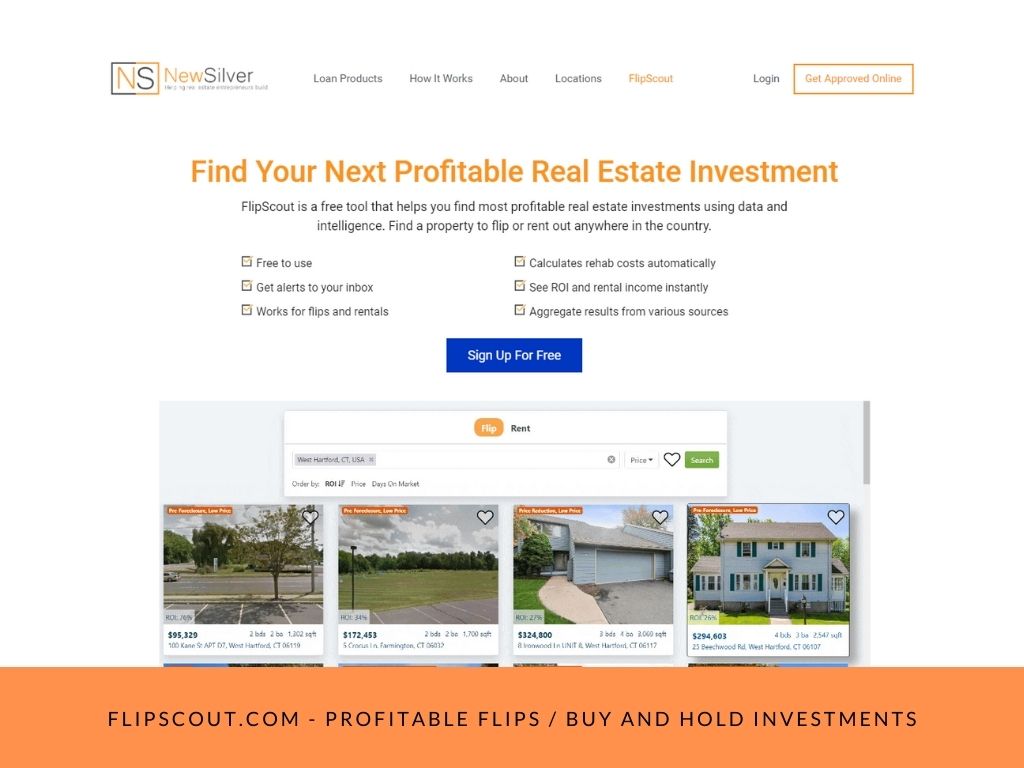 Speaking of house flips, it would be an oversight not to add FlipScout to this list. Built by real estate entrepreneurs with a passion for technology, FlipScout is powered by the asset-based loan company New Silver. FlipScout is a free tool that allows investors to search for potential house flips that will offer the best ROI and show a variety of other useful information like ARV and projected renovation costs.
There is also the newly-launched FlipScout for rent. Investors can use it to find rental properties, view the rental income that can be earned, and apply for funding directly from the FlipScout portal. FlipScout lists properties by zip code, city, or specific address, and investors can choose between single or multi-family homes. If the investor can't find the right property, they can save their search parameters and get email notifications of suitable houses.
When Finding Properties Online
Once the investor has nailed down a few online listings they are interested in, they'll need to make arrangements to see the property in person. With the current pandemic, many viewings are being conducted virtually, and it's important that the investor attends. It's similarly vital to work with a property appraiser or home inspector that can evaluate the home and give the investor a better idea of what needs to be done before it can be sold or deemed ready for tenants.
While it's good to take time when selecting a property, the investor has to think about the fact that there will be competing investors seeking to acquire properties. In competitive and high-demand markets, these homes can sell quickly, despite the current economic climate. 
Once the right home has been found, it pays to act quickly. The investor needs to prepare to make an offer as soon as possible, and in some cases that might not be enough. Sought-after properties often receive dozens of offers, which makes it essential to have one that stands out. This can be done by attaching a Proof of Funds letter to the offer, which adds more gravitas and shows the investor is ready to close.
New Silver can provide instant Proof of Funds letters that can help investors walk into any deal with the assurance that they can close it. This service is available 24/7 and can be completed online, giving the investor a signed and credible document they can download, print or use on mobile.