One of the key factors to being successful in real estate investing is being able to crunch the numbers. This means, working out how profitable a deal could be, before committing to it, so that you can ascertain whether the deal is worthwhile. We'll help you run through one of the most important calculations and answer the question, what is NOI in real estate?
NOI = Gross Operating Income – Operating Expenses
Real estate investing all comes down to making a profit, and this begins with making an informed decision on a deal before you commit to it. Which means working out the operating costs of the property, and the income that you'll be generating on an annual basis, so that you can gauge what the cash flow will be like.
One of the best ways to make a more informed decision is to work out what the net operating income is, and by looking at a property's current and projected NOI, you can get to grips with the operating costs of a property and compare this to the potential annual cash flow. NOI is a useful tool for real estate investors who are serious about making sure that their investment is profitable and has a good cash flow.
Let's take a closer look at what NOI is all about, the formula itself, how real estate investors can use it and some frequently asked questions.
What Is NOI in real estate?
NOI = Gross Operating Income – Operating Expenses
Net Operating Income (NOI) is a key calculation in the world of real estate investing, to determine how profitable a rental property will be. NOI calculates not only the current profitable of an income-generating property, but also the future profitability. The calculation takes into account factors like rental income, vacancies and operating expenses to give a final number which real estate investors can use to determine how profitable an investment could be.
The number is worked out before tax, and doesn't include interest payments on loans, amortization, capital expenditures and property depreciation. NOI can also be used to calculate capitalization rate, property value and the debt service coverage ratio. Here's how:
Cap rate: The cap rate of a property is the NOI divided by the value of the property, and it illustrates the property's rate of return if you purchased it with cash. This article explains how to calculate cap rate in greater detail.
Property value: If you rearrange the cap rate formula, you can work out a property's value. In other words, NOI divided by the cap rate will equal the property value. This is a useful value for investors because it shows them an estimated fair market value of the property.
Debt Service Coverage Ratio (DSCR): This number can be worked out by dividing the NOI by annual debt service which is how much interest and principal you need to pay every year on your loan. The DSCR is a good indicator for whether your income will be enough to cover your debt service obligations.
We've got a useful NOI real estate calculator to save you some time.
Simple NOI Formula Real Estate
NOI = Gross Operating Income – Operating Expenses
However, the NOI doesn't take into account some variable expenses which change depending on the project, and these are:
An investor's income tax
Debt service and mortgage interest
Capital expenses
Depreciation
If there are other factors at play that you need to include, you can redefine the formula by adding these in. For example, any additional income sources for the property, or the income that could be lost during vacant periods. As such, the NOI formula can be redefined to include these:
Advanced NOI Formula Real Estate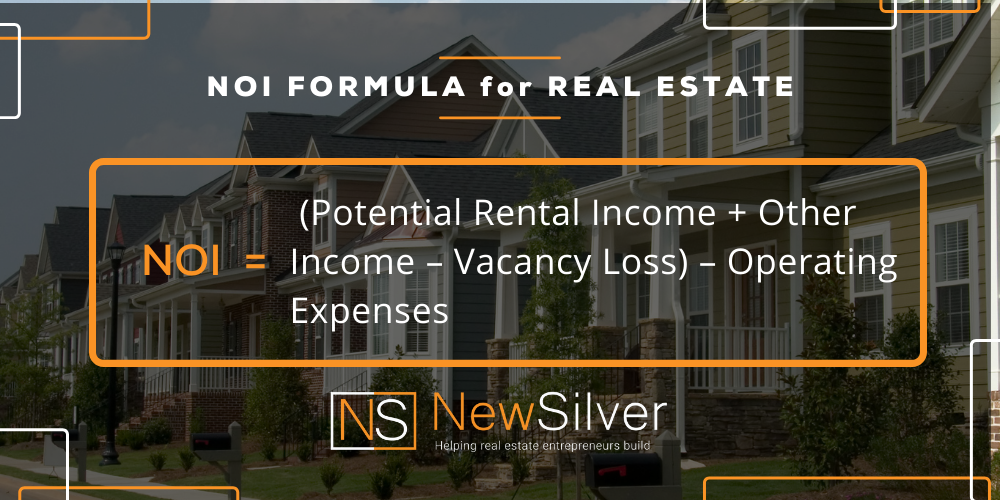 Here's what each factor in the advanced NOI formula entails:
Potential Rental Income: The total income that a property would generate if it was being rented out at a fair market rental price, with no vacancies. If the property wasn't at full occupancy, market conditions and comparable properties can be used to estimate it.  
Vacancy Loss: The potential rental income loss as a result of a property being vacant for a period of time due to defaulting tenants, evictions or the time between tenants. This can be estimated using comparable properties in the area.
Effective rental income: This refers to the amount of rental income that a property is expected to generate by taking into account the vacancy rate and any subsequent credit losses. So, this is the potential rental income minus the vacancy loss, which equals the actual amount that a landlord will collect.
Other rental income: Sometimes properties have additional sources of income which aren't included in the monthly rent. For example, pet rent, laundry fees, or late fees.
Gross operating income: This is the total amount of operating income which includes both the effective rental income and the other rental income.
Operating expenses: This is all the money spent on running the property, to be able to collect an income from it. For example, property taxes, maintenance, insurance and so on.
Net operating income: This is the gross operating income minus the operating expenses.
Net Operating Income Example
Let's use a single-family rental as an example of NOI, with a potential rental income of $10,000. Now let's look at the other factors:
If the vacancy loss is $500 (5% of potential rental income), then the effective rental income would be $9,500. Let's say that the property has a laundry service, which is another rental income, and it earns another $50. The gross operating income will then amount to $9,550.
If the operating expenses total $2,100 and the property taxes come in at $1,000, then the total expenses for the property would be $3,100.
The NOI would then be $9,550 – $3,100, which equals $6,450. The full calculation can be viewed below.
NOI = (Potential Rental Income + Other Income – Vacancy Loss) – (Operating Expenses)
NOI = ($10,000 + $50 – $500) – ($3,100)
NOI = $6,450
What is a good NOI for a rental property?
There is no baseline for "good" NOI because it varies greatly, depending on the property, however it stands to reason that the higher the NOI is, compared to the property price, the better. NOI is also calculated based on the premise of the property being paid for in cash, so bear this in mind in your number crunching.
A good way to tell if your NOI is good or bad is by comparing it the NOI of similar properties in the area. This comparison can help you see whether your operating costs and rental amount are high or low in comparison.
NOI is a widely used formula to calculate the profitability of a rental property, and it's a good idea to work this out as soon as you have all the revenue and expense numbers for the property. This can make or break a deal, because your cash flow will need to be such that you walk away with a suitable profit every month, not only to cover your expenses but to make it worth your while. In other words, the NOI will indicate to a property investor if the income generated from the property is worth the cost of it.