What Is Socotra Capital And How Do Their Loans Work?
Socotra Capital
is a hard money lender providing real estate investors with financing for their real estate deals. The lender provides loans to individual borrowers, brokers, and investors. These loans are equity-based, which means that they are not focused on the borrower's personal financial history, but rather the real estate deal itself. In other words, the property is used as collateral in each hard money loan. Socotra Capital began operating in 2007 and has since funded over 1750 loans. The lender provides loans from $100,000 up to $20 million. Their interest rates start at 6.99%, and they provide a variety of real estate loans to suit a range of investing needs. Read our Socotra Capital reviews below, to find out more about the lender and their loan products.
Overview of Socotra Capital Loan Products
Socotra Capital provides a variety of loans, suited to various real estate investing strategies.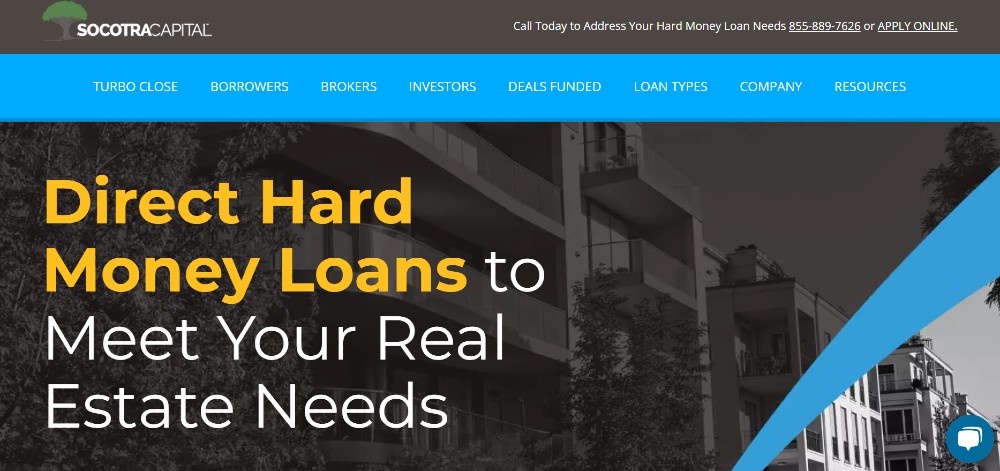 Socotra Capital provides bridge loans to investors who are purchasing commercial properties and may need to enhance their cash flow until the property becomes profitable. A bridge loan can be used for property upgrades, to tide an investor over until the property begins generating income, or for small business owners who need capital for properties that they own free and clear.
Commercial Bail Out Loans
Borrowers who have defaulted on loan payments, entered into forbearance or missed loan payments can get the financial assistance they need from Socotra Capital in the form of Commercial Bail Out Loans. These loans aim to close within in 5 days, to provide borrowers with bridge loans as a financial solution that could keep them from losing their property. This allows borrowers time to get their finances in order and keep their property, by making use of a bridge loan.
Fix and Flip Hard Money Loans
Fix and flip properties require loans that provide fast closing, financing for the property purchase and the rehab, as well as the ability to repay the principal loan amount once the property is sold. A hard money loan is typically a good solution for this investing strategy. Socotra Capital's fix and flip hard money loans provide 85% of the purchase price and cost of the rehab, and they have no prepay.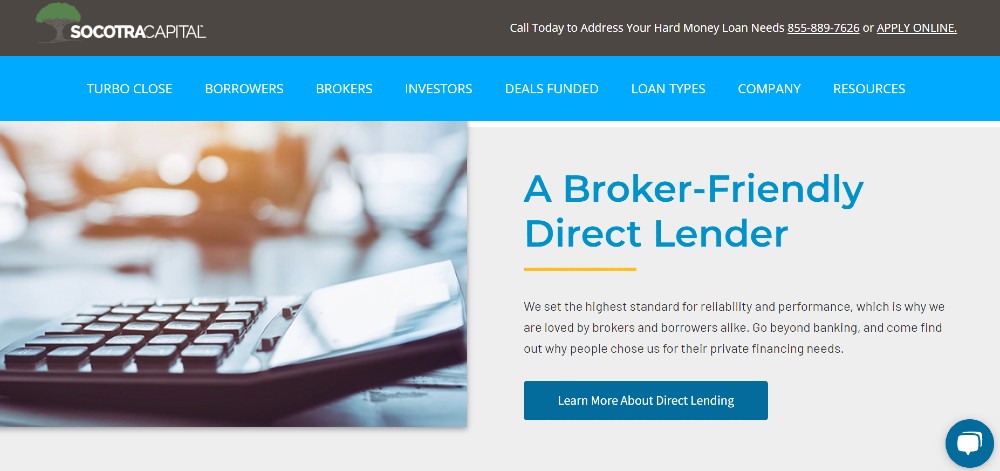 The private line of credit is a loan product offered to borrowers who require a certain amount of funds, but they don't need access to all of it immediately. This allows borrowers to withdraw funds as they need them and pay interest only on the funds that they are withdrawing.
The residential rehab loans are geared towards borrowers who are purchasing residential investment properties and doing rehab projects on them. As such, Socotra Capital provides same-day pre-qualification on these loans so that investors can move forward with their property deal, with the security of knowing that they have loan approval.
For those looking to purchase commercial and/or residential properties using the equity that they have built in a property already. Cash-out refinance loans are a second loan that can be used to pay off the existing mortgage and cover the new property purchase. This means that borrowers will have one loan repayment, and a lump sum when the loan is taken out.  
Buy and Hold Hard Money Loans
Investors looking for monthly income or to build a real estate portfolio while the market is strong are prime candidates for the buy and hold hard money loan product that Socotra Capital offers to borrowers. The lender offers long-term loans of 20 years for this purpose, which include partial or full amortization.

Real estate investors are often interested in purchasing distressed properties because they can provide great investment opportunities. These are properties that the bank has foreclosed and are selling below market value. Socotra Capital offers loans for borrowers on distressed properties, with same-day pre-qualification. These loans allow borrowers who may not have found funding for these deals otherwise, to get financing and invest.
Short-term real estate investing with Airbnb and VRBO rental properties are a popular strategy for generating rental income. Socotra Capital offers short-term Airbnb property loans for investors who are looking to capitalize on the opportunities that the short-term rental market has to offer. These loans can be used for a property purchase, as well as any upgrades that need to be made to the property.
Foreign Real Estate Investor Loans
For foreign nationals and residents of other countries who are looking to purchase real estate for business purposes or start a business, Socotra Capital can provide loans for this purpose. The loans are however, reserved for business purposes only. Foreign real estate investors can struggle to get loans from traditional lenders so this is a good solution.
Benefits of Using Socotra Capital
Socotra Capital offers borrowers a few important benefits, and these are outlined below.

Fast closing: Socotra Capital can close loans in as little as 5 days with their Turbo Close feature. Which means that real estate investors can get their funding fast and take advantage of good property deals that they might find. Competition is stiff when it comes to real estate investing, so timing is crucial, and this benefit can be the difference between closing a real estate deal and losing out to another investor.
Funding for brokers and individual borrowers: Socotra Capital offers funding to both individual borrowers and brokers, which means that many people involved in real estate investing can get loans from this lender.
All property types: Socotra Capital claim to offer mortgage lending on all property types, which opens the door for investors who are purchasing properties that other lenders may not fund. Socotra Capital will fund the following properties: special purpose, churches, vacant buildings, cannabis facilities, dilapidated properties, and unqualified real estate.
Equity-based mortgage lending: All the loans provided by this direct lender use the property as collateral. Equity-based loans are a good opportunity for investors to qualify for a loan based on the property, and not based on their personal finances as much.
Less stringent qualification criteria: The lender offers a great benefit in the fact there are no income, financials, or credit requirements, unlike traditional lenders. For borrowers with a good deal on hand, but less than stellar financial history, this is the ideal solution.
Varied loan products: The direct lender provides a variety of loan products that are suited to different investor needs and land transactions. From commercial loans to fix and flips, and much more.
Disadvantages of Using Socotra Capital
While Socotra Capital offers borrowers many benefits, it's also important to be aware of the drawbacks.
Limited locations: Socotra Capital only provides funding in a limited number of states, which rules out a large portion of the country. The lender currently operates in about 17 states, mainly on the West Coast of the country.
Lack of extra resources: Socotra Capital does not offer extra resources, such as deal calculators and assistance with evaluating the profitability of a real estate deal. These tools can be very helpful for investors who need to evaluate deals quickly and are lacking on this platform.
Communication issues: Some reviews on Socotra Capital have stated a lack of communication that can result in problems with getting the loan closed on time.
Socotra Capital Interest Rates
Socotra Capital offers interest rates that start at 6.99%. Each loan is unique, so the lender doesn't have a formal rate matrix to show. The interest rate on each loan is based on the loan-to-value (LTV), property type, property location, and loan terms.
Socotra Capital Alternatives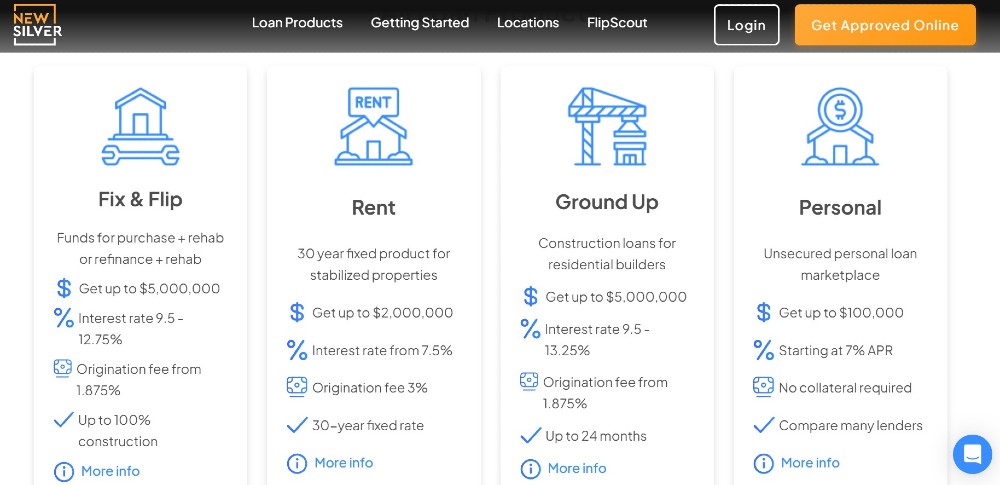 New Silver is a hard money lender offering fix and flip loans, rent loans, ground up loans and personal loans for real estate investors. New Silver's loan terms range from 12 months on a fix and flip loan to 30 years on a rent loan. The lender offers instant online pre-approval, proof of funds letters and closing within as little as 5 days.
New Silver's platform has a variety of resources for real estate investors, these are aimed at making the investing process easier and helping investors make more informed decisions. Investors can find profitable investment properties using FlipScout, which is New Silver's own platform where properties are listed. Other resources include a hard money loan calculator, ARV calculator, BRRR calculator, informative blog and much more.
New Silver operates in over 40 states and pride themselves on being one of the fastest funding providers in the real estate space. They operate entirely online, which means that any real estate investor in the US can get funded with them, and the process is quick and easy. Fast hard money loans are the name of the game for New Silver.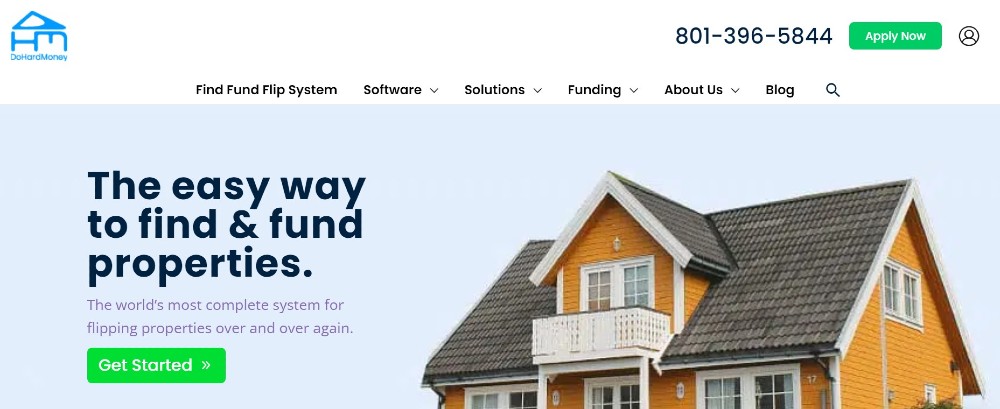 Do Hard Money is a hard money lender for real estate investors, however their services also include a range of resources. Through Do Hard Money you can find an investment property, fund the deal and then sell the property again once you've renovated it. However, to gain access to any of these resources, there are multiple questions to fill in and investors will need to provide their details.
Do Hard Money offers residential rehab loans, fix and flip loans, foreclosure loans, private money loans, rental property loans, refinance loans, new construction loans and bad credit hard money loans. The loan terms offered by Do Hard Money begin at 5 months and go up to 12 months. Interest rates range from 1.25% per month to 7.99% as a starting point. Investors can get funding with a $5,000 capital contribution.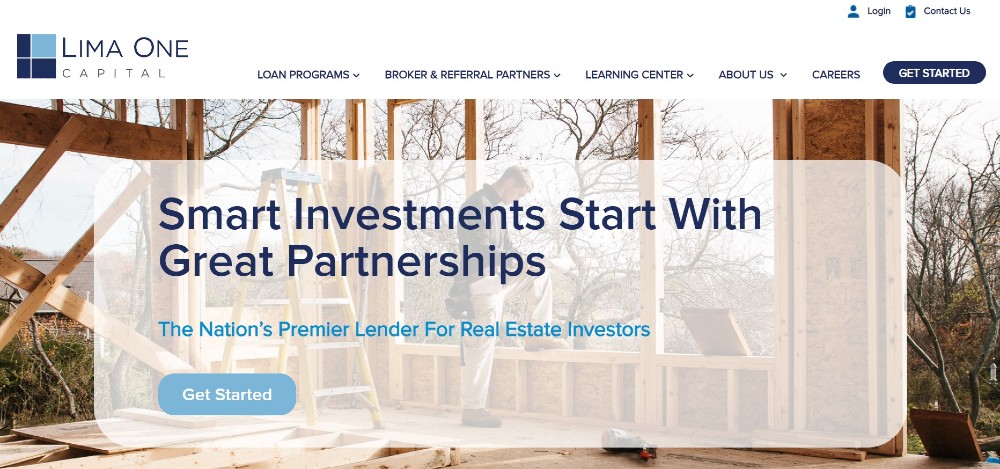 Lima One is a private lender for real estate investors, providing fix and flip loans, new construction loans, rental loans and multi-family financing. The lender offers in-house underwriting and construction management. Lima One provides loans in about 40 states across the US.
Lima One's rates range between 8.99% and 10%, and their loan terms are flexible. There is a maximum LTV of 70% and loan terms range from 13 months to 2 years. While various loan requests are considered, the lender focuses primarily on single family residences and multi-family residences. Loan amounts begin around $250,000 and go up to about $5million.
Final Thoughts - Should You Use This Hard Money Lender?
Choosing a lender or mortgage broker is heavily dependent on each borrower's unique situation. To choose the right lender borrowers should consider whether the following factors are in line with their investing goals and financial situation:
The locations that the lender operates in
The lender's interest rates
Loan closing time
Reviews available on the lender
The level of responsiveness that the lender provides and willingness to land clients financing objectives
Our Socotra Capital reviews should help borrowers to make a more informed decision on whether this lender is the right financial partner for them.