The real estate industry is full of service providers with various financial solutions for real estate investors. A quick online search will yield a host of results, so choosing the right solution can be daunting. Here's an outline of Do Hard Money reviews to help you assess this platform.
For those who are investing in real estate, a traditional loan is not the only option. There are a variety of other choices classified as creative financing. These options include hard money loans. If a hard money loan is the financial solution that you're looking to use for your next investment, you'll want to choose the best lender for you. To help you, we've put together an outline of Do Hard Money loans reviews so that you can learn more about what the platform does.
Overview of Do Hard Money's products & services
Do Hard Money is primarily a hard money lender for real estate investors, however their services include a range of other resources. These resources are geared to both new investors and seasoned investors using their Find-Fund-Flip system.
This means that through Do Hard Money you can find an investment property, fund the deal and then sell the property again once you've renovated it. Which means that a fix and flip deal, from beginning to end, can be done on their hard money lending platform.
However, to gain access to any of these resources, there are multiple questions to fill in and investors will need to provide their details before they can view anything.

Do Hard Money has flexible lending guidelines, starting at 5-month loan terms and going up to 12 months. The minimum ARV (After Repair Value) on loans starts at $70,000 and interest rates range from 1.25% per month, to a 7.99% starting point. The platform claims to offer 100% financing, with no payments expected for the first 5 months. Investors can get funding with as little as $5,000, according to the website.
Do Hard Money offers the following types of loans:
Residential rehab loans
Foreclosure loans
Private money loans
Rental property loans
Refinance loans
New construction loans
Bad credit hard money loans
Do Hard Money currently lend in the following locations, with custom lending terms for each state:
Alabama
Delaware
Georgia
Illinois
Indiana
Kansas
Kentucky
Louisiana
Maryland
Michigan
Missouri
New Jersey
New Mexico
North Carolina
Ohio
Pennsylvania
South Carolina
Texas
Virginia
Do Hard Money offers a system for investors to find properties to purchase, using metrics that indicate good opportunities and show the hottest housing markets. The platform has a resource called Investor's Edge for those who are looking for off-market properties. The Advanced Deal Analyzer tool allows investors to find out the profitability, risk and estimated cash close on any property they're interested in.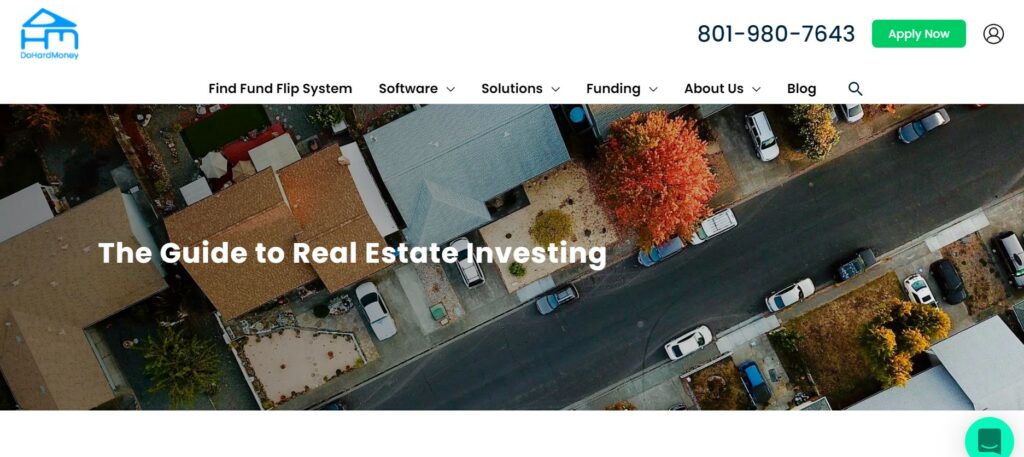 The Do Hard Money platform offers investors the tools to increase their knowledge around the house flipping industry. Whether an investor is just starting out, or they've been in the game for many years, Do Hard Money claims that their resources are useful for any investor. The platform also offers free contract templates for various partnerships and real estate deals, so that investors can see how these should look.
The knowledge tools offered by Do Hard Money include learning how to calculate the ARV on a home through a certification course, training video, and an analysis worksheet. Investors can also learn how to estimate property rehab costs, calculate profits and negotiate offers.

Do Hard Money has multiple BBB (Better Business Bureau) reviews totalling a score of 4.61 out of 5, which indicates that many people have given the platform 5-star ratings. With quick responses being a common thread amongst the feedback, as well as a helpful and informative process being described by many.
On Yelp, Do Hard Money has 12 reviews and a 1-star rating overall, with many negative complaints being featured. With complaints ranging from money that people didn't get back, to loans being promised and not being closed.
Do Hard Money is also listed on BiggerPockets, with mixed reviews in the forums about their loans. Often, their customer service is praised, however getting a loan through them is not as easy as it sounds, and more capital is required than people expected.
The upfront $3,000 cost is the most common complaint amongst those wanting to invest in real estate using a loan from Do Hard Money. For new investors this can be difficult to gamble with that much money. The biggest complaint is that the money is non-refundable, and many people have paid this amount to the platform, not gotten a loan and then lost their money.
Getting loans isn't as easy as it may sound using the Do Hard Money platform, and investors needed a lot more capital than they realized. Deals need to be very good in order to qualify for a loan, so many investors are not able to get funded.
Some people have complained that the process wasn't quick or simple, and that it took longer than expected and was more involved. Which is a not a good sign for future investors looking to the platform for funding.
Does Do Hard Money provide proof of funds?
Do Hard Money offers instant proof of funds letters, and as many letters as investors may require. Proof of funds letters are provided on a company letterhead with a corporate stamp. They are accessible any time, and if investors are unhappy with their proof of funds program purchase, they can get their money back.
The Do Hard Money proof of funds letter will outline that the deal needs to meet the lender's criteria, and that the investor will still need to complete the relevant steps. Bear in mind however that investors will need to pay for access to the Find-Flip-System to get a proof of funds letter.
Let's compare this to New Silver's proof of funds letter which is provided immediately and at no extra cost. Investors can access their proof of funds letter instantly online, and then download it or access it on their mobile device. The proof of funds letter is provided instantly once an investor has paid their application fee and been approved for a loan.
Do Hard Money Alternatives
Newsilver.com is also a hard money lender, providing funding across 41 states in the US. New Silver offers a streamlined process for real estate investors to find their next investment property, then get funded and purchase the property. New Silver provides a free search platform called FlipScout where investors can choose their next profitable investment property by using data and insights around the ARV, ROI, estimated rehab costs and more.
New Silver offers online loan approval within minutes and immediate proof of funds letters so that investors can grab their investment opportunities quickly and beat the competition. New Silver provides loan closing within 5 to 7 days, and investors can get fix and flip loans, rent loans or ground up construction loans. Loan rates start at 8% for fix and flip loans, and loan terms are generally around 12 months.
Asset Based Lending (ABL) is a local hard money lender, focused on helping small business owners, real estate investors, and commercial contractors finance their business activities. Loans are tailored to each person's needs and the lender operates in 24 states across the US. ABL offers loan pre-approval within 24 hours and funding in just a few days.
ABL offers fix and flip loans, new construction loans, cash-out refinancing and rental property loans. Their required credit score for loans is typically a minimum of 660, and their interest rates for most 12-month loans start at 10%. The rental property loan has a longer loan term of 30 years amortized, and therefore rates start at 6.5%.  
Hard Moola is a platform that connects real estate professionals with private financing solutions in the form of hard money loans. The platform serves to connect investors with financing for any type of commercial real estate deal and fix and flip projects for up to 90% LTV (Loan To Value). This includes, multifamily investments, residential, fix and flip, or retail properties.
The interest rates on hard money loans start at 8% and these are short term loans with loan terms from 3 months upwards. Hard Moola can provide funding in about 7 days at the quickest, and there are no costs upfront. Pre-qualification can happen within 24 hours, and full approval within a few days. Those with bad credit can apply for loans with this platform.
LendingOne provides loans for rental properties, fix and flips, new construction, multi-family properties and portfolio rentals (which are multiple rentals at one time). Using their own capital, LendingOne provides loans solely to real estate investors, with up to 90% of the purchase and repairs covered for fix and flip loans.
LendingOne will provide more information on the interest rates that investors can qualify for, within 2 minutes or less, once investors have applied. Loans range from 12 months upwards.
Choosing a lender is decision largely based on each investor's needs. Investing in real estate comes in many forms, and each strategy requires its own considerations when it comes to loan terms and interest rates. For example, fix and flip loans are typically shorter (ie: 6-12 months) and rental property loans are often longer (ie: 30 years). Consider a few hard money lenders before making your final choice and compare the loan terms and interest rates on each, so that you can make the most informed decision.