Buying real estate such as a rental home or another type of investment property holds several advantages. The trouble is that finding profitable deals can be a challenge, especially for less experienced investors that don't have an existing network to work from. Markets have been constantly changing and although the US housing market has remained steadfast in the face of the pandemic, there have been some surprises that can affect the profitability of certain types of projects. 
Buy and hold properties typically provide investors with consistent income and home appreciation, while fix and flips have the potential for great profits in one-off batches. No matter the approach, owning property can diversify investment portfolios, generate new streams of income, and help the investor become financially independent. This diversification is essential to withstand the ebbs and flows of the real estate market and ensure that the income earned will protect the investor in times of volatility. 
How profitable a property will be will come down to several factors that the investor will need to be aware of and on the lookout for. Knowing how to pick the right investment property will be a pivotal factor, and yet many investors still make use of age-old methods of finding a home that can be inefficient and time-consuming. Some investors have shifted to using tools like Roofstock, but are unaware of some of the useful alternatives that are available right now. 
Roofstock is a marketplace for buying and selling rental properties, but there are platforms out there made for all kinds of real estate – many of which are freely available. 
Take a look at some of these Rootstock alternatives for finding, buying, and selling real estate:
Alternative #1: HomeUnion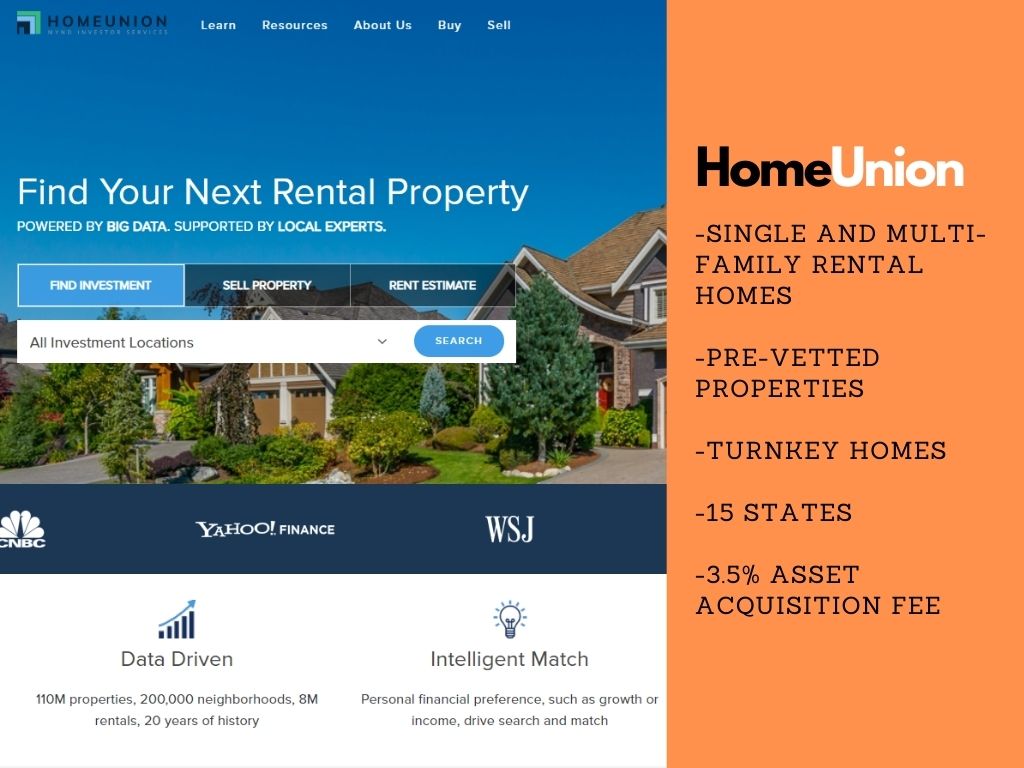 HomeUnion is part of the influx of online real estate platforms making single and multi-family rental homes available to investors. It's typical for these marketplaces to pre-vet the properties, doing in-person appraisals and then putting the top properties up for grabs, and HomeUnion is no exception. 
Specializing in turnkey properties, HomeUnion streamlines the process of finding and buying rentals and cuts down on a lot of the superfluous processes that tend to bog down traditional transactions. According to their website, they've used their in-house technology to analyze over 100 million homes and 200,000 neighborhoods.
It's not difficult to spot the similarities between Roofstock and HomeUnion. Both are technology-driven online real estate marketplaces with a focus on improving efficiency in rental real estate. However, unlike Roofstock, HomeUnion lists everything from single-family residential homes to multiple family complexes.
At present, HomeUnion lists investment property deals in 15 states. When using HomeUnion as a Roofstock alternative, the investor will respond to a survey to shortlist properties that best suit their requirements. Registering for an account is free, and once a buying decision is made HomeUnion guides the investor through the online closing process. 
With the purchase complete, the HomeUnion property management service kicks in and starts finding potential tenants for the property. The investor's purchase includes property maintenance services which cover many issues that arise when owning a rental home. 
So, what is the cost of buying a rental home through HomeUnion? HomeUnion asks 3.5% as an asset acquisition fee and charges a monthly property management fee after the original purchase. This amounts to just over 10%  of the rental fee collected per month. 
Alternative #2: FlipScout
FlipScout is the all-in-one solution for finding buy and hold or flip properties and securing funding for them. Powered by the data-driven lending company New Silver, FlipScout enables investors to find properties they can earn the highest returns on in a few easy steps. 
This free tool allows the investor to search any zip code or city for high-potential properties, including foreclosures and pre-foreclosures. The results can be filtered by price, ROI, and days on the market. FlipScout offers nationwide coverage, maximizing the investor's chances of finding a profitable flip even if they are looking for deals out of state.
Each listing on Flipscout comes loaded with useful investing data – listing prices, assessed value, ROI, estimated profits, rehab costs, and ARVs are all included to help the investor make the best decision for their budget and goals. If no suitable properties can be found, the investor can set up search parameters that will deliver incoming matching properties to their email. 
Recently updated to cover buy and hold investment properties, rental investors can use FlipScout to see average rents and how much money they can make instantly.
The benefits don't end there either. When the investor has selected the property they are most interested in, they can apply for funding for their project directly through the FlipScout portal.
Alternative #3: HomeLight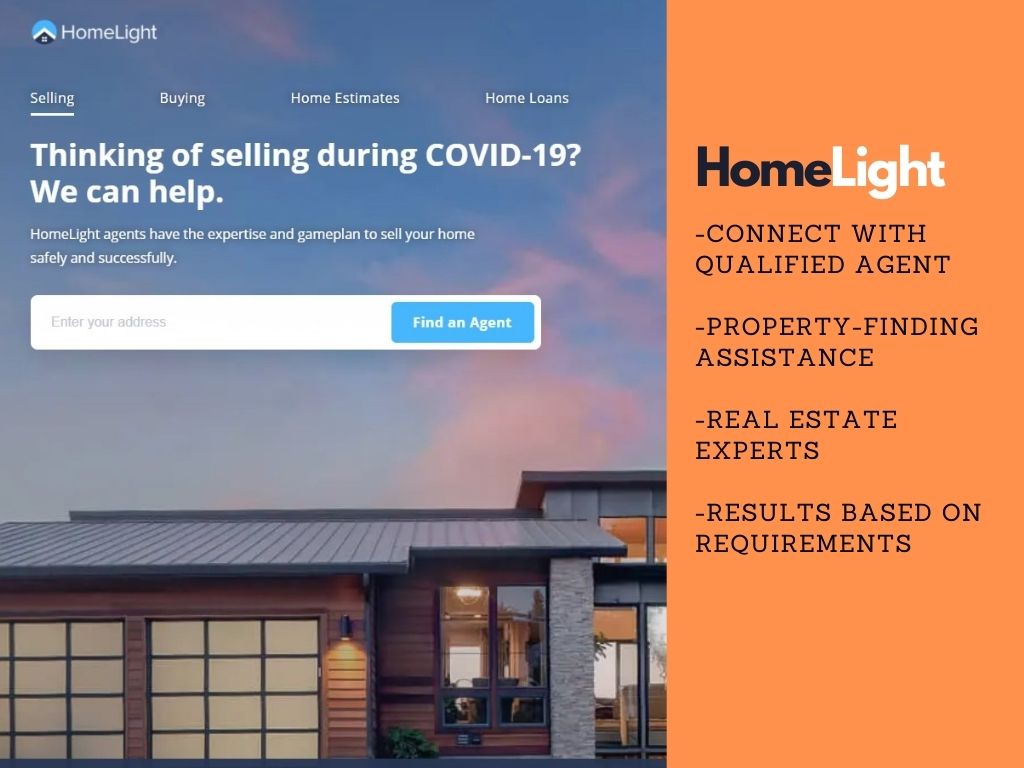 Last but not least on the list is another Roofstock competitor, HomeLight. HomeLight has several differences to Roofstock however since they are not an online property marketplace. 
HomeLight connects investors to a qualified agent that helps them locate profitable investment properties. The investor visiting their website will be prompted to complete a questionnaire surrounding their property needs, including the location they are looking in and how much they are willing to spend. 
HomeLight may not have thousands of rental properties available for the investor to compare, but it does connect the investor to a real estate expert that can help them meet their investment goals faster and easier. Some of the pros of using HomeLight is that the service is free to use and that their services come highly recommended by those that have worked with them. 
Buying Rental Real Estate
The tools listed above are great Roofstock alternatives, but there are some things that the investor should be aware of when going in. The principles of good investing will always apply, even when using software to pre-vet properties, but then the investor's personal goals and needs will also need to be taken into consideration.
Some of the things to think about carefully when looking for a rental property to buy include:
How the property will be managed.

Tenants can be demanding and wear and tear will take place. Will the investor personally field the complaint and do the repairs,  or will they work with a property management company that will handle these kinds of requests?

What the right location is.

If planning on managing the property personally, it might be best to look for a home that is in a convenient location for the investor to travel to when needed.
What the margins look like.

The investor will need to know what the numbers will look like and how much profit margin they are looking at. This is especially important if they plan to use their rental income to replace their day job.
Insurance and other unexpected costs.

With a new property investment, it's essential for the investor to consider the cost of insurance and other costs that may arise. Unexpected costs can be roof damage if the property is located in a hurricane-prone area, for example. 

The investor's legal obligations.

As the owner of a rental property it will be important to have a clear idea of what the landlord/tenant law in the relevant state is and to ensure that all guidelines are being adhered to carefully.
Investors will have the  option  of buying a home that is local to them but they can also consider buying a rental property that is out of state and using a pre-vetted property management company to manage finding tenants and collecting rent. Investors that make use of this method typically choose locations that they are personally familiar with or have travelled to before. 
It's also worthwhile for the investors to think about their personal goals and what they are hoping to gain from buying a rental property. This can affect the type of rental they buy, how much they charge for it and more.
Characteristics of The Best Rental Properties
When looking for a residential rental property, there are a few characteristics that are key to be on the lookout for. These characteristics are the ones most likely to draw in tenants and make the property a profitable one.
The first characteristic to look for is the neighborhood. Does the home match the majority of the properties located there and is it in close enough proximity to the amenities that tenants will want? If the main demographic of renters in that neighborhood have children, the investor will want to look for a home that is nearby to a good school zone. 
The next thing to think about is what the property taxes will amount to. Different areas will have different levels of property taxes. High property taxes might not be the worst thing – if it's a good neighborhood that attracts quality and long-term tenants then they can be balanced out. 
After the general property taxes, it will be important for the investor to do an evaluation of the local job market and any interesting developments that may be coming up. Areas that have increasing job opportunities are more likely to attract tenants that will be able to pay their rent consistently. One clue as to how the local job market is going is a major company opening an office in the area. This can also push up the demand for properties in the area and increase the housing prices. 
Real estate investing as a whole has rapidly been modernizing, and there are many different property-based avenues for the investor to explore. The tools listed in this article span enough fields to help investors of varying levels of experience and budget and act as alternatives to Roofstock which does not cater to many of these niche fields. 
Still, when using these tools it's best for the investor to have a clear understanding of what the basic characteristics of a good rental property are and how to manage it effectively. 
Finding the right property is an essential ingredient in the recipe for a successful real estate investment. Using one or more of the options listed above, the investor can simplify this complex process and focus their attention on closing a deal. Buying and selling real estate has never been this convenient, and these online options are a great way to go contactless in property deals.