The real estate investing journey is an interesting one and there are a host of tools online to support both buyers and sellers. Millions of investors choose real estate because it's a great way to diversify their portfolios, and loans or mortgages can be used to leverage the investment so that they can own assets with a higher value than the cash they have. One of the most common ways to invest in real estate is to purchase a rental property and rent it out to tenants. If you'd like to go this route, there are platforms to aid you with finding what you're looking for.
To help you work out which platforms are the best tools for your real estate investing journey, we've done an in-depth Roofstock review, so that you can learn more about this real estate platform.
Roofstock is an online marketplace for real estate investors to buy and sell single-family rental properties (SFR). Roofstock essentially connects buyers and sellers of investment properties by allowing sellers to list their properties on the marketplace, where buyers can search and find exactly what they're looking. The platform facilitates the entire sales process from beginning to end. While it has been dubbed a real estate crowdfunding platform, the funds aren't pooled with other investors like a typical crowdfunding platform.
Roofstock One gives investors the opportunity to buy whole or fractional shares of fully managed investment properties. Roofstock's services offer an end-to-end solution for large investors to build or diversify their portfolios. The platform claims to manage over $4 billion in homes for institutional investors. Roofstock aims to make real estate investing easy, affordable and accessible for anyone so the platform is free to sign up.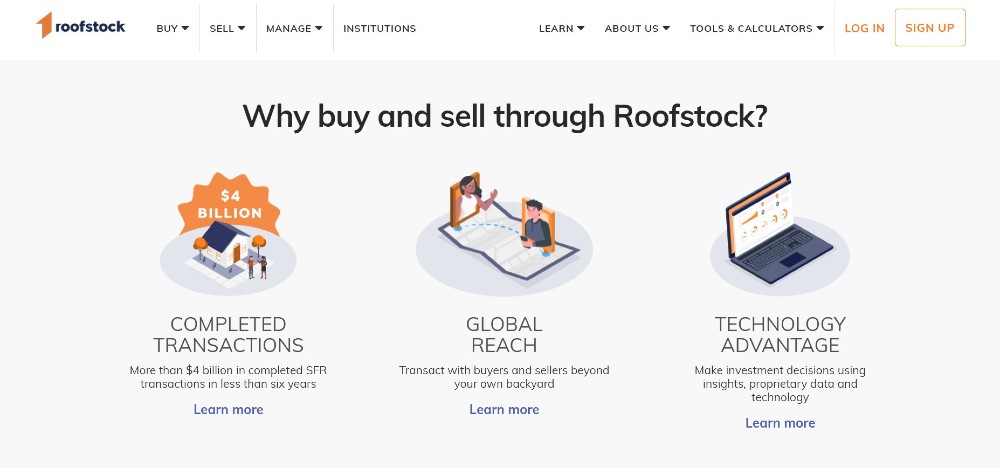 Buyers
Investors can find properties to buy and rent out (SFRs specifically) by signing up for free. They will then get access to the property marketplace on the platform, as well as detailed information on each property. Buyers will only pay a fee once their offer has been accepted by a seller, and this is all done online via the platform. The fees are $500 or 0.5% of the contract price for offers on properties. Investors can find a property, get financing for it, take the title into their name and hire a property management company to run it, all from within the platform.
Sellers
Sellers can list their property on the platform all online at no cost, without needing to show the property or remove the tenants. Roofstock charges 3% commission fees on the sale of the property and will perform the due diligence necessary on the property. The platform facilitates the sale by launching the listing on their marketplace with all the relevant information, and then co-ordinates the closing process once an investor has made an acceptable offer.
Bring your own property
On the other hand, if an investor has found a property elsewhere that they're interested in buying, they can pick the "Bring Your Own Property" option, where Roofstock will connect them with a vetted agent in the area who can help them view the underwriting details and pro forma return projections for the property. The Roofstock agent will continue to assist them with the rest of the buying process, until they've closed the deal.
Institutional investors
Roofstock also offers an option for institutional investors which spans across different services for acquisition, transaction management, property management, portfolio management and disposition. It is a customizable service that investors can create to suit their investing and portfolio needs.
Features:
Search filters: location, price, neighborhood etc
Alerts: for new properties that you may be interested in
Detailed insights: pictures, floorplans, inspections and so on
Assistance: Roofstock helps buyers and sellers the entire way through the process until closing
Tools:
Cloudhouse rental calculator – delivers insights into each property's potential rental income
Financing calculator – determines how much you'd need for a down payment and what the mortgage payment would be
Neighborhood rating – get insights on the neighborhood that you're buying in, includes risks and benefits
Roofstock review – Pros & cons
No accreditation required
Unlike many other crowdfunding real estate platforms, Roofstock doesn't require any accreditation. So, anyone can sign up and view properties, which makes this a great choice for first-time investors who aren't accredited and don't have a lot of investing knowledge yet.
Roofstock One is a unique offering from Roofstock that provides a way for investors to buy shares of a managed rental property and reap the rewards. This means that investors don't need to have the capital to purchase an entire home, but they can instead purchase a portion of a home. After 6 months of ownership, investors will have the option to liquidate their portion, redeem their shares or convert it to traditional ownership.
The platform is completely free to sign up to, so investors can quickly create an account and browse the properties then put in an offer, all without paying a cent.
Roofstock does inspections (physically and financially) on the properties that are being listed, which saves investors a lot of research time and money. The properties listed already have tenants in them, which means that investors won't need to waste time finding tenants or spend money on marketing the property.
Within 45 days of a property becoming rent-ready, investors can begin receiving rental payments.
With the transaction taking place online, this gives investors the ability to buy property in areas where they normally wouldn't be able to. This broadens the scope of their portfolio and investing abilities.
Investors who are buying a property will need a large capital outlay either in the form of cash for the property, or for the 20% down payment that many lenders will require. Buying a property isn't a cheap business so investors will need to prepare for this, along with the extra costs.
Rental properties require work, whether you're managing the property yourself or outsourcing it. You'll need to make decisions and pay for repairs and other costs, for the upkeep of the property.
Real estate is a longer-term investment, the asset isn't liquid so investors cannot sell a property quickly. There will be a delay when it comes to selling the property, before it can be turned into usable funds.
How to find investment properties with Roofstock
If you're looking to invest in a property through Roofstock, you can find one that's worth converting into a SFR in just a few steps.
Step 1: Create a free account
You won't be able to browse any of the properties until you've created an account, but thankfully it's free, so your first step is to sign up to the platform. Once you've registered you can search for properties and view the details, as well as place a bid.
Step 2: Start your search
Now the fun part begins, you can start searching for the right property. Roofstock provides detailed information on each property so that investors can make more informed decisions. This information includes:
Property features (number of bedrooms, size etc)
High quality photos and videos
Information on the lease and the inspections that have been done
Relevant financial data, such as the historical appreciation of the property, rent prices, the annual return, down payment and so on
Financing options are indicated, where you can work out what you'd pay on a loan or mortgage on the property
Step 3: Select and bid
Once you've selected the right investment property for you, you can place a bid on it. The first time you'll need to pay anything is when your offer is accepted by the seller. The seller has the option to counter your offer or accept it. This can lead to a period of negotiation. Once the seller accepts, you'll continue the buying process on the Roofstock platform, alongside your chosen lender. You will not need to be an accredited investor to transact on the platform.
If you aren't interested in buying a single-family home, you can use Roofstock One to invest in shares of fully managed rental homes. Investors pay the asset management fee and are then entitled to the economic rights underlying the home, which includes net rental income, tax benefits and more.

Step 4: Decide who will manage the property
You'll need to decide if you're ready to be a landlord, or if you'd prefer to hire someone to manage the property for you. If you need a property management company you can find one on the Roofstock platform, which can save you valuable time. Roofstock has a host of partners and property management is just one of many avenues where they can assist.
Step 5: Closing time
Concluding the sale and taking ownership of the property is the end of the road for this particular deal. Roofstock is part of the process until the end, when you can begin earning an income from your rental property.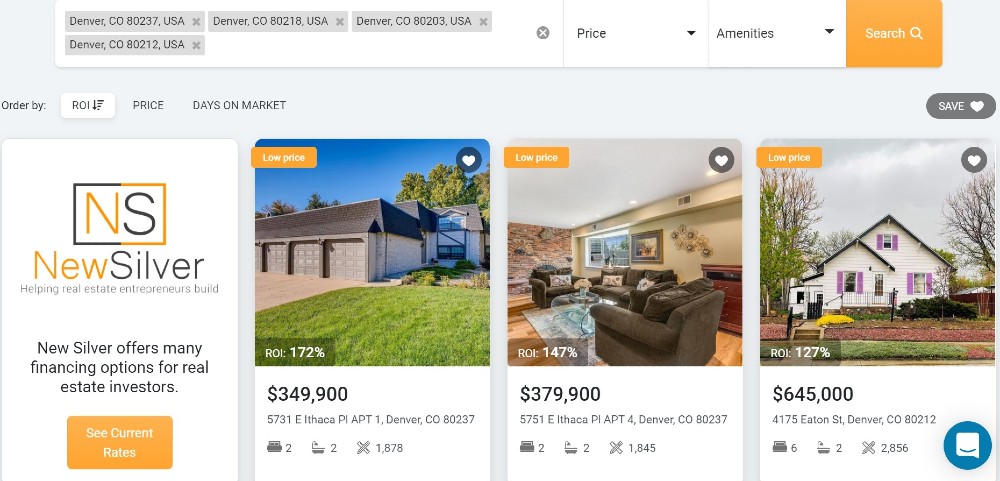 There are a few Roofstock alternatives to consider, for those investors looking for a real estate marketplace.
FlipScout from New Silver: This free tool helps investors to find the best fix and flip or buy and hold property deals through property listings on the platform, which include valuable information such as the ROI, after-repair value and potential rehab costs.
HomeUnion: This is an online marketplace for single-family and multi-family rental homes using technology to analyze millions of homes and bring investors the best deals.
HomeLight: This is a website that connects investors to an agent who can find them local profitable investment properties. While this isn't an online marketplace, it can still help investors to find what they're looking for.
Final thoughts: Is roofstock worth it?
Signing up to Roofstock is free and easy, so it's a no brainer for investors who are wanting to find a rental property investment or at least get an idea of the best properties. The nominal fee of $500 or 0.5% of the contract price make this an attractive option for buyers. For sellers, the commission fee is 3%, which is often lower than real estate agents. All in all, Roofstock is a good option for those who are new to real estate investing, and those who are looking for an all-in-one online solution to find a rental property.