Renovating a house with no money can be a significant challenge, but one investors can easily overcome if they have the right knowledge. When it comes to the cost of renovating houses the rule of thumb is that the investor can expect to put down at least 10% of the purchase price. This means that on a $500,000 property, you can easily spend $50,000 or more fixing it up and getting it ready for buyers.
But what if you don't have those kinds of funds, or aren't willing to spend that much money on the property? If you don't make the necessary changes, you risk losing that first rush of buyers and offers and being stuck with the property way past the point of profitability. The number one rule to successful house flipping is sell, sell, sell. Having the property in your inventory longer means you will be responsible for higher maintenance or carrying costs. 
So, how do you resolve the dilemma of renovating a house with no money while ensuring that it will be attractive to potential buyers? 
The answer is to be resourceful, be willing to take on the work and to only buy materials for select renovations that are guaranteed to lead to an increase in value and desirability. You won't be able to avoid paying any money at all, but by taking the right approach you can drastically reduce how much you pay to transform your property into something that will sell quickly when it goes on the market.
When you're flipping a property, keeping renovation costs as low as possible can be a differentiating factor when it comes to profits. This means working both smarter and harder to reach the goal of having a renovated home using minimal funds.
Renovations are a delicate balancing act of saving money while modernizing the property and ensuring they will appeal to potential buyers, but there are some generally appealing characteristics they look out for that you can implement affordably. 
In this article we're letting you know the best ways to fix up a property with minimal cost:
When you talk about home renovation, people conjure up images of sledge hammers going through walls and homes being reduced to the bare bones. Along with this image, they see thousands upon thousands of dollars being involved, which can be discouraging if you're an investor working with fewer resources.
The good news is that these images are myths and it's not necessarily true that so much money is required to make sure a property is in a sellable state.
Renovations can be as simple as making small but noticeable changes. For example, most properties will feel distinctly different with new window coverings or a new front door. 
Window coverings can play a big part in how much natural light enters the home, and can create a refreshed atmosphere. Lifted curtain rails can give the illusion of higher ceilings, and can easily be DIYed by the real estate investor to save cash. Recent trends have shown buyers are more inclined to be interested in properties with shutters, although softening the starkness of these with curtains is suggested. There are ways to install shutters at a lower cost. Wooden shutters come in various types and thicknesses, giving the investor choices in every price category. An additional option is to look at shutters made up of man made materials, such as foamed synthetics, PVC or medium density fibres all of which are more affordable than wood. 
A new front door, on the other hand, can change the curb appeal of the property significantly. One of the first features buyers will notice from the outside of the home, changing up the door one way or another can be highly beneficial. If you've bought a home with an old or non-descript front door, consider replacing it with something more eye-catching. This doesn't have to mean replacing the door completely either. If the existing door is in good condition, you can simply restain it or change the handle to give it a new look.
Refinish Carpets And Floors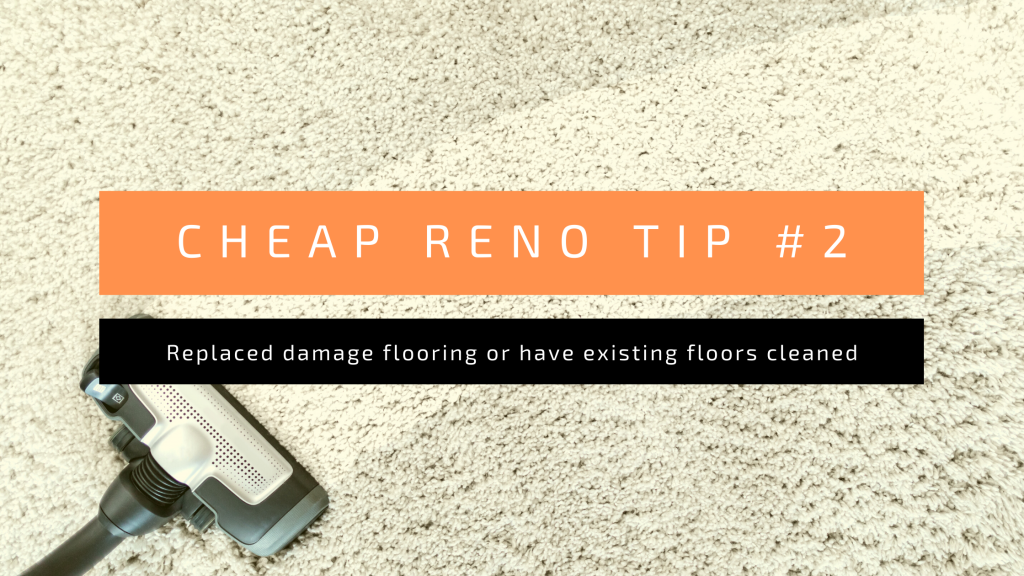 Next to the light and walls in a room, homebuyers will pay the most attention to the state of the flooring. When flipping houses, investors often have to take some sort of action on the floors in their properties. As it's one of the most-used features of the home, there is likely to have some wear and tear, especially if it's an older home. 
Take the time to walk through the home and objectively judge what condition the floors are in. For example, if there is carpet in the home it may be damaged in parts or be grimy from previous occupants and your other renovation efforts. If you are lucky enough to have carpets that are not frayed or damaged in another way, you can have them thoroughly cleaned and reinvigorated.
However, it may not always be that straightforward. If the carpet is damaged or terribly old-fashioned, it may be worthwhile to try and replace it completely. There are ways to cut down on costs here too – by looking at different kinds of fibers and ensuring they are in-stock and do not need to be ordered, you can save a lot.
It's also important for the investor to pay close attention to the state of any tiles through the home. Like carpets, tiles can get worn after years of consistent use and in old properties the tile designs may not translate as well for modern buyers. Both floor and wall tiles can show severe wear, and the investor will need to judge whether they need to be redone or if they can be revamped. 
If there are damaged tiles and no spares available that came with the property purchase, there is no other choice but to replace them. Tiles that are intact but are just plain tacky or worn can be painted.
Fix Kitchen Counters And Cabinets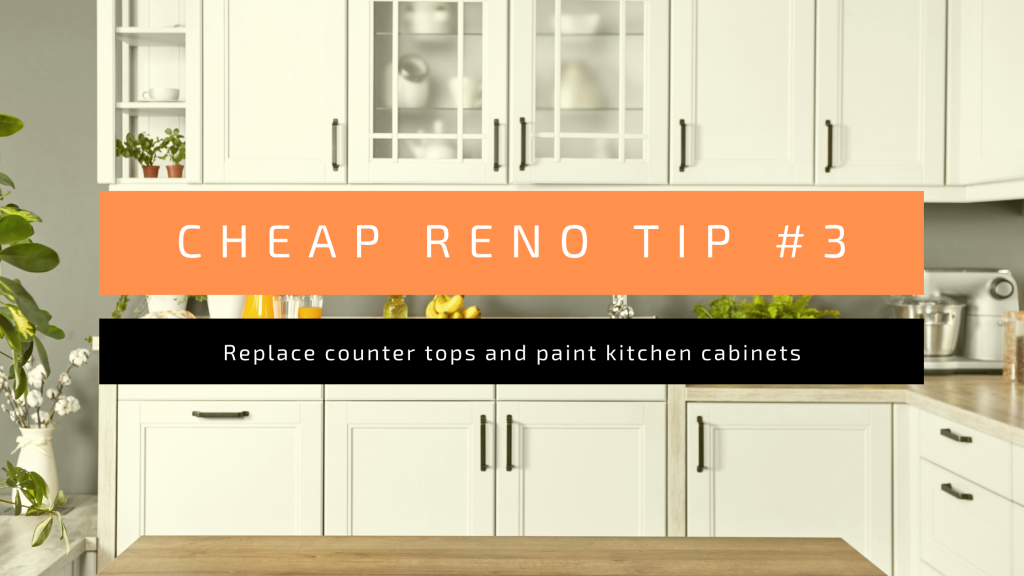 Kitchens are one of the biggest value-add spaces in the home and should be a main focus of your renovation efforts. The challenge here is that kitchens can be expensive to renovate, especially if appliances need to be updated or repaired. The key to saving here is to pre-vet your investment properties carefully, and to use a professional to conduct the property inspection with you before closing. This small, initial expense could save you a lot of cost later by alerting you to things that may be difficult to fix up or be out of budget. 
There are a ton of great ways to redo the kitchen of a property for less. To start with a kitchen space on a budget, plan to do a revamp of the most visible features – in this case, the kitchen cabinets and counter tops.  The caveat is that this can be expensive if you aren't careful with the materials you choose. 
For cabinetry, Ready-To-Assemble options can come with a lower price tag and the added benefit of allowing you to install them yourself. Affordable counter top materials can include concrete, tile and laminate. Bear in mind that even at lower costs, you do not want to compromise on quality or durability. The good news is that if the features like the cabinets and counters are still in good condition, you can upgrade them without replacing them completely. As long as they're undamaged, a coat of paint can work wonders and give the entire kitchen a more modern feel.
Another way to up the ante in an affordable way is to update the handles on the kitchen cabinets, or to install custom lighting underneath them to warm up the room as needed.
As mentioned earlier, lighting makes a big difference in how properties are perceived by buyers. A dimly lit home will have the complete opposite effect to what the investor wants, making the space look dark, small and like there is something to hide. The penultimate would be to have large windows that bring in lots of natural light, but this is not always possible. On the up-side there are ways to get around it if you don't have great lighting options already available.
The cheapest way to mimic natural light in a property is to install lighting fixtures like LEDs or other light sources in varying tones from cool to warm depending on the room. Kitchens and bathrooms typically have cooler light while bedrooms and living rooms can have warmer lights. 
Lighting is an effective way to make rooms feel bigger, and investors can use different kinds in order to customize the vibe of each room. The biggest benefit is that with a few Google Searches and YouTube videos in hand, the investor can easily install these additional light fixtures themselves. Make sure to think about the property like a buyer would –  for example, how much light is in the bathroom? Adding some lights around the mirror or vanity area can be a big bonus for buyers.
The next important things to pay attention to are the walls. Paint is one of the cheapest ways to give a home a newer look, and there is no excuse for stained, chipped or otherwise dirty walls especially if buyers are coming to view the property. Choose a neutral paint color and make sure to take the extra time and ensure the finishes are clean. 
Based on the investor's budget, it's recommended to try and paint the interiors and the exteriors of the property as needed. Curb appeal is an important factor when it comes to pulling in buyers, particularly on home viewing days. 
Renovating homes while spending minimal money is possible, as long as the investor does their due diligence and is willing to get personally involved with the handy work. If you're confident in doing renovations yourself, you'll be able to minimize costs by taking on some of the labor needed to get the property ready for sale. The key is to focus on doing only renovations that add tangible value to the home, and to manage your budget effectively.
It doesn't have to cost an arm or a leg to create a property that will be attractive to potential buyers.