In this series, we'll be taking a closer look at some of the top software tools available to real estate investors today and how they compare to FlipScout, the free Flipster alternative.
One of the biggest essentials to becoming a successful real estate investor is to have access to a constant stream of property leads. If you plan to specialize in flipping houses, building up a network from which you can get access to properties no one else has can be extremely valuable. 
Fix and flip investors typically specialize in turning distressed homes into gems that are sought after by homebuyers. The problem is that these homes are rarely as easy to find online, and if they are actually listed the chances are high that you'll be dealing with endless competing offers. 
This is where Flipster comes in. In this review, we'll be evaluating the Flipster software package – created by Jerry Norton, a full-time real estate investor and coach. We'll also be taking a look at how it compares to FlipScout in terms of lead quality and more.
Flipster is, in essence, a search database for houses suitable for fix and flip projects and is made to help investors find potential properties with less legwork needed. This platform deals in a variety of real estate-type listings, and covers everything from distressed homes to MLS leads and more. 
This is how it works – the user types their preferred zip code into the search bar and they are shown results that include things like:
-Properties with absentee owners
-Properties with owners that are out of state
-High equity property leads
-Links to prospective property sellers
-MLS leads
-Craigslist leads
-Leads to pre-foreclosure properties
In other words, you gain access to leads that are particularly valuable if you plan to remodel and resell the property. Remember, for this type of investor the initial price is key to how much they can plan to earn from the property when they sell it. This means coming in under the market average can be highly beneficial, provided the home doesn't have any costly structural issues to deal with. 
Flipster leads are updated every day which means you get access to new properties faster than investors simply using Google or another unpaid search engine. Flipster also makes it easier to get the property's details if you want to pursue a potential property sale, including the owner's contact details such as email and phone number. 
This can save you money in the long run by cutting out the need to pay money for costly direct mail campaigns or software options. At the same time, it's important to bear in mind that these details are drawn from publicly available data and may not always be available or up to date. For off-the-market deals in particular, the contact details are no guarantee that you'll get the deal and you should be prepared to do a lot of searching here, regardless of what platform you are using. 
The other way that Flipster makes flipping houses easier is by putting you in touch with valuable resources for things like deal generators, contractor forecasts, and more. Using this platform you can do all this and the above for multiple properties at the same time which makes managing several deals simultaneously more accessible.
Next, we'll take a closer look at the pricing and what it will cost you to use Flipster.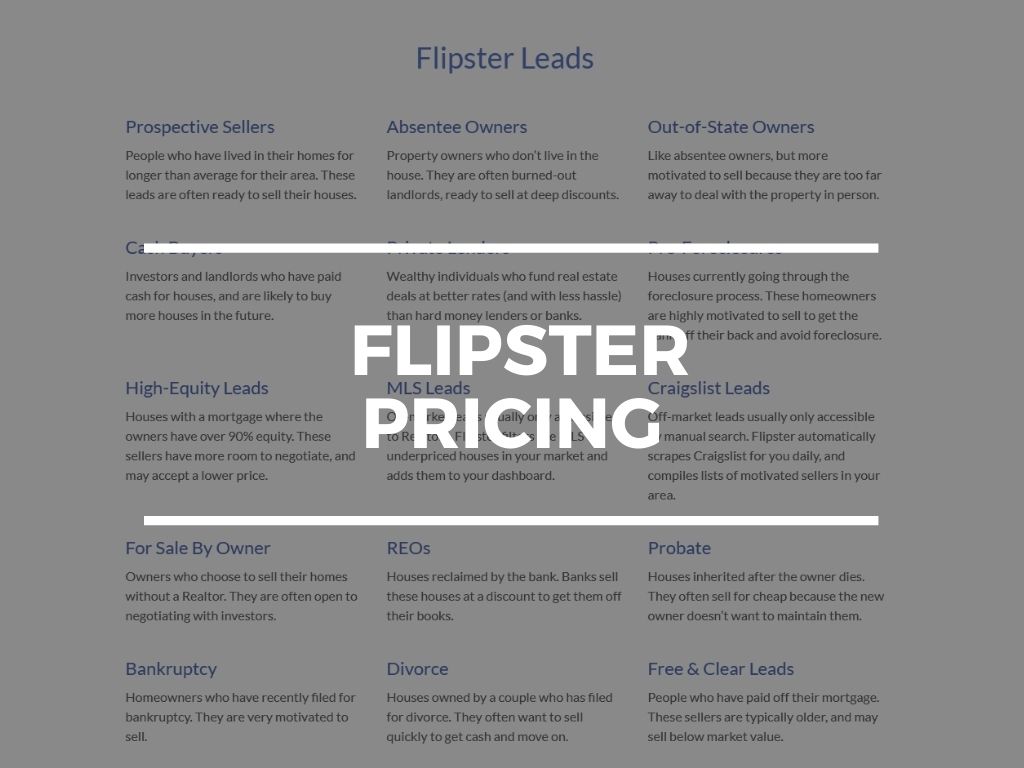 Flipster does come with a cost. There is a limited free trial which spans about two weeks, and thereafter you can expect to pay $97 a month for the basic package or more depending on the tier you select. 
The paid packages include things like access to the platform, seller leads lists and dashboards, property profiles, email marketing, offer generators and several other features.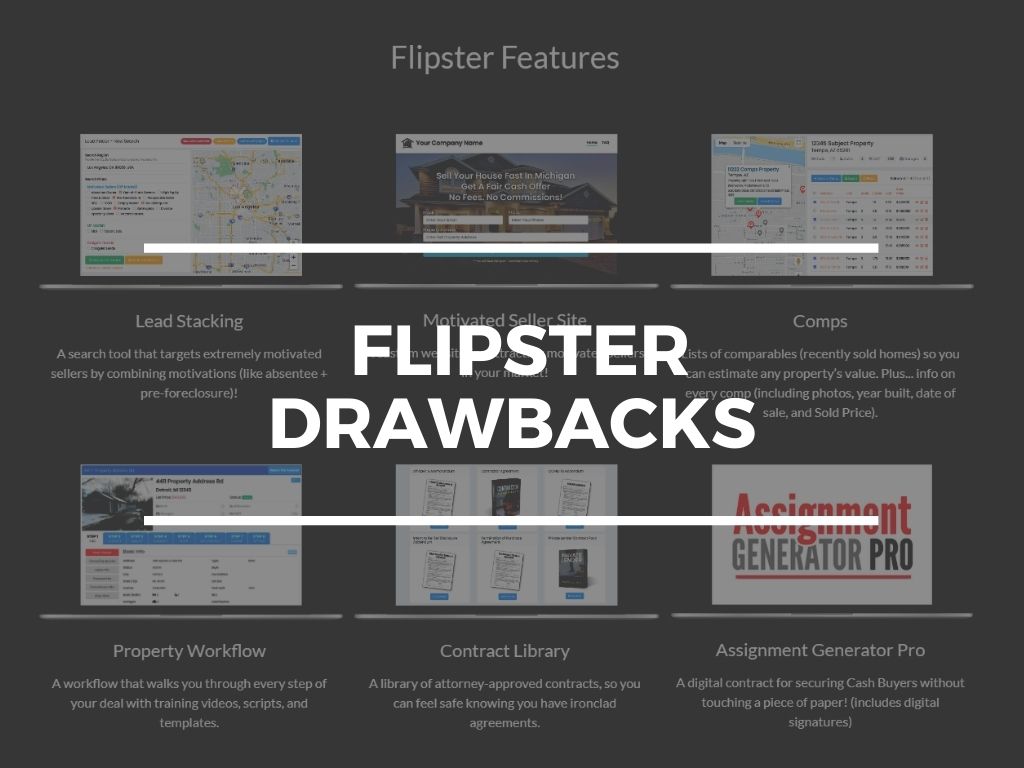 As all-encompassing as Flipster is, there are several drawbacks to be aware of. 
The first drawback is the cost. For a basic package to be close to $100 is quite expensive, and the number of features included can hinder just as much as they help. It's not uncommon for new users to feel confused by what is available and how to approach them, and it's safe to say they may not even use everything they are paying for. 
With Flipster drawing from the same publicly available data as many other platforms, it's curious that their price is so high in comparison. 
They offer marketing features as part of their paid packages, but there is a question surrounding how many conversions their marketing features actually lead to. 
Flipster Alternatives – FlipScout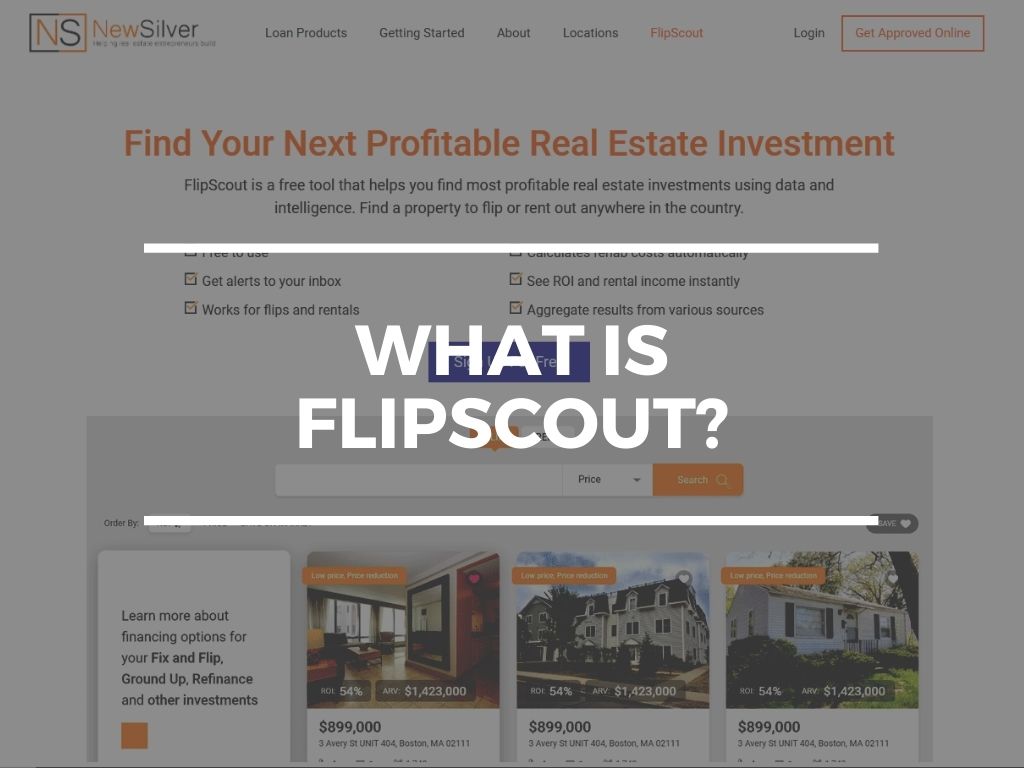 FlipScout is a free tool that lets real estate investors find properties that they could earn the highest return on. The tool is powered by New Silver, an established non-bank lender solving tough challenges for real estate investors specializing in fix and flips, buy and hold investments, and more. 
With FlipScout, users can search for real estate investment options in any city or zip code and find properties that are suited to their vertical. The tool goes further by displaying useful data on the property, allowing you to estimate repair cost and ROI, get access to key data, get alerts, and see the property in more detail. For house flippers, this will be a real game-changer in how they approach real estate deals.
New Silver's FlipScout tool uses intelligence in order to help find projects with the highest ROI. FlipScout makes use of an assortment of real estate data and intelligence, allowing you to find a property to flip or rent anywhere in the country, covering everything from foreclosures, auctions, and undervalued homes, to rental properties, land, and others.
What makes FlipScout unique other than the low-low price of free is the tie it has to the lending company New Silver. The lender enables you to instantly calculate the cost of financing and see how much return you can make directly from the FlipScout portal. Other elements of the tool enable you to estimate rehab costs automatically and see a variety of other financial information to help you choose the best investment for your needs. 
Flippers love distressed properties, and this is where FlipScout really shines. FlipScout offers 
 unparalleled access to properties that are in pre-foreclosure or other conditions that make them ideal for house flipping. 
At the same time, FlipScout is great for buy and hold investors too. FlipScout for rent helps long-term rental property investors track down great properties that can help them achieve financial independence with a steady monthly income.  The rent portal is also packed with useful data such as average rents, profitability, and other information that help you make the best decision. 
FlipScout features an email notification system that allows you to set up email alerts that will send properties that fit your saved search parameters directly to your inbox. 
The most convenient thing about FlipScout is how easy it is to get funding for a new property deal. Investors can apply for a loan online directly from the listing they are viewing and be put in touch with New Silver's loan consultants. 
New Silver offers 10-minute online loan approval, instant proof of funds letters, and industry-leading closing times, and has a variety of loan products available to help investors achieve their funding goals.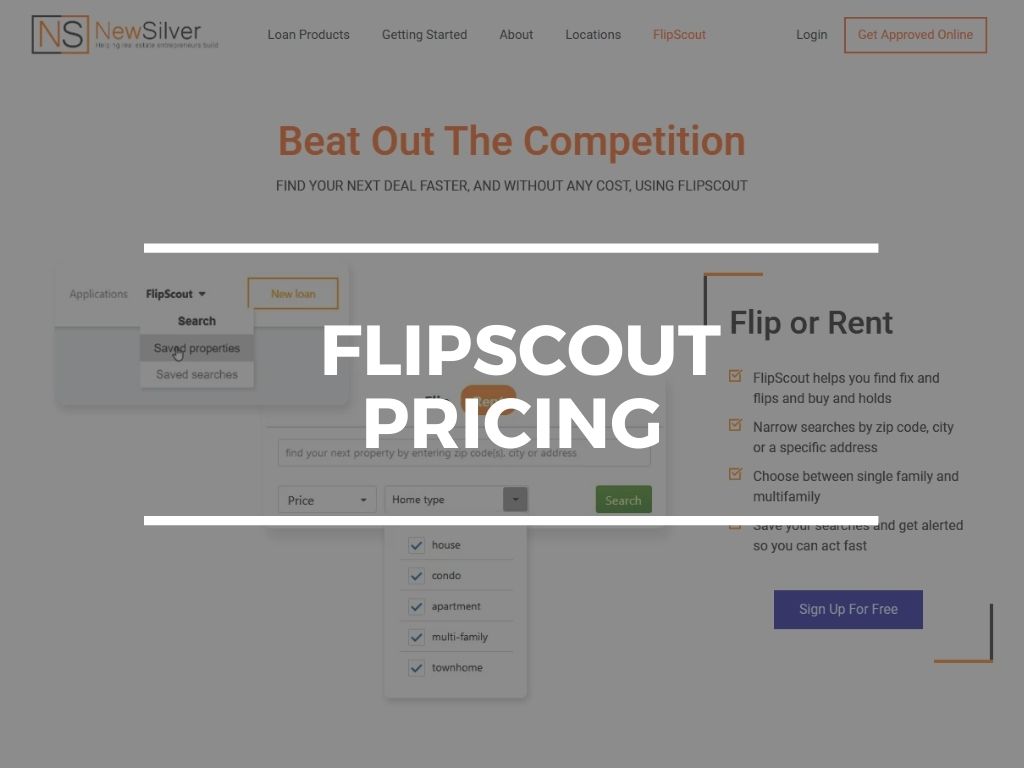 FlipScout is completely free to use – there are no upfront costs or hidden fees. All that is required is a simple email sign-up.  
FlipScout and Flipster cover many of the same bases, but Flipster might have a package that includes more features when compared side by side. The caveat is that those features do come at a cost. 
New Silver is not a SaaS company and so their tool is completely free to use and also much less overwhelming for complete beginners to use. 
While not necessarily a drawback, FlipScout might not be right for every type of real estate investor. This one is best suited to house flippers and long-term rental investors, but they do also cater to small balance commercial properties. 
Flipster may offer many features but it does so at a high cost which is not really justifiable as a new investor. Some of the features may not be as useful to every investor, which makes them feel like additional bloat you're paying for and not using. 
FlipScout may be slightly more limited but it's completely free, gets updated daily and is a better place for beginners to get started with their real estate investment journeys.