Top 3 Sites For Non-Accredited Investors
When it comes to real estate investments, the vast landscape of investing methods can be difficult to navigate for new and/or non accredited investors. There are various paths that a non accredited investor can go down, and choosing the correct one takes some time to research. Accredited investors may seem to have it easy, but there are non-accredited real estate investing websites that make it just as easy for non accredited investors to begin their journeys.
Real estate crowdfunding is one of the most popular real estate investment opportunities at the moment. This method is not only available to any investor (accredited or not), but it's so easy to do that investors can simply click a few buttons and begin their journey. It's as simple as signing up to real estate crowdfunding platforms, funding their account and then picking the deals they'd like to invest in.
3 of the top sites for non accredited investors are:
1. Fundrise
2. CrowdStreet
3. Roofstock
What Are Non-Accredited Investors?
Non accredited investors are individuals who have not been certified by the Securities and Exchange Commission (SEC) to invest in securities. This category includes anyone who does not meet accredited investor criteria such as earning a certain income or level of net worth, in the past two years, which means that a large majority of people fall into this category.
A non-accredited investor is typically someone who:
Is making less than $200,000 per year;
Is making less than $300,000 per year when combined with a spouse's income;
Has a net worth of less than $1 million (excluding the value of their primary residence).
Although a non accredited investor is allowed to invest, they are usually given different investment options due to the restrictions placed by the SEC on these types of investments. The SEC aims to protect people from over-committing themselves on investments that they can't afford. As such, there are various acts and regulations around what non accredited investors can invest in.
A non accredited investor therefore needs to research every potential investment thoroughly, in order to protect their finances and minimize any losses that may occur.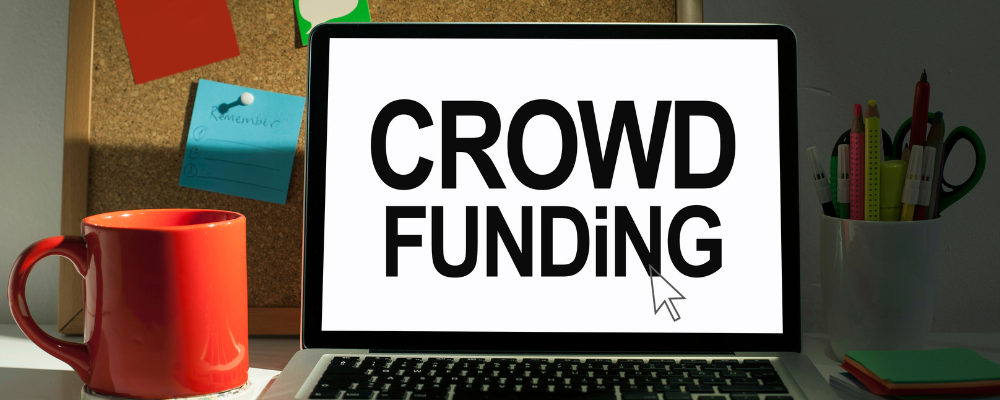 Full List of Non-Accredited Real Estate Investing Websites
Those who are starting out in real estate investing as non-accredited investors may be confused as to where to begin. Thankfully, there are a variety of real estate investing websites that offer these investors the opportunity to enter the world of real estate easily. Enter real estate crowdfunding, which has risen to popularity in the last few years as a vehicle for almost anyone to start investing in real estate.
Real estate crowdfunding platforms allow any investor the chance to invest in real estate without a large amount of capital, and without needing any accreditation. It works by investors pooling their assets through the platform, to invest in deals. Real estate companies don't need to register with the SEC to raise funding on crowdfunding platforms, which means that each real estate crowdfunding platform has rules that will protect investors. These rules will contain limitations for investors based on each deal's specific regulations.
Here are some of the best non-accredited real estate investing websites…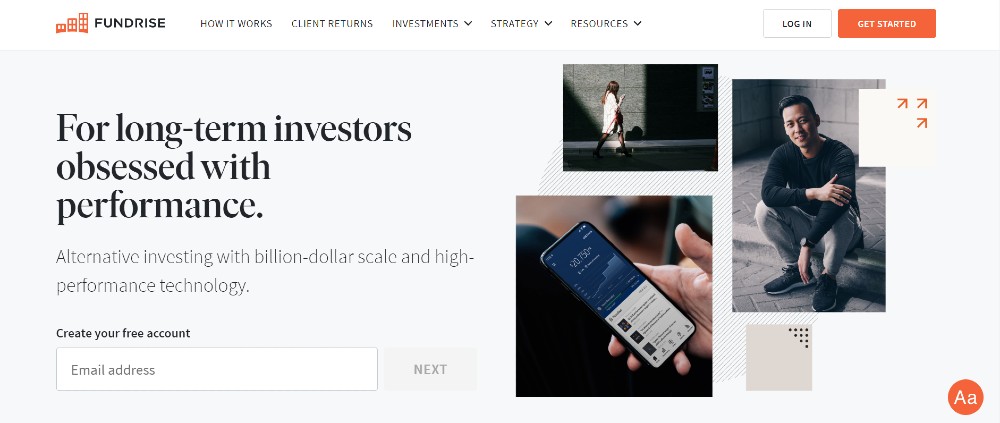 Fundrise is one of the most well-known real estate crowdfunding platforms that is suited to new investors. The platform offers various low-cost options for new investors, with fairly high ROI. The website has a $7+ billion investment portfolio, giving investors access to a vast number of private real estate deals. Fundrise offers the following strategies to investors; Fixed Income, Core Plus, Value Add or Opportunistic.
The main products that Fundrise offers are REITs (Real Estate Investment Trusts), which are investments in income generating real estate. Fundrise also offers 'eFunds' which are money pools that are used for buying land, building a property on it and then selling it for a profit. Fundrise's Flagship Fund is a popular choice because it offers more diversification and higher liquidity than the other funds.
$10 for Starter portfolio
Asset management fee: 0.85% 
eREITs, eFunds, Interval Fund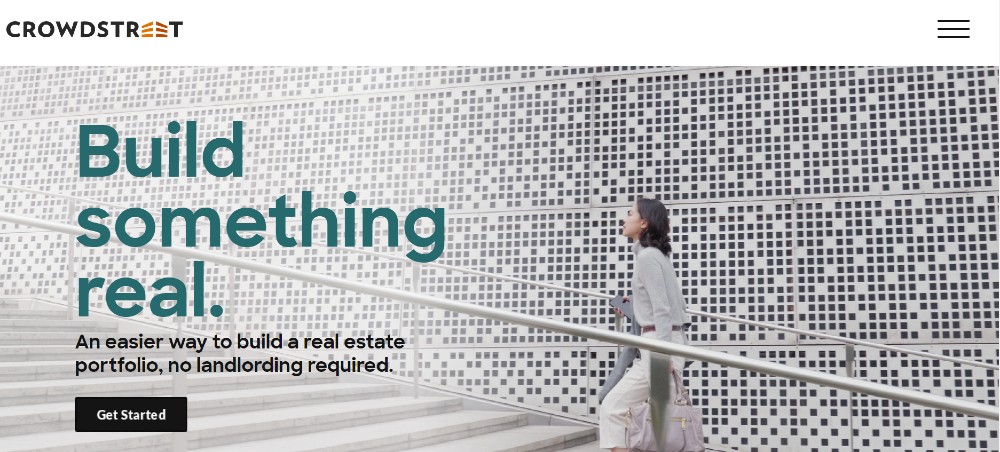 CrowdStreet is a real estate crowdfunding platform for both accredited and non accredited investors. The platform allows investors to add commercial real estate to their portfolio. This includes senior living, student housing, multifamily, medical offices, self-storage, industrial and build-to-rent properties. The platform has different offerings for non accredited investors who are interested in commercial real estate investing, and these have recently been added to the platform.
Non accredited investors can now invest in commercial real estate using either the Impact Housing REIT, or the Medalist Diversified REIT. Each REIT has a different minimum investment amount and may therefore suit different commercial real estate investors. The platform is geared towards longer term commercial real estate investing, so their investment period is typically a minimum of 5 years for the Impact Housing REIT and 7 years for the Medalist Diversified REIT.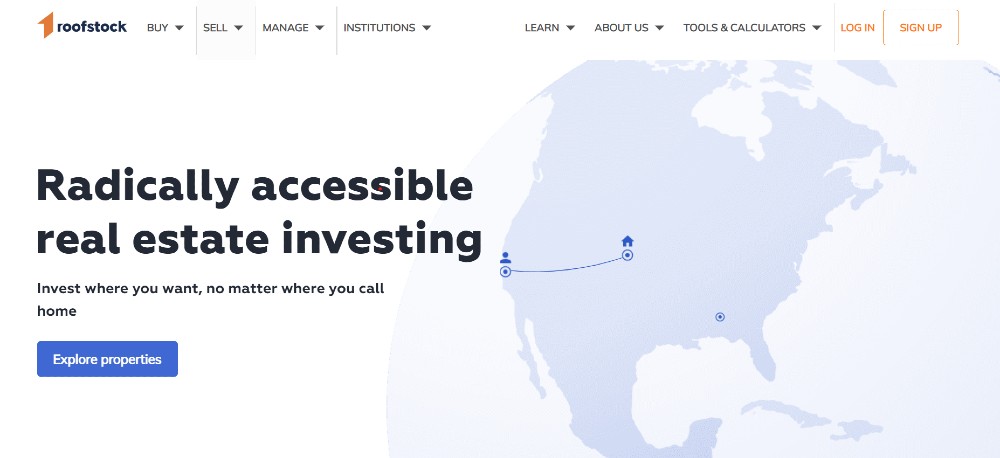 Roofstock is a popular online real estate marketplace that gives non accredited investors the chance to invest in single-family rental real estate. The platform gives investors access to over 70 markets and there are also investment options for passive investors, even though the platform is better suited to active investors. Roofstock allows investors to purchase properties by financing them or paying cash.
Roofstock is different to CrowdStreet and Fundrise in that investors are investing in an actual property and not a REIT. The platform offers users the chance to purchase investment properties outright, invest in portfolios or invest in property shares by purchasing fractions of a property. Roofstock also offers investors the option to use a retirement account, such as self-directed IRA, to invest in a property.
$0 ($5,000 for Roofstock One)
$500 or 0.5% of the contract price
Single-family rental properties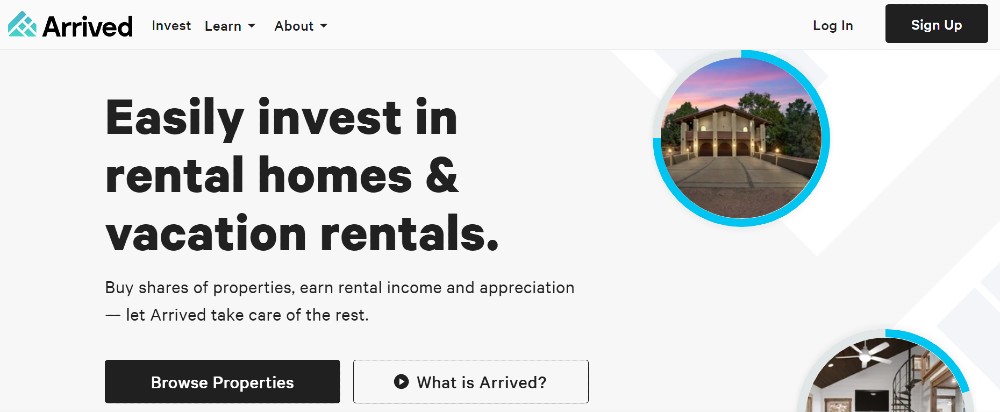 Arrived Homes is one of the popular real estate crowdfunding platforms that offers investors the chance to purchase shares of rental properties (single family homes). The platform itself manages the properties and the investors can buy shares of these properties, without having to purchase an entire house. Investors can generate passive income once they have invested in these shares, through the rental income generated from the property, as well as generate home price appreciation.  
Arrived Homes is an easy way for investors to dip their toes into the world of real estate investing, without needing a large amount of capital upfront. Anyone can invest, there are no restrictions for non accredited investors, and Arrived Homes assumes the responsibility for the houses so the investment is entirely passive.
Shares of rental properties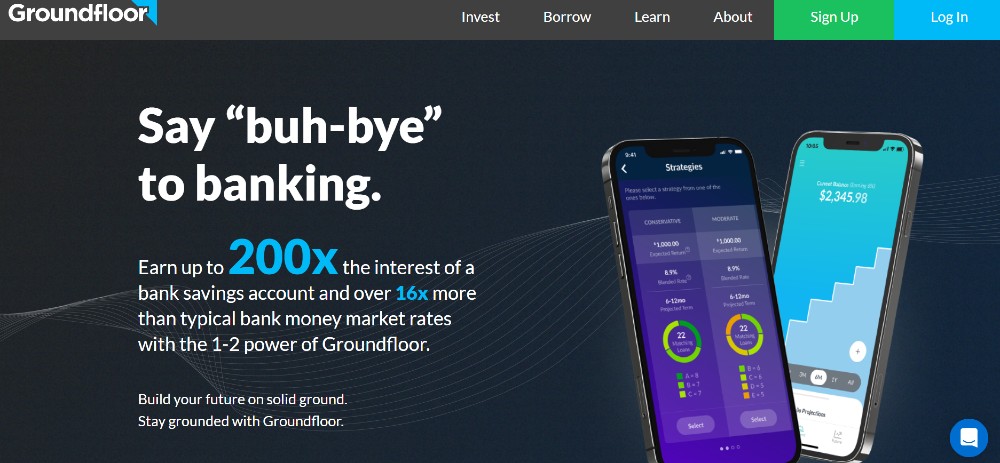 Groundfloor is another real estate crowdfunding platform that allows non accredited investors the opportunity to invest in real estate. This comes in the form of short-term loans (6 to 12 months) that are offered by Ground Floor on residential properties to real estate investors and home builders. These loans are then sold by Groundfloor to investors who are using the platform, as limited recourse obligation (LRO) which is a debt security. Investors can choose any loan available on the platform to invest in, with as little as $10.
Groundfloor offers two products, Stairs and Groundfloor. Investors have 45 days to invest in a loan once it is available. Investors are paid out once the borrower repays their loan, as the LRO is then repaid. Investors will receive interest on each loan repayment. The platform allows accredited and non accredited investors to automate their investing based on criteria that they decide upon.
Short-term real estate loans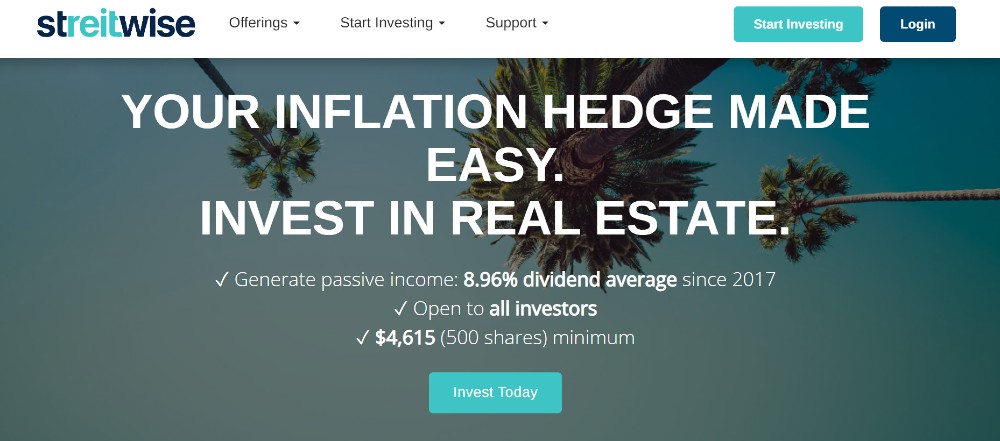 Streitwise offers non accredited investors a platform to invest in commercial real estate REITs. Streitwise purchases these commercial real estate assets with the view of generating steady cash flow from rental income for the long term. The main factor that sets Streitwise apart is that the REIT is managed entirely in-house and investors can invest directly in this. Investors of all wealth levels can use Streitwise to access their professionally-managed portfolio of commercial real estate assets.
The minimum investment for the REIT provided by Streetwise is $5,000. Investors are paid out either in quarterly dividends, once they have had funds invested for over 12 months, or in capital appreciation once the holding is sold. There are limitations for non accredited investors however, the most notable of these are that the non accredited investor cannot invest over 10% of the greater of their individual net worth or individual income.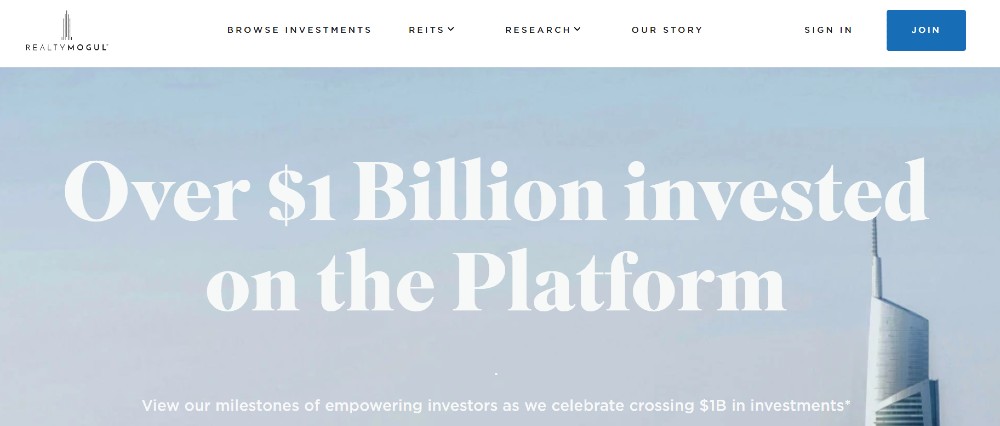 RealtyMogul offers two REITs to non accredited investors which are commercial property investments. These are the RealtyMogul Income REIT and RealtyMogul Growth REIT. Over $1 billion has been invested on the platform, and RealtyMogul allows users to browse through their options, invest and track the performance of the investments, all online.
RealtyMogul's Income REIT has a consecutive distribution period of 76 months and a total asset value of $354 million. The minimum investment is $5,000 and the annualized distribution rate is 6%. Distributions are done monthly and there are a range of property types available.
RealtyMogul's Growth REIT has a total asset value of $208 million with an annualized distribution rate of 4.5% and a minimum investment of $5,000. Distributions are made quarterly and multi-family properties are the property type on this REIT.
Diversified multi-family projects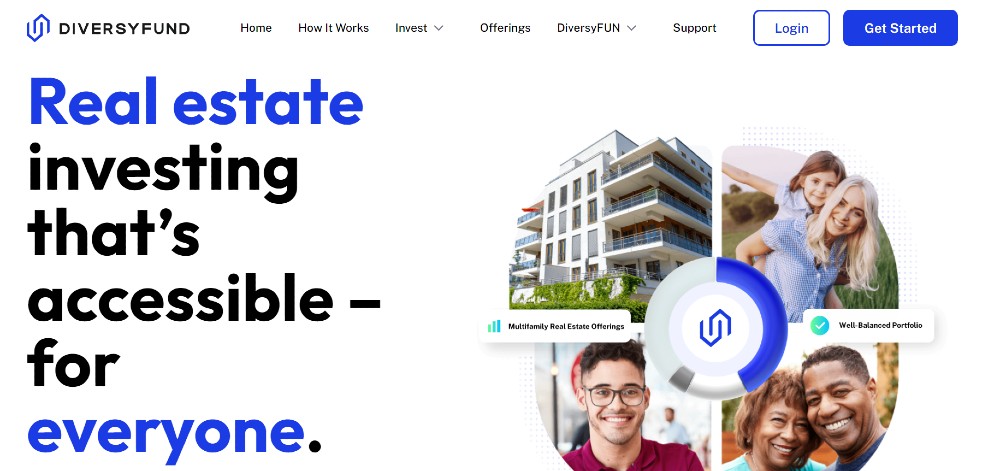 The Diversyfund platform provides non accredited investors the opportunity to invest in private market assets and for real estate, this comes in the form of multi-family properties. There are 12 multi-family assets available, with a current market value of around $175 million. Diversyfund has a 5-year minimum investment holding period, so for investors who need liquidity in their investment, this may not be the best option.
Diversyfund charges a 2% platform fee for asset management and profits are paid to investors once the properties are sold. In this payout, before the company receives any profits, investors will receive their principal amount along with a 7% preferred return. Diversyfund offers non accredited investors a transparent, low cost alternative to real estate investing.
Up to 12% of equity invested
Diversified multi-family projects
Tips For Succeeding As Non-Accredited Investor
Investors that aren't accredited can still be successful in real estate using a variety of methods. Real estate crowdfunding platforms and REITs are a good start, but a non accredited investor can also consider house hacking, joint venture partnerships, real estate syndications, private lending, fix and flips, BRRRR method, and buy and hold rentals.
As a new or non accredited investor, you have many options, the trick is to choose the right option to suit your investing goals and financial situation. Here are a few final tips:
Do your research: Make sure that you've considered each option carefully, and learn as much as you can about what it entails. Choosing an investing option that aligns with your investing goals is the most important factor for an accredited and non accredited investor.
Develop a detailed understanding of the local market: Getting your head around the ins and outs of your local real estate market is one of the best ways to become successful in real estate as a non accredited investor. This will allow you to spot a good real estate deal easily and be able to make better investing decisions.
Manage cash flows rather than aiming for high returns: At the outset, a non accredited investor may be drawn to the allure of high returns but it's better to focus on minimizing your risk. This means that cash flow should be your priority. Keeping a clear head and focusing on the right financial aspects will lead to better returns in the long run.
Investing in real estate, whether it be residential or commercial real estate investing, can be a challenging but rewarding endeavor. By carefully evaluating all of your options, you can find the best real estate investing website for your needs. It is important to remember that risks are involved with this type of investing, and due diligence should always be conducted before making any investment decision.
The good news is, however, that non accredited investors can easily get access to the investment opportunities presented by the real estate industry. If a non accredited investor takes the time to evaluate all aspects of the investment, uses available resources such as these websites, and practices prudent financial management principles, they have an excellent opportunity to achieve success in real estate investing.
The Securities and Exchange Commission (SEC) has certain regulations that investors need to meet, and often non accredited investors don't meet these. However, for those who do, there is an opportunity to invest in startups. Crowdfunding platforms now offer non accredited investors the chance to invest in equity of startups easily, by bypassing the SEC regulations and being able to invest with a low upfront capital amount.
Non accredited or unaccredited investors are those whose net worth or income is below a certain threshold determined by the SEC. In other words, non accredited investors have a total net worth of less than $1 million excluding the value of their primary residence, or they earn less than $200,000 annually ($300,000 if their spouse's income is included.