Selecting the right investment property loan is a crucial element of investment property financing and ultimately a successful investment. Investors must examine multiple options before making a commitment. Our review below provides insight into 8 of the best investment property loans by evaluating their pros, cons and other key factors.
3 of the best investment property loans are provided by these lenders:
New Silver Lending: A direct lender for real estate investors offering investment property loans in just 5 days, best suited to fix and flip projects.
Kiavi: A lender offering flexible investment property loan terms, and a variety of real estate loans for fix and flip, rental and more.
Rocket Mortgage: An experienced lender offering a mix of loan types to suit different needs, for investors who can cover their down payment.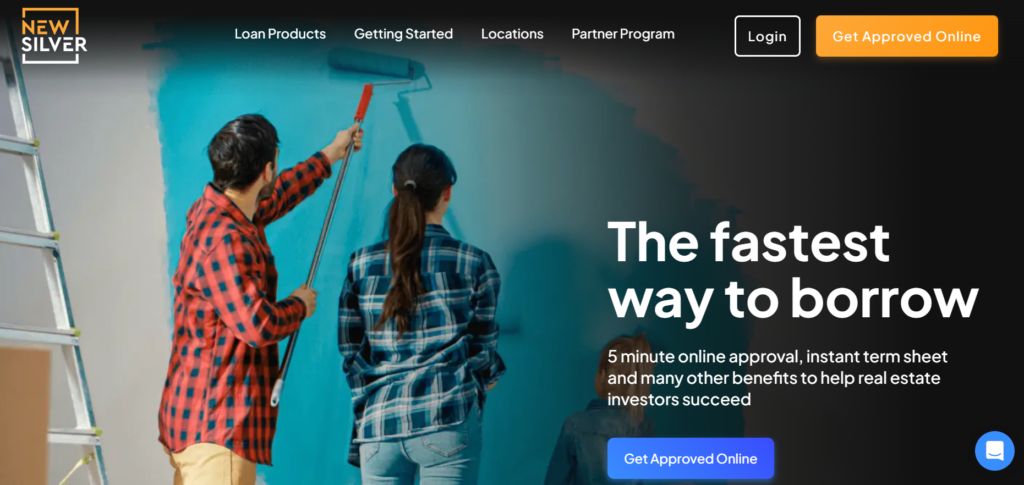 New Silver is a direct investment property lender for real estate investors, offering a variety of investment property loan options to suit different needs. These include fix and flip loans, rental property loans and ground up construction loans.
New Silver offers the fastest funding for investment property loans, with an online pre-approval time of just 5 minutes, and a full investment property loan approval time of 5 days. New Silver provides instant term sheets and proof of funds, which is a big plus for investors.
A down payment is required in many cases, however New Silver has access to a financial option to assist with this if need be. A minimum credit score of 650 is required for fix and flips loans, while rent loans require a minimum credit score of 680. New Silver has competitive interest rates, in line with other investment property lender options.
New Silver's fix and flip loans are one of the best investment property loans. Their fix and flip loans will cover the purchase and rehab of the property or allow for refinance and rehab coverage. A maximum fix and flip loan amount of $5million is on offer for fix and flip loans.
New Silver's rent loans are 30-year fixed investment property loans for stabilized properties. These loans are based on the property's ability to generate enough income to take care of the debt repayments each month. Borrowers can get access to a maximum of $2million, at a 30-year fixed rate.
New Silver's ground up construction loans are for residential builders, and these investment property loan terms are up to 24 months. Builders can get access to a maximum of $5million. However, to gain access to these loans, builders need to have completed 2 ground-up projects over the past 36 months to qualify.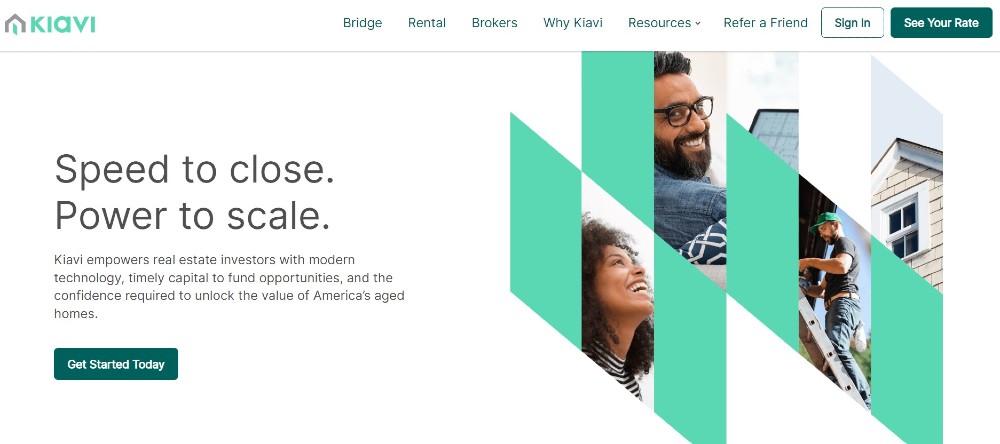 Kiavi offers various investment property loans, including fix and flip loans and rental loans. Kiavi offers rental loans where no tax or income documents are needed in the application. A rental loan with Kiavi includes flexible loan terms and is based on the cash flow of the property. These are also considered one of the best investment property loans.
Kiavi's rental loan product offers interest rates starting at 6.875% with an LTV of up to 75%. There is no pre-payment penalty after 3 years, for investors who wish to settle their debt quicker. There are 5/1 and 7/1 amortized loans available, and the properties that qualify for these loans include single-family, PUD's and 2-4 unit properties. These loans are 30-year fixed-rate loans with interest-only options available.
Kiavi's fix and flip loans offer short-term financing that covers both the property purchase and the rehab of investment properties. Borrowers can close these investment property loans in just 10 business days, which can allow them to compete with cash buyers. Kiavi's fix and flip loans have interest rates starting at 9.25%. They can cover up to 90% of the purchase price, with a down payment required.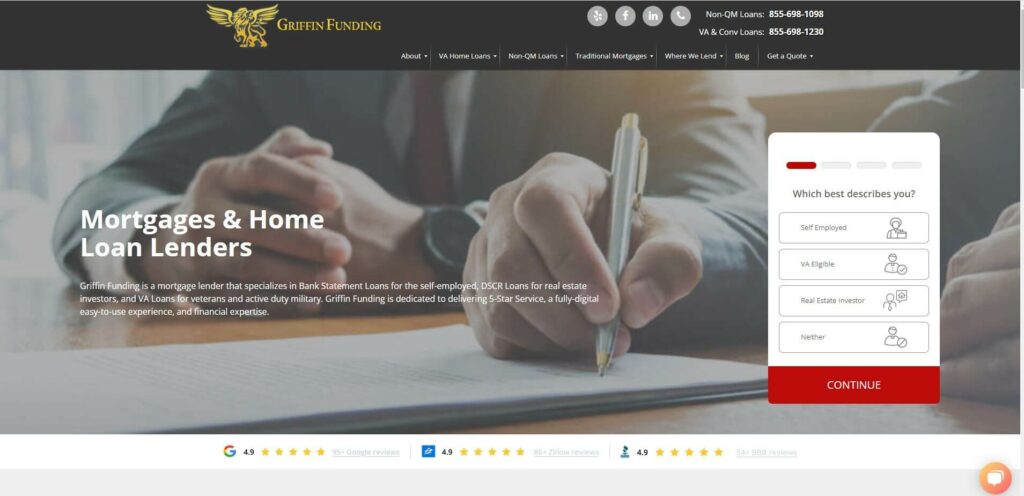 Griffin Funding operates countrywide in the US and provides various investment property loans including bank statement loans for the self-employed, VA home loans, traditional mortgages, asset-based loans and rental loans.
The bank statement loans offered by Griffin Funding are geared towards investors who are self-employed and therefore don't earn a regular monthly paycheck. In other words, these borrowers can use a bank statement to qualify for an investment property loan, instead of an income statement. These are non-qualified mortgage loans which require 12 months of bank statements to show regular deposits into the account.
Griffin Funding's rental loan is a type of non-QM investment property loan. The lender doesn't require any personal income verification or job history for qualification. Griffin Funding offers maximum loan amounts of $5million on these loans, with a 20% down payment. The lender also offers interest-only payments on these loans, and there are options available for those buying a property as an LLC.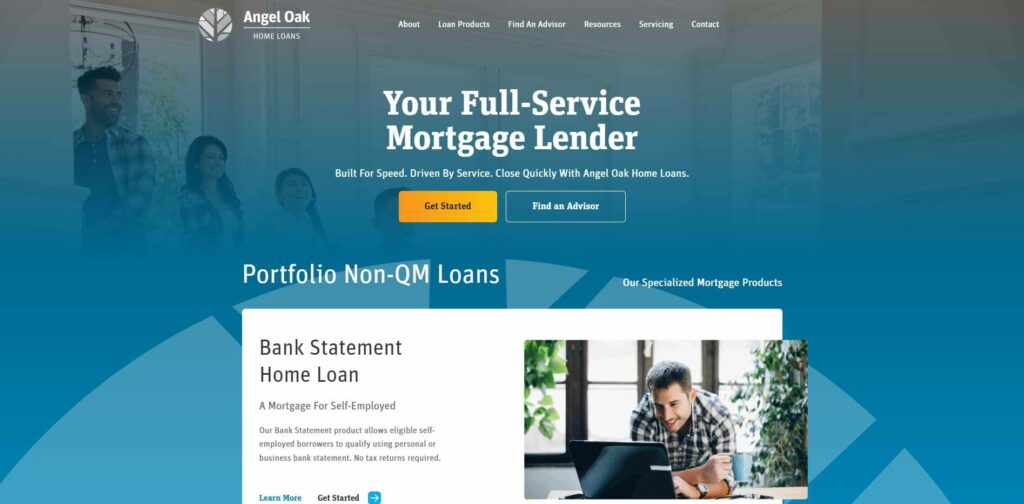 Angel Oak is a private lender that provides conventional and unconventional loans. Retail lending and direct lending are both available. The investment property loans on offer include bank statement home loans, investor cash flow loans, jumbo home loans and portfolio select home loans.
Angel Oak's investor cash flow loan is geared towards real estate investors who are looking for investment property loans of up to $1.5million. This is a 40-year fixed loan with interest-only options available. There is no limit to the number of properties, and no income or employment information is needed.
All interest rates are 30-year fixed and not adjustable, across every investment property loan. Angel Oak also offers bank statement loans which allow borrowers to qualify based on their bank statements, instead of income. These are for borrowers with a minimum credit score of 660, and loan terms are 12 or 24 months.
Angel Oak also offers loans for those using business bank statements, 1099 income loans, platinum jumbo loans, portfolio loans, ITIN mortgage loans, asset qualifier loans and loans for foreign nationals.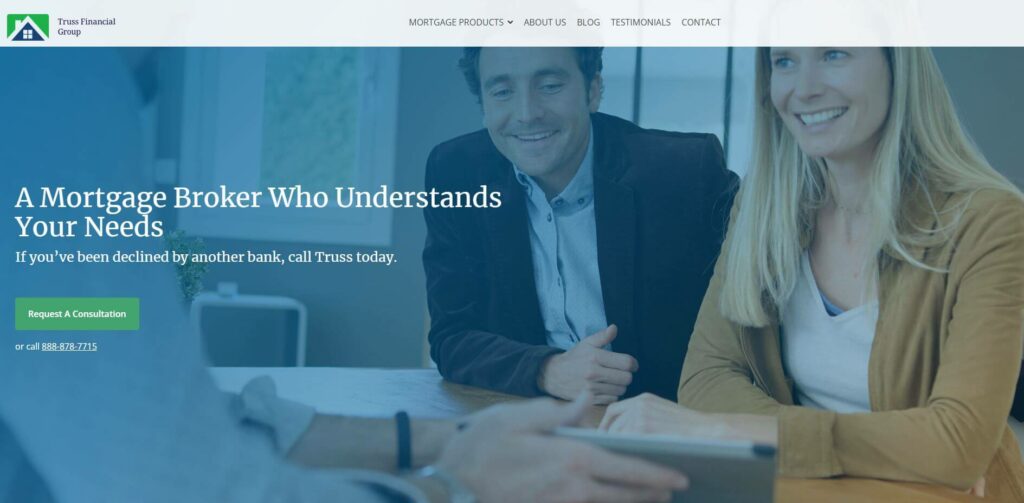 Truss Financial Group offer a variety of mortgage products including fix and flip loans, bank statement mortgages, jumbo reverse mortgages, self-employed mortgages, bridge loans, no doc mortgages and more. The group states that they will tailor their investment property loans to each real estate investor.
Truss Financial Group specializes in stated income mortgages, which means that they work with each lender to get them qualified, based on what they have. Entrepreneurs and those who are self-employed often use Truss as they cater to their needs well. Truss also aims to help those who have been declined by banks and other traditional lenders.
Truss works with non-traditional banks and financial funds to offer loans such as stated income loans, even on a primary residence. No mortgage documents are required, and no income verification will need to be done on investment property loans.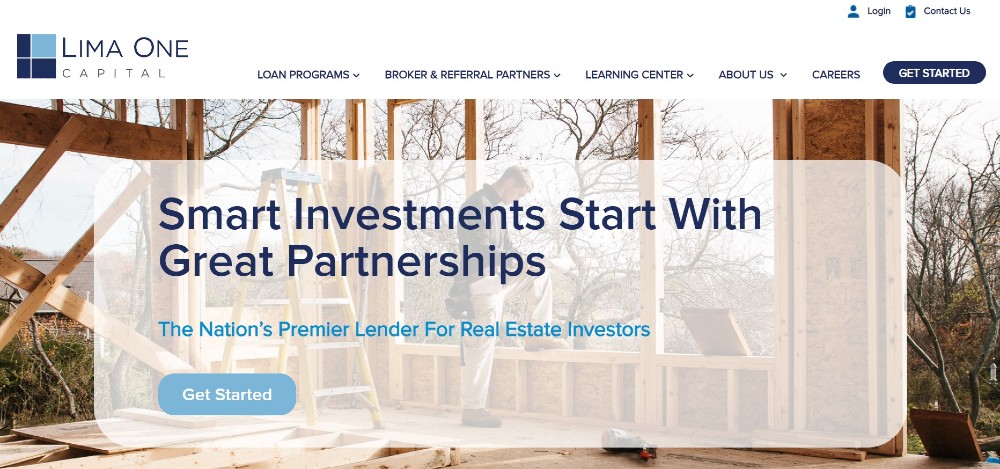 Lima One Capital is a private lender that allows real estate investors to work with the in-house team of experts the entire way through the investment property loan, without third parties getting involved. Lima One Capital offers a variety of rental loans, fix and flip loans, construction loans and multi-family loans.
The rental loans on offer are based on the rental property's income. There are single property loans, portfolio loans and short-term rental loans offered. These loans can be structured as fixed-rate, ARM, interest-only, fully amortized or balloon. There are 5, 10 and 30-year options available, to suit different investor needs.
Lima One's fix and flip loan category also includes bridge loans and fix to rent loans. Their fix and flip loans begin at $75,000 and are capped at $3million. Interest-only payments are available, and the loan terms are 13, 19 and 24 months.
The construction loans offered by Lima One are for new construction projects or build-to-rent projects. The new construction loans are aimed at builders with shovel-ready lots or tear-down projects. Up to 85% LTC is offered, along with 70% LTV. Loans begin at $100,000 and the maximum amount that can be borrowed is $3 million. Loan terms on offer are 13, 19 and 24 months.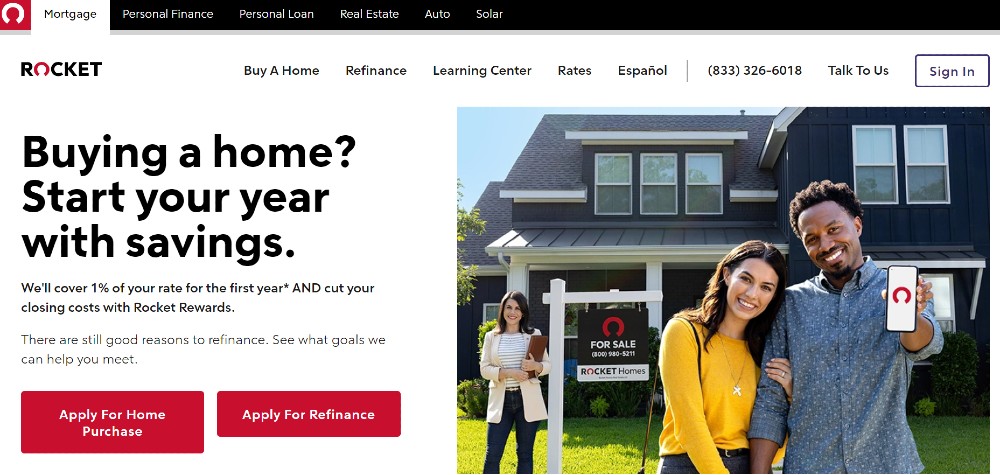 Rocket Mortgage offers investors the experience of 35 years in the real estate and mortgage industry. Rocket Mortgage offers a mix of investment property loan types, including fixed-rate and adjustable-rate mortgages. Typically, the lender requires a minimum credit score of 620 and a down payment of 20% of the investment property purchase price.
Rocket Mortgage offers investors a fully digital process, and access to FHA and VA loans as well. The platform also has a mortgage calculator which helps investors work out what they can afford to invest. Some of the downsides to Rocket Mortgage is that they don't have a HELOC loan and they have higher interest rates and APR than some other investment property lenders.
As such, Rocket Mortgage is the right platform for real estate investors who have a good credit score and the funds available to put down 20% of the purchase price. For those who have already built equity in a property, Rocket Mortgage also offers refinancing options. This allows investors to leverage their equity to purchase another property.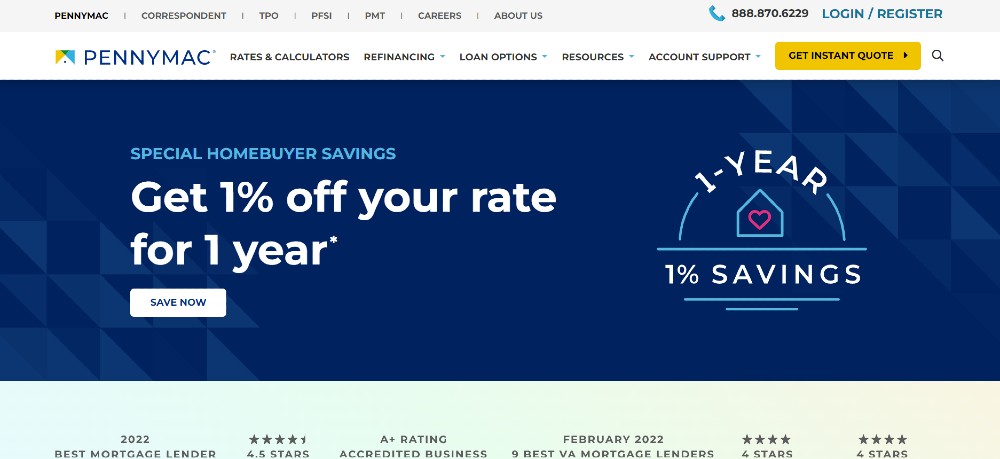 Another investment property lender geared towards investors who have a good credit score is PennyMac. This lender provides some of the best investment property loans to be used for buying investment properties and refinancing properties. However, PennyMac doesn't offer a HELOC option, so for rental property investors who already have equity in a property, their options are limited.
Like most other lenders, PennyMac offers a variety of loans with different interest rates and terms for various investment properties. For certain borrowers, they also offer FHA loans and VA loans. The minimum credit score required by PennyMac is 620, but borrowers are better off aiming for a credit score of 680.
PennyMac requires a 15% down payment on single-family homes, while multi-family homes may require a down payment of 25%. The downside is that a 25% down payment is higher than many other lenders, and the recommended credit score is higher as well.
Final Tips For Buying Your First Rental Property
When buying your first rental property, it's important to make informed decisions to get the most out of your investment. Here are three tips to consider:
1. Choose the Right Location
The location of your rental property plays a crucial role in its long-term success. Look for areas with strong rental demand and growth potential. Consider factors such as proximity to amenities, job opportunities, transportation, and desirable neighborhoods. Analyze local rental market trends, vacancy rates, and rental prices to ensure that you choose a location that will attract reliable tenants and provide good returns.
2. Analyze the Financials Carefully
Before purchasing a rental property, thoroughly evaluate its financial aspects. Calculate the potential rental income and compare it with the property's purchase price, ongoing expenses and expected vacancy rates. Conduct a thorough inspection to identify any repair or renovation costs.
Additionally, consider factors like property management fees if you plan to hire a property manager, the down payment that is required by the lender, along with the investment property loan amount and interest rates. By carefully analyzing the financials, you can assess the property's profitability and make an informed investment decision.
3. Build a Reliable Support Team
As a first-time rental property owner, having a reliable support team is invaluable. Seek out professionals who can assist you throughout the process, such as real estate agents, attorneys, accountants, and property managers. They can provide guidance, expertise, and help you navigate legal and financial aspects. Additionally, consider joining local real estate investor groups or online communities to connect with experienced investors who can share their knowledge and insights.
It's important to remember that buying a rental property is a significant investment, so thorough research, careful financial analysis, and a strong support system are key to purchasing successful investment properties. Now that you have an idea of the best investment property loans, you should be able to make more informed decisions.
Federal Housing Administration (FHA) loans are not intended for investment property purchases and cannot be used for this. They are designed for owner-occupied properties, meaning they are intended for people who will live in the property as their primary residence.
FHA loans are geared towards helping people who are buying a home for the first time, or people who have a low credit score and cannot qualify for traditional loans. Borrowers need to use the property as their primary residence for a specific time period, so it stands to reason that these cannot be investment properties.
Yes, investors can use traditional loans for their investment property financing, that includes buying rental properties. The investment property loans offered by traditional lenders often require a down payment of 20-25% of the purchase price, with certain income and debt to income ratio criteria, as well as rental income projections.
To note, the debt to income ratio looks at someone's income, in relation to the debt they owe and if it will be enough to cover it. Interest rates on these loans may be significantly higher than primary residence mortgages. Interest rates will vary largely between lenders, however, so it's worth comparing lenders.