As a real estate investor, having a concrete understanding of property value is absolutely crucial. This type of information will help you to decide whether refinancing, renovating, or selling the home will be the best course of action to maximize your profitability. In this guide, we take a detailed look at some of the most accurate home value estimator tools currently available.
Best Online Home Value Estimators
Many investors today make use of home value estimator tools to help them puzzle out exactly what their property is worth. Doing so without help can be difficult to do. That's why we've put together this full guide to home value estimator tools online – which ones are most accurate, most trustworthy, and most likely to help the investor to succeed when investing.
Before we talk about the tools, however, we need to talk about what they measure and why. How is the home value determined, and what are these tools taking into account when showing you the home's value? Let's start with a closer look at the factors that influence a home value estimate.
What Determines Home Value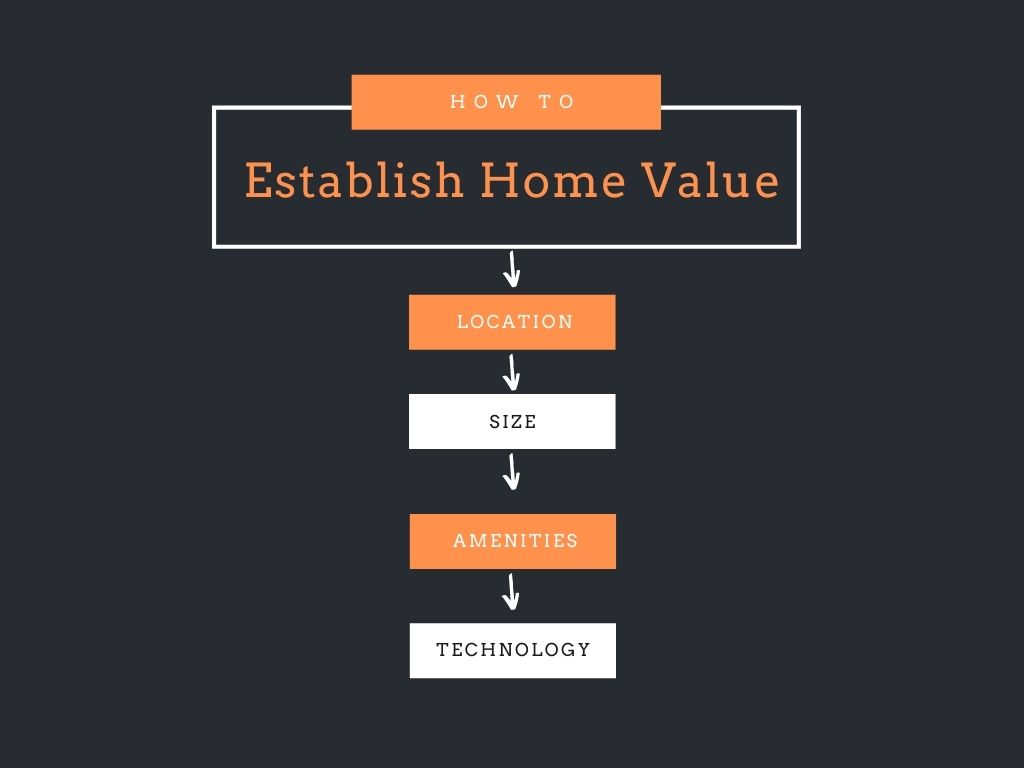 Real estate experts will often say that accurate home value estimation is an art, which is why it can be so difficult to determine by yourself. Still, there are certain characteristics a home has that can add to or detract from its overall value, and this is where you need to focus your efforts.
The first is the old real estate classic, location. Where the property is located will have a major impact on the asking price you can set for it. Every street will have its own target market, which will also affect how the price range for the property is structured. As the old adage goes, it's best to buy the worst house on the best street, and this is why. Having a property in a sought-after location means it's more likely to sell quickly, and the buyer will be willing to pay a higher price in order to secure a home in close proximity to local amenities.
Next, there is the question of size. The size of the home will also have a determining effect on the value. The bigger the home, the higher the asking price will be. This doesn't just apply to the interior of the home, but the exterior too. With more people working and living from home than ever before, yard space has become highly valued. Space will, of course, be further affected by the location you buy into and be relative to the norm for that area.
Building on the size of the home, the number of rooms and amenities it offers will have another significant impact on how the property is valued. The number of bedrooms versus bathrooms, and a garage are some of the big-ticket items, but other features like outdoor entertainment options and work-from-home spaces rapidly gaining in popularity. Still, there are some limitations – buyers rarely look for a home with more than four bedrooms.
You'll also want to pay attention to the flow of the building. Open-plan living has been popular in the past few years, but with more people working and teaching from home, sectioned living is going to be increasingly in-demand.
The last thing that is now playing a growing role in the home-valuing process is technology. The idea of the "smart home" has taken off, and homes that are tech-enabled can capture a higher asking price. This means options like solar heating, eco-friendly grey-water systems, smart lights, and other IoT-based features will score highly with buyers.
All of these different factors will together dictate what the property should be valued at, especially when compared to other similar homes in the same area.
The Problem With The "Old-Fashioned" Way
Calculating the value of your property as a less experienced investor can be a real challenge. Doing so without using additional tools takes years to refine and is an art that many experts still struggle with. Not only is there a high barrier to entry, but doing things the "old-fashioned" way also comes with some drawbacks.
The needs of the market are rapidly changing in the face of the pandemic. Some of the things that add to the value of the home now may not have factored into property values in the past. That's why working with a home value estimator is a better option today. These tools are made to be constantly evolving, taking new things into account in order to be the latest and greatest on the market.
Still, not all home value estimators are built alike, and you want to take care to choose one that is as accurate as possible and has good reviews from other investors. Let's take a closer look at the best home value estimators being used right now:
Best Overall: HomeLight's Home Value Estimator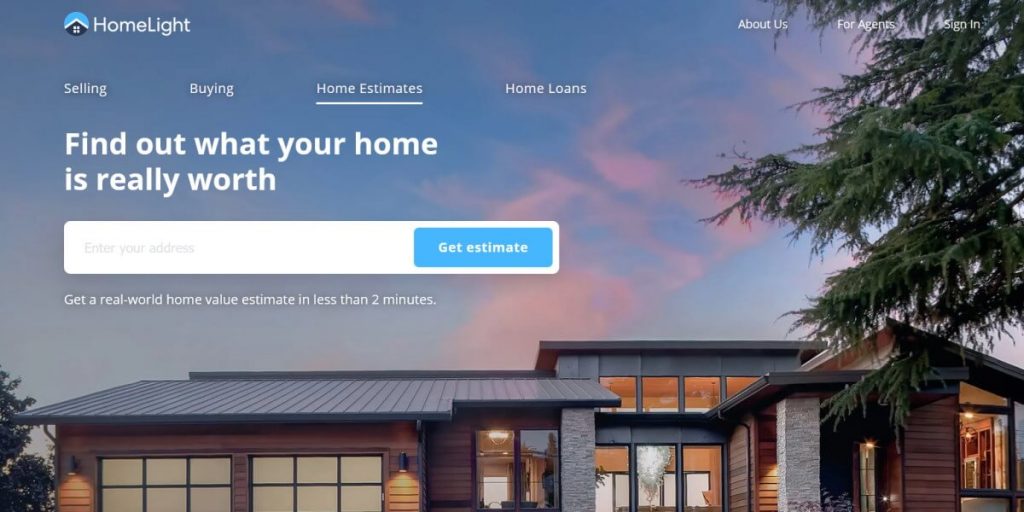 Unlike other home value estimator tools, HomeLight adds a human element and offers real-time data from local real estate agents who can physically view the property, are familiar with listing similar homes, know the neighborhoods, understand what's trending, and can call out unique characteristics of a property.
Here's a walkthrough of how the HomeLight Home Value Estimator is able to give accurate results in real time:
HomeLight prompts homeowners to share details about their home's qualitative and quantitative features, resulting in a more accurate valuation
In addition to pulling values with a sophisticated algorithm, HomeLight pings their network of buyer-investors to make a real offer on a house, which gives a crystal-clear idea of current market interest in their specific home
HomeLight also uses cutting-edge geolocation technology to identify the best comps for every specific house
It is important to note that in order to use HomeLight's tool, you need to answer a few basic questions about your property. This adds an additional layer of detail which most value predicting tools completely ignore. In so doing, the HomeLight estimator effectively overcomes one of the biggest weaknesses of most other online tools.
All-in-all, HomeLight's Value Estimator is a solid and reliable resource. It might take slightly longer than some of the other options available, but the built-in questionnaire also increases the accuracy of the prediction. If you have two minutes to spare, it's definitely worth using.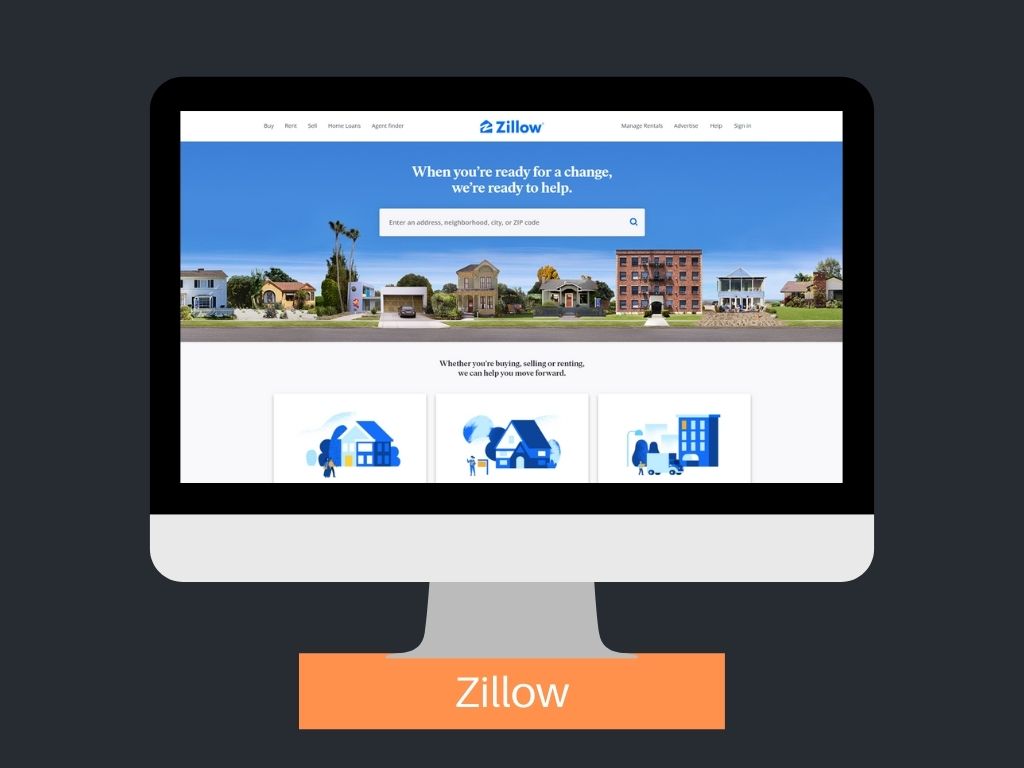 Since launching in the early 2000s, Zillow has quickly grown to become one of the top home value estimator websites in the US. The website has one of the largest property databases in the country, and as a result, it can provide investors with a range of home-comparing and valuing tools.
Commonly known as their Zestimating tool, Zillow allows you to enter a home address and see how much comparable properties sold for in the same area, changes to that value logged in the last 30 days, and predictions of how the property value will change over the next year. Because data on Zillow is updated daily, there is a relatively small margin for errors when it comes to on-the-market homes.
As for off-the-market homes, there is a higher margin for error on Zillow. This is because Zillow makes use of publicly available data, of which there will be more if the property has been formally listed as "for sale".
The Most Detailed: Ownerly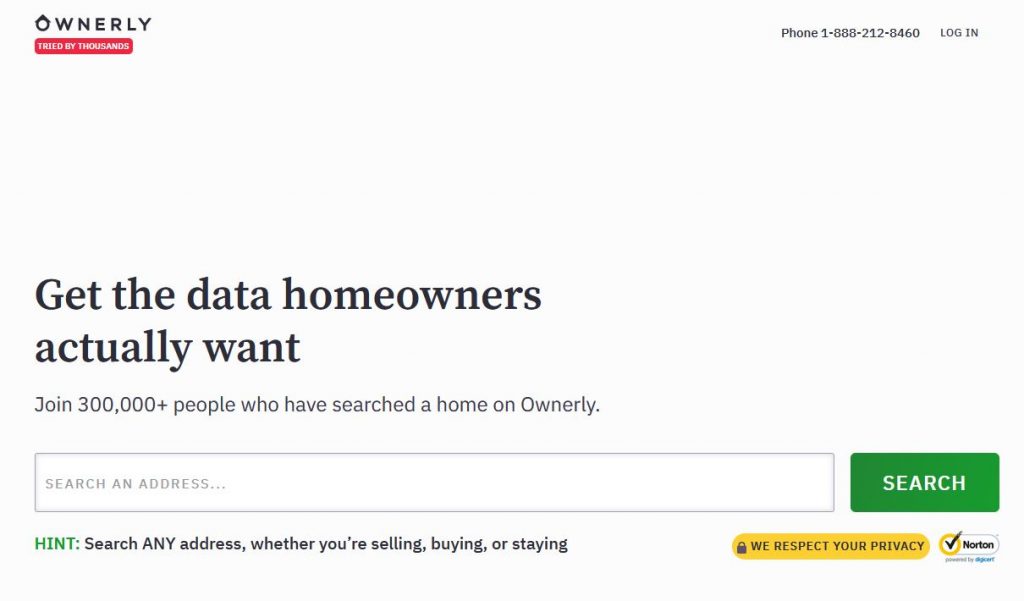 Ownerly is another excellent home value estimator, but the features of this premium tool don't end there. In addition to providing accurate home valuations based on the same automated models that banks use, you also get access to important neighborhood data drawn from the house that you are researching. This includes access to comps, and other valuable real estate analytics that can help you make an investment decision.
In addition to a sophisticated home value estimator, Ownerly also provides data on:
Mortgage rates for refinancing
Typical renovations for comparable properties
Homeowners insurance policies and average premiums
All-in-all, Ownerly is a very solid choice if you need accurate pricing data. The only drawback is that it is premium software, meaning you have to pay in order to access all the best features.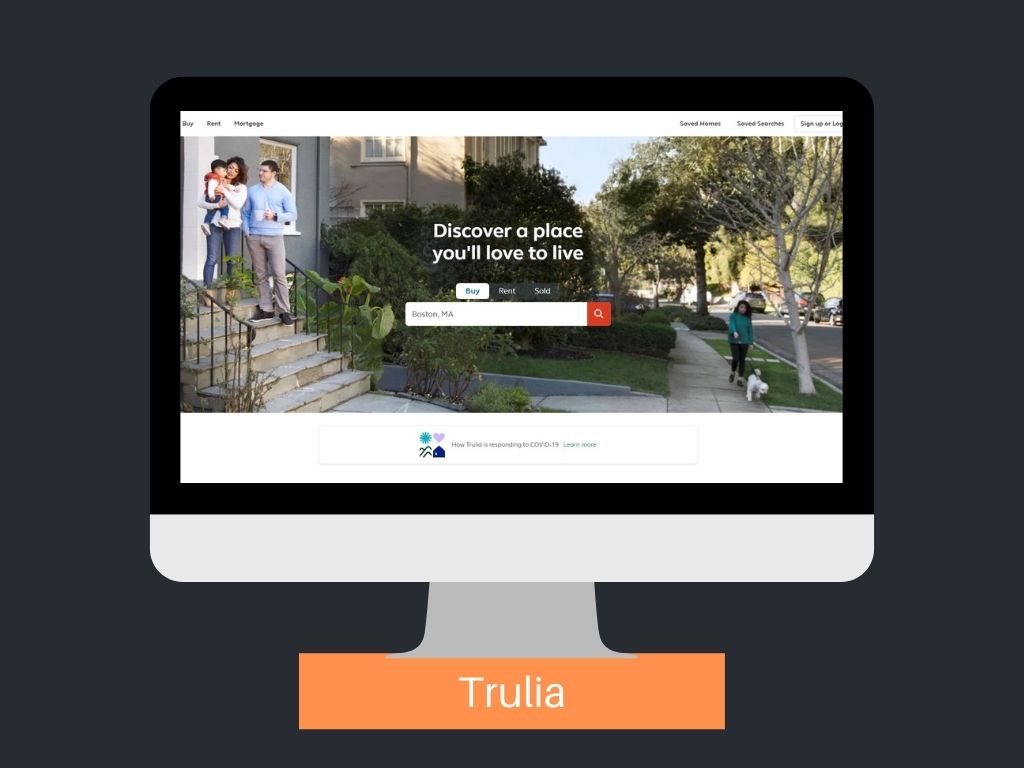 Now part of the bigger Zillow brand, Trulia has been named one of the best options for investors looking to use a mobile app. Unlike other real estate-based mobile applications, Trulia has gained a reputation for being user-friendly while still offering all the great features provided by Zillow.
This means that using your smartphone, you can easily identify home price trends, comparable home values, and much more. On the other hand, you won't get a definitive estimate directly through the Trulia app. Still, being able to view comparable prices and trends in a flash is useful if you're evaluating properties while on the go.
Trulia can also prove useful if you're planning to do more research about a neighborhood. Using the app you can check out their neighborhood map to determine where the nearest schools are, review tips from locals, and even view the neighborhood through a virtual tour. This can be hugely helpful to determine how valuable the location of a property is.
The Most Accurate Home Value Estimator: Redfin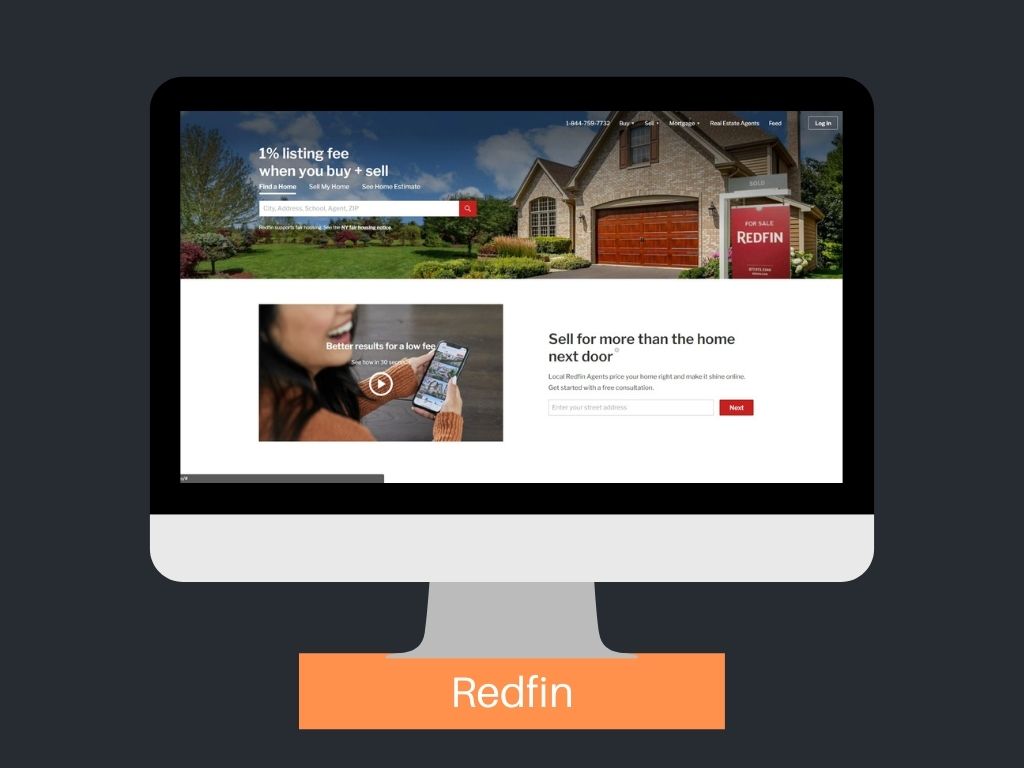 Redfin has put forward one of the most accurate home value estimators on the market right now. Powered by the real estate brokerage, the Redfin estimate provides data on home prices and estimates more accurately than other options out there due to how it handles data updating.
Redfin updates its website and app data every 5 minutes using data gained from MLS databases and other publicly available sources. Quick access to MLS data gives them a lower margin of error on home valuations, making it even more accurate than the Zillow estimate. Like other home valuation tools, Redfin uses the property address to offer an estimate of the current market value, and further estimates as to what the property will be worth in the next five years.
Ultimately, it is Redfin's direct access to MLS data combined with excellent predictive capabilities that make it arguably the best online home value estimator.
Free & Easy To Use Online Valuation Tool: FlipScout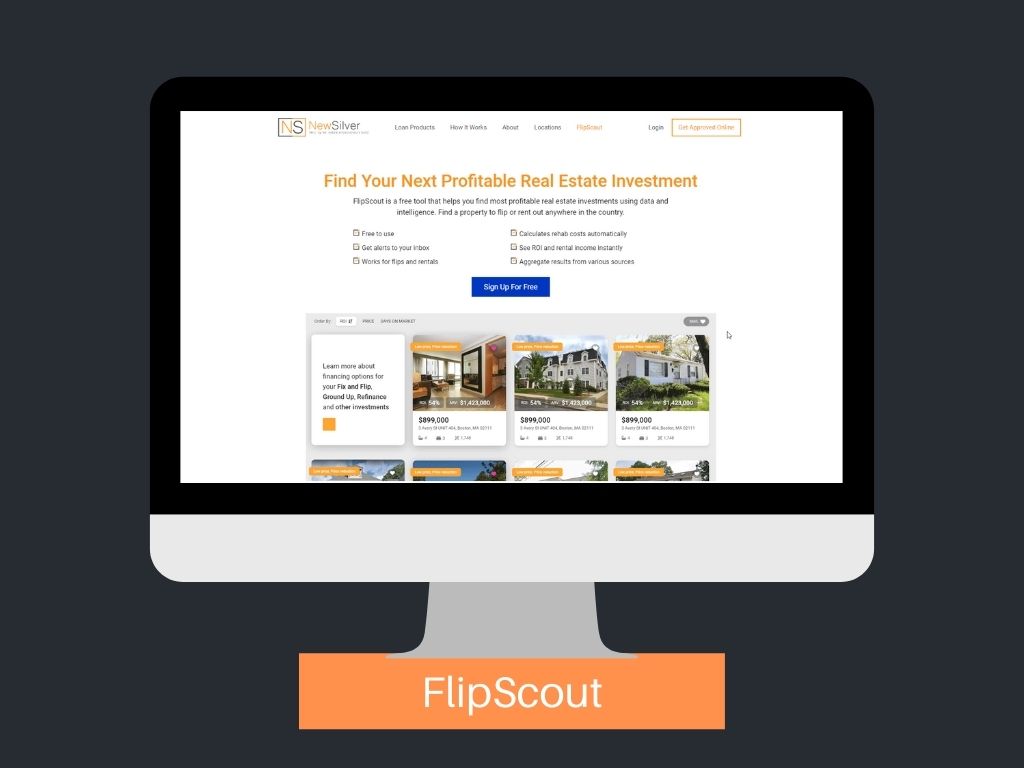 FlipScout may be one of the newer additions to the list of home value estimators, but its unique features cannot be underestimated.
Made by the loan company New Silver, FlipScout was built specifically to find undervalued or pre-foreclosure flip properties. This free tool makes use of publicly available data and other intelligence options to help investors locate distressed homes with high potential for house flipping.
The company has recently also launched FlipScout for Rent, allowing buy-and-hold investors to find rental properties with the potential to make a good ROI. The FlipScout portal allows you to calculate rehab costs, see the estimated rental income, and much more for properties around the country.
Another great feature of FlipScout is its email alert system. If you can't find a property suitable to your specifications, you can set up search parameters that will notify you by email when the right one is listed.
With their easy funding option available directly in the search portal, you can secure funding for an opportunity in a flash and ensure you can close the deal quickly.
The Realtor Preference: Realtor.com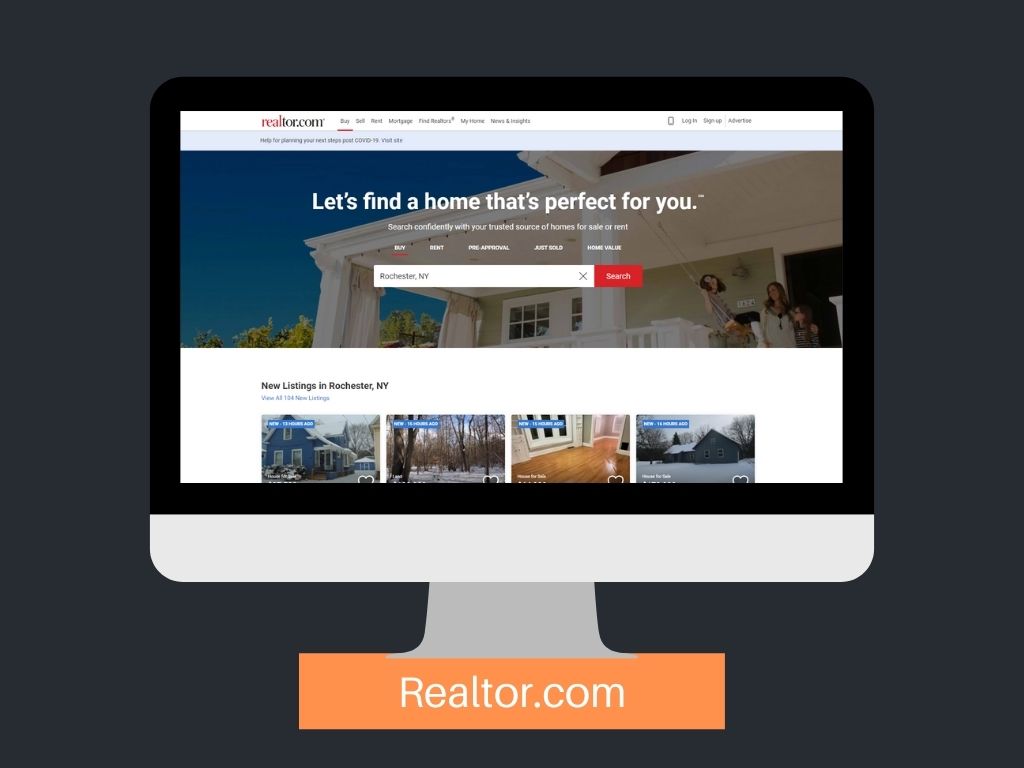 Mainly used by real estate agents across the country, Realtor.com has a built-in home value estimator tool that draws from the information commonly given to realtors themselves through limited-access property databases.
Forming part of the National Association of Realtors, Realtor.com has an estimator tool linked to the "My Home" section of the website. Consisting mainly of MLS properties, estimations are updated every fifteen minutes.
What makes this tool a little different from the others on the list is how each home value estimate is determined. Realtor.com provides three different estimates sourced from varied real estate or financial institutions, estimates for the upcoming month, and other data like neighborhood trends and prices. This gives you a closer idea of how different features will be valued.
Another useful feature allows you to review the estimated value increase per upgraded room if you were considering doing some renovations prior to selling.
Home value estimator tools are a reliable and current way to determine the fair market value of your investment property. The tools listed in this article cover a variety of niches within the real estate sector and can help you make better investment decisions.
At the same time, it's useful to know what factors these tools take into consideration when providing a home value estimate. Many of these factors will always be influential in setting asking prices, such as the location and size of the property.
On the other hand, some of these factors have only become prominent in the past few years. It pays to stay ahead of the trends, and you should not shy away from using more than one of the tools above when evaluating a property.
Are recent sales factored into the best home value estimator tools?
In a word, YES. Comparable sales form the backbone of any automated valuation model. Moreover, even when a real estate agent completes a home valuation manually, they will always use comparable sales in order to complete a comparative market analysis.
Ultimately, recently sold homes offer the most accurate indication of fair market value. This is how real estate professionals, real estate agents, realtors and professional appraisers calculate the homes market value.