In the last 5 years, marketing budgets across the world have been shifting from traditional channels to digital platforms. There are numerous reasons for the shift, but these are some of the main driving factors:
People spend more time on their smartphones, laptops and tablets than ever before
People are watching less traditional TV than they used to
Digital advertising channels provide extremely detailed campaign metrics that can help advertisers verify if their efforts are actually working
The targeting options are extremely detailed, allowing advertisers to pinpoint highly specific online audiences
While most real estate business owners are fully aware of the importance of real estate marketing, it can be difficult to choose which digital channels and technologies to focus on. The goal of this post is to highlight some of the most effective digital advertising techniques that can improve the ROI of your marketing spend. 
1 - Super Targeted Facebook Ads
While organic posts are not as powerful as they used to be, Facebook's paid advertising platform has been steadily improving for well over a decade. The result is a dream come true for digital marketers.
Simply put, the audience targeting options that you can access through Facebook Business Manager are insanely detailed. Instead of having to approximate, you can make calculated demographic decisions, focusing only on the section of the market that is likely to be interested in your particular product offering. 
For instance, let's assume that you want to target men between the age of 35 and 50 that reside in California, and have demonstrated an interest in Trulia (real estate listing website). Well, as luck would have it, you can literally target this exact audience when setting up your Facebook Ad.
Of course Trulia is not the only real estate choice available to you, and you can be considerably more accurate by including geographic targeting as well. 
As you can see in the screenshot above, Airbnb, HGTV, Keller Williams and Zillow are just a few of the real estate choices available to you. Moreover, you can also be much more specific with the geographic targeting. In the screenshot below, we've limited the ad to a 20km radius around Fresno, California.
It should be pretty clear at this point that Facebook allows advertisers to be extremely specific with the target audience. But to get the most out of this platform, it's worth keeping in mind these three tips:
1) Spend Time Researching A Highly Relevant Target Audience
We've already covered some of the possibilities that are available. It's always a good idea to spend at least 20 minutes researching a relevant and geographically targeted audience before you launch your ad.
2) Ensure Your Creative Is Compelling
You don't have to be a descendant of Pablo Picasso to create a high quality Facebook ad. Design tools like Canva can make the process much simpler than you might expect. Alternatively, a graphic designer (whether internal or outsourced) can transform the quality of your ads in a heartbeat. 
Ultimately, investing time and resources into the visual components of your ad can help you stand out from the crowd and achieve a better ROI for every dollar that you spend.
3) Adopt A User Centric Mindset When Creating The Ad Copy
You would be surprised by the number of companies that think the primary purpose of their digital advertising is to talk about how wonderful they are. You can see this with common statements like 'We're the best at X' or 'New Jersey's favorite realtor for over 20 years'. 
While there is nothing wrong with including information which builds your brand credibility, the simple truth is that people respond better to ads which speak directly to their desires and aspirations. For instance, have a look at the following two Facebook Ads.
Example 1: Zephyr Real Estate
Underlying Audience Desire: A more beautiful home
Example 2: Keller Williams
Underlying audience desire: To have an accurate understanding of your home's value (without having to pay anyone or deal with an annoying real estate agent).
As you can see, you don't actually need a huge amount of resources to set up a highly targeted Facebook ad. When you boil it down to the bare essentials, you only require: 
A Facebook page for your business
An attractive image 
Compelling copy
A URL that you can send people to for more information
It's also worth stating that you can access both Facebook and Instagram through Facebook Business Manager. This is especially important if you are targeting a younger audience that is likely to spend more time on Instagram than they do on Facebook. 
Lastly, it's no secret that Facebook also owns WhatsApp, which is the predominant messaging platform in over 100 countries across the world. While it is more commonplace to use Facebook Messenger Ads at this moment in time, you can expect similar features to be carried over to WhatsApp in the future.  If you keep this in mind, you could be well ahead of other marketers when the full suite of marketing features is released for the WhatsApp platform.
2 - Double Check That People Are Searching For The Blog Content You Create
Failing to create content backed by search volume is nothing short of a digital marketing crime. This is not to say that all your content must be focused on organic search, but a significant percentage of your posts should be. 
Blog posts with no search volume are only relevant for the short period of time that they spend in a social media feed. This usually dries up within 24-72 hours, leaving the post with no further means for generating site visits (unless you promote it in an email campaign). 
Conversely, blog posts targeting keywords that have verifiable search volume can potentially rank in search engines like Google for months and even years on end.
To help clarify, let's use an example. In this case, we are going to investigate if it would be valuable to create a blog post comparing the benefits of purchasing a condo versus the benefits of renting an apartment.

The screenshot above (sourced from a free keyword research tool called UberSuggest) clearly shows that there are about 90 searches a month for 'buying condo vs renting apartment' in the US. Moreover, UberSuggest is indicating that it would be a relatively easy term to rank for (SEO difficulty = 6/100). 
There are a number of tools that you can use to help investigate the search volume of a particular phrase or query. The list below contains some of the most widely used research tools at the moment.
Google Ads Keyword Planner
UberSuggest
SerpStat
SEMRush
Ahrefs
LongTail Pro
If you are able to find keywords that aren't too competitive and create blog posts that answer those questions, there's a strong chance they will start attracting organic traffic given a bit of time. Just be patient and bear in mind that you will need to produce content for at least 90 days before seeing tangible results.
3 - Use Paid Search to Drive Highly Relevant Website Traffic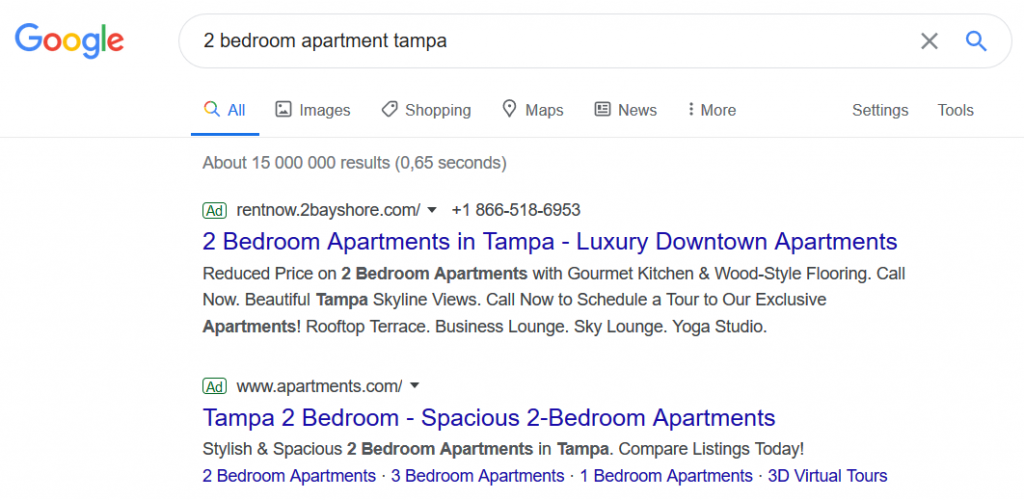 Although organic search is an excellent source of traffic, you don't necessarily have control over how long it takes to rank for a target keyword or what position Google allocates to your particular website. 
However, with paid search you can exert a huge amount of control over the keywords that you bid on, the price you are willing to pay, and the quality of the ads that you create. In other words, instead of sitting idly and hoping that your website will climb up the search results page, paid search allows you to place your real estate service offering right at the top of search engine results.
It is helpful to think of the top page of search results as arguably the most valuable real estate in the world of digital marketing. With Google ads, you can gain access to this real estate, albeit temporarily, but not without direct competitors vying for the same position. 
Let's imagine you're a real estate company based in Tampa that focuses on selling single family apartments. In this case, it would probably be relevant to bid on the term 2 bedroom apartment tampa'.

In the example above, we have taken a screenshot of the available information from the Google Ads Keyword Planner. You can see:
How many searches there are for this term per month: 100-1000
An estimate of how competitive this search term is: Highly Competitive
An estimate of how much you would need to bid to appear at the top of page 1: $2,79
Now of course there are some nuances to maximizing traffic from paid search and you will need to push through the learning curve or hire an agency to help implement your paid search strategy. The underlying point is that both of these options are very achievable, and they can be very valuable for your real estate business.
In addition, there is a way to ensure that your paid search strategy is founded on strong foundations. In essence, you need to ensure that the following is always true: 
The ad copy is highly relevant to the keyword that you bid on
The landing page is highly relevant to the keyword that you bid on
By simply focusing on relevance above all else, you can help prevent wasted ad spend, reduce the average cost per click and potentially pay less than your competitors when targeting the exact same search term.
4 - X Ray Your Competitors Websites
Imagine having the ability to see every single keyword that your biggest competitor is currently ranking for on Google. Now imagine that you can also gain insight into what keywords they are bidding on in their paid search campaigns. 
Fortunately it isn't even necessary to imagine this scenario, because premium digital marketing software like Ahrefs and SEMRush quite literally gives you access to this information. This is literally like putting your competitor's website through an X-Ray machine. 
To help give you some more insight into just some of the detailed information that you can access, consider the screenshot below: 
This might be a bit overwhelming at first glance, but let's just focus on a few key things. The highlighted box in red shows the following: Redfin.com is currently attracting organic traffic for the search term 'homes for sale in winston salem nc'.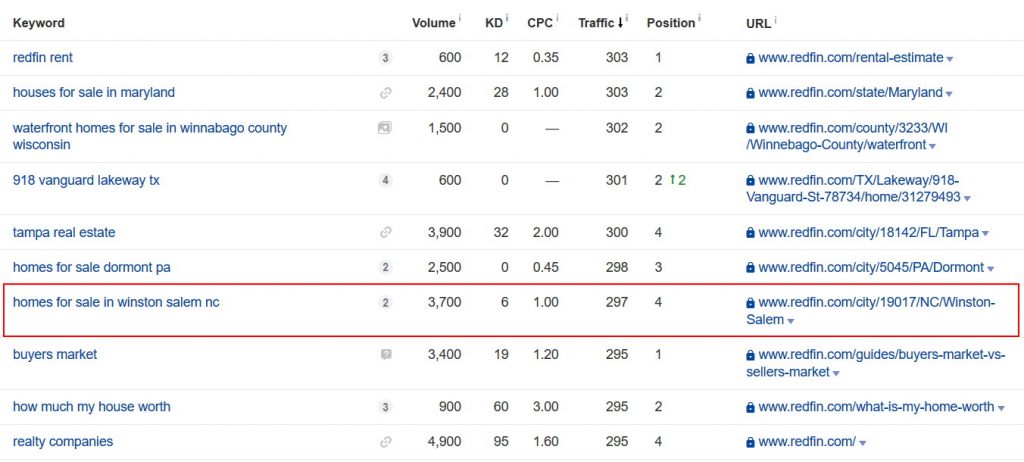 Here you can see that there are 3700 searches for the term 'homes for sale in winston salem nc'. The keyword difficulty is 6/100, which means it isn't a very difficult keyword to rank for. Redfin is currently in position 4, and they are receiving approximately 297 visits from organic search. 
As you can imagine, this is just the tip of a very valuable iceberg. You can gain similar insights for all of Redfin's competitors, and see which pages on Redfin.com are generating the most shares on social media platforms like Facebook, Twitter and Pinterest. 
Like many things in life, you might need to experience the power of this software first hand to truly gain a sense of what is possible. If this particular section has piqued your interest, we suggest the Free SEMRush 7 Day Trial. Just be warned. You might never look at the internet in the same way again!
5 - Make Sure The Search Bar On Your Website Is Large
There is ample evidence to suggest that people who use the search bar on a website are more likely to become customers down the line. It's a micro conversion that indicates the user is closer to an eventual purchase than someone who fails to use the search bar. 
In other words, by making the search bar visually prominent on your homepage, you can accelerate a user's first step down the sales funnel. The screenshot below from homesnap.com can help you see this in action:
When you look at homesnap's homepage, it's fundamentally clear that they are guiding you toward the search bar. It's like a visual magnet placed in the centre of the page. 
You don't necessarily need to emulate homesnap. Just make sure that your search bar is prominently featured on your website. When more internal searches start occurring, you will likely see an increase in conversions as well.  
6 - Optimize Your Google My Business Pages
There are few things more valuable than a Google My Business (GMB) listing with positive reviews. It can be a free source of traffic, and the customer reviews can build your company's reputation (provided they are positive). 
Perhaps more importantly, it doesn't cost you any money to set up a Google My Business page. You simply need to operate from a physical location and upload all your basic business details. 
Let's take a look at a well setup Google My Business Page.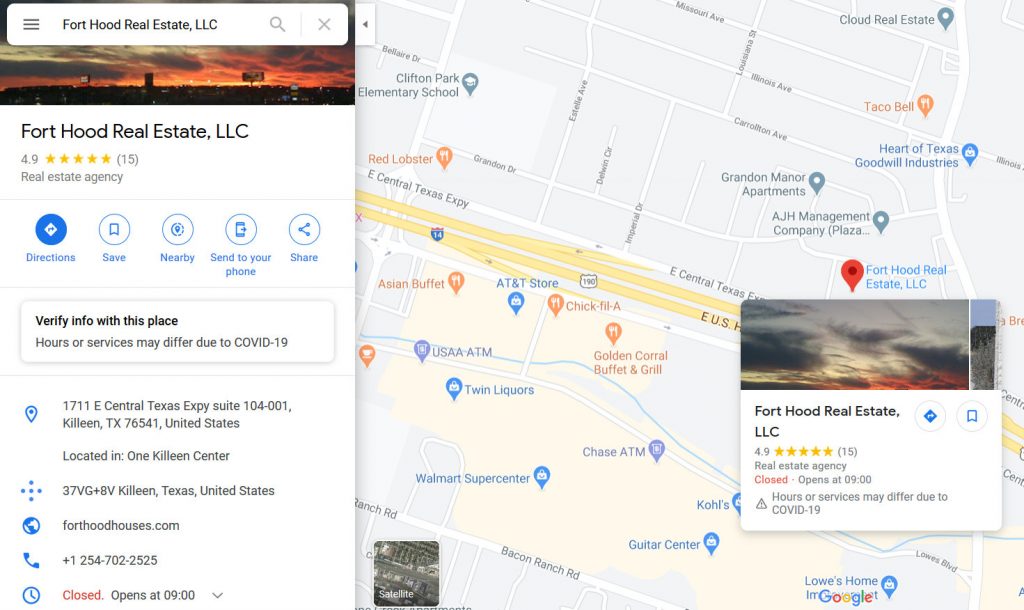 In this case, we are looking at Fort Hood Real Estate LLC. By setting up their page with all the necessary details and adding a few attractive photos, they have opened up the following benefits: 
Free website traffic from searches for 'real estate agent texas' on Google maps and standard Google search
Building a high level of brand trust with a 4.9/5 star rating from 15 different reviews
Established an easy way for people to get directions to their business
Provided an easy way to contact the business and visit their website
You don't have to overthink this process. Just upload your business details, add 4 or more professional-looking photos, and incentivize existing customers to leave reviews if you're just starting out.
7 - Leverage the Power of Remarketing To Bring Back Lost Visitors
A 2015 Microsoft study found that the average human attention span decreased from 13 seconds in the 2000, to 8 seconds in 2013. Sadly, this puts humans 1 second below a goldfish,which has an attention span of 9 seconds.
The real point is that digital consumers move from website to website and platform to platform very quickly, and often fail to return for a second visit. In times past, it would be difficult to re-engage previous website visitors, but with the advent of remarketing, it's now relatively simple to do. 
In its simplest form, you only need to load a tracking pixel (Google and Facebook have pixels that can be easily installed on your website), and have an active advertising account with the company that you choose to run remarketing ads on. 
Once everything is set up successfully (you may require your development team or marketing agency to assist), you can unlock a powerful form of digital advertising that can be up to 10 times more effective than standard display ads.
It's plain to see that remarketing (also called retargeting) can be a powerful digital marketing tool for any real estate business. Remarketing ads outperform standard display ads,and they are an excellent way to bring people back to your site. 
The only thing you need to be mindful of is how often you serve your ads. The same study by invespcpro found that 37% of respondents found remarketing ads to be annoying. You can limit this irritation by setting a moderate frequency cap such as 1-3 times per day.
Even though marketers are spoilt for choice when it comes to digital advertising channels, it can be better to focus on 1 or 2 platforms before trying to run everything at full tilt – you want to walk before you run. In this post, we have outlined 7 methods that have the power to move the needle for your real estate business. The only thing left to do is choose an option that compliments your company and get started.