To be a success as a real estate investor today, you need to have the right digital tools. Property investing has gone online, and there are a variety of software options available to help you make a stronger investment decision.
The problem is that not all these tools are free, or even easy to use. Ideally, you want to choose software that is all-encompassing without breaking the bank. 
In this series, we'll be taking a closer look at some of the top software tools available to real estate investors today and how they compare to FlipScout, the free PropStream alternative.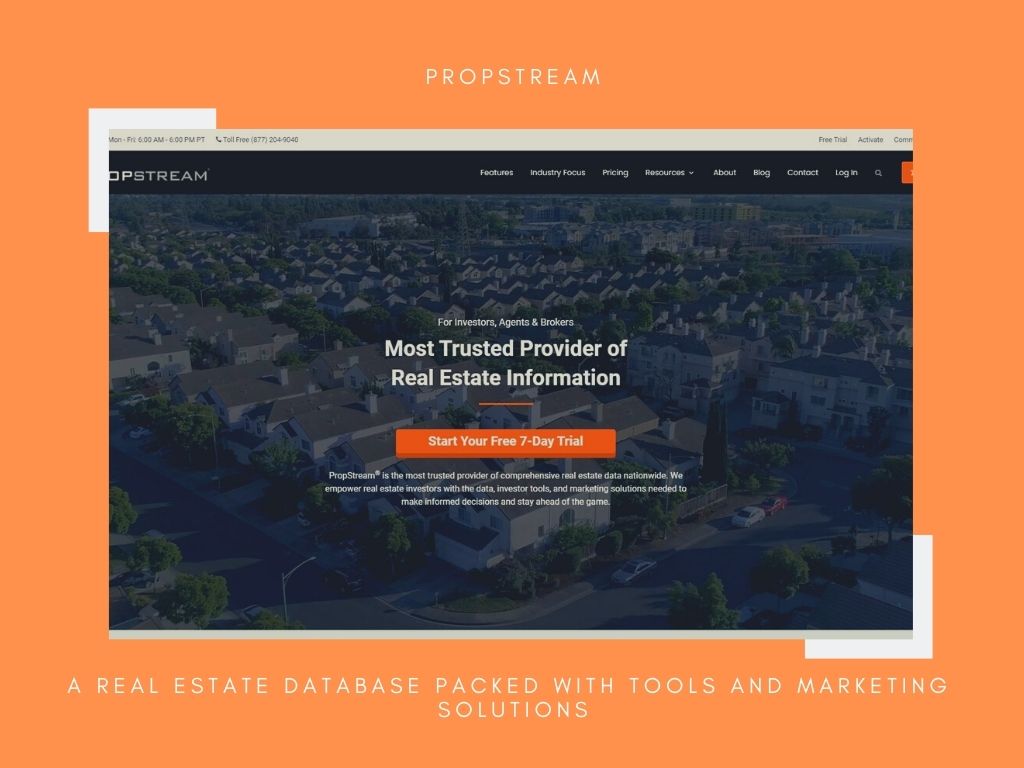 PropStream is a comprehensive source of real estate data across the US. Containing tools for data analysis and marketing in one, PropStream is targeted at real estate investors, realtors, and brokers that need a lot of property data.
There are several features that make PropStream interesting. The software can effectively be divided into lead identification, property research, and marketing.
With PropStream, users can look at freshly listed properties in their target markets. The company customizes the offerings even more by creating detailed targeting criteria that allow the user to filter by what they are looking for. Another feature in this category enables the user to find property owners that are currently looking to sell.
Leads are added to their nationwide property database, which includes commercial, industrial, residential, and other types of real estate.  When looking for residential properties, the choices are broken up into the type of property, such as single-family or multi-family.
The variety of search options available make it easy to cut out a large amount of the data that is irrelevant to the user's property search. Searches are unlimited with the paid package and can be narrowed down further to show past transaction details, involuntary liens, expired listings, and much more. 
When it comes to marketing, PropStream has a few interesting capabilities. Their custom marketing tools let users reach out to prospective homeowners, advertise to an extent, and track marketing statistics.
As briefly mentioned above, PropStream is not free. The pricing information will only be visible to you if you have finished subscribing to a 7-day free trial. Payments are charged automatically at the end of the trial, which means you'll need to add your payment info to check out the trial.
We enrolled for a trial and pricing came to $99 for every 10,000 saved properties associated with the account you use. This subscription comes with the aforementioned features and a few other things like estimating tools and comparables.
The bountiful number of features aside, there are a few places where PropStream falls short. 
The first issue has to do with the pricing. While the package includes a lot, not having the price available until they already have your payment information shows a lack of transparency. You shouldn't have to sign up with your credit card just to learn more about the product. 
The paid package also comes with limitations. Once you've reached the cap of property data you can export, you'll have to pay for upgraded access. 
There is a question surrounding how many conversions their marketing features actually lead to. One of their major draws leaves automated voicemails, which might not be as successful at convincing property owners as you would think.
Another drawback is that there is quite a learning curve to get used to the system, and their internal guides can be somewhat lacking. 
Introducing FlipScout, Free PropStream Alternative
FlipScout is a free tool that lets real estate investors find properties that they could earn the highest return on. Launched by the data-driven lender New Silver, FlipScout is a modern solution to pain points that are common in today's real estate investment market.
With FlipScout, you'll be able to search for any city or zip code and find properties that make sense to investors. FlipScout will also allow you to estimate repair cost and ROI, get access to key data, get alerts, and see the property in more detail. Since New Silver is not a SaaS company, they can release these tools at no cost to the investor.
One of the biggest challenges faced by both house flipping and rental investors is knowing how to find a property that will bring in a good ROI. FlipScout makes use of an assortment of real estate data and intelligence, allowing you to find a property to flip or rent anywhere in the country. 
Some of the top features of FlipScout include being able to search properties anywhere in the nation, with a specific focus on finding foreclosures, auctions, undervalued homes, and other leads that house flippers look for. 
The FlipScout portal allows the user to instantly calculate the cost of financing and see how much return they can make. Other elements of the tool enable the user to estimate rehab costs automatically and see a variety of other financial information to help them make a better investment decision. 
This tool's unparalleled access to properties that are in pre-foreclosure or other conditions makes it ideal for house flipping, but what about buy and hold investments? Well, New Silver has launched FlipScout for rent, offering the same great benefits to long-term rental property investors. Rental investors can use FlipScout to see average rents and how much money they can make instantly.
If you cannot find a property relevant to your requirements right now, you can set up email alerts that will send flagged homes directly to your inbox. 
Perhaps the most unique thing about FlipScout is how easy it is to get funding for a new deal. Since the portal is powered by New Silver, investors can apply for a loan online directly from the listing. New Silver offers 10-minute online loan approval, instant proof of funds letters, and industry-leading closing times, and has a variety of loan products available to help investors achieve their funding goals.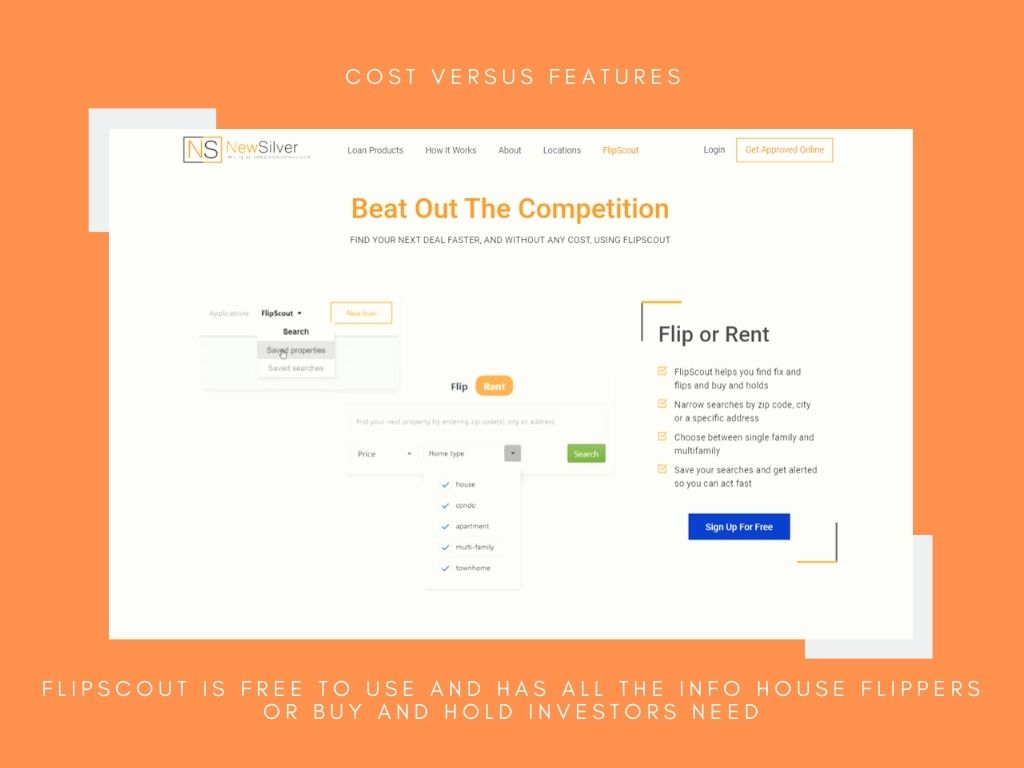 As already mentioned above, FlipScout is completely free to sign up for and use. There is no cost associated with setting up an account, saving properties, or getting email alerts.
Compared to PropStream, there are very few drawbacks. FlipScout is free and unlimited but might be more niche in terms of property results. New Silver as a parent company adds credibility and transparency to the property-finding tool and the portal is easy enough for complete beginners to use. 
PropStream is a vast software tool but it comes with some disadvantages, whereas FlipScout is more focused and puts more time into perfecting one aspect before adding more. The pricing plan for PropStream is misleading, while FlipScout is free to try and use. 
Get started with FlipScout by clicking here.