Doorvest helps people invest remotely in single family rental properties. The platform offers a fully online process to investors who don't need any experience. Doorvest aims to make the investing process as simple as possible, by arranging the purchase, the renovation and the tenants for rental properties.
Doorvest also takes over the management of the rental properties for a 10% management fee for the first year. However, the initial capital investment required is typically a 20% down payment which is frequently $45,000 or more.
Doorvest reviews will illustrate the benefits and the drawbacks of this investing platform. So, read our Doorvest review below to find out more.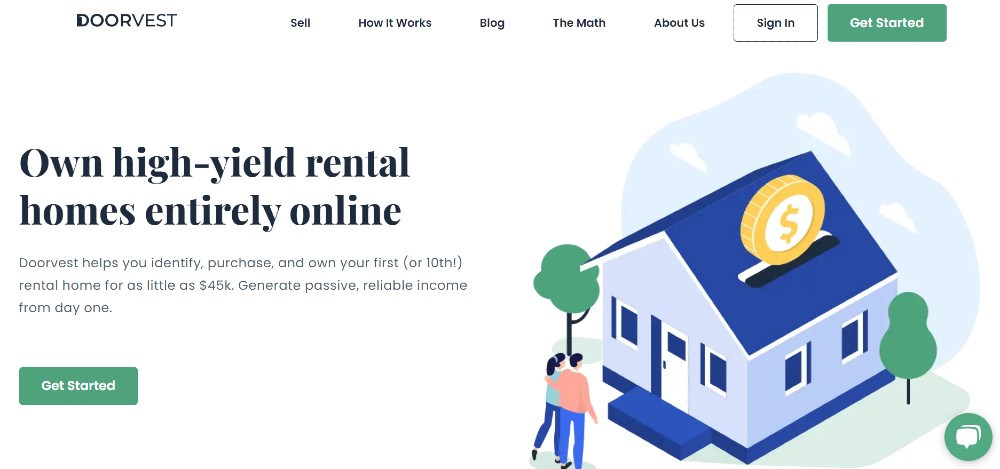 Doorvest's website claims that they help people "own high-yield rental homes entirely online". What this means is that Doorvest helps their clients purchase high-yield single family rental properties online, with no prior experience, and build wealth by doing this. Doorvest is essentially a full-service real estate investing platform that offers clients the opportunity to invest in residential real estate, without the hassles.
Clients will outline their financial objectives with Doorvest, and the platform will then purchase the rental home once the client has decided on the right one. Once they have purchased the home, Doorvest will renovate it and select a long-term tenant for it.
The Transactions Team will assist the client to close on the home at fair market value as Doorvest resells to the client. After which the home belongs to the client and will begin generating rental income immediately. Doorvest also offers property management for an extra fee of 10%.  
Overview Of Doorvest Product Offerings
Doorvest provides a platform for people to invest in rental properties online. They offer a full-service real estate investing platform that assists with finding the right property, purchasing it, renovating it and then managing it for the long term.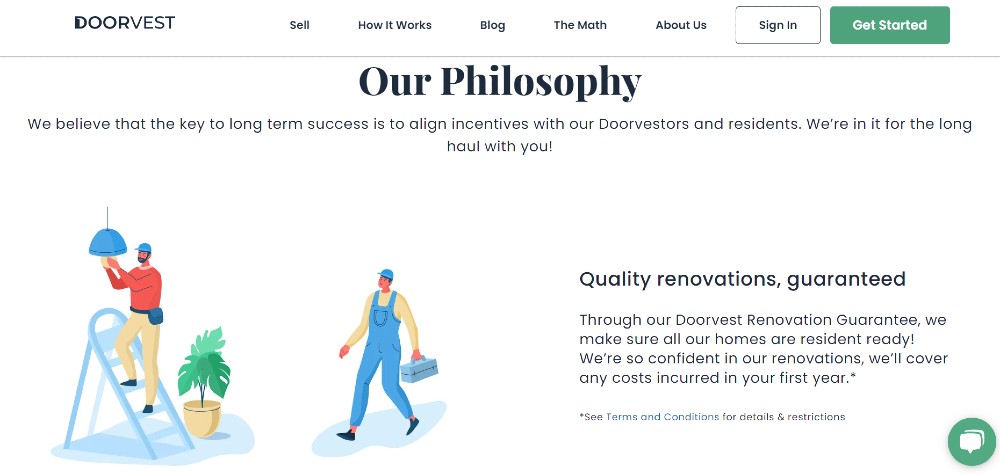 Doorvest works with investors to find out their financial goals, and from there the platform finds the right real estate investment properties. Doorvest uses a network of real estate agents and other real estate professionals to find properties and once the right has been selected this is purchased by Doorvest.
Once Doorvest has purchased the property, renovations will then begin and the platform provides a 1 year guarantee for property maintenance. Doorvest performs the necessary renovations to ensure that the property is ready to rent. These are done according to specific standardized benchmarks. Doorvest has a team of reliable contractors that they trust, enough that they will guarantee their work.
After the renovations, the property is then ready to rent. Doorvest will find tenants for the property, with a guarantee of 1 year, if the home isn't leased for the guaranteed amount. For the first 3 months, if the property is vacant, Doorvest will cover the rental amount for the investor.
Long-term rental property management is also available from Doorvest, for a fee of 10%. They will take care of the day-to-day management of the property, which means that investors can remain entirely passive.
Doorvest resells the property back to the investor once it has been renovated. The Transaction Team assists with this and sells the property to the investor at fair market value. This is defined as the price that a property would sell for in an open market, which is agreed upon by a willing buyer and seller. This often requires a property appraisal to determine the fairest price.
Best Features of Doorvest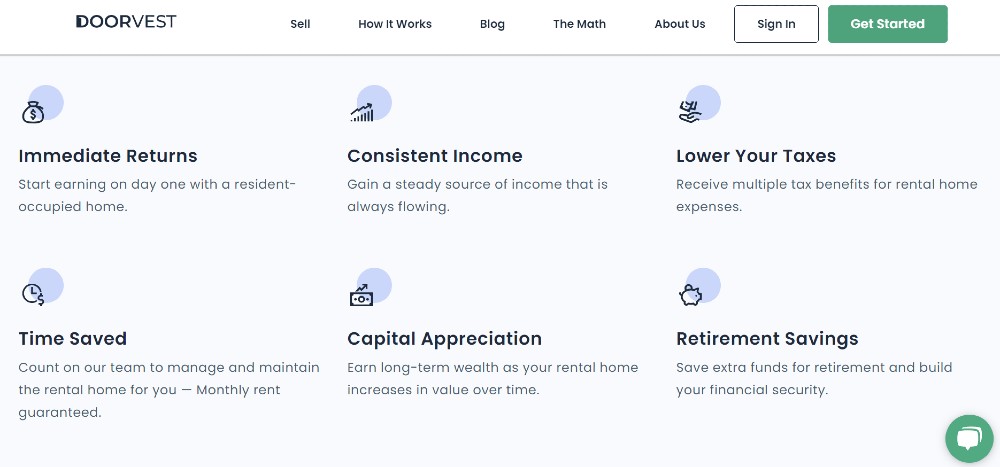 Investor Portal
Doorvest's Investor Portal is a useful tool where investors can get their tax documentation, updates, rental income, and more. The portal also offers information on the amount of rental received, the property's expenses, total rent collected, the total portfolio value and more. Investors can keep a close eye on their investments via this portal and get access to anything they may need.
Guarantees
Doorvest offers home maintenance guarantees for 1 year, which is a great support for each investor. The platform will cover repair costs for the first 12 months of ownership. Rental income is also guaranteed from the outset, which means that investors can start with the confidence that their real estate investment will generate an income.
Doorvest will also guarantee the rental payments for the first year, which means that investors can rest assured that their property will consistently be generating income for 1 year.
Data for Decision-Making
Doorvest offers detailed property data, market analysis, and other important information that is necessary for investors to make informed decisions about their real estate investment. This information is displayed on the Investor Portal, where investors can get access to in-depth data and insights.
Property Management
Doorvest charges a 10% management fee for their property management services, which can save investors time and effort. For those who haven't been landlords before, this is a particularly useful service and allows them to own and generate an income from rental properties, without having to manage the property, find the tenants, or do any of the other nitty gritty aspects of rental property investing.
Online Process
The process, from beginning to end, is done entirely online. This is a major time and energy saver for investors who can purchase a rental property, get tenants and have it managed all from the comfort of their own home. The digital nature of the process makes it quicker and easier to navigate.
Continuous Support
The Doorvest team offers support from the beginning of the process, and this continues all the way through. The team claims to offer support for the long-haul, and this means that they will be there from the investor's first rental home onwards.
Worst Features of Doorvest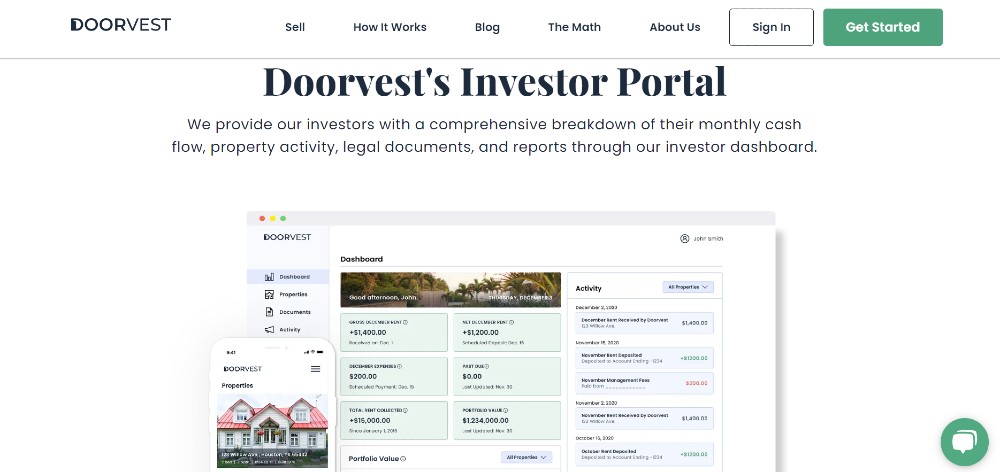 Waitlist
Doorvest may take 3 to 4 weeks to find investment properties for investors as they have a waitlist. This means that once the investment property has been found and sent to an investor, it may have been available for a few weeks already which means that competition can be stiff.
Lengthy Process
Not only does Doorvest have a waitlist, but the process of renovating and placing a tenant also takes time. In other words, finding the property takes about 3-4 weeks, then renovating it and finding a tenant takes another 2 months. So, investors are looking at about 3 months before the property can begin generating an income. The resale process will also take about 1 month, which can add even more onto the timeline.
Mandatory Property Management
Once investors have bought rental properties from Doorvest, they are required to commit to a property management contract of 1 year. Doorvest charges a 10% management fee for this, and this is mandatory for buyers. Once this year has finished, residential real estate can then be sold, or the property management can be changed.
High Minimum Investment
A minimum investment amount of 20% down payment (which can be $45,000 or more) is required to begin the rental property investment process with Doorvest. This may not be feasible for many investors, which means that they may not be able to invest in a rental property with Doorvest.
No Input on Renovations
Investors have no say on the renovations that take place on the home, which can leave them feeling like they aren't in control of the situation and cannot use the contractors they may want to use. The property inspection is also not up to the investor, which means that Doorvest has full control over the inspection and the renovation project.
Doorvest Management Fee Explained In Detail
Doorvest charges a property management fee of 10% of the monthly rental amount. Buyers are required to commit to a 1-year property management contract with Doorvest. The management fee is only charged once the investment property has a tenant securely in place.
Doorvest has a unique offering, however there are other platforms that offer similar real estate investing options that may be a little different, but can achieve a similar goal.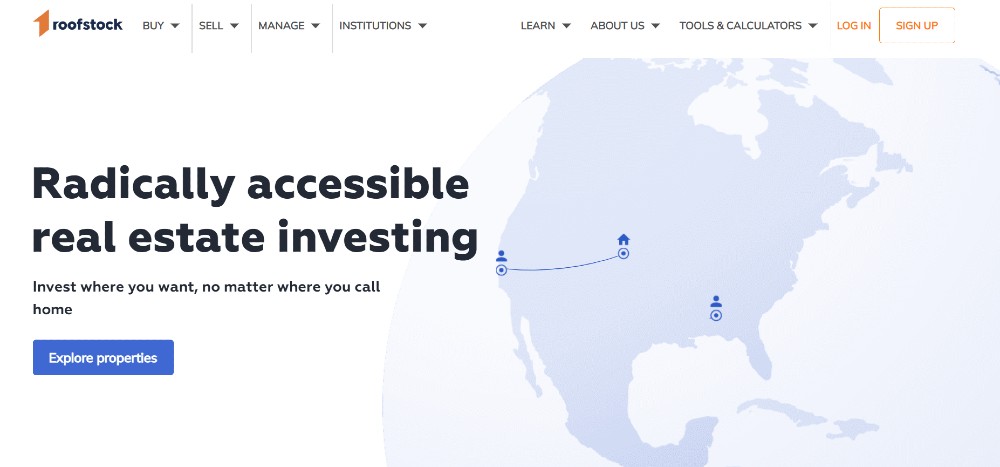 Roofstock is a real estate investing marketplace, where investors can find and purchase investment properties directly from sellers using RoofStock Marketplace. The platform also allows real estate investors to purchase newly built properties, portfolios of single family rental properties, and shares of real estate in the form of stock tied to single-family rental portfolios.
Roofstock uses detailed data and insights to help investors decide on a neighborhood and property, with information such as crime rates, neighborhood characteristics and more. Roofstock offers real estate investment opportunities in 70+ US markets, and the properties are typically already tenant-occupied.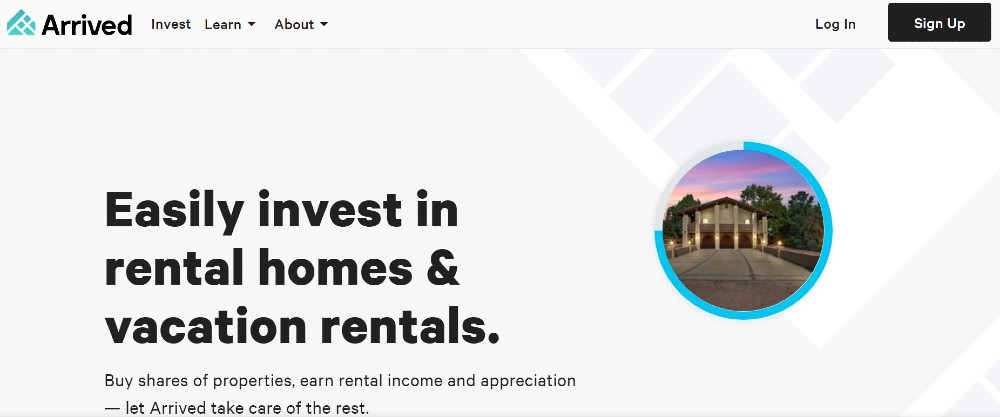 Arrived Homes is a passive investing platform that allows people to purchase shares of properties and earn rental income from these. Arrived is the first company offering shares of rental homes to the general public. This gives investors the option to invest in real estate without having to purchase an entire investment property.
Real estate investors can browse the homes available, select how much they want to invest, sign the terms and then begin earning an income, as well as capitalize on real estate appreciation. Both long-term rental homes and vacation rentals are available on this platform, which gives investors' various investing options. Arrived takes care of all the operations and allows investors a hands-off approach.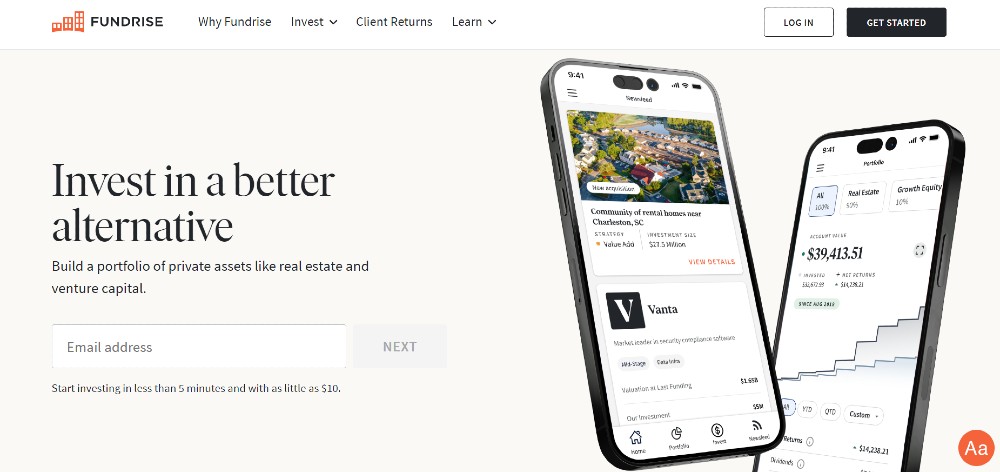 One of the most popular real estate crowdfunding platforms is Fundrise. Since the platform began in 2012, it has invested over $5 billion into real estate in the US. This is a great place for new real estate investors to start because the platform doesn't require any accreditation. There are also a variety of investment strategies and returns available.
Fundrise allows investors to build a portfolio of private assets such as investment property, without the need for large amounts of capital upfront. Fundrise allows people to start investing for just $10, and the real estate crowdfunding platform groups investors together to pool their funds and invest in real estate to earn an income over the long-term.
Should You Invest With Doorvest?
The decision on which platform to use depends on your personal real estate investing and financial goals. For investors who require a hands-off approach when it comes to turnkey rental properties, and who have a larger amount of capital to invest upfront, Doorvest may be the right solution. Doorvest reviews show that the platform scores highly in the real estate investing field and particularly amongst turnkey rental properties.
Real estate investors who would like the entire process handled, from finding the rental property to placing the tenant, Doorvest offers a unique opportunity to invest in residential real estate without any experience. When it comes to financial security however, Doorvest's guarantees can put investors' minds at ease that they will be investing in a successful property.
Before making your choice, make sure to consider as many Doorvest reviews as you can. A Doorvest review will give you a good idea of what other investors think of the platform. A Doorvest review will also help you understand all the pros and cons of the platform and whether these will work for you.