A second home mortgage is designed to provide financing for the purchase of a second home or vacation home. Lenders generally have specific guidelines regarding the usage of the second home. Typically, they require that the property be occupied by the borrower for a certain portion of the year and not solely used for rental or investment purposes. The specific occupancy requirements may vary among lenders.
Second home mortgage requirements include:
a down payment of anywhere between 10% and 30% of the purchase price
6 months cash reserves
a DTI ratio of under 45%
15-20% home equity
a minimum credit score of 620.
Keep reading to find out more about second home mortgage requirements.
Can You Buy A Second Home With A Mortgage?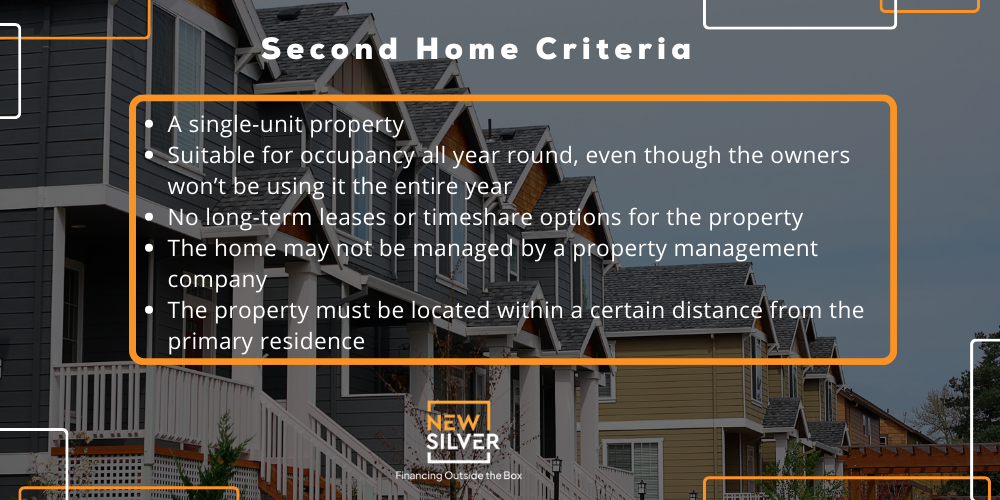 Homeowners who already have a primary residence may want to buy a second home. There are a few ways to get funding for a second home, including conventional, fixed-rate, or adjustable-rate mortgages, FHA loans and VA loans.
The process of obtaining a mortgage for a second home is similar to that of purchasing a primary residence. You will need to apply for a mortgage with a lender, provide documentation of your income, assets, and liabilities, and undergo a credit check. The lender will evaluate your financial situation and determine whether you meet their criteria for approval.
Home loans offered for second homes differ from primary home loans, as each property type presents a different level of risk for lenders. A property would need to be classified as a second home, to qualify for a second home loan. As such, it will need to meet the following criteria:  
A single-unit property
Suitable for occupancy all year round, even though the owners won't be using it the entire year
No long-term leases or timeshare options for the property
The home may not be managed by a property management company
The property must be located within a certain distance from the primary residence
For those who have equity in their primary residence, a home equity loan may be a better solution. Typically, you'd need a minimum credit score of 680, to qualify for a home equity loan, along with a down payment of 10-20% of the purchase price and a Debt-To-Income (DTI) ratio of 45% or less. These requirements vary, depending on the lender you choose.
Second Home Mortgage Requirements
There are various requirements that come with purchasing a second home using a mortgage. These can be similar, but also quite different, from the requirements for a mortgage on a primary residence. Let's take a closer look at second home mortgage requirements for those who are considering getting financed this way.
Lenders often require a higher down payment on a second home, in comparison to the mortgage on a primary residence. Typically, a second home mortgage will require anything between 10% and 30% of the purchase price as a down payment. This is due to the fact that second homes are seen as higher risk than primary residences with factors like rental income and maintaining multiple homes at play.
The down payment on the mortgage for a second home will depend on factors like the lender's policies, the borrower's credit rating, and the type of property being purchased. Each lender will have their own policies with regards to each qualification criteria.
Lenders will use a borrower's creditworthiness as a key factor in determining whether they can pay back the loan or not. As such, the borrower's credit score has a significant impact on the interest rates that they will be offered on the loan.
You'll probably need a minimum credit score of 620 or higher to qualify for a second mortgage. However, the higher your credit score, the better, as a lender will be more likely to offer you favorable terms on your second home loan.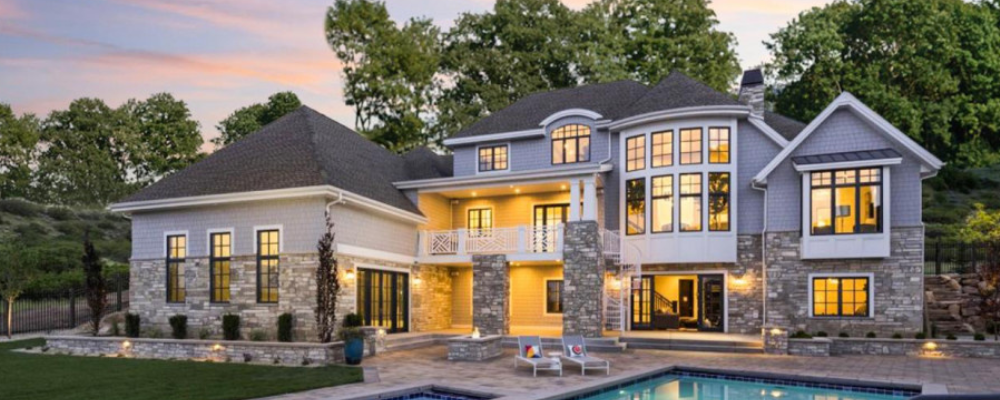 A second mortgage is aimed at those who have between 15% and 20% equity in their primary residence already. The amount left on the mortgage should be less than 85% of the value of the home.
To make sure that you receive enough income to cover your debt repayments, lenders will look at both your income and your DTI ratio. It's advisable to have stable employment, as this will also be factored into the decision. Lenders want to ensure that you have a steady income and that your debt obligations are manageable alongside the additional mortgage payments.
The maximum DTI ratio that lenders will usually accept on a second home mortgage is 45%. However, the higher the DTI ratio, the more you'll need to prove to the lender that you will be able to repay the debt. This may require larger cash reserves, a larger down payment or a higher credit score perhaps. So, the lower your DTI ratio is, the better.
Another way that lenders can tell if you're able to handle the financial burden of a second mortgage is to look at your cash reserves. This should be enough to cover the mortgage payment for several months. A mortgage payment includes the principal amount, interest, property taxes, and insurance.
Ideally, you should have enough in your cash reserves to cover about 6 months of mortgage payments. If you don't have enough in your cash reserves to cover the mortgage payments at least, you could also look at your liquid assets, which would count as part of this.
Cash reserves are a crucial part of showing that you are capable of taking on the financial responsibility of a second mortgage, and that should you fail to get an income, you can cover the mortgage payment for a few months.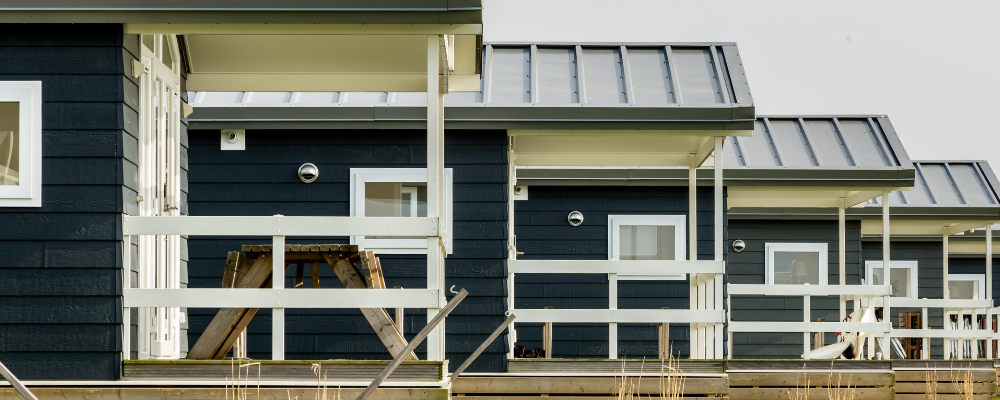 Before the loan amount can be paid out to you, you will need to confirm proof of your homeowners' insurance. Lenders will not release funding before this is done. It's worth comparing different options as prices can vary, and make sure to look in detail at what the insurance covers.
Another component of a second mortgage that will be necessary is title insurance. Title companies will do a search on the property, to uncover any outstanding liens and make sure that the property is free and clear for purchase. Title insurance is a necessary requirement for a second home mortgage.
A home appraisal is when a real estate appraiser determines the fair market value of a home. This is another requirement for a second home mortgage, to determine a fair price for the home. A home appraisal is useful not only for determining the home's value for lenders but also to figure out whether you're paying too much for it.
A home inspection is not the same as a home appraisal. A home inspection looks at the home to see if repairs are necessary, and what needs to be done to get the home up to standard. If there are repairs, a home buyer can work with the real estate agent to either decrease the price or get the repairs fixed.
Understanding Maximum Loan Amount For Second Home Mortgage
Lenders will have different maximum loan amounts on offer for second home mortgages. However, usually you can borrow up to 85% of your current home's value, and then deduct the current mortgage debt.
For example, if you own a home that is worth $200,000 and you still owe $100,000 on the mortgage, then you'd be able to borrow 85% of $200,000, and then subtract $100,000. Which would be:
($200,000 x 0.85) – $100,000
= $70,000
How Much Is The Down Payment On A Second Mortgage?
A second mortgage adds more financial pressure to homeowners and is therefore more risky for lenders. As such, a deposit of at least 10% is usually required, with some lenders wanting 20% or even 30% in certain cases. It all depends on the borrower's financial situation, their debt-to-income ratio, and the price of the property. The borrower's DTI ratio is used to determine their likelihood of being able to repay the loan with the income they receive.
For buyers, making a cash down payment is a good option, however not everyone can do that. If you cannot make a down payment in cash you can either take a cash-out refinance on your existing property or use a Home Equity Line Of Credit (HELOC).
A cash-out refinance allows you to borrow up to 80% of your current home's value, in order to purchase your second home. However, this will require a larger amount of equity in your home and will result in a higher monthly payment.
A HELOC allows borrowers to take out a line of credit from the equity they already have in their current home, to cover the down payment on their second home. This is a good option for homeowners who have home equity to use, yet don't have the cash on hand to pay for a down payment on a new property.
Is Your Second Home A Primary Residence Or Investment Property?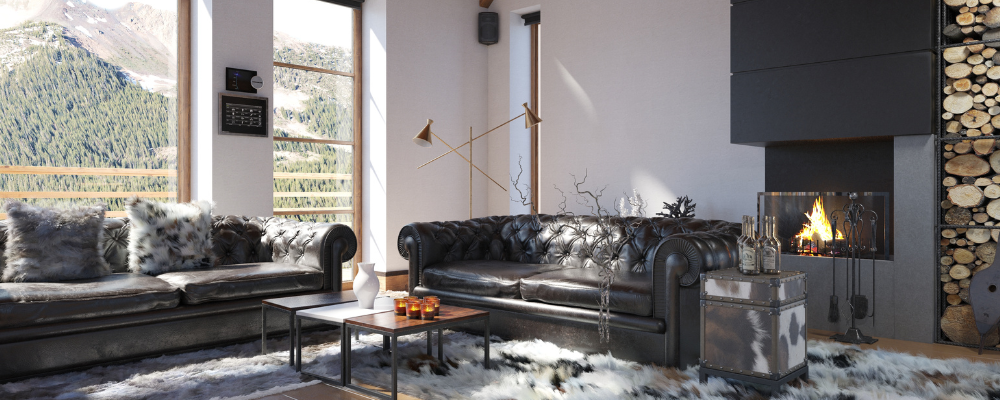 A second home, by definition, cannot be a primary residence, or an investment property. It's important to be honest with a lender about your intentions with the property, as there are different tax rules and mortgage interest deductions for second homes versus investment properties as well as different loan requirements.
The down payment, credit rating and underwriting are all different for a second home compared to an investment property. Second home mortgages may have higher interest rates than primary residences, but lower than investment properties. A primary residence typically has slightly less stringent qualification criteria than second home or investment property loans.
A second home cannot be a primary residence, as this will not qualify for a second mortgage. A second home cannot be leased, managed by a property management company, occupied by the owners all year round or located too near the primary residence. Now let's take a closer look at the definition of each property type.
Primary Residence: A primary residence refers to the home where an individual or family primarily lives and intends to reside on a permanent basis. It is typically the individual's main place of dwelling and is usually occupied for the majority of the year. It is where the individual's family, personal belongings, and important documents are located. The primary residence is usually eligible for certain benefits, such as homestead exemptions or favorable tax treatment.
Second Home: A second home, also known as a vacation home or secondary residence, is a property that is not the individual's primary residence but is intended for personal use and enjoyment. It is often located in a different geographic area from the primary residence and is typically used for vacations, holidays, or part-time living. The owner may spend a significant portion of the year in the second home, but it is not their primary place of residence.
Investment Property: An investment property is a property that is primarily acquired for the purpose of generating income or as a long-term investment. The owner of an investment property typically does not use it as their primary residence or second home. Instead, they rent or lease the property to tenants (to generate rental income) or hold it for potential appreciation and resale. Investment properties can include residential rental properties, commercial properties, vacation rentals, or properties used for other income-generating purposes.
How To Get A Loan For An Investment Property
For investors who are making a property purchase, there are various financing alternatives to consider. Take a look at some of the financing options listed below to see which would suit your investing needs the best.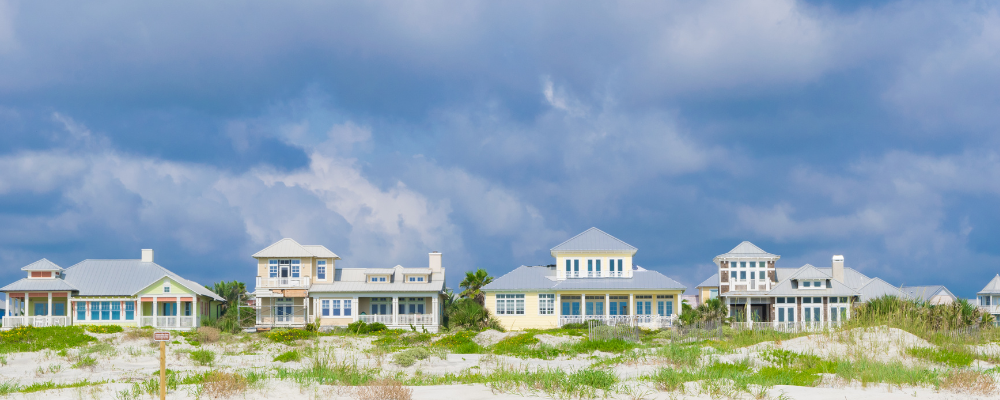 Debt Service Coverage Ratio (DSCR) loans are focused on the borrower's ability to repay the loan, by looking at the amount of income they receive in relation to their debt. Lenders who offer DSCR loans are focused on the rental income potential of the property, rather than the borrower's personal financial standing.
The Debt Service Coverage Ratio is a financial metric that measures the property's ability to generate enough income (mostly rental income) to cover the debt obligations. It is calculated by dividing the property's net operating income (NOI) by the annual debt service (the principal and interest payments on the loan).
With DSCR loans, the property itself is used as collateral for the loan, and lenders will have a minimum DSCR that they will accept. A minimum DSCR of 1.0 is usually required, which would indicate that the income generated by the property (largely rental income) is just enough to cover the debt. Typical properties that would be best suited to a DSCR loan are commercial real estate, rental properties and multi-family properties.
Home equity loans are best suited to those who have already created equity in a property and wish to use this to leverage the purchase of their second home. A home equity loan is a secured loan, with the home serving as collateral. Lenders will typically allow homeowners to borrow 80-85% of the property's value.
Home equity loans provide a lump sum payout to borrowers, who can use this towards their second home purchase. The maximum amount that can be borrowed is determined by a borrower's credit history, the appraised value of the property and the lender's policies. These are often 5, 10 or 15-year loan terms with a fixed interest rate.
Home equity loans are useful for investors who have equity already in a home, need a down payment for their second home purchase, wish to consolidate their debt and lower their interest rates, and/or have a good understanding of the real estate market and wish to expand their portfolio.
A cash-out refinance also makes use of a homeowner's current equity by using their current mortgage. It works by refinancing the current property, in order to increase the loan amount and the owner can receive the difference as a cash payout. This cash can be used towards the purchase of another property.
The refinance loan will have new loan terms and interest rates, and will be amortized over a specific term, such as 15 years. Bear in mind that closing costs, fees, and a potentially higher loan amount can increase the overall debt and monthly payments.
For those who are purchasing a second home or an investment property to generate rental income, a cash out refinance is a good financial solution. These funds will assist you in making the purchase and help you consolidate your debt.
Paying Off Your Original Home Loan
Paying off your original home loan is one way to free up some funds to use for an investment property purchase. To determine if this is the right choice for you, consider factors such as your income, savings, investment goals, and the potential cash flow from the investment property.
Then calculate the equity in your home by subtracting the outstanding balance of your original home loan from the current market value of the property. The equity represents the potential cash you can access by paying off the loan. If this is enough to cover all or most of your investment property purchase, then this may be a good option if the potential cash flow and returns on the investment property are worth it.
Calculate the loan-to-value (LTV) ratio for the investment property you intend to purchase. Lenders typically have maximum LTV requirements for investment properties. Ensure that paying off your original home loan provides sufficient equity for a down payment on the investment property and meets the lender's criteria.