We know that real estate investors are often on the lookout for the next best deal, and with the plethora of software options and websites available at your fingertips, it can be tough to choose an option to help you find your next real estate investment.
Data-driven solutions are one of the most popular choices because data is simply more reliable when it comes to making big investment decisions. One such data software solution is called PropertyRadar. We'll do a deep dive into this platform, the pricing, and the ins and outs, to help you decide if this could be the right option for you.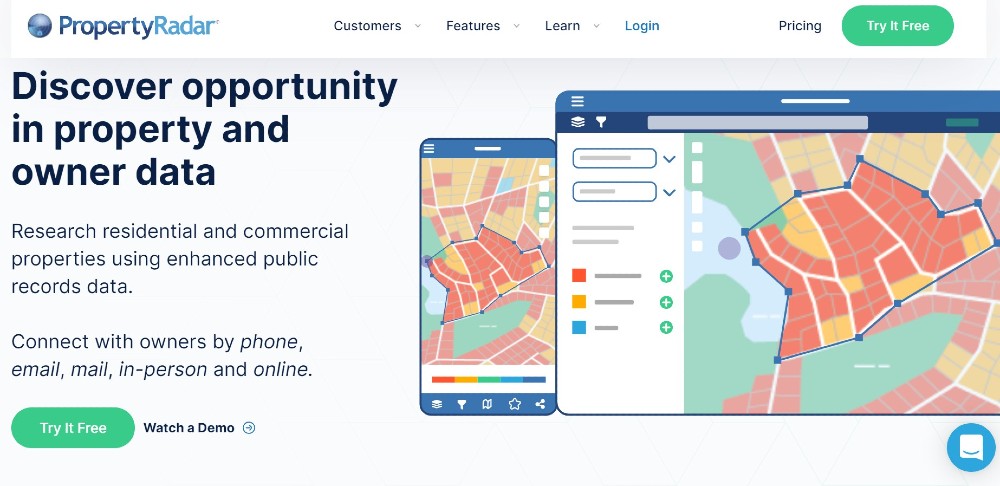 PropertyRadar is a platform designed for both residential and commercial real estate professionals which provides data about properties and property owners.
In a nutshell, people can search for any property and get comprehensive data on the property and the owner, build lists of properties, use heatmaps for the relevant market with filter, connect with other people via the platform and market to the lists that they've created.
The data being used is pulled from public records and the platform aims to streamline this data into more insightful information that people can use to make better decisions. This involves understanding the relationship between the data and documents and being able to channel this into succinct insights.
How does PropertyRadar work?
Properties can be found by APN, RadarID, or a nearby function that shows properties in the area you're located. Owners can be found with a name, mailing address, company, email or phone number.
The platform uses heat maps to help people visually identify opportunities in their local market. You can filter the search using different criteria, such as estimated value, to find homes in different price brackets, or by owner age to find retirement communities. This is an easy way to explore a variety of properties to meet anyone's needs.
Once you've have found the data they're looking for, you can build lists of hundreds of potential clients or deals. You could also choose from a selection of popular lists that are already made. Then you can reach out to potential clients or set up marketing campaigns to target the lists.
Overview of PropertyRadar Features
Detailed data
Property data: PropertyRadar gives people information on each property's location, characteristics, value and equity, ownership, property taxes, legal description, mortgage and loan, foreclosure, parcel boundary, vacancy and any property tax delinquencies. The data also indicates whether the property is owner occupied, for sale or in foreclosure. You can see comparable properties in the area and the property's market listing history and prices. The data even includes a table with investment information for those wanting to fix and flip the property or rent it out.
Owner Information: PropertyRadar gives detailed information about the owner of each property and this includes their name, mailing address, primary residence, social media links, emails, phone numbers and a list of any other properties that they own. This is invaluable for real estate professionals wanting to connect with property owners to strike a deal.
Community data: PropertyRadar also gives insights around each community including demographic information, the environment, housing statistics, the neighbors and any housing risks.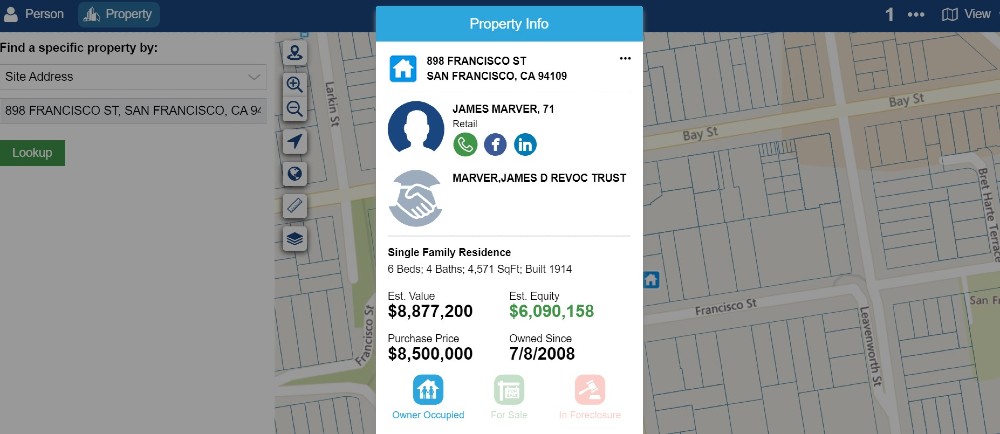 Heat map
The PropertyRadar heat map is an easy way to quickly identify opportunities in a local market, using various filtering criteria. Once you have found a location with opportunities, you can use the Draw tool to section off a group of properties that you're interested in, or alternatively, you can manually select a location.
You can then apply criteria to filter these properties, for example, new wealthy locals. PropertyRadar allows you to drill down into fine details with over 200 criteria that you can use to filter and find the right property. The map offers different view formats, and you can view each property from the map to see a quick summary of the data about that property.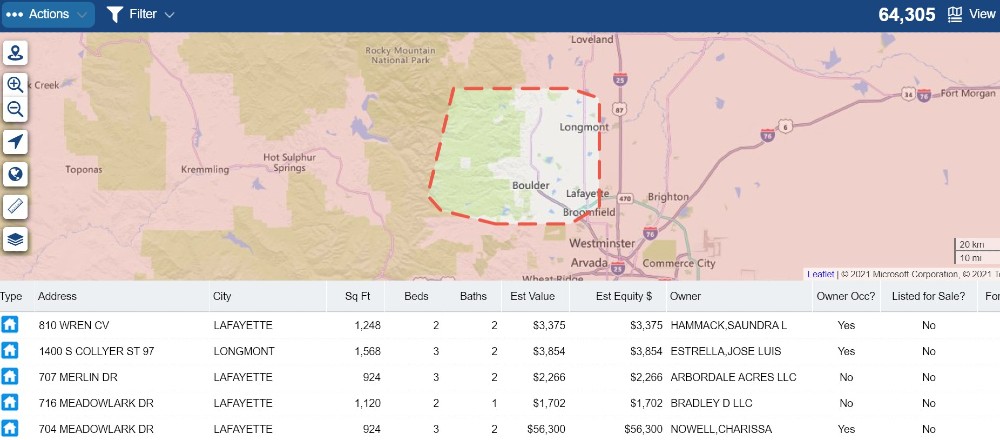 Lists
Once you've have found the market that's right for you, you can create lists made up of all the properties you've selected. Within this list, you can find insights, segment your list for niche targeting, connect with people on your list, create marketing campaigns, and set up alerts and automations on these properties. These lists will help you understand a specific market, see what the common themes are, and create appropriate advertising messages.
You can also use Quick Lists, which are pre-populated lists to help you narrow down your search quicker. For example, if you're an investor looking for a quick property purchase, you can find the area that you're interested in, use the Quick Lists tab and then select Investor criteria to filter and choose from the list of options that the list provides, such as foreclosures and cash buyers.
Your lists can be viewed in a few different ways – the map view with properties displayed on the map, a grid view which shows the information as text in a list, the card view which shows each property's card of information, or the split view which shows the map with properties and owner information underneath.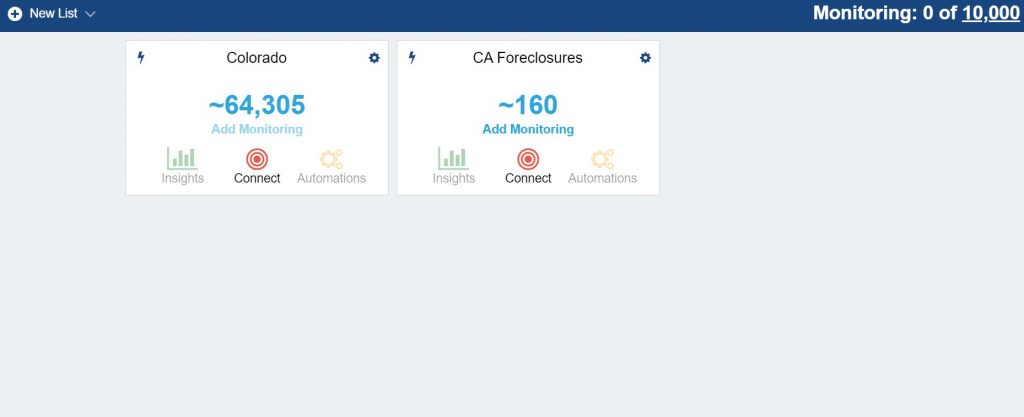 Marketing
When you're ready to begin marketing to your lists, PropertyRadar allows you to send your list direct mails with a print partner who can assist. You can export your list to 123 fields which include voice, email, direct mail, online ads and more.
Integrations
PropertyRadar integrates with over 2000 apps and services such as Zapier, and you can send your lists to these, to create CRM's and other marketing materials. You can also automate your marketing campaigns to make things quicker and easier.
App
The PropertyRadar mobile app helps real estate professionals discover local opportunities to make direct connections with clients in person. The app uses GPS-enabled technology to help you view the area that you're in, so that you can better understand the properties around you to find potential deals. The data displayed on the app includes ownership, property type, estimated equity, whether it's listed for sale, estimated value, the owner's age, foreclosure and vacancy information.
The 3-day free trial allows you to explore many of the features that the platform offers, without having to pay a cent. This is a great way to get the full experience first, so that you know what you're paying for.
You can cancel anytime, and you aren't tied into a long-term contract.
PropertyRadar provides detailed and useful data to help you analyze entire areas, which is useful for real estate professionals. This data isn't easy to get on your own and can save you time and money when finding your next deal or client.
You can easily connect with property owners as their details will also be supplied.
The data on the platform is accurate because it's pulled from public records, which means that it changes in real-time and the risk of getting bad data is low.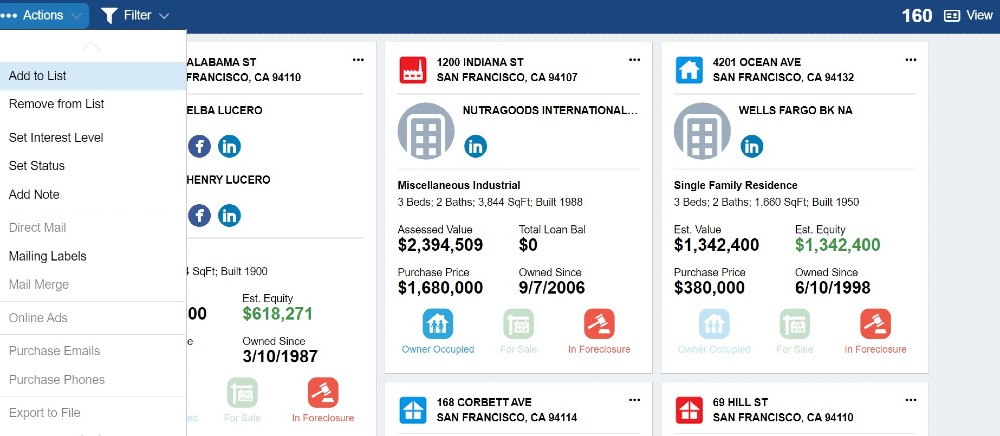 There are only paid packages on this platform and there is no free version. Which means that you'll have to sign up to get access to any of the features.
A drawback to the platform is that unless you're on the most expensive package, your access to the features is limited and you won't be able to use the platform to its full extent.
The platform is not as user-friendly as some of the other platforms, but it has added explainer videos for people who need assistance.
How much is PropertyRadar per month?
Essential: PropertyRadar's Essential package is priced at $49 per month, however if you pay for the entire year at once, you can get a $120 discount. All the packages allow you to look up property and owner data, as well as search for properties and build lists, however this package has less data than the other two, and you cannot add people to your team or integrate with other applications. Otherwise, you can do everything else that the platform features, at a Standard level.
Complete: The Complete package will cost you $79 per month, with a $240 discount on an annual prepay. The package offers all the platform's services at a Premium level, which means that the data you'll receive on this package is more detailed.
Custom: Then there is the Custom package which allows you to structure your own package, however the cost isn't listed because it depends on what you choose. This package offers all the platform's features at a Premium level as well, with the option to contact PropertyRadar about some of the features.
PropertyRadar offers the option to change subscriptions to a different plan at any point. You can also cancel at any time and continue using your account for the remainder of the period that you've paid for.
Does PropertyRadar offer a free trial?
PropertyRadar offer a 3-day free trial of their platform. You can give the Essential package or the Complete package a try for 3 days. This is a big plus for real estate professionals wanting to try out the platform without having to commit. The platform will require your card details and if you'd like to take a paid package after the trial, they'll begin charging you automatically so there's nothing extra you'll need to do. If you aren't interested in a paid option, you can cancel the trial at any point within the 3 days.
PropertyRadar Competitors
PropertyRadar's competitors largely include CRM software like Less Annoying CRM which provide CRM services to small businesses or Agent Marketing which is a real estate marketing solution for agents specifically. However, they don't necessarily offer the same property and homeowner data or the interactive heat maps that set PropertyRadar apart in the real estate space and make it a more versatile experience.
Another competitor for PropertyRadar is FlipScout, a useful tool by New Silver which differentiates itself from other platforms by being completely free. FlipScout helps real estate investors to find their next deal by allowing them to search for properties in a particular zip code, and then showing them properties that are listed. FlipScout displays data on each property that includes the average repair value, the return on investment, the estimated profit amount, and potential rehab costs.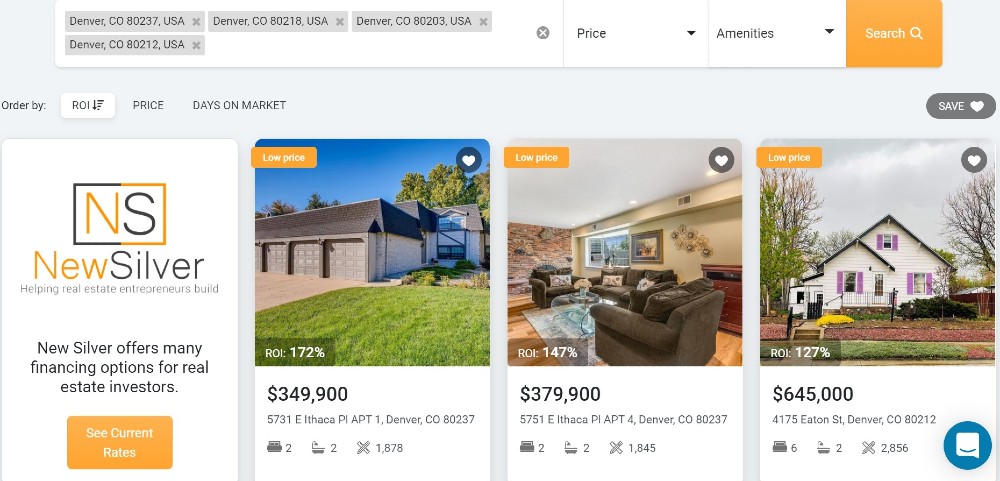 PropertyRadar vs PropStream
Similar to PropertyRadar, PropStream provides a data tool which can simplify and accelerate business for real estate professionals. However, PropStream is aimed at brokers and realtors specifically, while PropertyRadar caters to real estate investors, commercial real estate professionals, residential realtor teams, mortgage professionals and other home and property services.
PropStream offers a slightly longer trial period of 7 days and provides data from the MLS and county recordings. PropStream also offers a mobile app version, geared at those who are driving for dollars to find property owners and market to them. There is also a search function which uses the address, assessor parcel number (APN), or geo search.
PropStream allows you to generate targeted leads and you can use their quick lists, similar to PropertyRadar, so that you can tailor your property search to your needs. The platform also provides homeowner data and allows for you to reach out to homeowners. However, PropStream is more expensive than PropertyRadar, coming in at $99 per month with an extra charge for marketing tools and a list generator.
How To Download The PropertyRadar App
You can download the PropertyRadar app from the Mac App Store or the Google Play Store by searching for PropertyRadar and then hitting Download. The app is completely free, but you will need to be a subscriber so that you can login and access the features of the platform.
Final Thoughts: Is PropertyRadar Worth It?
While the platform is efficient and effective, it is a little clunky for users. However, once you know how to use it, it can be quite effective. The choice is yours, and it all depends on what your specific needs are, as well as your budget. PropertyRadar packages start at $49 per month, which is cheaper than some of the other comparable platforms, so it's worth giving the 3-day free trial a go, to see if this is the right platform for you.