Simply put, it has become more difficult for millennials to buy homes than it was for previous generations. There are a number of reasons for the decline in homeownership statistics, including the decline of marriage rates, more stringent credit requirements, the racial diversity of the US population, and several other factors.
In this guide, we highlight several key stats and facts that help explain why this is happening to millennials, which represent the largest portion of the US population with 72.1 million in total. 
What Percentage Of Millennials Own A Home?
According to data from the US Census Bureau's Population Survey in 2020, millennial home ownership currently stands at 47.9%.
To put this in perspective, the homeownership rate is 69.1% for Generation X, 78.8% for the Baby Boomers, and 77.8% for the Silent Generation.  In other words, the homeownership rate of millennials is more than 20% lower than any other generation compromised entirely of adults.
Fortunately, this statistic is less dramatic if you complete an age-adjusted comparison. When comparing each generation at age 30, the homeownership rate is 42% for millennials, 48% for Generation X, and 51% for baby boomers.
Millenials are born between 1981 and 1996, which means they are currently between 25 and 40 years old. Millennials also represent the largest percentage of the US population, with 72.1 million people in total. 
This is followed by the Baby Boomers (71.6 million), Generation Z (67.9 million), and Generation X (65.2 million).
At What Age Are Millennials Buying Homes?
According to Zillow, the average first-time homebuyer is about 33, which puts them at the front end of the millennial generation. Their median income is approximately $54,340, which is about the same as what first-time homebuyers made in the 1970s when adjusted for inflation.
Is It Harder For Millennials To Buy A House?
In a word YES. It is harder for millennials to buy a house than it was for Generation X and the Baby Boomers. To back up this statement, consider the simple fact that since 2000, the homeownership rate among young adults has declined in 95 percent of US cities.
We will now take a more extensive look at why homeownership has become more difficult for millennials than it was for previous generations.
Why Are Millenials Struggling To Buy Houses?
Delayed Marriage & Delayed Childbearing
There is a strong correlation between marriage and homeownership. This is mainly because the spending power and economic stability of a married couple tend to be much stronger than a single person in a similar age bracket. In addition, married couples are more likely to start a family, which usually serves as a strong catalyst for purchasing a home. 
Only 44% of Millennials were married in 2019, compared with 53% of Gen Xers, 61% of Boomers, and 81% of the Silent generation at a comparable age. Marriage and childbearing increase the possibility of owning a house by 17.9 and 6.2 percentage points, respectively.
The consequence of declining marriage rates is that millennials who choose not to marry lose out on a number of financial benefits, with the increased possibility of owning a home being the most pertinent.
Racial Diversity Of The US Population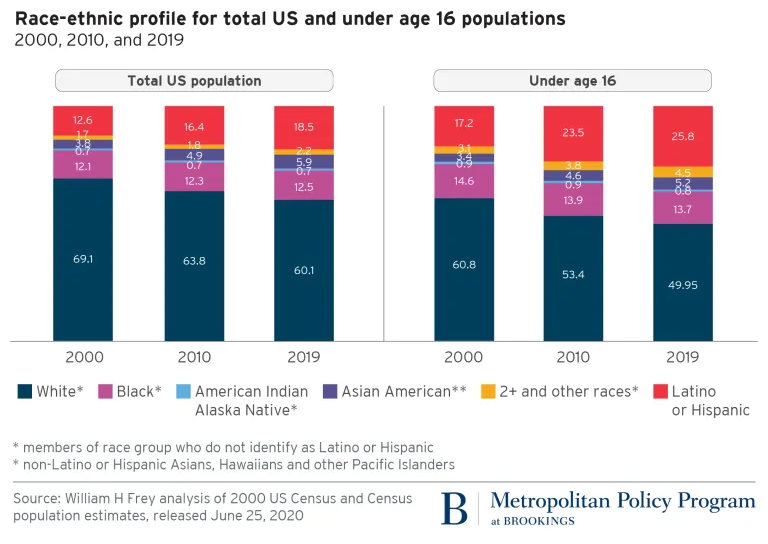 "In 1980, white residents comprised almost 80% of the national population, with Black residents accounting for 11.5%, Latino or Hispanic residents at 6.5%, and Asian Americans at 1.8%. (Except for Latinos or Hispanics, data for all racial groups pertain to non-Latino or Hispanic members of those groups.)
By 2000, the Latino or Hispanic population showed a slightly higher share than the Black population: 12.6% versus 12.1%. The Asian American population share (including Native Hawaiians and Pacific Islanders) grew to 3.8%, while the white population share dropped nearly 10 percentage points, to 69.1%."
This has a direct bearing on millennial homeownership, because Hispanic, Black, American Indian, and Asian Americans have lower homeownership rates than their White counterparts.
In fact, when you consider this graph published by Apartment List, it's pretty clear that white millennials are surprisingly close to Generation X and the Baby boomers in terms of homeownership rate.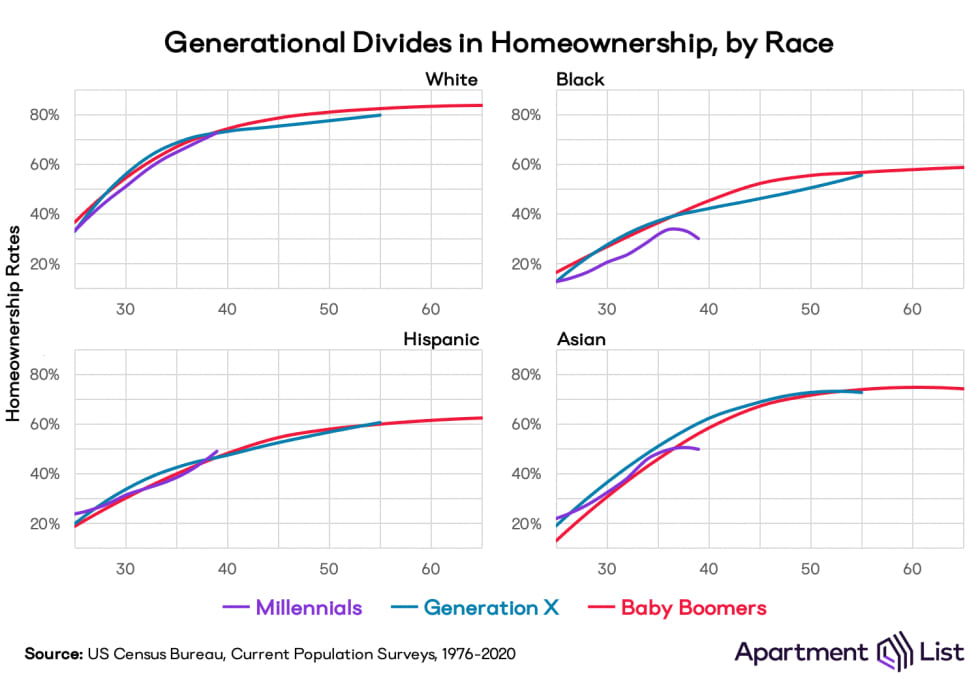 There are a number of potential causes for this scenario, with these three reasons being primary contributors.
White millennials are more likely to inherit homes from older family members
White millennials are more likely to pursue higher education, which increases the likelihood of purchasing a home later in life
White millennials are significantly more likely to get married than black millennials, and marriage has a strong correlation with homeownership
It is also worth mentioning that even though Hispanic millennials are also following a homeownership trajectory that is actually better than previous Hispanic generations, it is still considerably lower than white millennials and previous white generations.
This further explains why the overall millennial homeownership rate is dropping relative to previous generations, given that Asian, Hispanic, and Black ethnic groups now make up a larger percentage of the population.
Rising Cost of Education & Increasingly High Levels of Student Debt
With previous generations, the pursuit of higher education had a profound impact on the likelihood of owning a home.
However, the rising cost of education, the challenge of paying off student debt, and a more competitive labor market mean that college degrees are less likely to lead to homeownership in this day and age.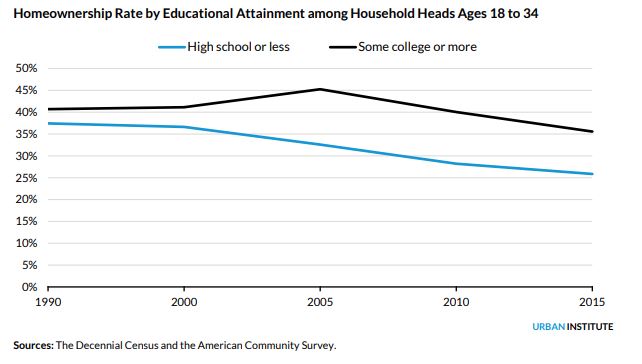 This graph from Urban.org clearly shows that while the likelihood of owning a home is still greater if you have a college degree, the homeownership rate is decreasing at a similar rate for those who have attended college, and those who haven't.
This is not to say that there aren't benefits associated with pursuing higher education.
According to a study conducted by Georgetown University "Bachelor's degree graduates earn about $1 million more throughout their lives than people with only a high school degree, and are far less likely to be unemployed or underemployed."
In other words, having a college degree might not automatically lead to homeownership for millennials specifically, but it still has a positive impact on economic prosperity, and those who do pursue a college degree are still more likely to own a home than those who don't. 
The Cost Of Rent Makes It Difficult To Save For A Down Payment
In Apartment Lists' 2019 survey of millennials, it was found that nearly half of millennial renters have no down payment savings.  This can be partially explained by the increasing cost of rent, and the increasing number of people that are classified as 'rent-burdened.
To be rent-burdened means that a person pays more than 30% of their income for rent.
"For people aged 18 to 34, the proportion of rent-burdened households increased from 38.4 percent in 1990 to 49.0 percent in 2015."
In other words, millennials are using a considerable percentage of their income to cover rental costs. When the cost of rent is combined with the cost of servicing student loan debt, it can leave very little income available to save for a down payment.
The Housing Crash Of 2008 Has Resulted In Stricter Credit Score Requirements
It makes perfect sense that banks raised the minimum credit score requirements for mortgages in response to the global financial crisis of 2008. After all, irresponsible lending was arguably the single greatest reason for the economic downfall, with mortgages being offered to people that clearly didn't have the financial means to afford the repayment.
The inevitable collapse of the housing market served as the catalyst for the great recession. As a result, banks across the US increased the credit score requirements for mortgages, together with other administrative requirements that ultimately made it more difficult to get a loan.
Median Credit Score, 2016, US:
Millenials – 640
Generation X – 662
Baby Boomers – 728
Upping the credit score requirements has ultimately served as another considerable obstacle for the home ownership aspirations of millennials.
Millennials Prefer Living In Urban Cores, Where House Prices Tend To Be Expensive
According to Urban.org, millennials are more inclined than previous generations to live in urban cores rather than outlying suburbs. While urban centers tend to have stronger labor markets and are considered by many young people to be a more desirable place to live, the drawback is that house prices tend to be more expensive.
Stated another way, millennials tend to enjoy living in areas that are ultimately outside of their price bracket as potential homeowners.
Choosing to live in expensive urban cores also contributes to the rental burden that young adults are faced with, which further increases the difficulty of saving for a down payment.
The Great Recession Has Left Its Mark On Millenials
For baby boomers and generation X, homeownership was hailed as one of the best ways to build and maintain wealth, and historically speaking this sentiment holds true. However, many millennials have been mentally scarred by the great recession, knowing full well that it is possible for the housing market to collapse.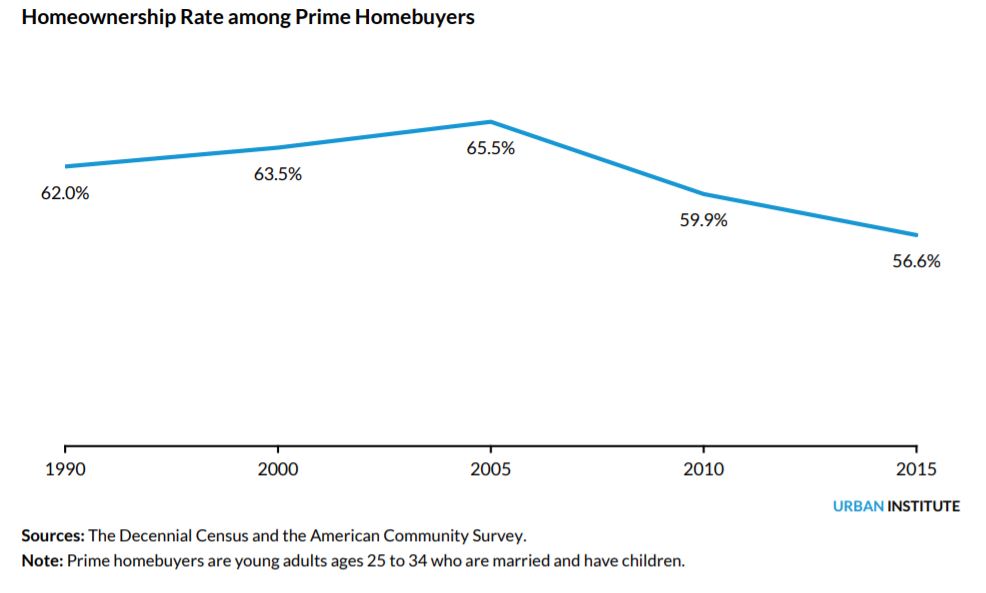 For instance, in a study conducted by the Urban Institute limited to households that make more than $100,000 per year, it was found that home ownership across white households decreased from 90.3% in 2005 to 83.6% in 2015. Similarly, homeownership rates for other races earning at least $100,000 per year fell from 77.0% to 65.5% over the same period.
This particular study suggests that the appetite for homeownership amongst millennials that can actually afford houses has literally declined.
Fortunately, the US real estate market has bounced back strong since the global financial crisis, and there is reason to believe that more millennials will come to trust that homeownership remains one of the most stable and reliable ways to build and retain wealth over the long term.
Based on the statistics outlined in this article, it's safe to say that is more difficult for millennials to purchase homes than it was for the three previous generations. Higher education is no longer a golden ticket to homeownership, and declining marital rates will continue to hinder the home buying aspirations of young adults in America.
However, if the US real estate market continues to appreciate in value as it has done for the past 10 years, the desirability of owning a home may be restored to pre-crash levels, which could help stimulate the percentage of millennials buying homes.