One thing that all real estate experts can agree on is location being the deciding factor between a successful property investment and a money pit you can't sell. The same rings true for homes found in the state of New Jersey.
Location plays a more key role than simply being a way to attract buyers and tenants – it also dictates the supply and demand the investor can expect to deal with. This will, in turn, affect their profitability. That's why real estate investors keep such a keen eye on the market's developments. While this year has proven to be a tough economic year, there are many valuable real estate deals to be found by the investor that has the right tools and research in hand.
In short, no matter what you choose to invest in, location will always be king.
Luckily, New Jersey is a top choice when it comes to investing in different types of real estate. New Jersey is close enough to New York and Philadelphia that it's convenient for buyers and tenants, but without the high price tags that can come with them. That makes New Jersey a prime place to buy a home right now, as you can be assured that there will be demand to meet it once you put the property on the market. Predictions for real estate markets in the state are largely positive, and home values have been mostly unaffected despite the upheaval caused by the pandemic.
The question is what are some of the best places to buy investment property in New Jersey? Location can't be the only reason you focus your efforts here – you want to make sure your investment is sound on all grounds. Keep reading as we investigate: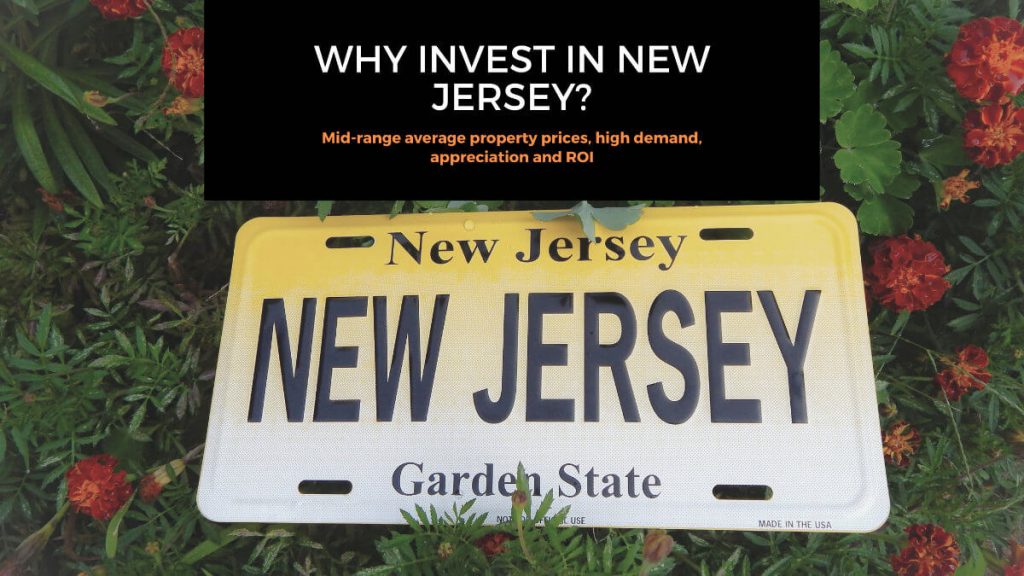 Beyond being in a convenient location, what makes New Jersey the right place to buy property right now? The answer comes in the form of affordable property prices. The median property price across the state is $353,518, which isn't too far over the average price of a home compared to the national scale. With this average price in mind, the investor can go forward looking for profitable locations in the state where they can buy properties under $300,000 that will still offer a good return on investment (ROI). 
Because New Jersey spans a big geographical area, there are many different options available to the investor that can be profitable, from residential to commercial and more. That being said, there are some locations within the state that have become particularly attractive to investors, home buyers, and tenants alike. 
Deciding where to invest in New Jersey comes down to a few different factors. First, there are the investor's goals to take into account. Your goals will typically come down to wanting to earn enough from the property in order to sustain yourself. That means you need to pre-vet the locations you're interested in buying into, and ensure that the properties there will offer you a high enough ROI to cover your cost of living. Next, the investor needs to compare properties and decide which market they want to cater to. 
The majority of real estate investors start by buying into residential real estate, flipping the homes, and selling them for a higher price. Others prefer to buy and hold the properties, finding tenants that pay rent and bring in positive and dependable cash flow. Rental property ownership can easily be scaled up if the investor is interested in buying an apartment building. Another option is to go the commercial route and have a business become your tenant. 
We've put together some of our top picks for buying real estate in New Jersey below:
Best Places To Invest In New Jersey
Weehawken in New Jersey is the first, and unexpected, addition to our list of profitable places to purchase property. Often overlooked in favor of Hoboken and Jersey City, this smaller town is starting to grow and property values reflect that. Known for stunning views of the Hudson River and being in close quarters to Manhattan, investors should be careful not to overlook this hidden gem. 
Weehawken has been steadily growing, leading to higher property values. The average property in Weehawken is valued at $493,579, higher than the average NJ cost of $353,518 but is still much more affordable than the prices of properties just a stone's throw away in New York.  Buy and hold investors tend to do well here, benefiting from a rental trend relating to property tax reevaluations.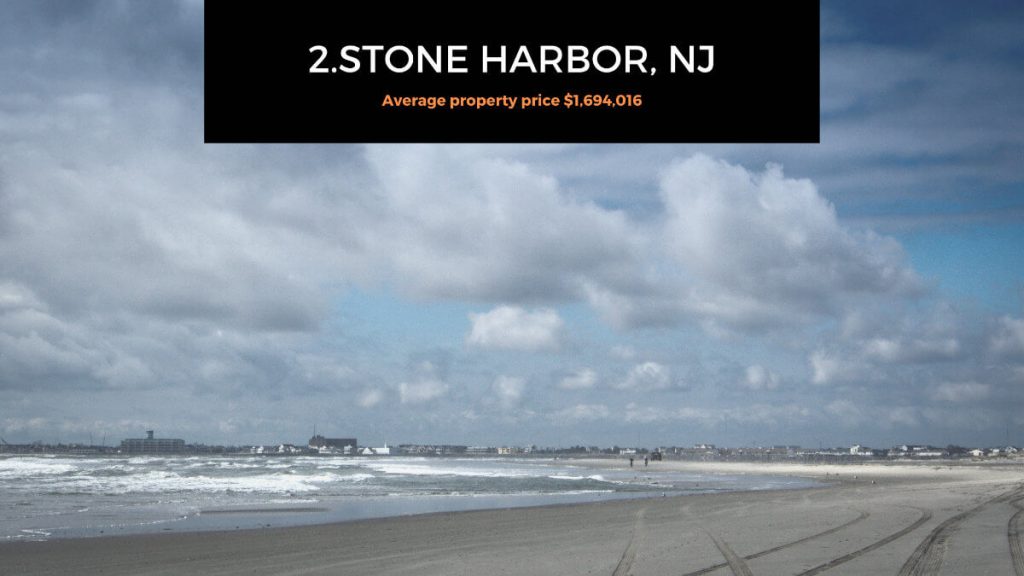 One of the most alluring locations in New Jersey, Stone Harbor is located a little bit north of Cape May, one of the country's most sought after beach areas. Stone Harbor, as a seaside town is better suited to the sleepy, residential crowd. Part of what is known as "Seven-Mile Island", Stone Harbor has always seen a consistent demand for property due to it's proximity to beautiful beaches. 
Price ranges in this area can vary wildly depending on the type of real estate the investor is interested in, and how close it's located to the beachfront. This means the average property price fall in the higher end of the range, coming in at $1,694,016, growing by nearly 13% in recent years and projected to continue along that trajectory for the foreseeable future.
While the property prices in this location are not the most affordable on the list, there is a specific reason it is being included in this article. The Tax Cuts and Job Act of 2017 introduced legislation that limited the amount of property tax that can be deducted from properties valued over $750,000. With the average property price in Stone Harbor being so high, property buyers rely heavily on this tax break to acquire homes.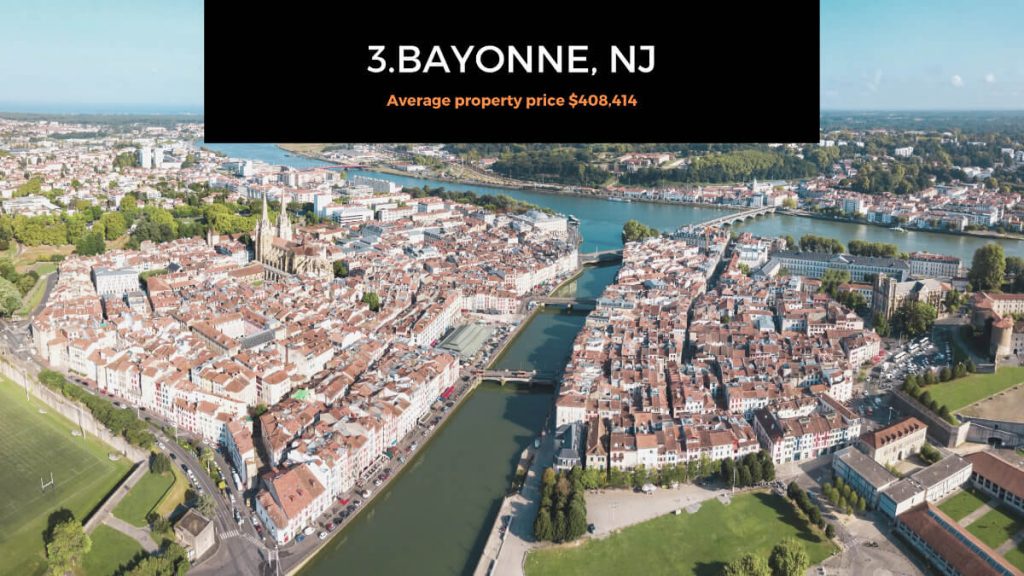 Like Weehawken, Bayonne has been steadily gaining favor with real estate investors, only in the south of the state instead of the north. Home values in Bayonne have been on a long-term upward trend, with more rental tenants and homebuyers entering the market and pushing up the demand for property. These real estate hopefuls have been flowing into the area pursuing some of the residential and commercial developments that have come up over the past couple of years. With an average property price of $408,414, Bayonne's home values are more affordable than those found in Stone Harbor. 
The key indicator that Bayonne is a good place to buy property right now is the trend of home sales and values that have been steadily increasing over time. Paired with some new construction developments in both the residential and commercial spaces, this area is set to see a major uptick in the coming months.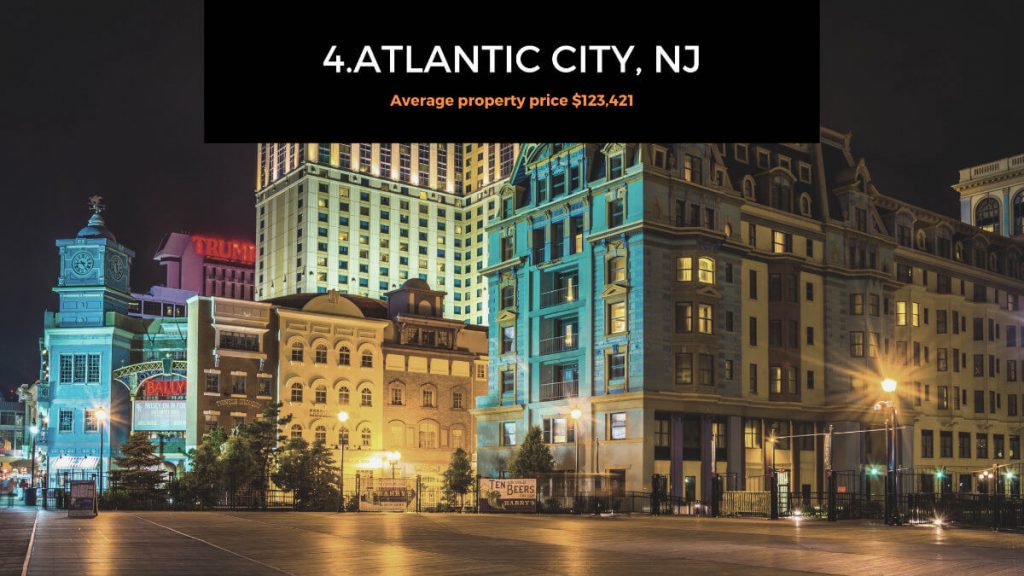 Another surprise entry to our list is Atlantic City. Commonly known for casinos and resorts, Atlantic City has more than just entertainment on offer. Real estate in this area has been performing steadily since 2019 with projections for continued growth. 
One of the major reasons investors choose to invest in Atlantic City is how friendly it is to the wallet. The average property price is just $123,421, just a fraction of some of the other common property prices in this article and well under the national average. Despite these low home prices, the median ROI on sold properties, and rental income is dependably high. Predictions are that home values in this area will continue to grow well into 2021 and beyond. 
Because Atlantic City has so much to offer in terms of amenities and entertainment, tenants and home buyers are spoilt for choice. Another major draw is the number of large family-homes available for lower prices. For the real estate investor, this doesn't end with on-market listings either. Off-the-market deals could represent property buying opportunities that are even lower than the city average.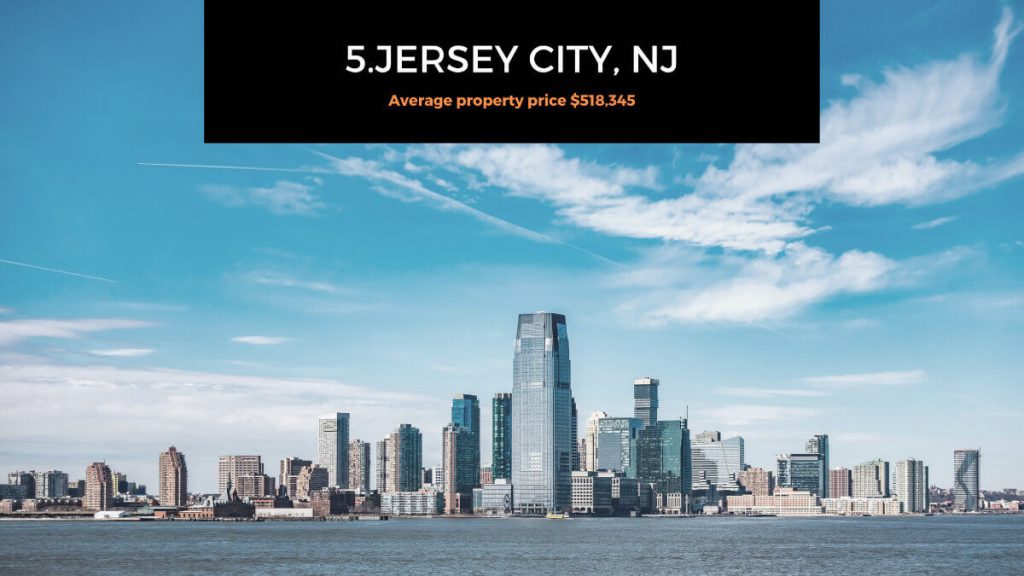 Jersey City is one of the most populous cities found in the greater New Jersey area, and it's also one that holds a lot of potential when it comes to real estate. This is a market full of renters, with nearly 75% of the population being tenants, making it an ideal place for buy and hold investors to jump into. Jersey City has had a top-performing real estate market for quite some time and is showing no signs of slowing down soon.
Factors like the growing demand for long-term rentals have led to an influx of renters looking for spaces to occupy. With an average property price of $518,345, it's much more affordable to rent in this area than it is to buy. The median rental price varies greatly depending on the property size and type, but it's thought that tenants commonly pay a rent of $2,986 per month. Another factor that has played a role in the performance of property in Jersey City is the growing population. The population in this area has grown over 10% since the year 2000, with many individuals coming to Jersey City as an alternative to the expensive cost of living found in New York. 
Rental incomes are high, and so are appreciation rates. For tenants, there are many reasons why this location is so desirable; the city has tons of museums and big events that entice tourists to visit. As a result, short-term rentals like Airbnb are seeing a spike in popularity, and investors are seeing big profitability potential under normal travel circumstances pre- and post-COVID 19.
New Jersey is a prime state for investment, with many different location options and property types that the investor can choose from. The locations that are specifically highlighted on this list have shown performance that has been above-the-average, and also have a variety of prices that are friendly to every investor's wallet. 
By no means is this list exhaustive, and there are many other cities and towns that offer similar opportunities. Many real estate investing locations in New Jersey are projected to see significant growth going into 2021. If you're pre-vetting properties in any of the above-mentioned places, you can make use of a free deal analyzer or rental calculator to ensure that you are going to make a sound investment that will support your overall financial goals.