A Debt Service Cover Ratio (DSCR) loan is geared particularly towards real estate investors. DSCR loans are essentially investment property loans based on the cash flow of an investment property, where the income generated is enough to cover the debt owed. In this case, a positive cash flow is key, and the rental come will need to cover not only the operating expenses, but also the loan repayments.
DSCR loans are quite different from conventional loans in that they don't require any personal financial information and loan applications are based heavily on the debt service coverage ratio. These loans are geared towards real estate investors who have complicated finances and are trying to invest in a profitable property.
Each DSCR lender may have different features, so choosing the best one can be tough. First, you should look at what your requirements are for the loan and then you can choose based on your priorities. For example, some debt service coverage ratio loan companies are known for providing fast financing, while others focus more on offering interest-only loans, and so on. Here are some of the best DSCR loan companies and their loan programs…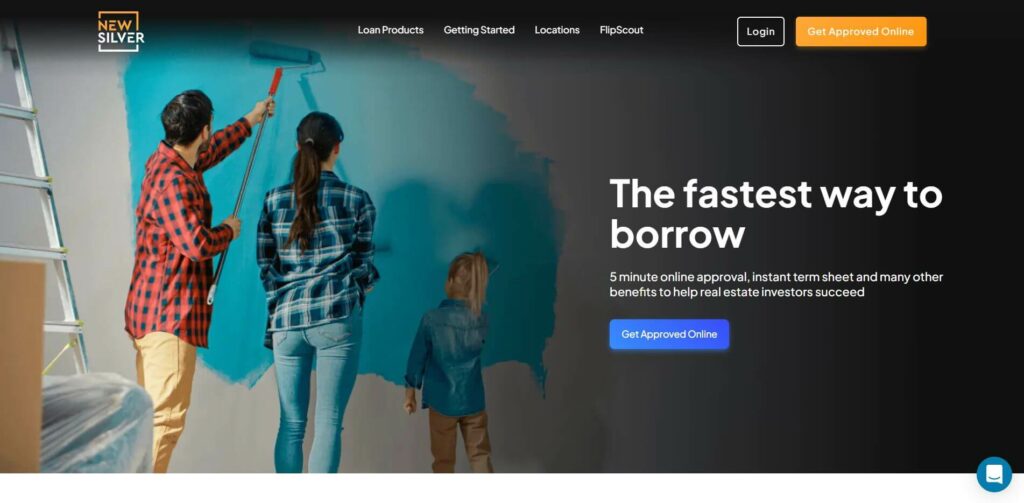 New Silver is a direct lender for real estate investors, offering a variety of loans to suit different investing needs. These include fix and flip loans, rental property loans, construction loans and personal loans.
New Silver's rent loans are 30-year fixed loans for stabilized properties. These are DSCR loans based on the property's ability to generate enough income to take care of the debt repayments each month. While many lenders require a debt service coverage ratio of at least 1.2, New Silver does not have a minimum DSCR requirement.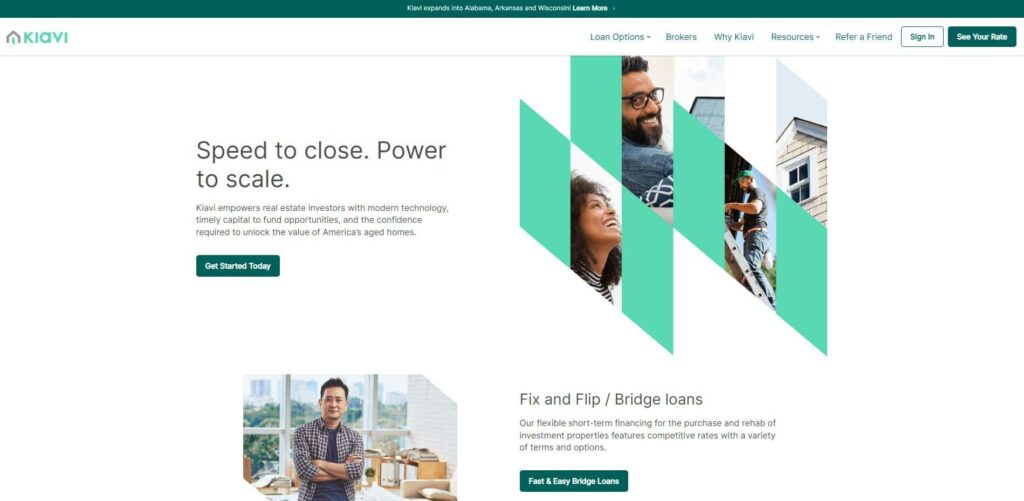 Kiavi offers various fix and flip loans, as well as rental loans, to real estate investors. Kiavi's rental loans are also DSCR loans, as no tax or income documents are needed in the application. A DSCR loan with Kiavi includes flexible loan terms, and it is based on the cash flow of the property.
Kiavi's rental loan product offers rates starting at 7.250% with an LTV of up to 80%. There is no pre-payment penalty after 3 years, for investors who wish to settle their debt quicker. There are 5/1 and 7/1 amortized loans available, and the properties that qualify for these loans include single-family, PUD's and 2-4 unit properties. These loans are 30-year fixed-rate loans with interest-only options available.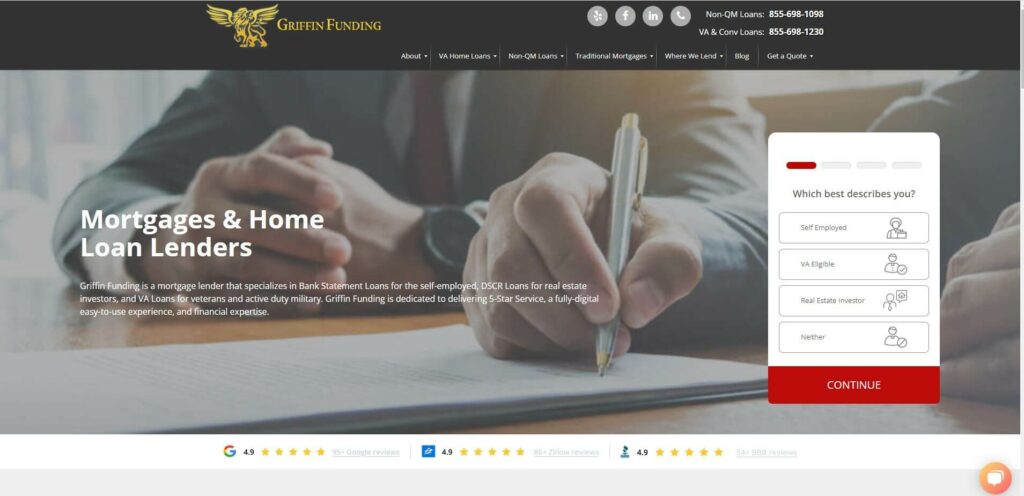 Griffin Funding operates countrywide in the US, and provides DSCR loans, VA home loans, traditional mortgages, non-QM loans and commercial loans. Griffin Funding offers a no-income mortgage loan, which is their DSCR loan for real estate investors.
Griffin Funding's DSCR loan is a type of non-QM loan. The lender doesn't require any personal income verification or job history for qualification. Griffin Funding offers maximum loan amounts of $5million on these loans, with a 20% down payment and a debt service coverage ratio as low as .75%. The lender also offers interest-only payments on these loans, and there are options available for those buying a property as an LLC.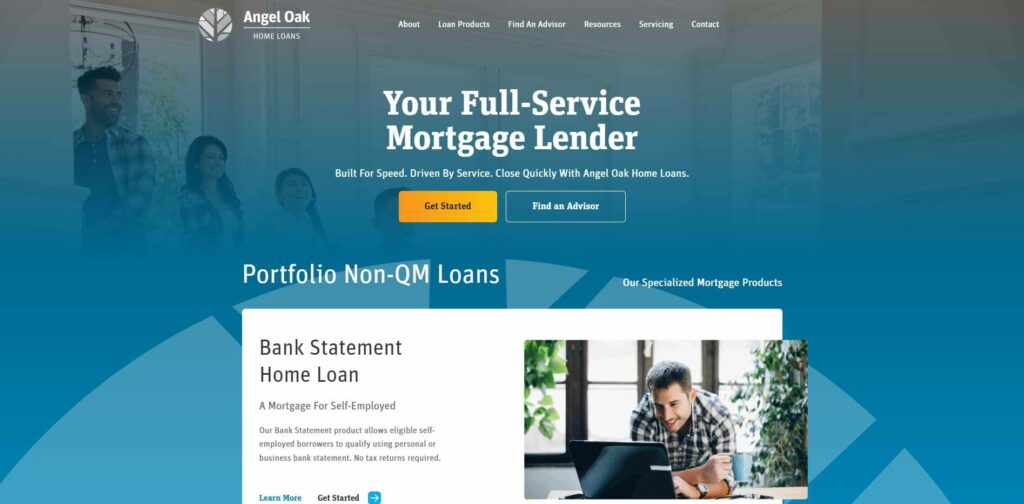 Angel Oak is a private lender that provides conventional and unconventional loans. Retail lending and direct lending are both available. The loans on offer include bank statement home loans, investor cash flow loans, jumbo home loans and portfolio select home loans.
The investor cash flow loan is Angel Oak's DSCR loan which is geared towards real estate investors who are looking for loans of up to $1.5million. This is a 40-year fixed loan with interest-only options available. There is no limit to the number of properties, and no income or employment information is needed.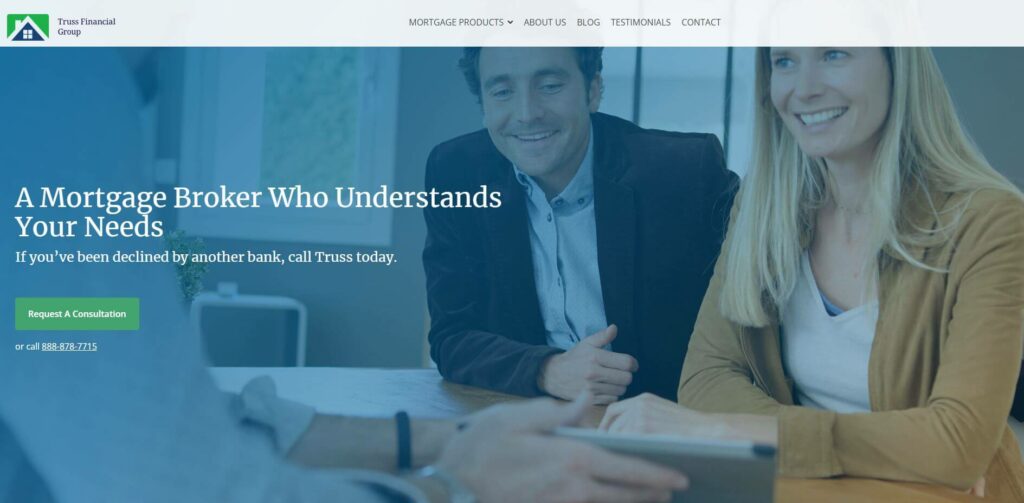 Truss Financial Group offer a variety of mortgage products including DSCR mortgages, fix and flip loans, bank statement mortgages, jumbo reverse mortgages, self-employed mortgages and more. The group states that they will tailor their mortgage solutions to each real estate investor.
The DSCR loans offered by Truss are 30-year fixed-rate loans from $100,000 to $3million. Qualification is based on the rental income covering the debt service. However, the lender also offers "no ratio" loans, for investors whose rental income doesn't cover the debt.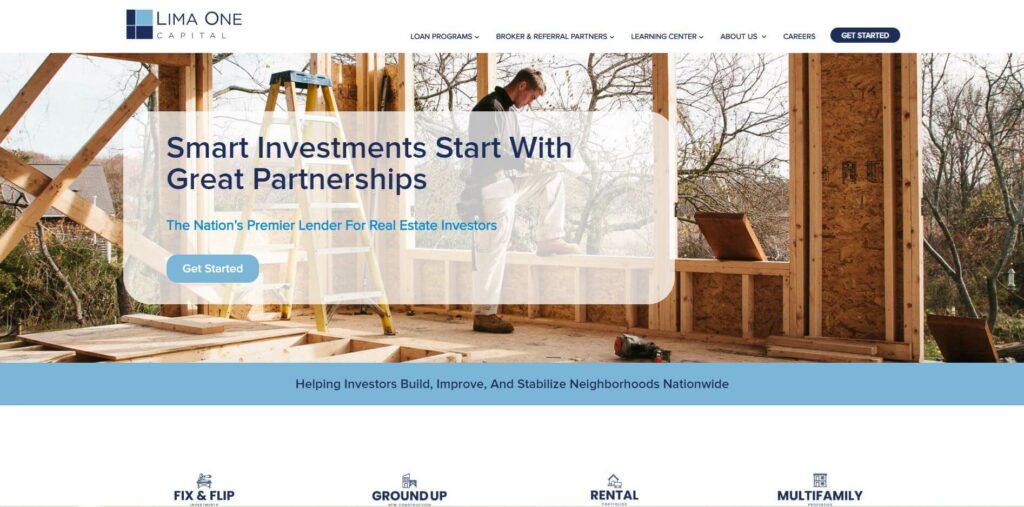 Lima One Capital is a private lender that allows real estate investors to work with the in-house team of experts the entire way through the loan, without third parties getting involved. Lima One Capital offers a variety of rental loans, fix and flip loans, construction loans and multi-family loans.
The short-term rental loans on offer are DSCR loans, based on the rental property's income. A DSCR of 1.5 or more is required for these loans, along with a minimum FICO of 700. These loans can be structured as fixed-rate, ARM, interest-only, fully amortized or balloon. There are 5, 10 and 30-year options available, to suit different investor needs. Investors can get up to 75% LTV on purchases and 70% on cash-out refinances.
What DSCR Do Lenders Look For?
Ultimately, lenders who provide DSCR loans are looking to see that the investment property income can cover the debt repayments. They aren't looking for any personal income records or employment verification. There are typically a few requirements for DSCR loans:
Debt Service Coverage Ratio: Lenders are often looking for a DSCR of 1.2 or more, which means that the property's income will cover the loan repayments and then some. Some lenders require more than this, some less, but this is a general idea of the DSCR that investors will need.
Eligible properties: Lenders are looking to make sure the property is eligible for this type of loan. Which means that it should be a rental property, and it can be single family, multi-family, 2-4 unit property, PUD or a condo.
Credit score: While no personal income information is required, lenders are often looking for investors who have a credit score of at least 640, if not more.
Loan amount: The loan amount will need to fall within the range that the lender is prepared to offer, or they are not likely to consider the deal. There are lenders who offer loans for higher end properties however DSCR loan maximum amounts are usually around $1million or $2million. Some lenders may offer up to $5million.
.
Are DSCR Loans Hard Money?
Hard money loans are asset-based, which means that they are loans provided by using the asset (usually a property) as collateral. Hard money loans are typically provided by private lenders and are therefore not subject to the same regulations as traditional loans. Hard money loans are short-term loans often used by real estate investors.
DSCR loans, on the other hand, are not necessarily hard money loans. This is because they are provided by a variety of lenders, not only hard money lenders. DSCR loans are long-term loans, with loan terms of 30 years in most cases. DSCR loans are not asset-based necessarily, but rather use the property's cash flow to determine if the debt will be covered and mitigate risk.
What Kind of Property Can You Buy with A DSCR Loan?
A DSCR loan allows real estate investors to buy rental properties, both short-term and long-term. These rental properties can be single-family homes, 1-4 unit properties, vacation homes and commercial or multi-family properties.
Eligible Properties (Properties that you can buy with a DSCR Loan)
DSCR loans provide funding for a variety of properties that conventional loans don't, however the focus is on rental properties for real estate investors specifically. There are a range of properties that are eligible for a DSCR loan, whether they're used for long-term renting or short-term renting. These can vary from lender to lender but often include:
Single-family homes
Condos (non-warrantable)
Planned urban developments
2-4 unit properties
LLC-owned properties
Multi-family properties
Should You Apply for A DSCR Loan?
A DSCR loan is suited to real estate investors who have a complicated financial situation but have good property deals that they need investment property loans to purchase. DSCR loans are well suited to investors who don't want to provide income and employment verification, those who are self-employed, and those who own several investment properties and cannot borrow any more from traditional lenders to fund their next investment.
Investors who wish to buy and hold rental investment property, as well as investors who wish to buy and trade can consider using a DSCR loan. Essentially, any real estate investor who would like to get funding based on the good cash flow of their rental property can consider these loans.
Some of the benefits of DSCR loans include:
Quicker loan closing and applications due to the fact that no personal income information is needed.
Unlimited number of properties can be bought using DSCR loans.
Simultaneous investment property purchases can be done.
There's less documentation as personal finances are not considered.
New investors can get into the real estate world easier using these loans.
However, as with any funding option for an investment property, there are pros and cons of DSCR loans to be aware of. So, make sure to consider all the risks before deciding which funding route to take.
30- year fixed DSCR Loan for stabilized rental properties
A DSCR Loan is a unique loan product designed specifically for real estate investors. The cash flow status of the rental property is incorporated into the loan terms. It is very well suited to rental property investors.