Finding a good property deal is the highlight of any investor's journey into real estate. It all begins with the right deal, and this can come in different forms. One such form is foreclosure properties, which are one of the most common ways to find a good deal, but also a hard place to find the best deal. Whether you're a home buyer or an investor, searching for a good deal is time consuming, but here's where Foreclosure.com comes in. We'll take you through a detailed review of the real estate software on offer on Foreclosure.com to help you decide if this platform could be the best solution for you.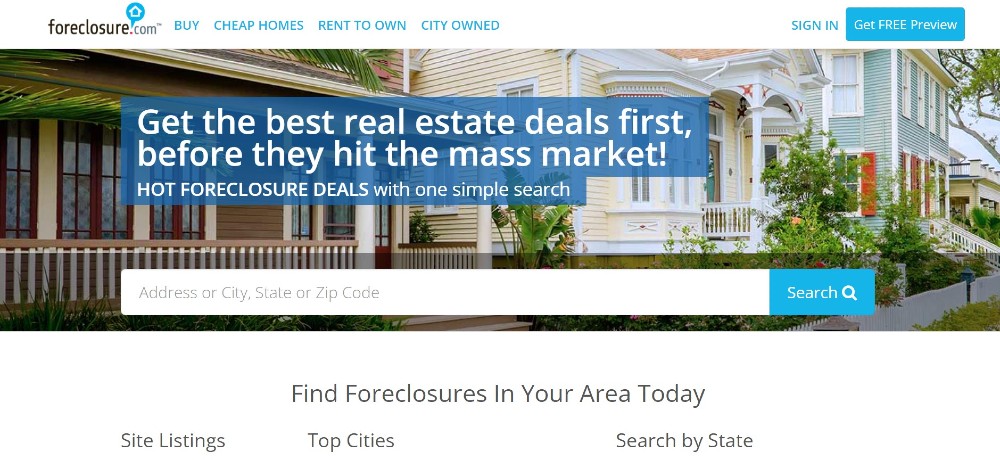 Foreclosure.com is a real estate website geared towards helping people find a good property investment by listing distressed properties for buyers to find easily. These properties can be bankruptcy listings or foreclosures, Foreclosure.com is the biggest provider of distressed properties in the US. With over 2 million listings, the site pulls data from a variety of sources, including banks, mortgage records, courthouse records and more. It's essentially a one-stop shop for real estate deals.
Best features of Foreclosure.com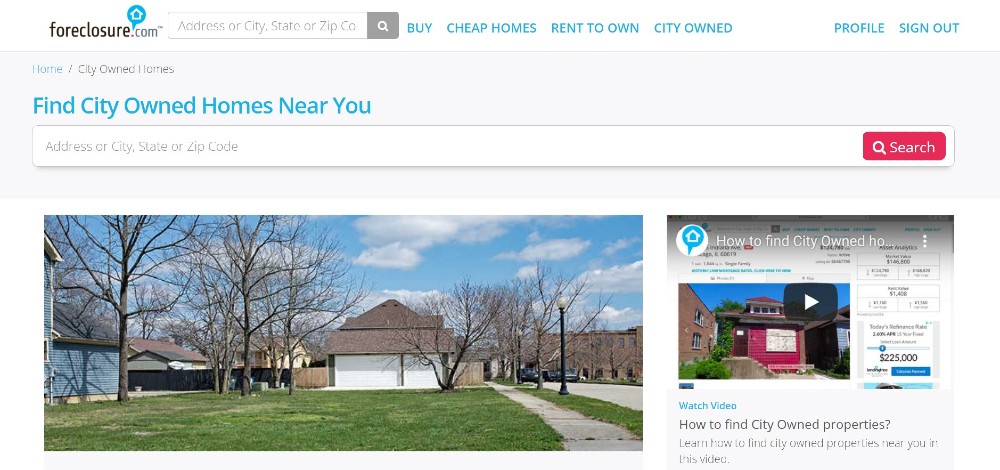 When you're choosing a software option for your real estate journey, you'll want to be sure that the price is worth it. So, let's take a look at the best features of Foreclosure.com to help you decide.
All in one place: The platform brings together property deals from a host of places and puts them all in one place, so that users can find them easily. It's essentially a shortcut for people who are looking for worthwhile deals to invest in.
Variety of listings: You can get access to foreclosures, pre-foreclosures, short sales, sheriff sale listings, bankruptcy listings and city-owned listings. It's a wide selection of property deals to choose from.
Wide coverage: The platform has a huge coverage of areas around the country, including small towns and places where finding distressed properties would be difficult. Basically, any town or city that you're looking at, Foreclosure.com will be able to find you some property deals.
Comprehensive information: The listings on Foreclosure.com contain detailed information on each property, the nearby amenities, the history of the house and more. This is crucial for investors or home buyers who are looking to make an informed real estate decision. Listings usually include the following information:
– Purchase price
– Number of bedrooms and bathrooms
– Size of the property in square footage
– The address
– Whether the listing is in pre-foreclosure, foreclosure, auction or bank-owned
– Information about the property's history – both when it was built and its market history
In-depth search: The search criteria that Foreclosure.com has used are extensive, so not only can you search by city but also by price range, number of bedrooms, size of the land, the type of sale and more.
Trial period: Unlike many other paid real estate platforms, Foreclosure.com offers people the chance to trial the software for 7 days. A credit card is required to sign up, however the card isn't charged for the first 7 days, during which you can cancel at any time and effectively use this to use the software to decide if it's a good fit for you.
How to find houses on foreclosure.com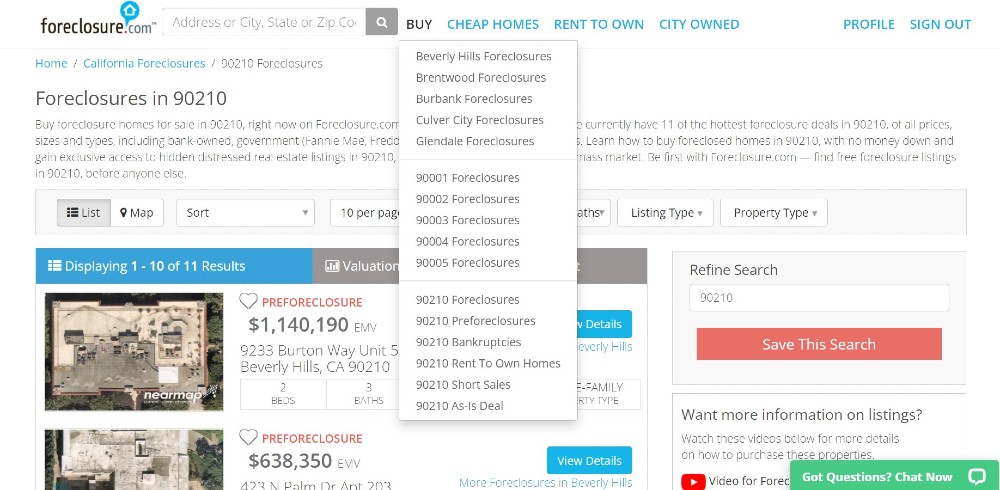 Step 1: Understand the property types
Before you begin your search, it's important to understand the differences between each type of property listed on the site. This will assist you with contacting the right person, in the right way, to make an offer and seal the deal. Here is a closer look at the type of properties you'll find on the platform.
Foreclosure listings: These are usually bank foreclosures whereby the bank has repossessed a home because the owner could no longer pay the mortgage. Lenders in this case will sell the property as soon as they can, to recoup their losses. Either the lender will enlist a real estate agent to sell the home, or it will be put on auction, so bear this in mind when you're trying to get your hands on a foreclosure property.
Pre-foreclosures: These are properties that are still owned by the private owner who is unable to meet their mortgage obligations and will soon enter foreclosure. However, there is a brief window in which they can sell the property themselves, which is called pre-foreclosure. In this type of scenario, you'll need to find the information of the property owner.
Short sale: This is similar to a pre-foreclosure, however the homeowner in this situation is under distress and no longer able to pay their mortgage. So, they're often willing to sell for less than what they owe on the mortgage, to avoid going into foreclosure. A cash offer is a good way to secure this type of deal, as it provides the homeowner with a fast way out of their financial troubles.
Sherriff sale: These are pre-foreclosure listings which are about to be auctioned off, usually within a 3-week period. The homeowner is still the go-to person at this point, if you'd like to make an offer, however it may need to be a cash offer so that you can help them out of their financial distress quickly.
City-owned listings: Each city has a few programs, and in order to make an offer on this type of property, you'll need to understand which program is involved first. Click on "additional information" in the property information section on Foreclosure.com to find this out, and you can proceed from there.
Bankruptcy listings: On Foreclosure.com these are often homes that are still owned privately, but the owner can no longer afford their mortgage, however bear in mind that the homes listed under "bankruptcy" on the platform aren't always for sale. Sometimes, a person has simply filed for bankruptcy and listed that as their address, which is an important point to remember when you're contacting the owner.
Other: Some properties are listed under "Rent to Own", which means that they aren't foreclosures and that people can rent these while working towards the goal of owning them, but they're showing on up on the platform because this phrase appears in their description. Properties listed "as is" or "fixer upper" are often homes that have been listed by agents who are struggling to sell the home, and these can be a good deal for investors.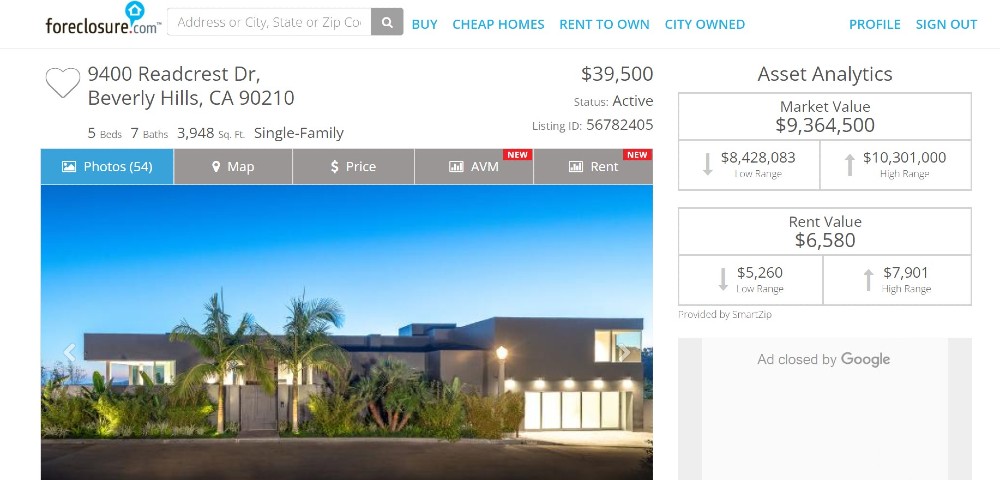 Step 2: Start your property search
First enter the zip code of the area you're interested in, into the search bar at on the home page of the website. Once you've done that, you can narrow down your search according to purchase price, number of bedrooms or bathrooms, the type of listing (foreclosure, bankruptcy etc), and the property type (single-family, condo etc).
Then you can view the details of the property to decide if it's a good deal or not. Here you'll see the market value, rent value, public records, detailed property information and more. You can choose a view, between photos, seeing the listing on a map, the price, potential rent or the AVM. You can also learn more about the listing type and what this means for a buyer like you.
Step 3: Make an offer
Once you've found the right property, it's time to make an offer. Depending on the type of sale, you'll be able to ascertain which person is the right one to contact. You can then make your offer, either with cash or finance from a bank or other lender, such as a hard money lender where you can get a loan quickly, without all the red tape. Once your offer is approved, you're on your way to completing your next property deal.
Foreclosure.com membership cost
The platform will cost you $39.80 for a monthly subscription. With this, you'll be able to view all the listings available on the website, as well as all the information listed under each property as mentioned above and find the owner details. If you use the site without paying, you'll have access to very little information.
Foreclosure.com Competitors & Alternatives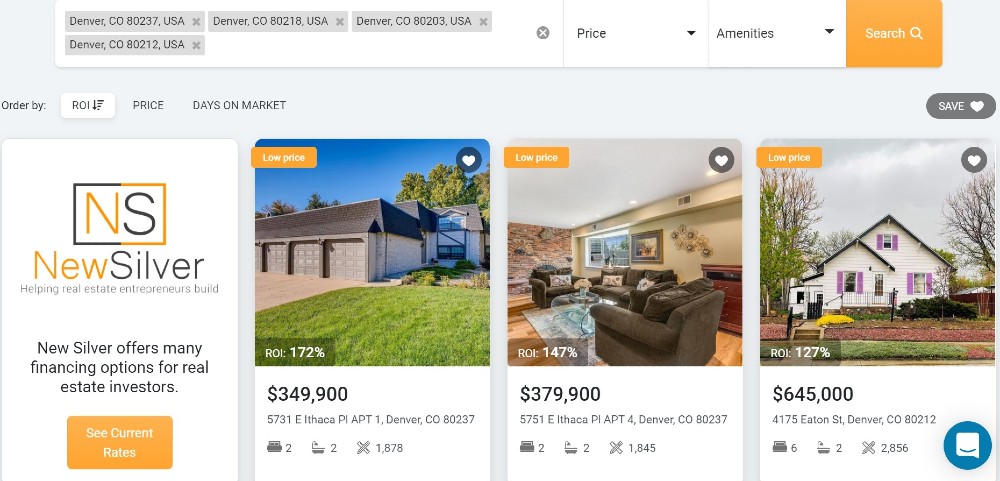 FlipScout is another useful tool for real estate investors to find a good property deal. Unlike Foreclosure.com it's completely free and anyone can access it. FlipScout displays properties that are listed on the market and provides insights into each property's viability as an investment. The platform shows the ROI percentage on the property, the after-repair value (ARV), what a rehab or repairs could cost and more, to help you make an informed investment decision.
The popular real estate portal Zillow has its own section for foreclosures where you can filter according to price, home type, property features and more. You can search using the zip code of the area where you're looking, and Zillow will display distressed properties that are in pre-foreclosure or foreclosure. On each listing you'll get information about the property (such as price history, the estimated monthly cost, rental value etc), the neighborhood, and you can reach the agent directly from the listing. This information is all free and easy to find.
Similarly to Foreclosure.com, RealtyTrac is a paid platform where you'll find many distressed property listings, auction dates, pre-foreclosure addresses, property owner information and much more. You can get a subscription for $49.95 per month, however there is a free 7-day trial if you'd like to test the platform first.
You can also review our list of the best foreclosure websites currently available.
How to cancel Foreclosure.com subscription
To cancel your Foreclosure.com subscription you can click on the Profile tab on the right side of the top navigation bar on the site, and then click Cancel Membership under the membership overview section of your profile. The site will take you to another page, where they will remind you that you can only use the 7-day trial once (if you're cancelling within the 7-day trial period), and they provide an overview of the benefits that you'll be missing out on when you cancel. Scroll to the bottom of this and click on the Cancel My Access button at the very bottom to complete your cancellation after selecting your reason.
How to download the Foreclosure.com app
Downloading the Foreclosure.com app is as simple as going into your app store, searching for Foreclosure.com and clicking on the Install button. Alternatively, at the bottom of the Foreclosure.com website there are links to download the app which can direct you there quickly. Apple users can download the Foreclosure.com app from the Apple App Store here. Android users can download the Foreclosure.com app from the Google Play Store here. However, you will need a paid subscription to be able to use the full service.
Is Foreclosure.com worth the money?
The downside to Foreclosure.com is the cost, which many people aren't too happy with because there are websites available that provide similar services for free. However, the choice is entirely up to you and it all depends on your needs. You'll need to weigh up whether the convenience and time saved by getting all the information and distressed property listings in one place is worth the fee that they charge.
If you're looking for a huge selection of distressed properties, all in one place, so that you can find your next property investment, then Foreclosure.com is a good option. It comes at a fee, but the fee gives you access to over 2 million properties across the country. If you're undecided, test it out on their free 7-day trial to see if it's the right platform for you. Don't forget to cancel within those 7 days however, or you will be charged.